Bikes
Coolest Sportbikes of the '90s: 1997 Bimota Vdue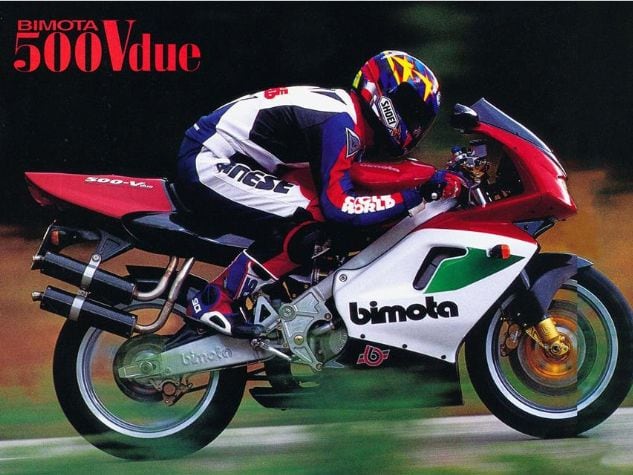 When Nick Ienatsch rode the Vdue in Italy, he was one of a handful in the world to do so. The example he rode still had the prototype Formula 1 fuel injectors, which were unavailable for production. (Cycle World Archives/)
You could be excused for not remembering this bike. You might even be forgiven for not even knowing anything about the Bimota brand itself. Since its founding by Massimo Tamburini in 1973, the tiny Italian company has been a boutique concern, and has historically taken a difficult and unconventional path. Bimota got its start building incredible chassis housing ever more powerful engines from companies like Kawasaki, Suzuki, and Honda, whose own frames were flexy and whose suspensions were designed for mass consumption, compromised by price point and the need for universal appeal.
In the mid-'90s, Bimota decided to not only develop its own engine, designed by Pierluigi Marconi and built by Rimini neighbor Franco Morini Motori, but to make that engine a direct-fuel-injected two-stroke. At first, the technology involved seemed like it could be the savior of the endangered, emissions-challenged road-legal two-stroke, an engine that was quickly fading in the developed world. Bimota was attempting something even the Japanese Big Four hadn't dared: bringing an injected two-stroke to market. It was a brave attempt, but instead of saving the two-stroke, Bimota would be its undoing.
Related: Bimota's Legacy Continues With Classic Parts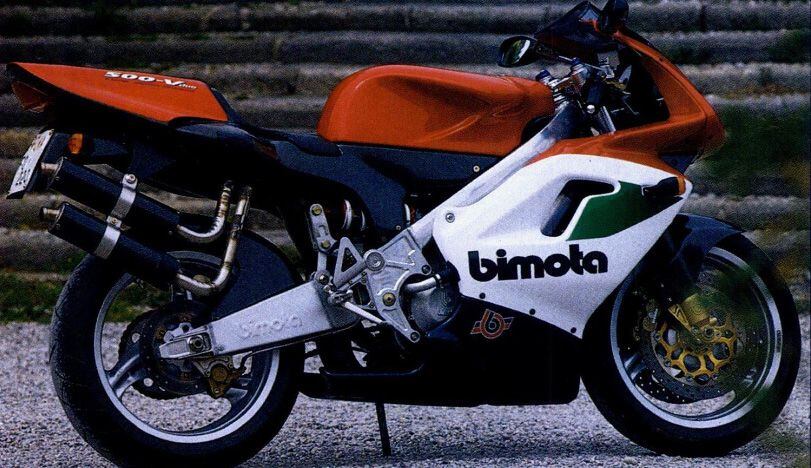 Only around 150 of the originally planned 500 units of the Vdue found their way to customers, all were recalled. (Cycle World Archives/)
By 1987, the EPA had evidently killed off the last of the remaining US street-legal smokers, namely Yamaha's liquid-cooled RZ350, which owned its lineage to the air-cooled RDs of the '70s. The RZ was sold in the States between 1984 and '85, and was said to be the first production motorcycle with catalytic converters and a charcoal canister. But that still wasn't enough; the RZ, in its famous Kenny Roberts bumblebee livery and Eddie Lawson variant, became instant collectors items after just two short years.
If there was one thing that Bimota was very good at, it was building amazing chassis that spared no expense in terms of materials and construction. (Cycle World Archives/)
For those of us who grew up fantasizing about road-legal two-strokes such as Yamaha's RZ500, Suzuki's RG500 and RGV250, and so on, the Bimota Vdue looked like it could be the holy grail. In theory, and to be fair in early prototype form, the precision of fuel injection seemed capable of cleaning up the smoker's nasty reputation. And yes, today, bikes like KTM's, Husqvarna's, and GasGas' transfer-port-injected two-stroke enduros and 2023 throttle-body-injected two-strokes have done exactly that. But those didn't surface until well into the current century.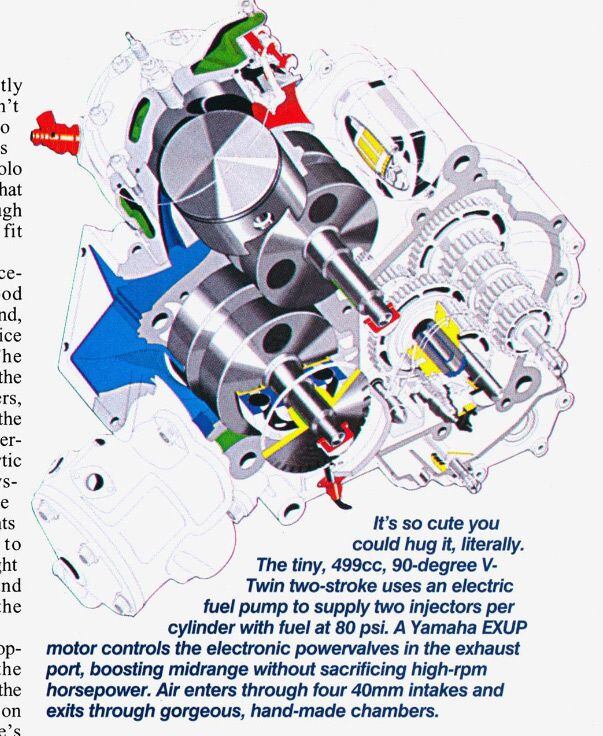 An illustration of the Vdue's 499cc, two-stroke V-twin. (Cycle World Archives/)
The issue facing two-strokes since the very first one smoked to oily life is this: When the piston goes down in the cylinder, it draws air-fuel mixture in through an intake port; so far, so good. But the exhaust port is also simultaneously open, meaning that a wisp of unburned fuel vapor would find its way out of the exhaust port, out the exhaust, and into the atmosphere. Compounding this sin, the vacuum of the cylinder pulls in mixture from the carburetor even when the throttle is closed. Due to its very nature, the process could never be perfectly optimized through mechanical means.
Direct injection solved this problem by squirting the precise amount of fuel necessary into the cylinder at the exact optimal instant; the intake port therefore drew in clean air and exhaled clean air, while electronic ignition optimized the combustion event.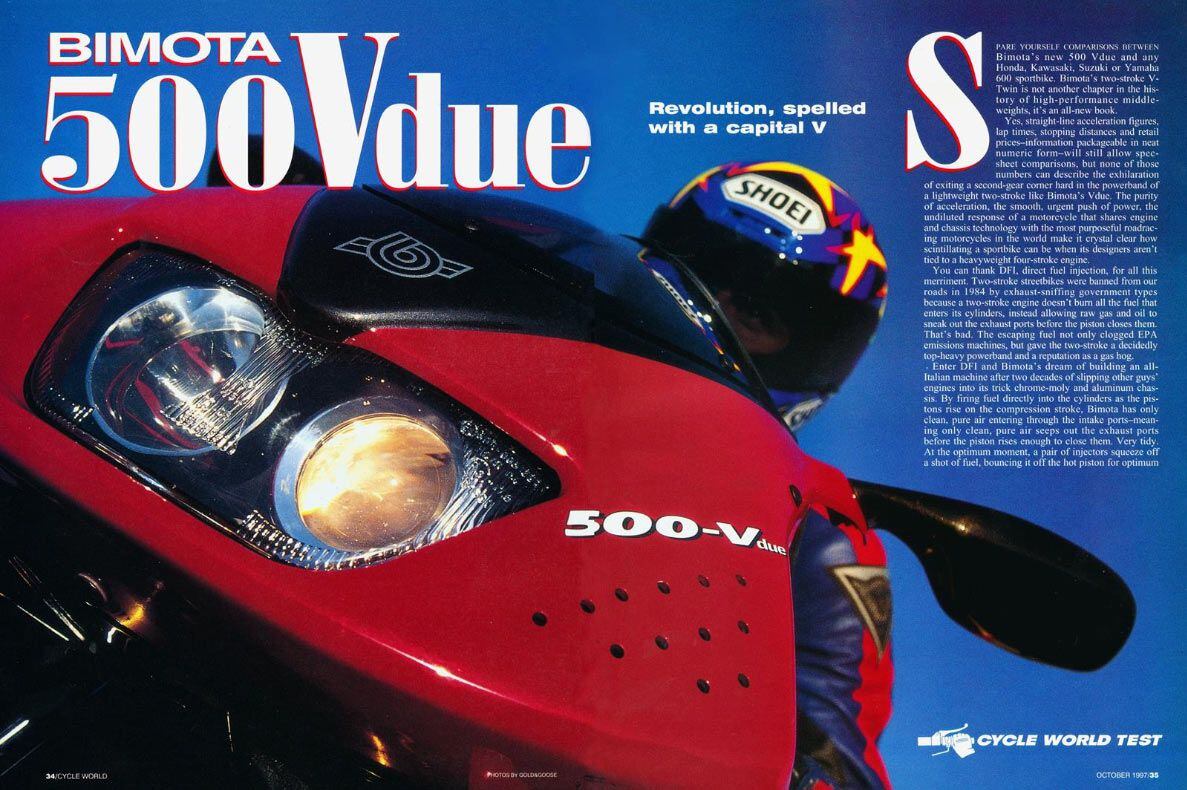 Nick Ienatsch was invited on behalf of <i>Cycle World</i> to ride the Vdue in Rimini, Italy. (Cycle World Archives/)
When Cycle World was invited to Rimini in 1997 to ride a prototype of the Vdue, Bimota was already under tremendous pressure to make the bike a success. After all, it had banked its entire future and all of its cash reserves on the Vdue. Then-contributing editor Nick Ienatsch visited the factory, got the tour, sat down with the engineers, and got a chance to log time on the bike. As Ienatsch was competing on a Yamaha TZ250 in the AMA championship and therefore exceedingly familiar with two-strokes, he was the perfect man for the assignment.
Bimota has always been known for its amazing frames. Here is a detail of the CNC-machined billet-aluminum side plates. (Cycle World Archives/)
Some excerpts from his ride around the hills of Rimini:
"The Bimota's starter motor doesn't get much of a workout, because the V-twin fires immediately, hot or cold. Electronics handle the enrichening circuit automatically, so there's no choke knob to fiddle with. If you've heard a TZ250 racebike run, then you have a good idea of the Bimota's unique sound, though it barks in a deeper voice than the Yamaha V-twin.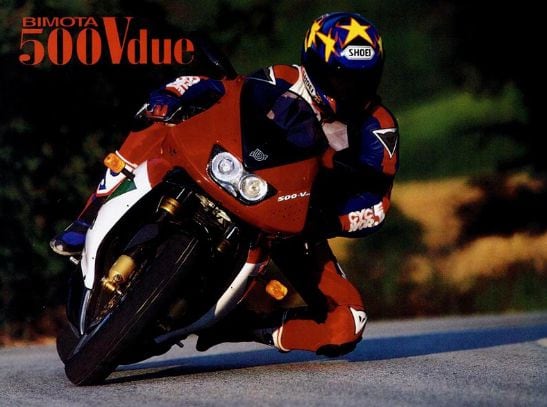 Ienatsch ripping around the Italian countryside. (Cycle World Archives/)
"The engine began life as a racing motor, so low-speed carburetion was simply not an issue; upper midrange and top-end steam were all that mattered. In other words, big thrills wait between 7,000 and 10,000 rpm, though Bimota's efforts have made the Vdue surprisingly tractable at any point on the tachometer.… Power delivery anywhere above idle is certainly acceptable, and a large step ahead of yesteryear's peaky two-strokes due to the improved use of fuel at low rpm. Still, this engine wants and needs to be revved.
"There's a noticeable step in power as the tach clears 7,000 rpm, the point at which the electronic power valves in the exhaust ports take effect, followed by a clean, smooth, ripping pull to redline.
"The factory wants to keep riders from wheelying over backward under hard first-gear acceleration, but the tall gearing choice, when combined with the hazy partial-throttle 'carburetion,' initially made leaving from stop signs tricky, until we learned to trust the grunt of the engine and simply release the clutch and ride away.
The Vdue's styling was beautiful. It was penned by Massimo Tamburini protege Sergio Robbiano, who also collaborated on the Ducati 916. (Cycle World Archives/)
"Two-stroke riders learn to use the brakes to full effect, because there's little engine-braking to help slow the bike. Bimota made this job easy by fitting Brembo calipers on all three rotors. The front Brembos bolt to an exceedingly well-sorted Paioli fork, with massive 46mm stanchions bolted into trademark billet Bimota triple clamps that have inspired every motorcycle machinist since 1978. The triple clamps augment Bimota's oval-shaped aluminum-tube frame, TIG welded to billet pivot plates that hold the asymmetric aluminum swingarm.
"…the Vdue offers handling precision that isn't available on any current production motorcycle in the US. Little effort is needed at the clip-ons to change direction, which isn't too surprising considering the bike's claimed 374-pound wet weight, but few of us have ever experienced the real-world attributes of a bike this light. You find yourself running cornering lines that were previously unavailable, carving through a double-apex sweeper with two distinct apexes, not just the broad swathe of cornering you're experiencing now."
The Robbiano-style tailsection. (Cycle World Archives/)
On the surface and in preproduction form, the Vdue appeared to show much promise. Ienatsch noted, "Our preproduction experience in Rimini left us with an excitement for the future that no four-stroke middleweight could have provided. Those looking for a refined and seamless backroad tool should look elsewhere, because Bimota's 500—in preproduction form at least—more closely resembles a project bike or racing machine that provides the undiluted pleasures of high-performance riding at the expense of all-around ridability."
Those words ultimately proved hauntingly accurate. One of the key problems was, according to Bimota historian and collector Bob Steinbugler of the Bimota Spirit website, that the Ferrari-sourced Weber fuel injectors on the bike Ienatsch rode were not available in production form. Even while Ienatsch was in Rimini, engineers were already trying to map and optimize production-available Siemens injectors. Sadly, they were never able to match the precision of the preproduction units. As if that was not enough, the crankshaft seals were weak and leaked. The two problems combined meant an engine that ran erratically at best.
At this point Bimota had produced just 150 of a planned run of 500 units. Every one of them had to be recalled. That loss of income forced the tiny company into bankruptcy. Bimota tried in vain to revert the Vdue to carburetors, but other engine design deficiencies arose. According to Steinbugler, after the bankruptcy the entire Vdue division of the business was sold off to entrepreneur Piero Caronni; Caronni redesigned the crankcases, developed new carburetors and ECUs, and produced a small run of functional machines. But the direct-injection experiment ended right then and there.
That was the beginning of the end for the original Bimota. For the next couple of decades, companies with that name burned through new owners like Lago di Como playboys burn through wives, never really producing much of value. Bimota currently survives with Kawasaki owning a 49 percent minority share, making a few models powered by Kawasaki engines, such as the recently shown KB4 RC and hub-center-steered Tesi H2.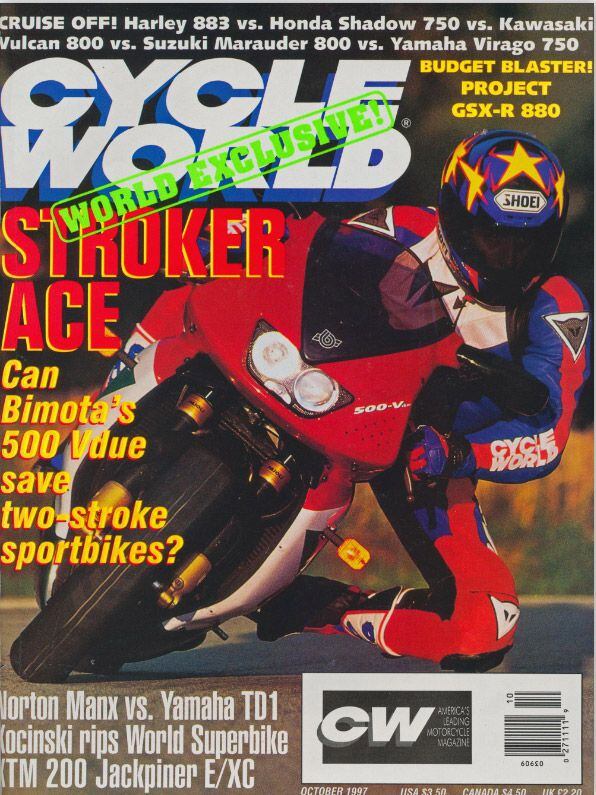 The October 1997 cover in which we rode the Vdue. (Cycle World Archives/)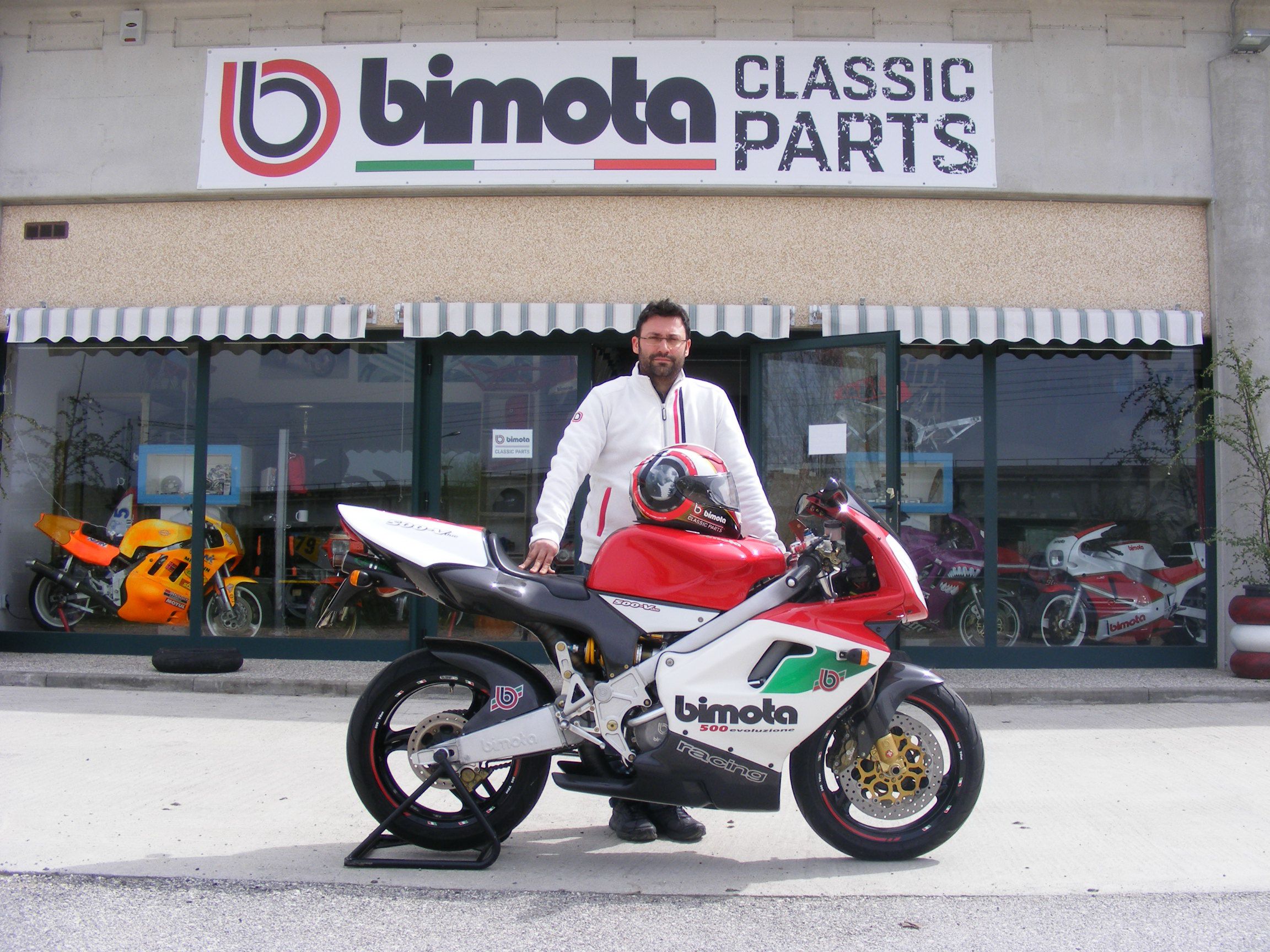 Former Bimota R&D man Paolo Girotti outside his Bimota Classic Parts headquarters in Città della Pieve, central Italy. (Cycle World Archives/)
1997 Bimota Vdue Specifications
| MSRP: | $20,275 (1997) |
| --- | --- |
| Engine: | Liquid-cooled, two-stroke V-twin |
| Displacement: | 499cc |
| Bore x Stroke: | 72.0 x 61.2mm |
| Compression Ratio: | 12.0:1 |
| Transmission/Final Drive: | 6-speed/chain |
| Cycle World Measured Horsepower: | 97.8 hp @ 9,000 rpm |
| Cycle World Measured Torque: | 57.0 lb.-ft. @ 9,000 rpm |
| Fuel System: | Fuel injection |
| Clutch: | Wet, multiplate |
| Engine Management/Ignition: | Electronic |
| Frame: | Twin-spar aluminum |
| Front Suspension: | 46mm Paioli fork, fully adjustable; 4.7 in. travel |
| Rear Suspension: | Öhlins shock, fully adjustable; 5.1 in. travel |
| Front Brake: | Brembo 4-piston calipers, 320mm discs |
| Rear Brake: | Brembo 2-piston caliper, 230mm disc |
| Wheels, Front/Rear: | Aluminum Antera alloy; 17 x 3.5 in. / 17 x 5.5 in. |
| Tires, Front/Rear: | 120/70-17 / 180/55-17 |
| Rake/Trail: | 27.0°/3.5 in. |
| Wheelbase: | 52.4 in. |
| Ground Clearance: | 5.8 in. |
| Seat Height: | 32.2 in. |
| Fuel Capacity: | 4.2 gal. |
| Cycle World Measured Wet Weight: | 377 lb. |
For more updates check below links and stay updated with News AKMI.
Life and Style || Lifetime Fitness || Automotive News || Tech News || Giant Bikes || Cool Cars || Food and Drinks

Source