Bikes
Custom Motorcycle Dream Team Builds Sportster for Charity
The final result of the Built for Good project, a monocoque Sportster Forty-Eight soon to be given away to raise money for Waves for Water. (Brandon Lajoie and Roy Son/)
Motorcycle building, like motorcycle riding, is typically a solitary endeavor. Most builders enjoy their time alone in the garage, making their unique vision a reality, but there's also an incredible sense of community among customizers. At any motorcycle show you'll see them walking around, inspecting projects, sharing ideas, and critiquing each other's work. As the last year and a half has sequestered us each to our own garages, we've had too much time alone and not nearly enough of the community that's always been such a big part of this culture. So David Chang, founder of @CafeRacersofInstagram, came up with a plan.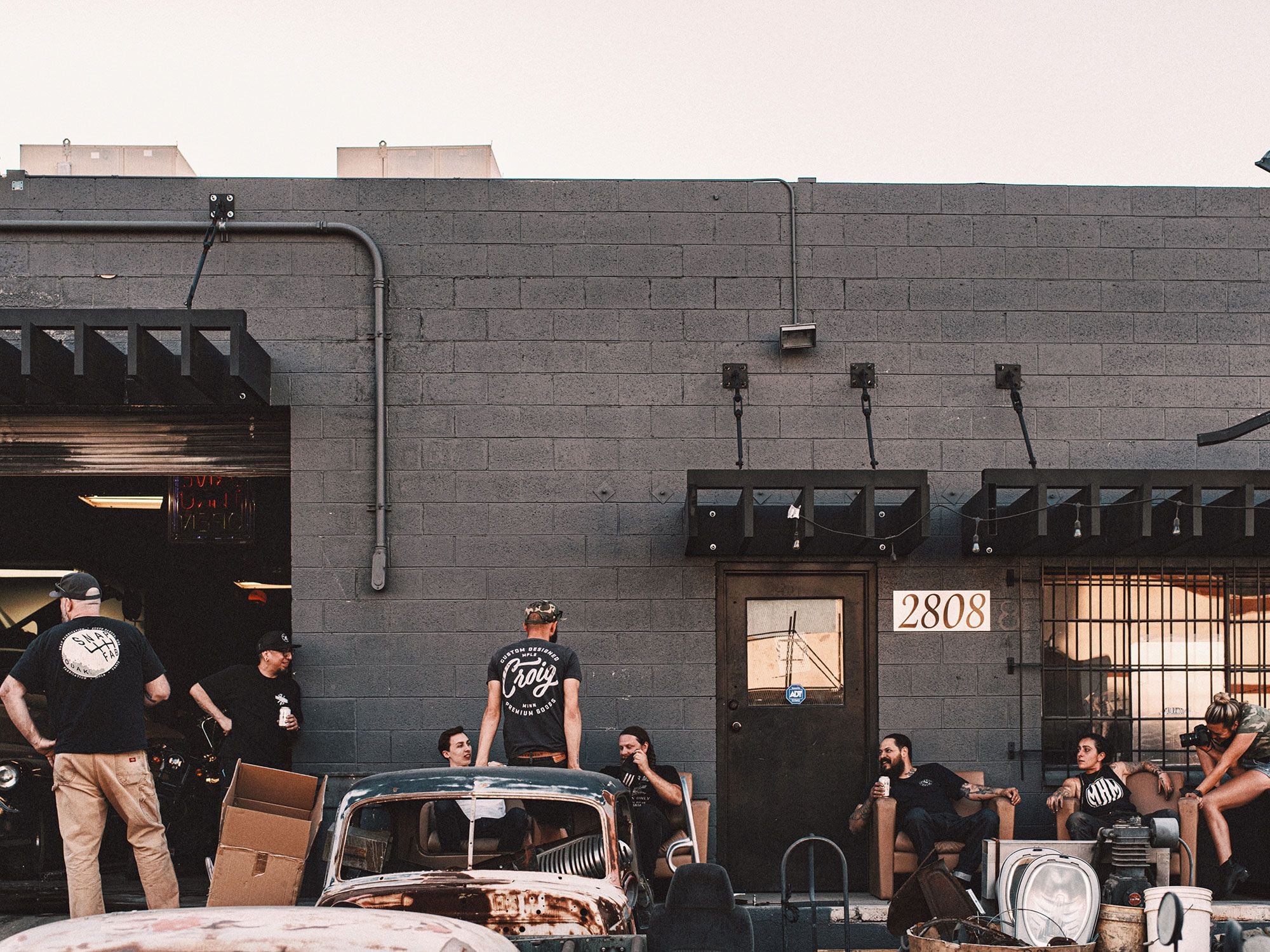 The Built for Good team taking a break outside of Sosa Metalworks in Las Vegas, Nevada. (Brandon Lajoie and Roy Son/)
Seven years after starting a successful Instagram page focusing on café racer motorcycles, CROIG has now amassed more than a million followers. As the page grew, Chang looked for a way to bring people together while doing some good, which is how the partnership with Waves for Water comes into play. Waves for Water is an organization that helps people in regions without easily available clean water by giving them access to portable water filter systems, digging and fixing bore-hole wells, and constructing rainwater harvesting and storing systems. David could use his resources in the custom motorcycle world to bring these well-known builders together on one project, get tons of coverage through everyone's social media, then give the bike to someone who had donated to the cause. It made almost too much sense.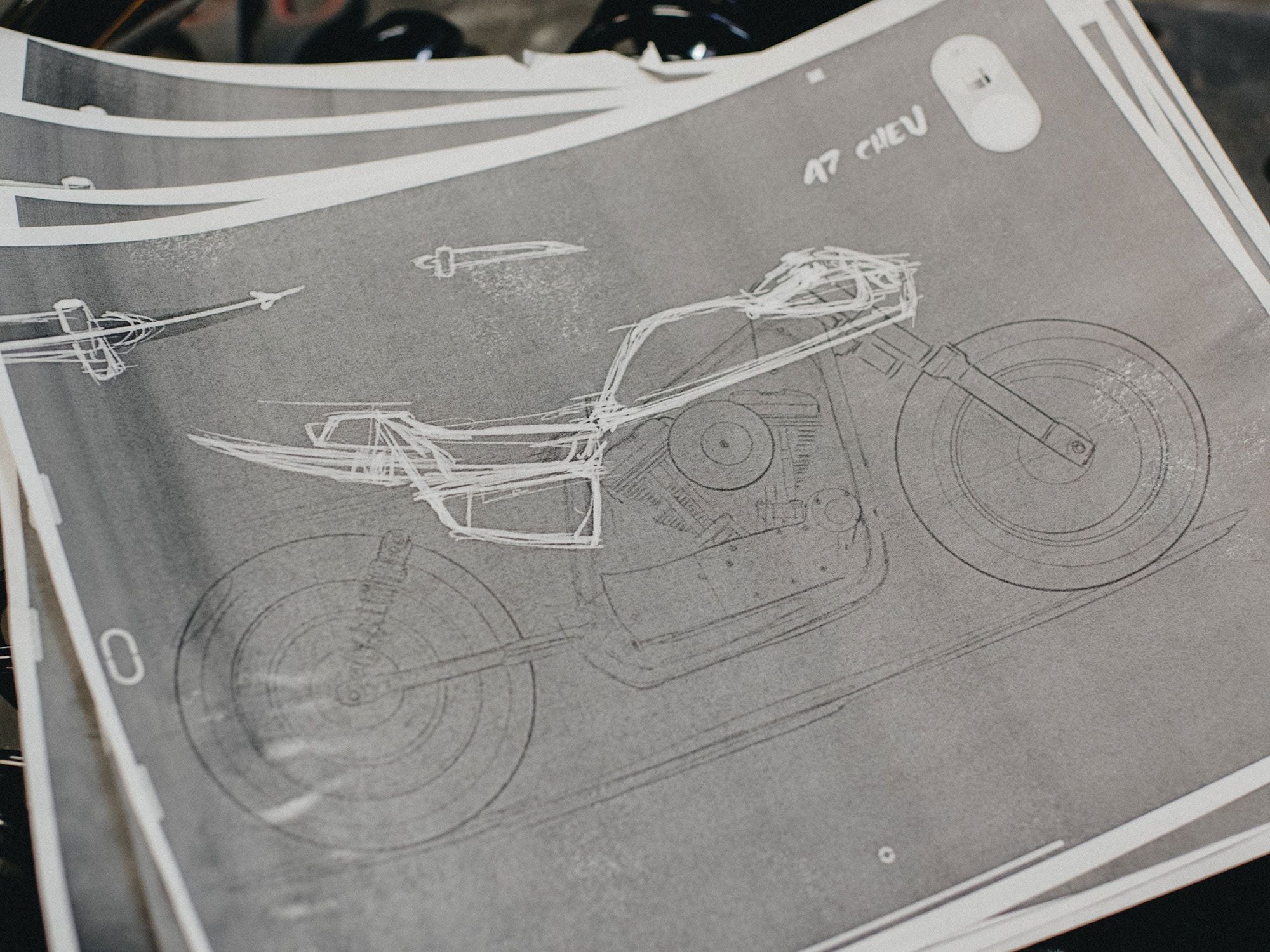 Early sketches for the Sportster build. Some builders prefer to go straight to the form, others like to see it on paper first. (Brandon Lajoie and Roy Son/)
"The point was to bring in different talents and try to make one cohesive piece," Chang says. "Each of these builders has their own style, always building alone, and this is the first time any of us have really been hanging out in groups in over a year. So there's a lot of excitement for a few reasons."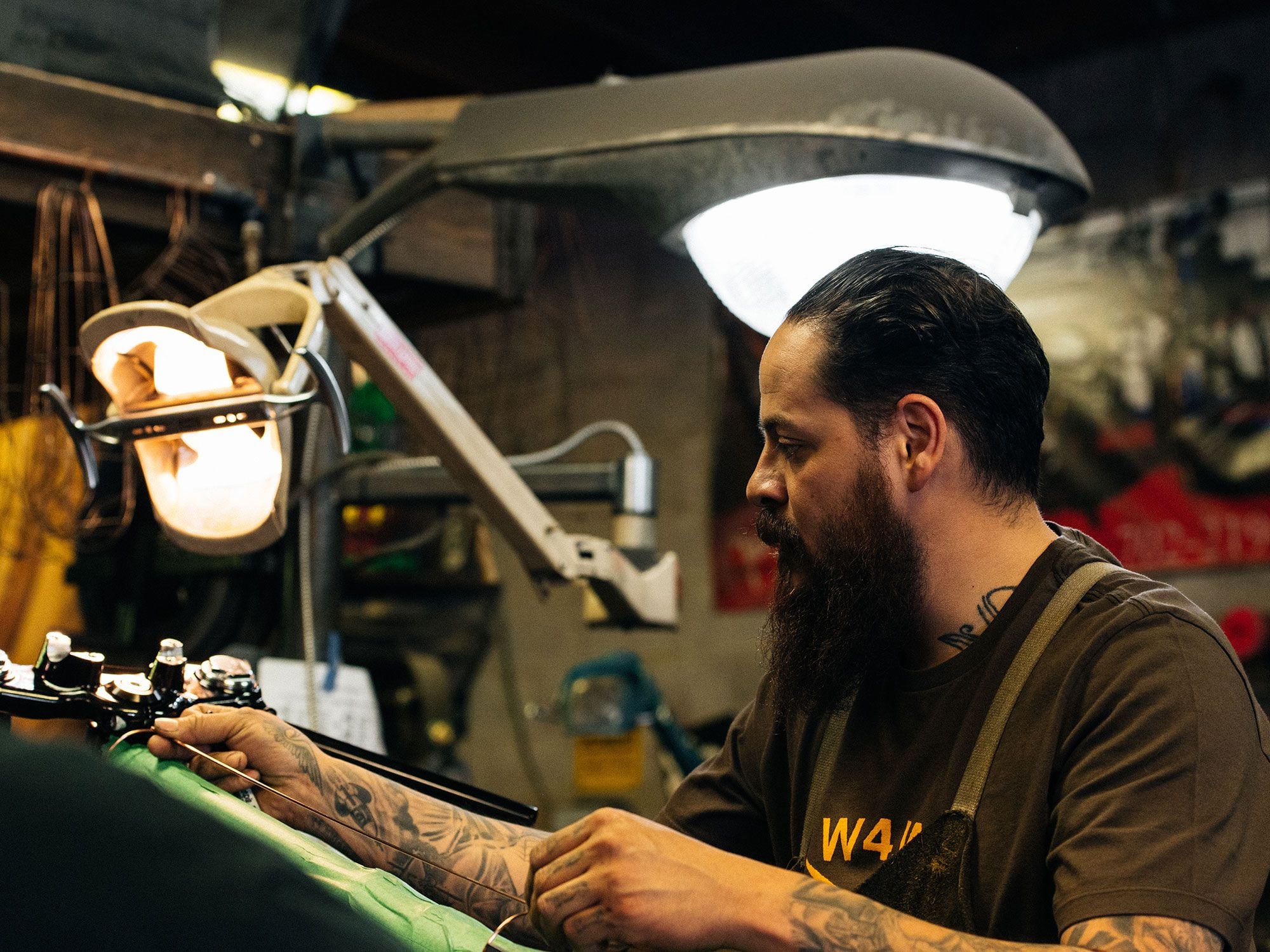 Christian Sosa is a hands-on builder, going to the wire to mock up form on the bike itself. (Brandon Lajoie and Roy Son/)
While David brought everyone together, there were four builders who would take on the majority of the work, and of course, producer Ben Holmes would make sure everything went smoothly and there were great videos and photos of the final product to share. J. Shia is the enigmatic owner, builder, and chief everything at Madhouse Motors. Jay Donovan is a fresh-faced young builder who has shown an incredible talent for both designing beautiful motorcycle forms and molding metal to make them a reality. Joe Mielke is a South Dakotan metal-shaping wizard and gem of a human being who teaches the arts of metal fabrication and toolmaking under the name Snap Fabrications. Christian Sosa is a legend in the metal-shaping world, having won awards from nearly every major US show. With only seven days to complete the project from start to finish, these four reached out and got help where they could, but took on the majority of the work themselves. They met at Sosa Metalworks in Las Vegas for a week of extremely long days.
Jay Donovan bending and tacking the wire form on the Sportster. (Brandon Lajoie and Roy Son/)
The base bike is a 2021 Harley-Davidson Sportster Forty-Eight. Given the known style of builders involved and their expertise in metal molding, a monocoque steel body seemed like a natural choice. Preliminary sketches were done with the help of Jeremy Lacy at DownShift Studio, then built upon and altered by the team in the shop. The wire frame was bent and tacked up and panels were cut and formed before being welded together. The welds were then ground out and smoothed before the metal was polished and fit with the EFI and plumbing. It's simple when broken down like this, but simple is not the same thing as easy; trust me, it's a massive undertaking for just seven days.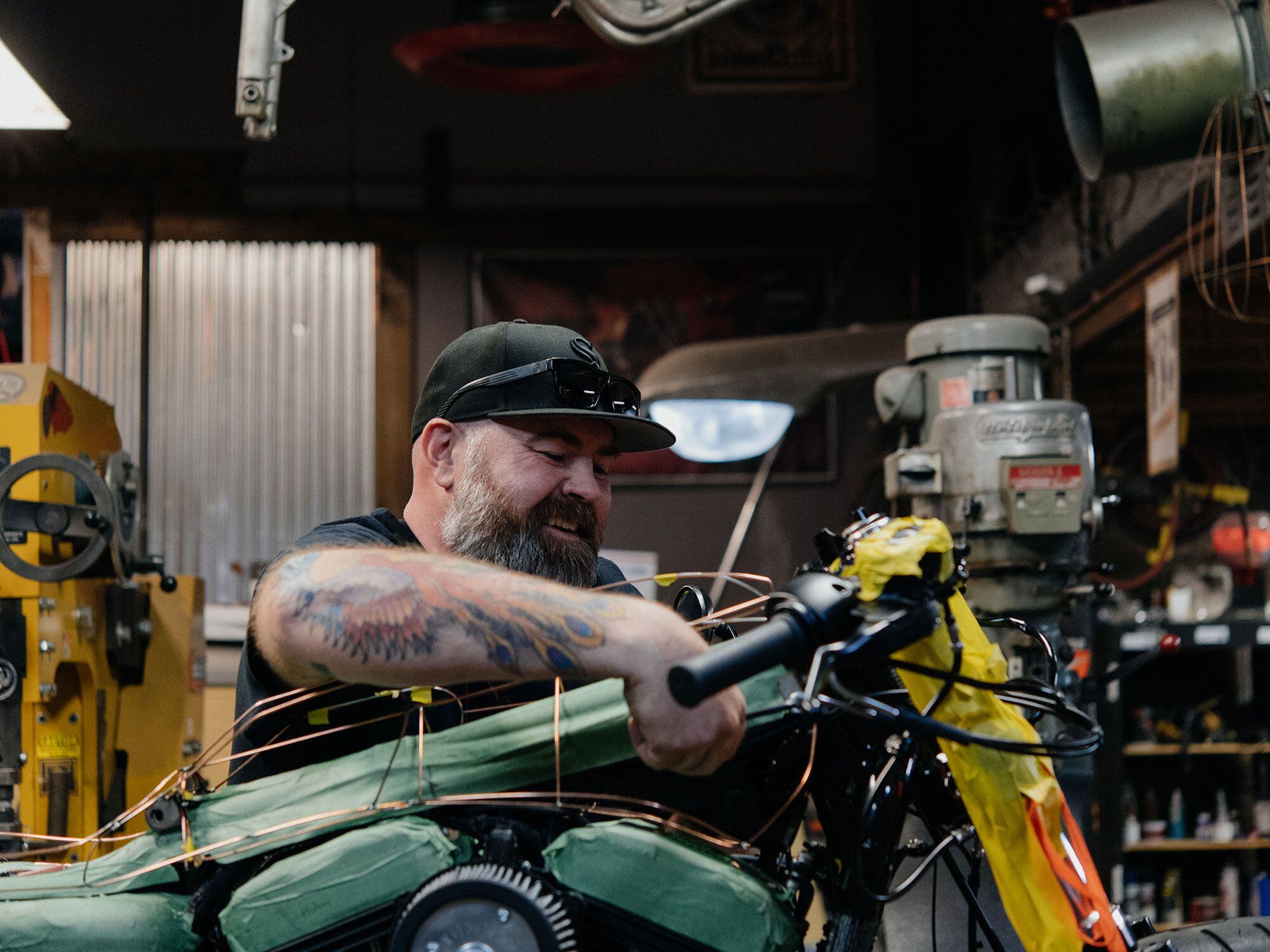 Joe Mielke test fitting and making adjustments to the wire form. (Brandon Lajoie and Roy Son/)
Through many late nights of micheladas and sleeping in vans, the team managed to pull the job off in a truly incredible way. Once the build was completed, they loaded up and headed out into a dry lakebed outside of Vegas to blow off some steam with shakedown testing.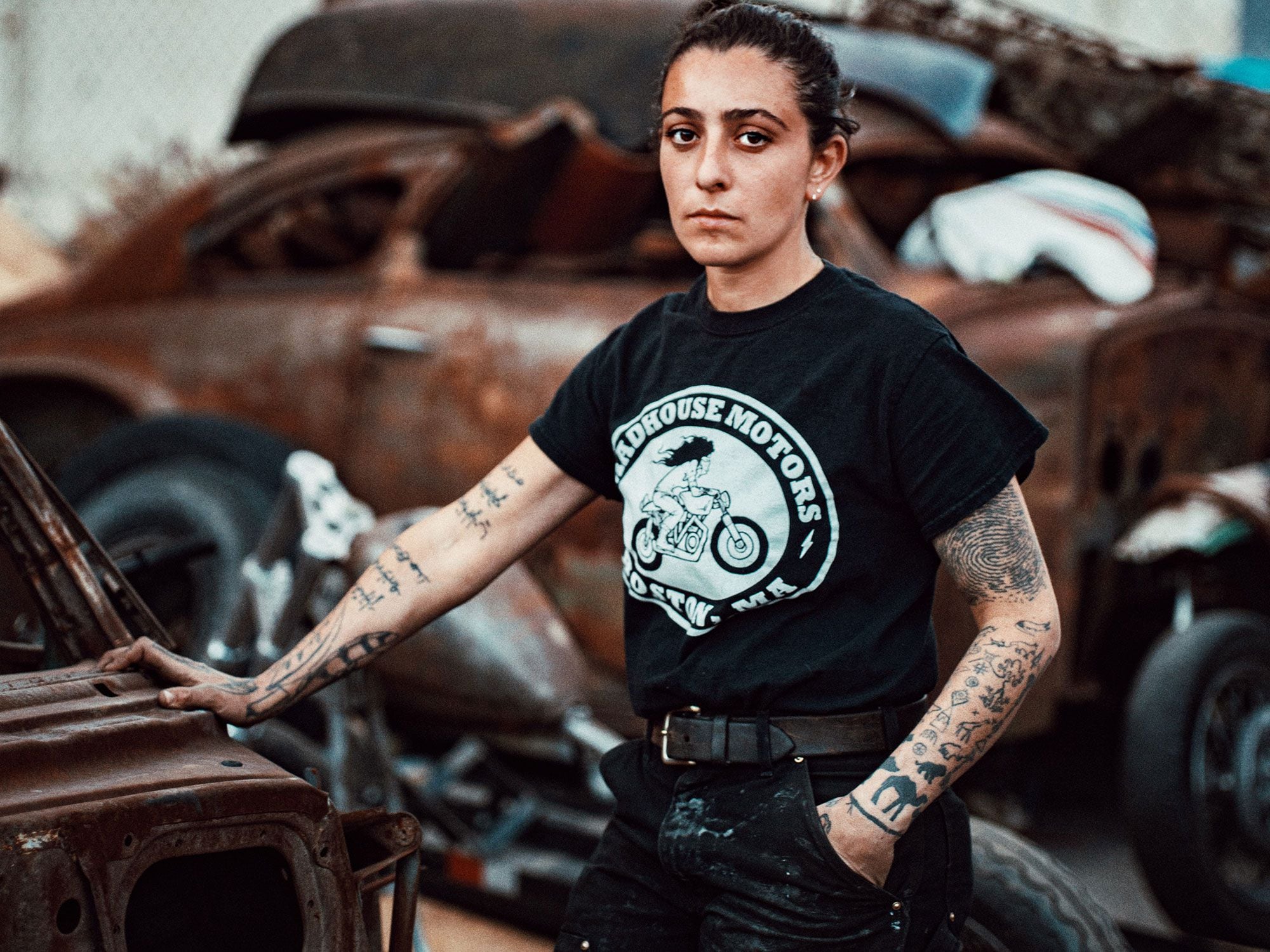 J. Shia flew out from Boston, Massachusetts, to spend her birthday working on this project. (Brandon Lajoie and Roy Son/)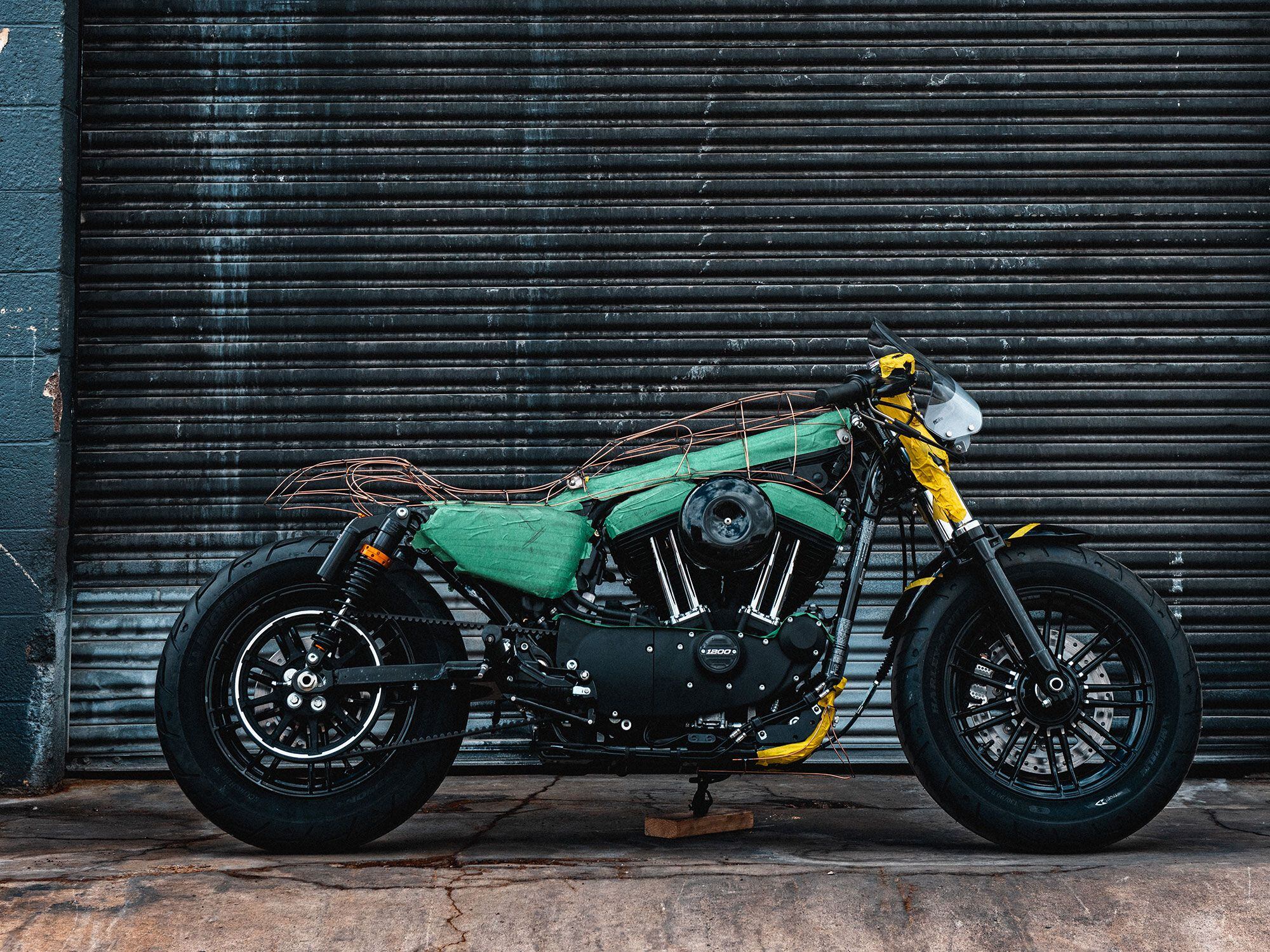 The Forty-Eight was wheeled outside to check proportions on the wire frame before starting construction of the steel body. (Brandon Lajoie and Roy Son/)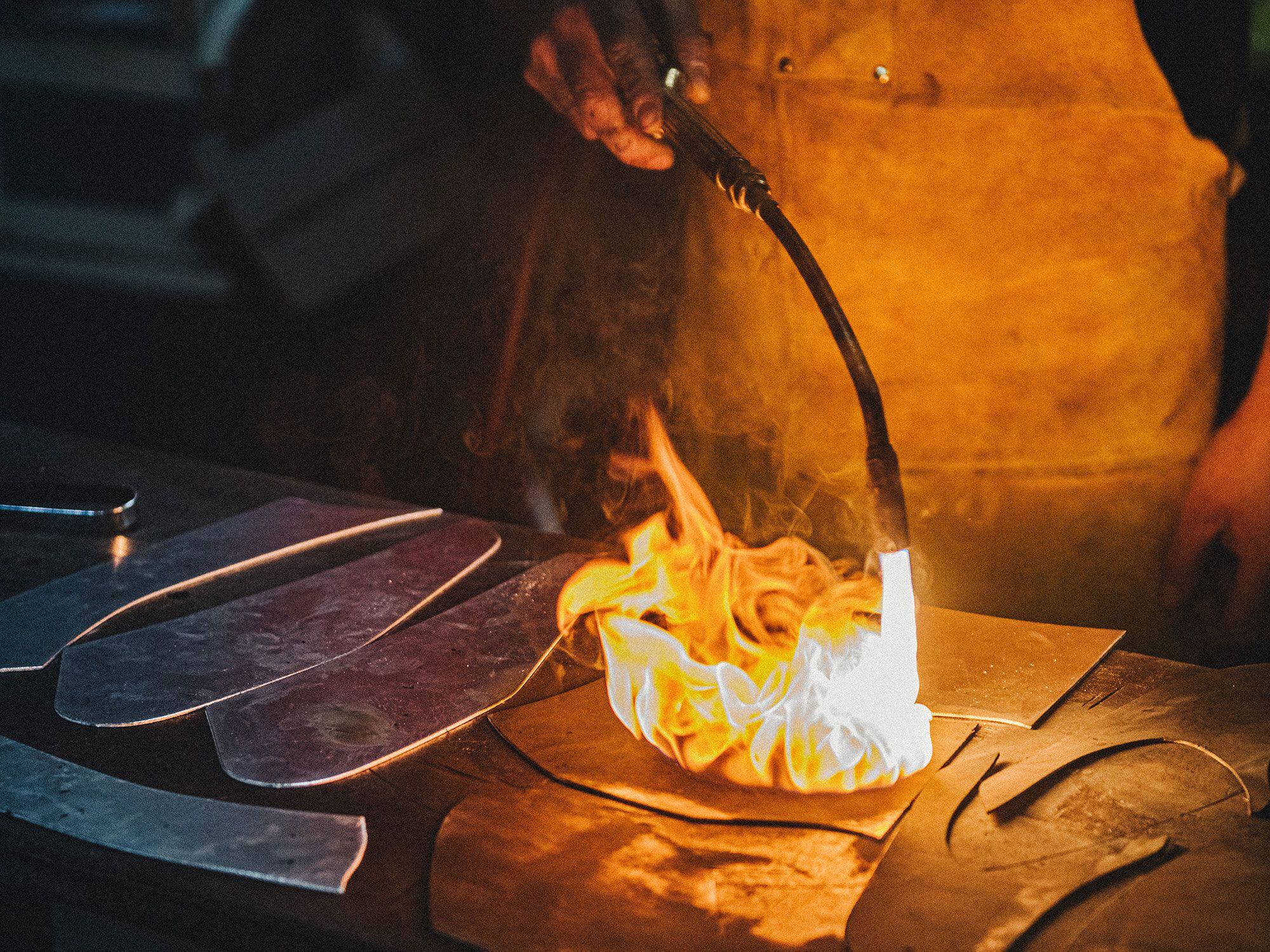 Sosa annealing metal panels for the fairing and bodywork before bending them into shape. (Brandon Lajoie and Roy Son/)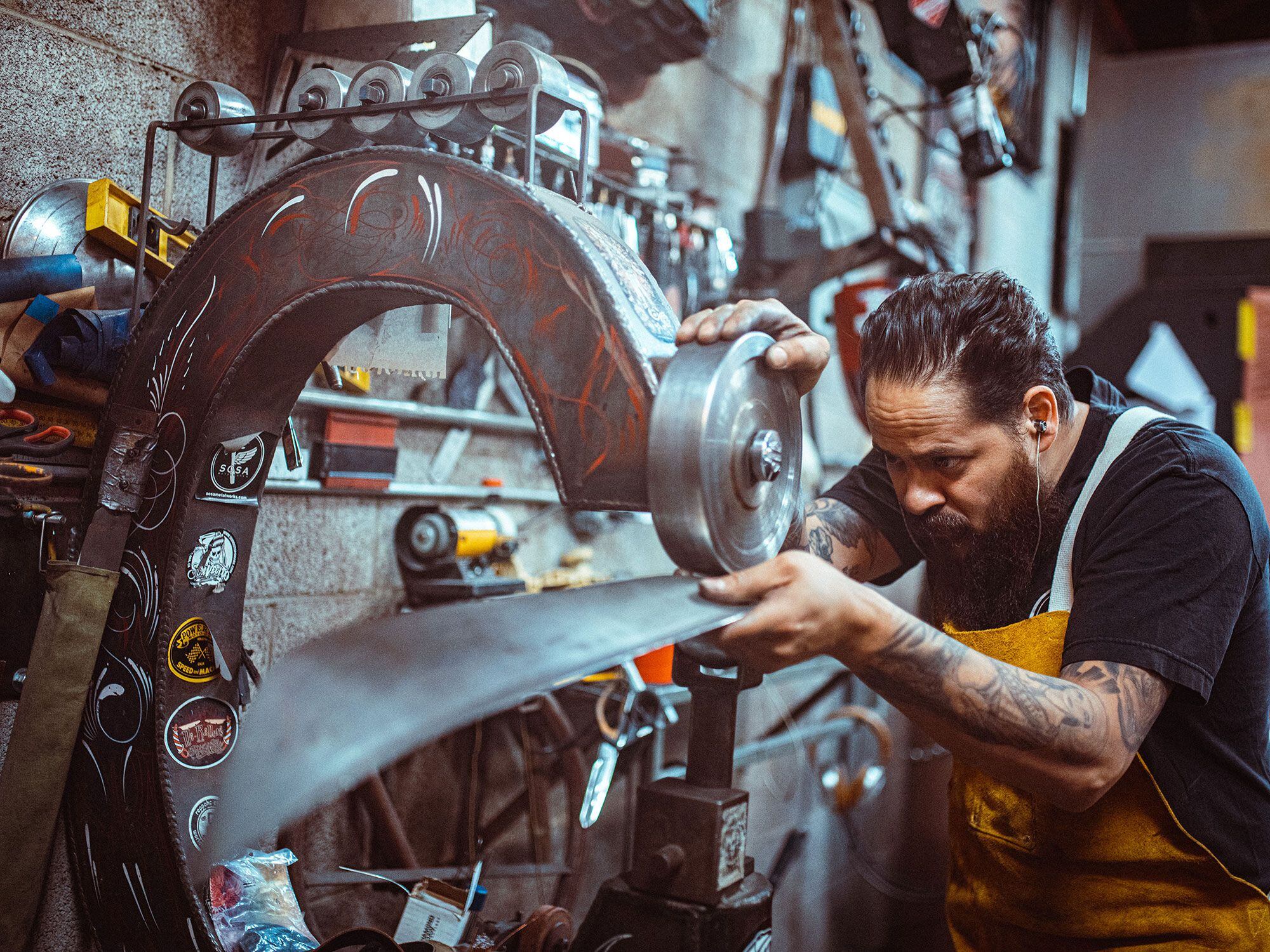 Sosa working the English wheel on one of the larger bodywork panels. (Brandon Lajoie and Roy Son/)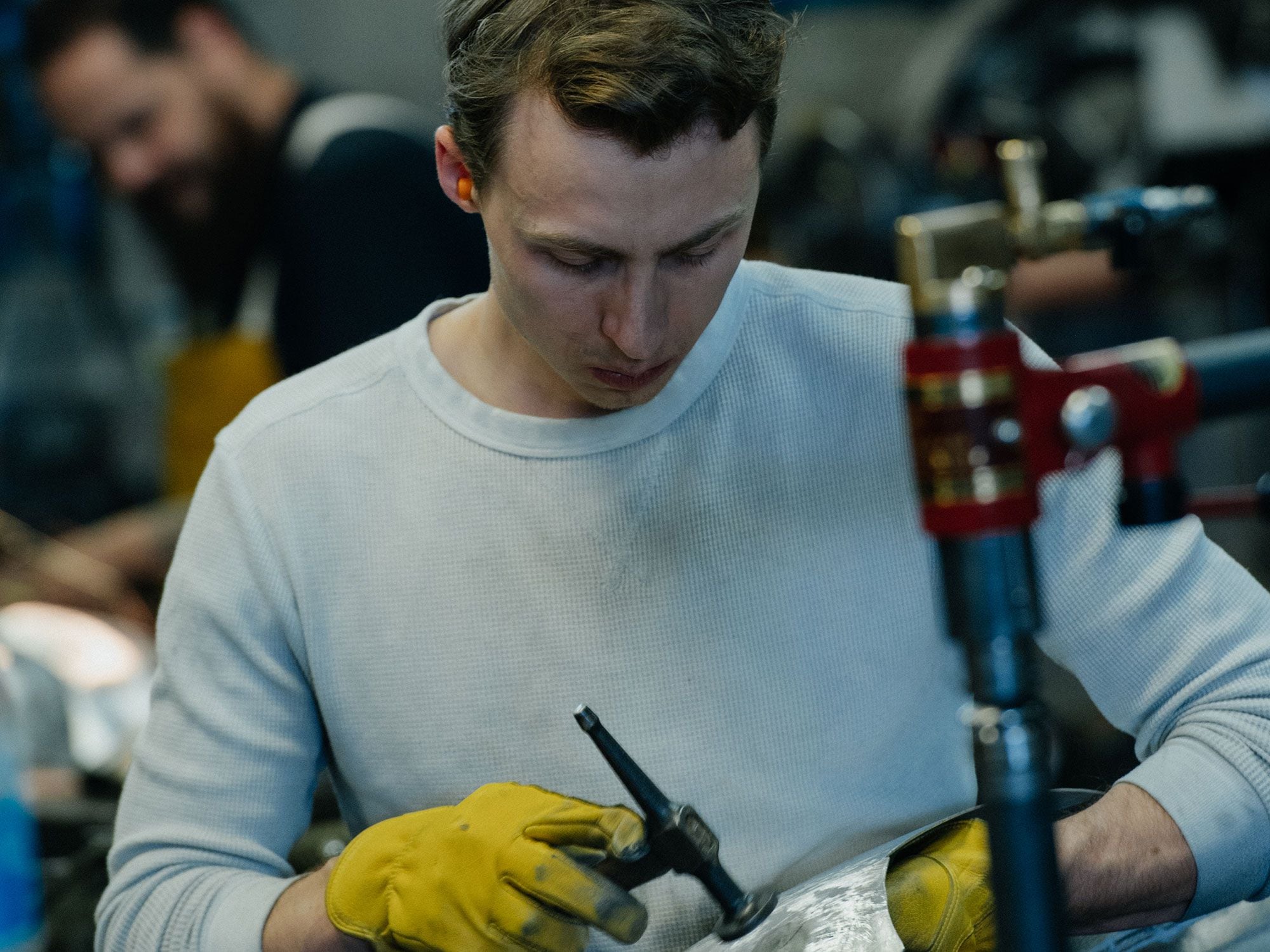 With raw metal bodywork, there's no Bondo to hide mistakes. Here, Donovan does some fine-tuning with a hammer, getting all the shapes smooth and just right. (Brandon Lajoie and Roy Son/)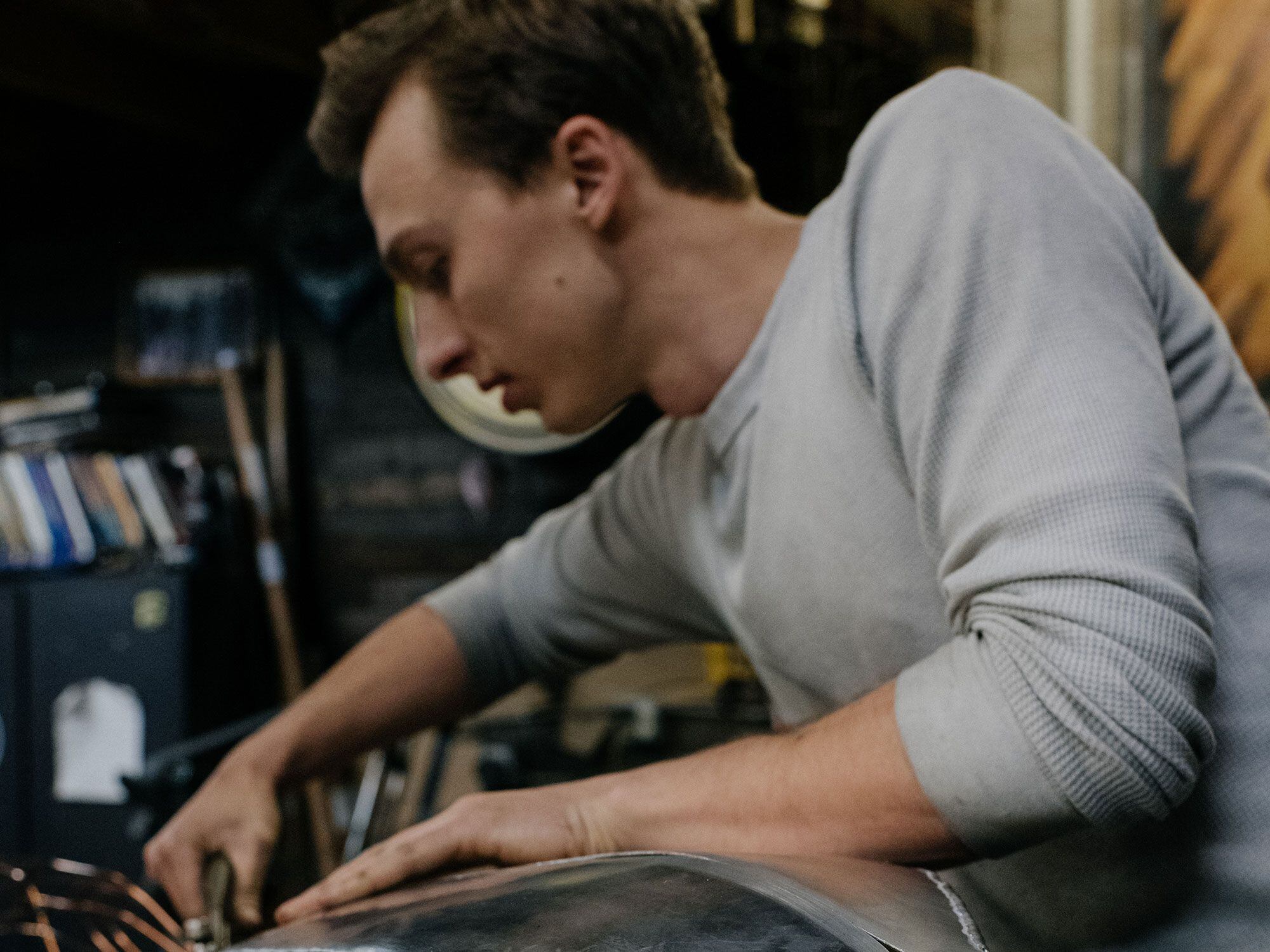 Welded panels are placed over the wire forms to make sure they match, then welded and cleaned up. (Brandon Lajoie and Roy Son/)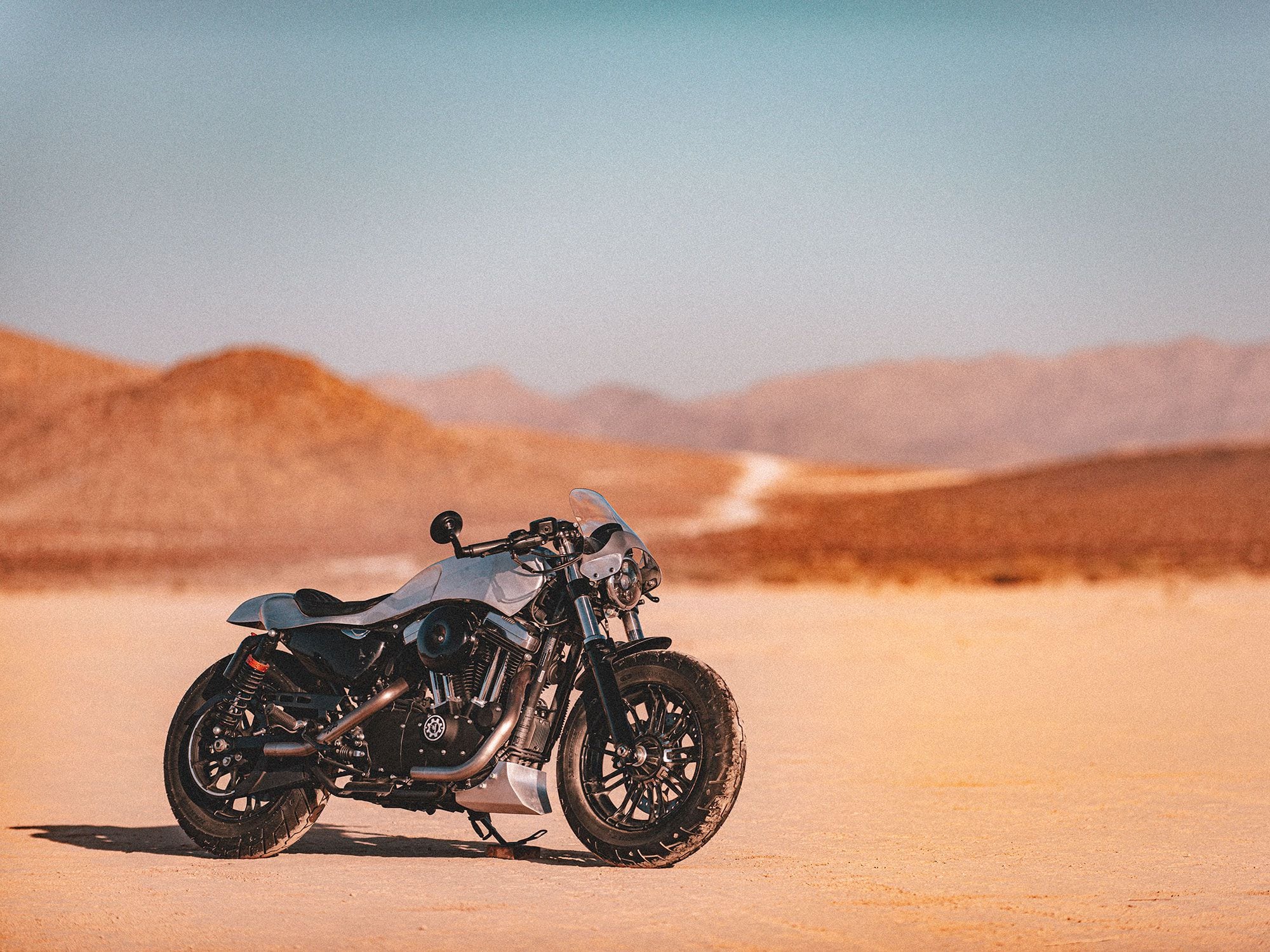 The final result of the Built for Good project, a modern steel-bodied Sportster custom unlike any other. (Brandon Lajoie and Roy Son/)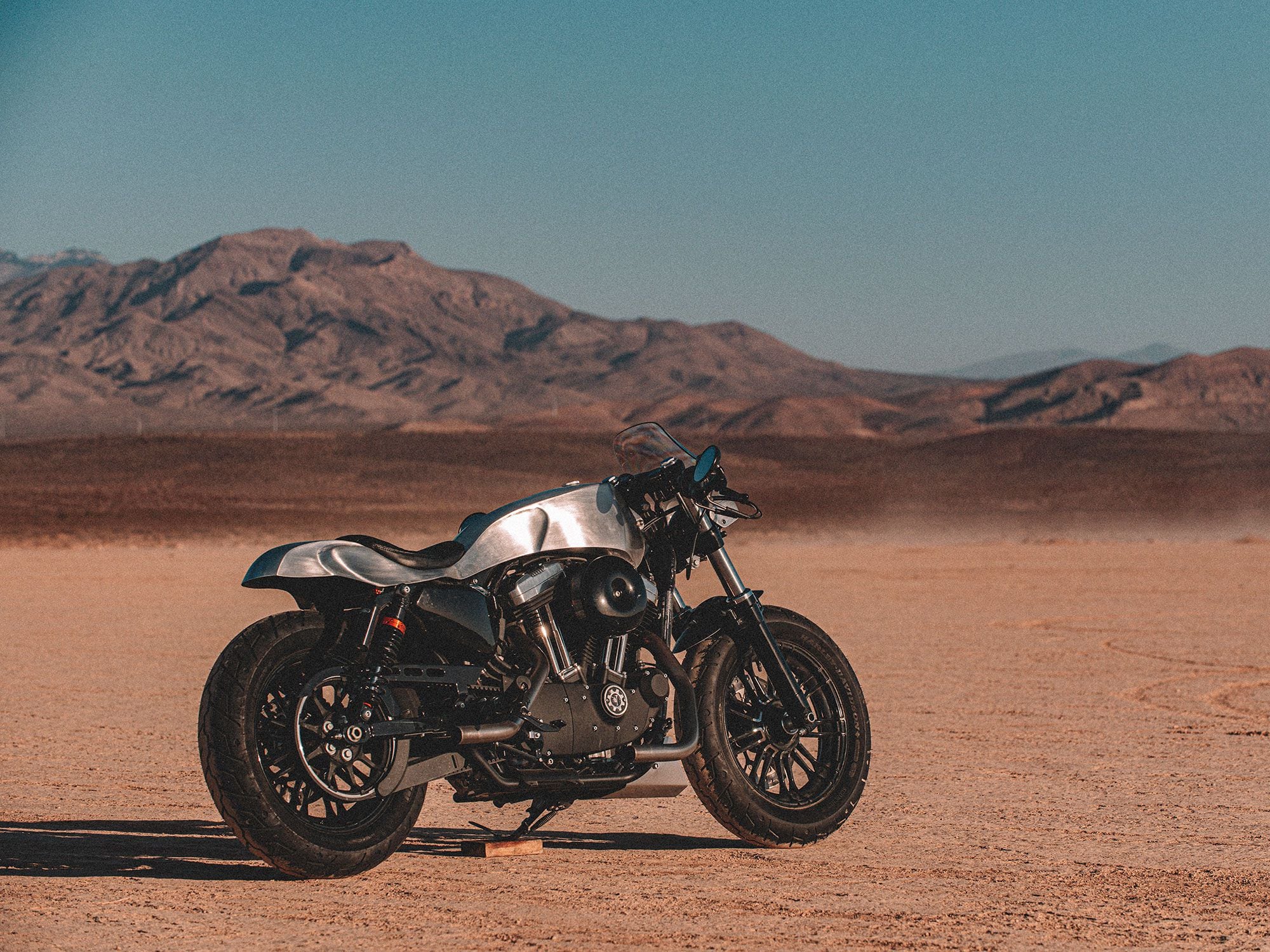 Check out <a href="https://croig.co/" target="_blank" rel="noopener noreferrer">CROIG.co</a> for more information on the sweepstakes. (Brandon Lajoie and Roy Son/)
David will now be riding the completed custom Sportster along the West Coast and posting locations to @CafeRacersofInstagram along the way so that people can come check it out in person. One video will be released a week through CROIG.co; while you're checking them out, you can donate to enter the giveaway to win this awesome bike.
For more updates check below links and stay updated with News AKMI.
Life and Style || Lifetime Fitness || Automotive News || Tech News || Giant Bikes || Cool Cars || Food and Drinks

Source