Bikes
First Ride: 2024 Triumph Street Triple 765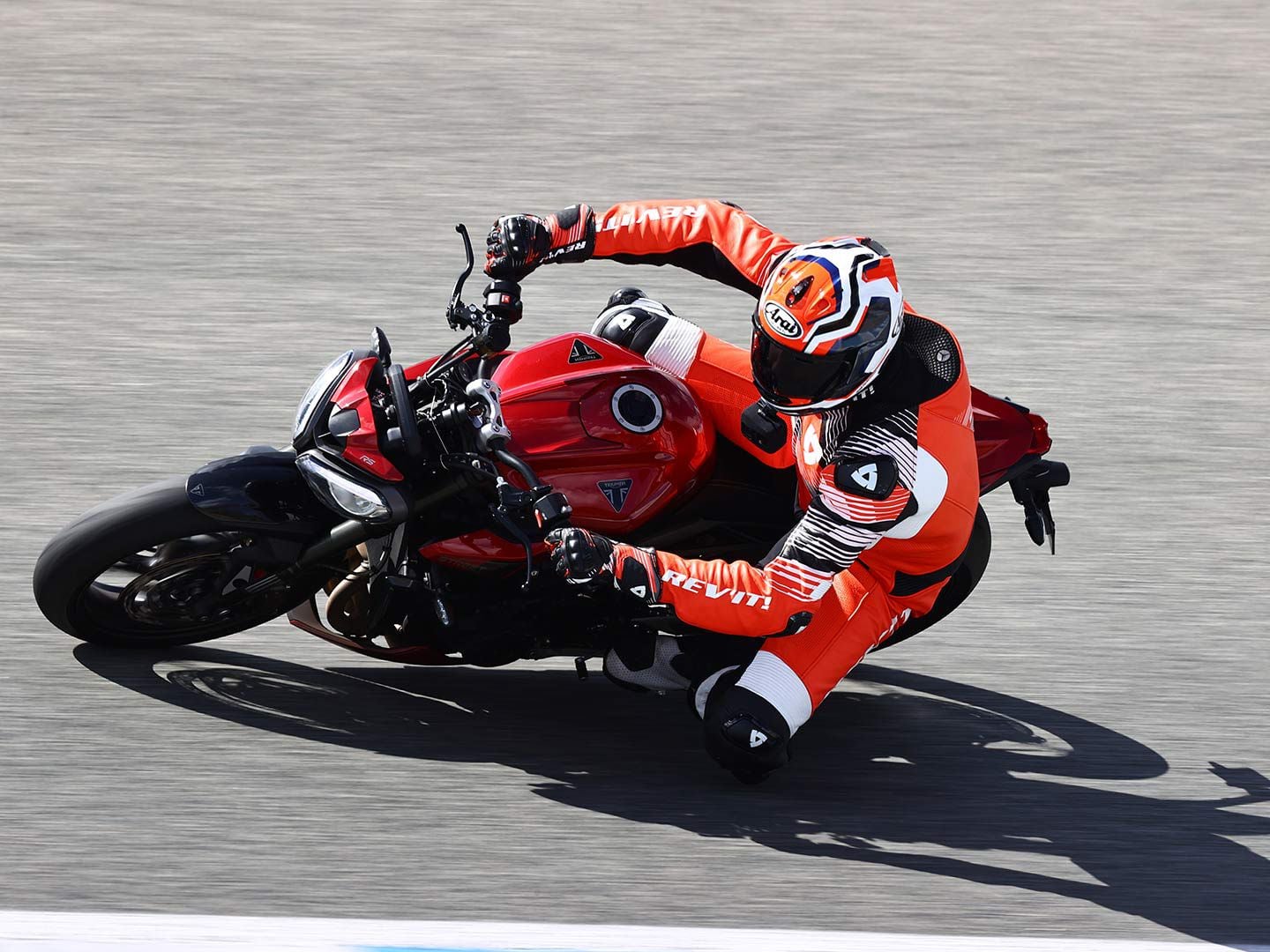 The Street Triple 765 RS has roots going back to Triumph's Daytona 675. For 2024, Triumph taps into its racing experience to bring an even sportier option to the table. (Triumph/)
Your best traits can be seen as flaws in the eyes of the overcritical. Triumph's Street Triple is known for its smooth, predictable performance. And yet, because it's a naked bike, many riders expect it to be something more than that too. They want something with a little spice.
Customer requests—and competition—in mind, Triumph tasked itself with fine-tuning the Street Triple formula. The result? A refreshed lineup consisting of the base-model R, up-spec RS, and limited-edition Moto2. Consider moving to each higher-tier model like custom tailoring your experience; widely varying part lists mean each bike will outshine the others in at least one realm.
The question then becomes, how will the lineup fare against the increasingly sporty middleweight and middleweight-plus naked-bike competition that's been stealing Triumph's limelight? Especially a certain 890cc machine that's been turning that light a shade of orange.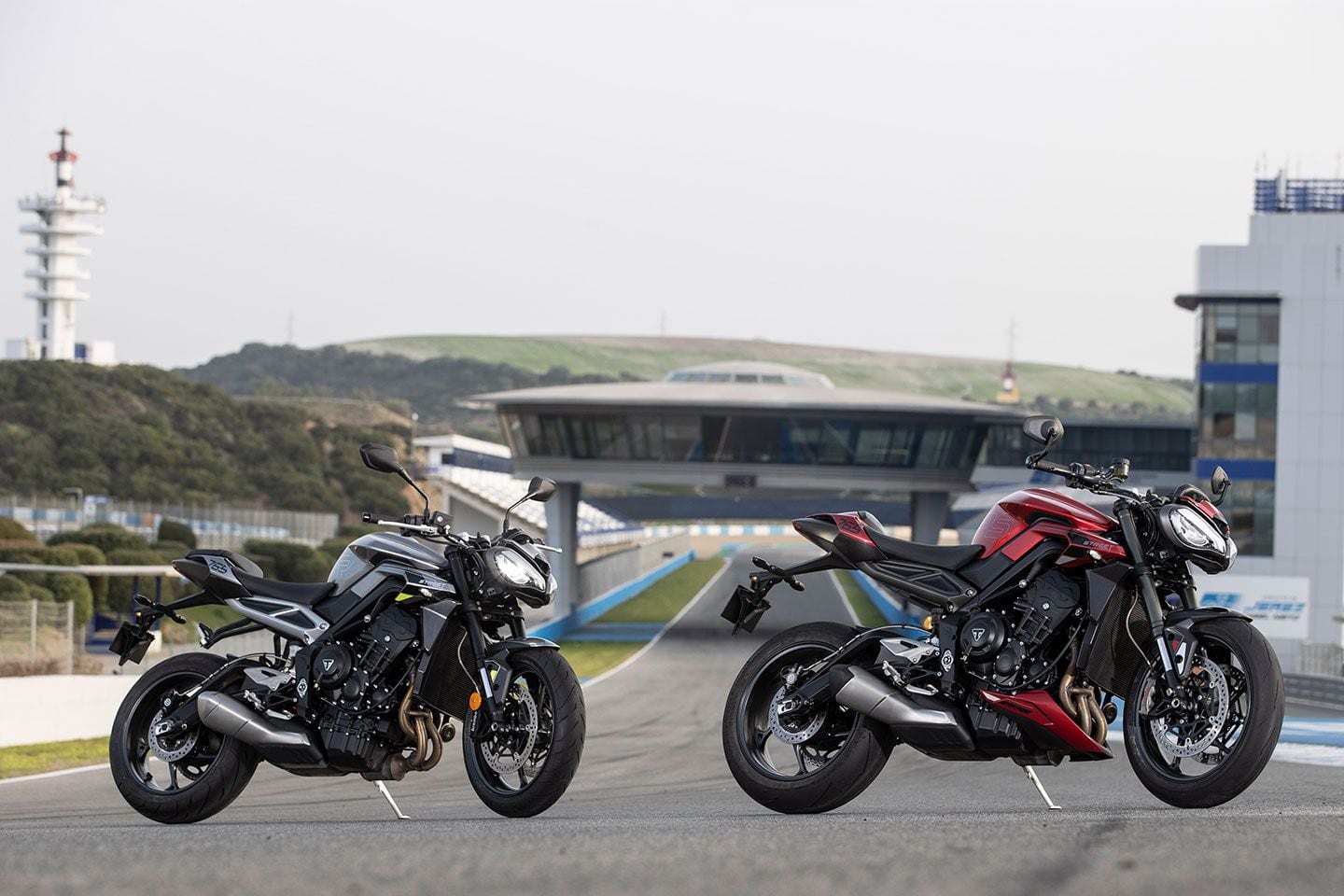 Street Triple 765 R (left) and Street Triple 765 RS (right). Notice the RS's bar-end mirrors, bellypan, and seat cowl. RS model uses higher-spec suspension and brakes, while also benefiting from a higher engine tune. (Triumph/)
Triumph is quick to point out that, while it wanted to make the Street Triple more powerful and more agile, it wasn't willing to sacrifice stability or the polished feel that drew customers to the platform in the first place. The result is a carefully sorted combination of engine updates, new electronics, and geometry changes for the sportier RS/Moto2 models. Nothing more, nothing less.
Engine updates are the same for all models and stem from Triumph's experience as engine supplier for the Moto2 class of the MotoGP World Championship. In fact, most of the Street Triple's internals are inspired by what you'd find in the outgoing Moto2 engine, just without the costly finish or base material needed for racing application. New pistons, connecting rods, and wrist pins are matched to optimized combustion chambers for increased cylinder pressure limit, while new valves and camshafts increase valve lift for improved intake, combustion, and exhaust efficiency. The compression ratio has been raised from 12.7:1 to 13.3:1.
Modest updates for the Street Triple 765 R, which benefits from the same engine and styling tweaks as the RS, but makes only 2 more horsepower and 2 more pound-feet of torque than before. More advantageous are the new electronics, including cornering ABS, cornering traction control, and bidirectional quickshifter. (Triumph/)
Increased power means more stress on the engine, so Triumph strengthened key parts, including the aforementioned con-rods and pins, as well as the primary drive gear on the crankshaft, which is wider than before. A new exhaust system is tuned to extract gases more efficiently, something Triumph says it learned from the Moto2 engine program.
ECU tuning is different between R and RS models, the R producing a claimed 118 hp at 11,500 rpm and the RS a claimed 128 hp at 12,000 rpm, a 2 and 7 hp bump over previous models, respectively. Torque is up over previous-generation Street Triples but the same on both models, Triumph claiming 59 lb.-ft. at 9,500 rpm. If that doesn't sound like enough, consider that Triumph has revised the final gearing and used shorter gear ratios for gears two through six for improved acceleration. "This is the most responsive Street Triple ever," Triumph says.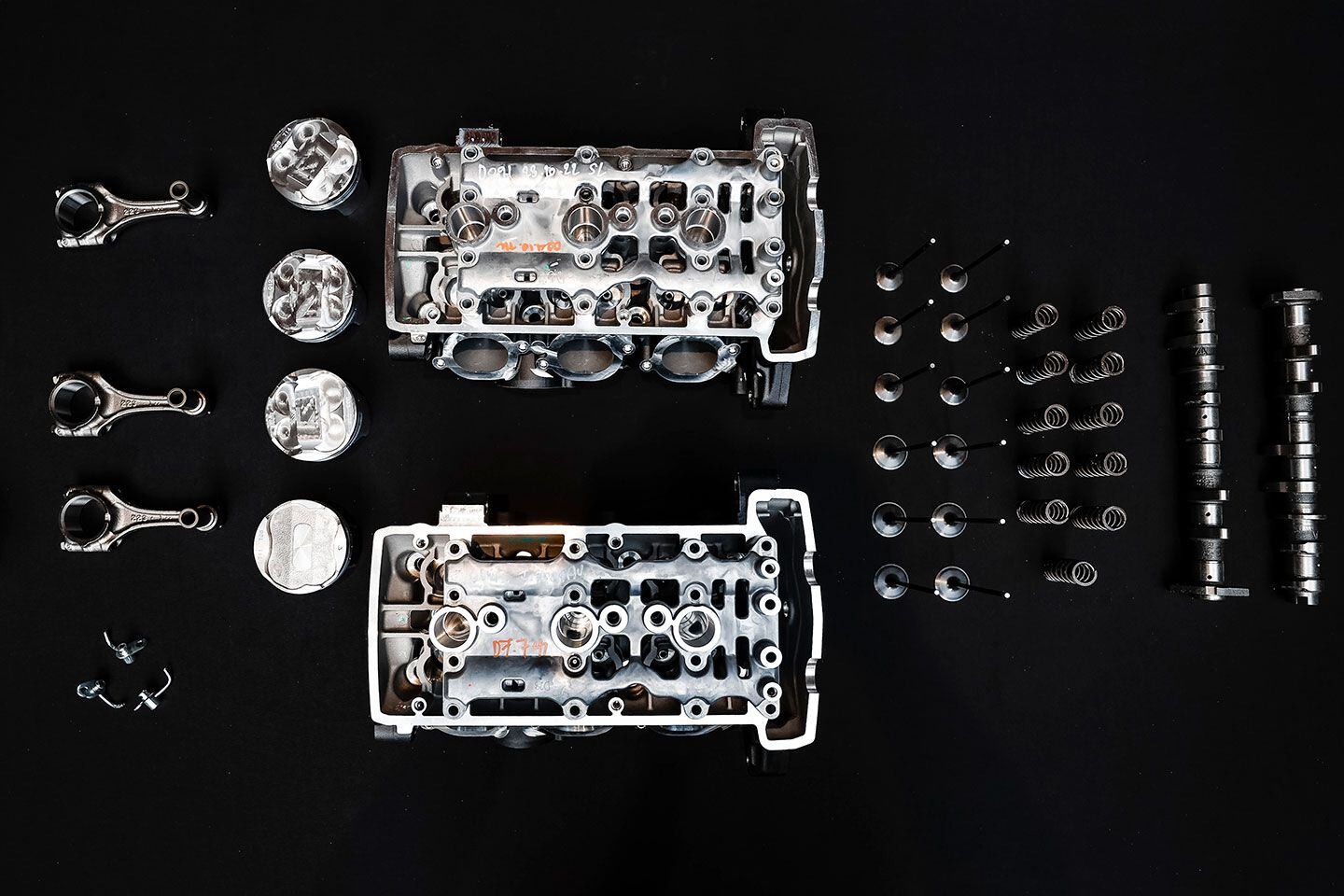 Street Triple 765 connecting rods, pistons, wrist pins, and other internal components are inspired by the Moto2 engine, with differences in finish or material. Notice the move to machined pistons (top three) versus a cast finish on the older piston (bottom). (Triumph/)
Updated electronics are intended to put power to the ground in a smooth manner, or bring it to a controlled stop when needed. Big news here is the addition of a six-axis IMU, for cornering traction control and cornering ABS. There's wheelie control, as before, but the added data provided by the IMU means Triumph can manage wheelies with more precision. A bidirectional quickshifter is standard on both models—a first for the road-focused R.
Chassis changes are limited to a 10mm shim at the RS/Moto2 models' shock mount, which increases rear ride height and sharpens the geometry for increased agility. Rake on the RS model goes from 23.9 degrees to 23.2 degrees, and trail from 3.9 to 3.81 inches. Any discrepancies in the R's geometry come down to suspension tuning, as that bike is otherwise unchanged. For even more leverage and quicker handling, R and RS get a 12mm wider handlebar.

The Street Triple 765 lineup uses displays already seen on other Triumph models, and while the RS' display is a step up in terms of hardware, the styling makes it nearly impossible to read at a glance. (Triumph/)
Differences between R and RS models grow from there. As a more affordable and street-focused entry into the lineup, the R uses a Showa 41mm USD Separate Function Big Piston fork, Showa shock, and Brembo M4.32 front brake calipers—the same as before. The RS takes things a step further with a Showa 41mm USD Big Piston Fork, Öhlins STX 40 shock, and new Brembo Stylema calipers. The RS model's brake package is completed by a Brembo MCS span and ratio adjustable brake lever.
Stepping up to the RS gets you a few more niceties, including a 5-inch TFT display versus multifunction instrument with smaller TFT screen; five ride modes versus four; and Pirelli Diablo Supercorsa SP V3 tires versus Continental ContiRoad. While both bikes get styling updates for a sharper, more aggressive look, the RS further separates itself with a bellypan, seat cowl, bar-end mirrors, and stitched seat cover. Both models use a 0.64-gallon-smaller 3.96-gallon fuel tank, your first hint that Triumph was willing to make at least some sacrifices in the transition to a sportier Street Triple.
Styling updates give the Street Triple 765 a sharper appearance. Unfortunately, that aggressive appearance comes at the expense of a larger fuel tank. The new tank is just 3.96 gallons. (Triumph/)
That is not to say this is a dramatically different motorcycle than before, and in many ways the R is the same bike we've come to love, with just an added layer of technology baked in. Leaving for our first ride in cold, damp conditions, things like cornering ABS make sense.
With just 2 more peak horsepower and 2 more pound-feet of torque, it's hard to say that the R is recognizably stronger, but the shorter gearing and added midrange gives the bike an edge when straight roads start to wrap themselves around nearby hills. The engine is flexible and forgiving, with plenty of torque down low and well-calibrated throttle maps that are a nice balance between sporty and smooth. You don't have to pay extra attention as you're rolling the throttle on or leaning the Street Triple into a corner—these things happen seamlessly. A light clutch pull and little to no vibration through the bulk of the revs means you could ride this bike for hours without your body or brain feeling overworked. This is a genuinely enjoyable bike to ride on the street.
The Street Triple 765 R is plenty of motorcycle for a casual riding, around town or in the canyons. (Triumph/)
The R's Separate Function fork, Showa shock, and standard front brake make sense the majority of the time, and it's not until you're threatening speed limits that you begin missing the higher-spec hardware on the RS. There is, however, less grip from the Continental ContiRoad tires, which when combined with the street-focused suspension, cause the bike to feel less controlled as the pace picks up or road conditions deteriorate. Consider the R the dependable, easygoing friend you can carpool to work with all week, and the RS like the slightly more edgy buddy who you'd let loose with on the weekend. Not much for partying? The R really is all you'd need.
In either trim, the Street Triple feels compact and very much like a middleweight. You'll appreciate the bike's narrow midsection and easy reach to the wide handlebar, though anyone over 6 feet tall might struggle with the relatively short footpeg-to-seat gap (6-foot-3 author raises hand). After a full day in the saddle, our knees were asking for a little more legroom and our necks for some added wind protection. Yes, we realize this is a naked bike… Even still, the accessory fly screen might be a worthwhile addition, as the Street Triple's nose-down stance and skinny headlight does little to divert air around the rider. At least there's a diffuser mounted beneath the headlight, which keeps the air from feeling excessively turbulent.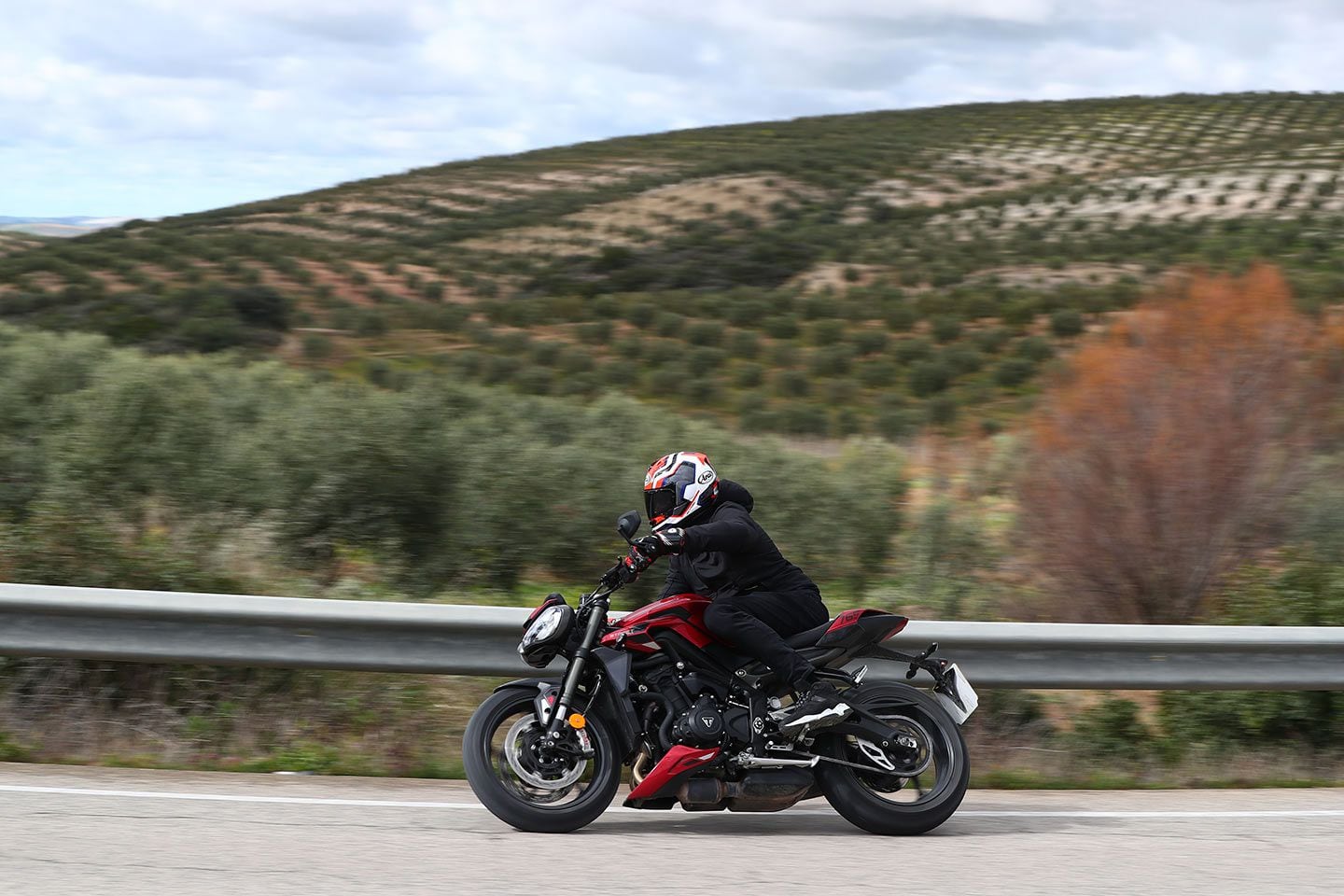 The Street Triple 765's sportbike roots are obvious in the relatively high, rearward positioned footpegs. The gap between seat and pegs can feel tight for anyone over 6 feet tall. (Triumph/)
While fast backroads offer a glimpse into the performance of the new engine and increased agility of the RS, there's no better test than pitching the bike into a fast fourth-gear corner at a racetrack. Conveniently, the world-famous Circuito de Jerez was a stone's throw from our hotel and the weather forecast was turning a corner. Triumph pulled the bar-end mirrors off the RS, threw tire warmers on, and let us out as soon as things warmed up.
The RS' seat height might be just 10mm higher than the R's, but you'll notice the difference as soon as you throw a leg over the bike, the more aggressive stance pushing you up over the front of the bike. Rushing into the few tight corners sprinkled around Jerez highlights the handling benefits; this is an incredibly easy motorcycle to pull down toward the apex, and it shines in tight stop-and-go corners.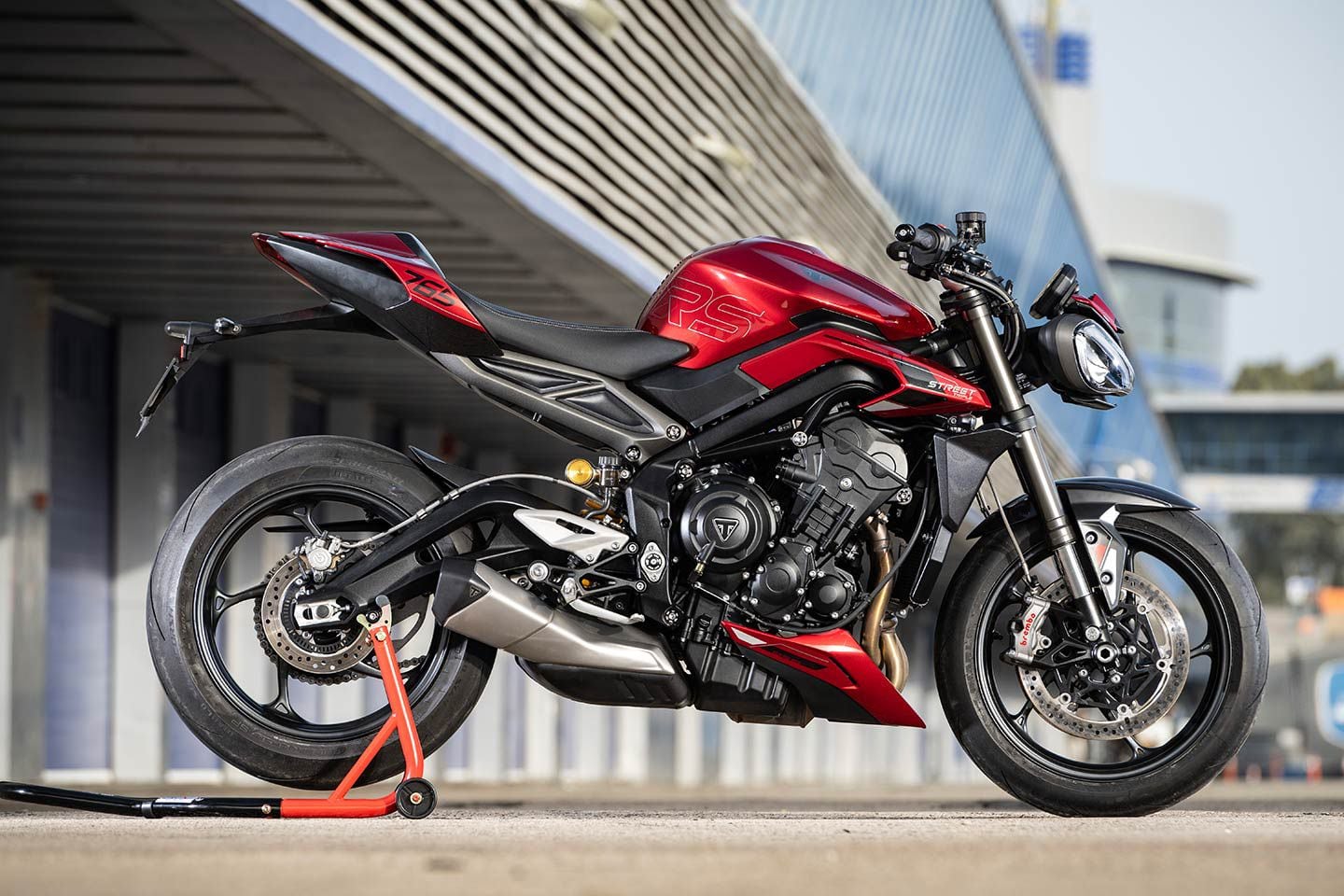 The Street Triple's design continues to be centered around a nose-down stance. On a rear stand and stripped of mirrors, the RS looks undoubtedly sporty. (Triumph/)
Triumph had a range of suspension settings to try as the day progressed, the more conservative settings we started with allowing the fork to dive too much under braking, and the rear to squat on corner exit. Increasing compression and rebound damping on both ends provided the necessary support, and by the end of the day the Street Triple RS was driving off corners with the type of mechanical grip that makes quick lap times a breeze. Crack the throttle on this bike and it's in a hurry to move forward.
There are still subtle reminders that this is not a pure sportbike, and even with the suspension using full track settings, there was a sense of numbness when rolling through Jerez's fast turns 5, 11, and 12, as well as small oscillations in the fork when loading the front. Having a big, wide handlebar enables you to put more inputs into the bike, whether you intend to or not, and you'll have to remind yourself that this is a naked bike. Credit the balanced, race-derived chassis and stout engine for occasionally wanting to make it something more than that.

The RS' Brembo Stylema calipers are new for 2024 and provide an incredible mix of power and feel, especially when paired to the MCS brake lever. M4.32 calipers on the R are still nothing to scoff at, and feel right at home on the street. (Triumph/)
Whatever time you might give up to a fully faired racing-focused sportbike in faster sections you can easily claw back on the brakes, the Street Triple RS feeling rock solid as you start shedding speed. This continued to be the case even as brake markers were pushed deeper, the combination of stable chassis and Brembo brakes offering such a high level of control that you almost never feel like you'll find the limits at corner entry. That MCS front brake lever isn't without its benefits either; there's great feel as you grab the lever and exceptional stopping power through the pull. On the street it felt almost unnecessary and overly sporty, and yet on the track it's clearly the way to go.
Updated electronics play a role in how hard the Street Triple can be pushed, the cornering function for traction control and ABS providing a bump in overall precision. Triumph says the main goal for the latest systems, especially traction and wheelie control, is to help the bike continue driving forward. This works as promised in the more aggressive Track setting, the Street Triple's TC light flashing at nearly every corner exit, without the system making any abrupt cuts.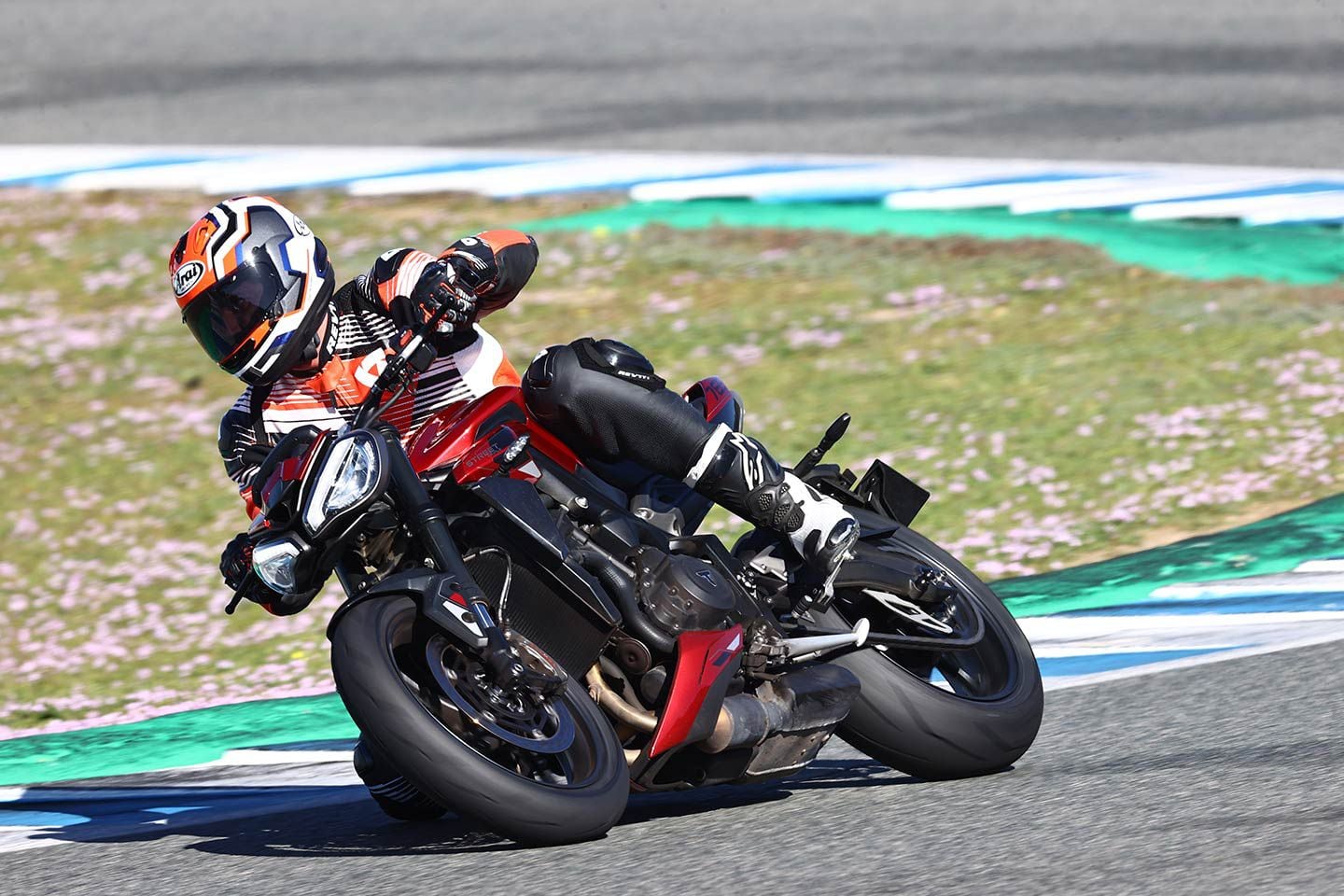 One of the Street Triple's greatest strengths is its ability to go right to the apex of a tight corner. With its new geometry, the RS is more agile than before, but still plenty stable. (Triumph/)
One downside to the system is that there's just four traction control levels, and that wheelie control is linked to traction control. This means you're unable to turn wheelie control off and leave traction control on, or individually adjust each. This may not be a racebike, but it is very high performance and we'd like to contest this decision, Triumph.
There are a few other oddities, the biggest being the design used on the RS' TFT display. While there are four layout options, there's limited color contrasting for either and the small characters make it hard to read at a glance. Stylish? Maybe, but the revs are so hard to read that you'll almost never know when you're about to slam into the rev limiter. And with the RS making peak power so close to redline (historically a very Italian trait), you will hit the limiter.

Showa Big Piston fork on the RS (left) offers an extra level of control and feel when compared to the Separate Function Big Piston fork on the R. This is also true of the RS' Öhlins STX 40 shock. The RS manages this without feeling overly harsh on the street. (Triumph/)
The 765cc triple is an absolute gem in every other regard. The same super-flat torque curve that pays dividends on the street makes the bike easy to hustle around a racetrack, enabling you to run a gear higher than you'd expect in most sections to not stress rider or bike. This is an incredibly flexible engine, and the extra top-end power of the RS makes sense if you plan on hitting the track. Other strong points include the precise, well-calibrated throttle maps and bidirectional quickshifter, which has a positive engagement and works exceptionally well so long as you let the revs fall a bit before grabbing the first downshift. The system works especially well on the street, where you're not working the top part of the rev range.
Ride modes for the RS, with default settings. Rain, Road, Sport, and Track settings can be changed within a small window, while Rider can be fully adjusted. Note: R model does not have a Track mode. One frustration is having to come to a stop to move into Track or Rider mode, when TC is turned off. (Triumph/)
Rolling off the track after a full day aboard the RS, you can't help but feel like Triumph accomplished what it wanted with the new platform. There are obvious benefits in terms of power and electronics, and while the RS has taken a step in agility, the bike doesn't feel any less stable than before. Small movements through the bar die out as quickly as they come, and even at a fast pace, the chassis never comes unwound.
Some might argue that Triumph could have gone a step further, as the Street Triple still lacks that true hooligan personality. Bikes like the 890 Duke R (that admittedly push the "middleweight" definition quite far) will feel more exciting in certain situations, but in the Street Triple you have a bike that walks a straighter line between practicality and performance, burliness and balance. That is and will continue to be its best trait.
Triumph offers 50-plus accessories for the Street Triple 765. Given the increased seat height of the RS, the company is especially keen to highlight the low seat option, which lowers the seat height by 28mm. Removing the shim on the RS lowers the seat another 10mm. (Triumph/)
Specifications
| | 2024 Triumph Street Triple 765 R | 2024 Triumph Street Triple 765 RS |
| --- | --- | --- |
| MSRP: | $9,995–$10,245 | $12,595–$12,845 |
| Engine: | DOHC, liquid-cooled, inline 3-cylinder; 4 valves/cyl. | DOHC, liquid-cooled, inline 3-cylinder; 4 valves/cyl. |
| Displacement: | 765cc | 765cc |
| Bore x Stroke: | 78.0 x 53.4mm | 78.0 x 53.4mm |
| Compression Ratio: | 13.3:1 | 13.3:1 |
| Transmission/Final Drive: | 6-speed/chain, up/down quickshifter | 6-speed/chain, up/down quickshifter |
| Claimed horsepower: | 118.4 hp @ 11,500 rpm | 128.2 hp @ 12,000 rpm |
| Claimed torque: | 59 lb.-ft. @ 9,500 rpm | 59 lb.-ft. @ 9,500 rpm |
| Fuel System: | Fuel injection; electronic throttle control | Fuel injection; electronic throttle control |
| Clutch: | Wet, multiplate slip-and-assist | Wet, multiplate slip-and-assist |
| Frame: | Aluminum twin spar | Aluminum twin spar |
| Front Suspension: | 41mm Showa SFF-BP fork, fully adjustable; 4.5 in. travel | 41mm Showa inverted BPF fork, fully adjustable; 4.5 in. travel |
| Rear Suspension: | Showa piggyback monoshock, fully adjustable; 5.3 in. travel | Öhlins STX 40 monoshock, fully adjustable; 5.2 in. travel |
| Front Brake: | Brembo M4.32 4-piston radial calipers, dual 310mm discs w/ switchable ABS | Brembo Stylema 4-piston radial calipers, dual floating 310mm discs w/ switchable ABS |
| Rear Brake: | Brembo 1-piston caliper, 210mm disc w/ switchable ABS | Brembo 1-piston caliper, 210mm disc w/ switchable ABS |
| Wheels, Front/Rear: | Alloy; 17 x 3.5 in. / 17 x 5.5 in. | Alloy; 17 x 3.5 in. / 17 x 5.5 in. |
| Tires, Front/Rear: | Continental ContiRoad; 120/70ZR-17 / 180/55ZR-17 | Pirelli Diablo Supercorsa SP V3; 120/70ZR-17 / 180/55ZR-17 |
| Rake/Trail: | 23.7°/3.9 in. | 23.2°/3.8 in. |
| Wheelbase: | 55.2 in. | 55.1 in. |
| Seat Height: | 32.5 in. | 32.9 in. |
| Fuel Capacity: | 4.0 gal. | 4.0 gal. |
| Claimed Wet Weight: | 417 lb. | 414 lb. |
| Contact: | triumphmotorcycles.com |   |
Gearbox
Helmet: Arai Corsair-X
Jacket: Rev'It Parabolica
Pant: Rev'It Jackson 2 SK
Race suit: Rev'It Apex
Gloves: Rev'It Apex
Riding shoes: Rev'It Astro Ghost
Boots: Alpinestars Supertech R
For more updates check below links and stay updated with News AKMI.
Life and Style || Lifetime Fitness || Automotive News || Tech News || Giant Bikes || Cool Cars || Food and Drinks

Source