Bikes
Harley-Davidson's Pan America 1250, Two Options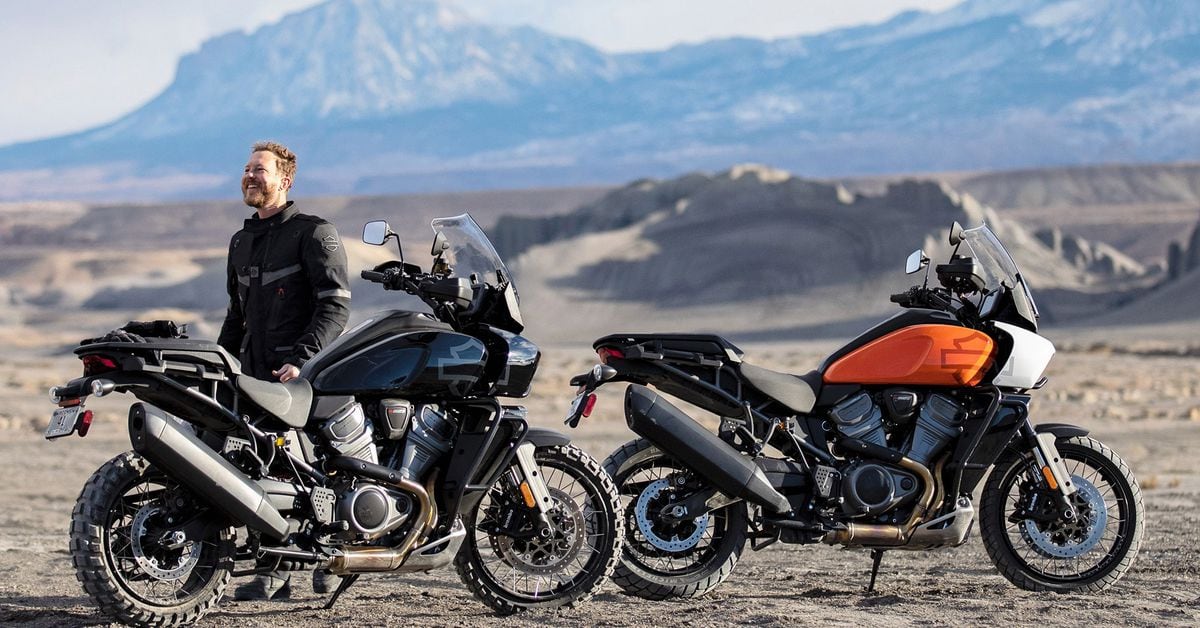 The Pan America has been revealed in two versions, the base 1250 and the better-equipped 1250 Special. (Harley-Davidson/)
We've waited more than a year for it, but Harley-Davidson's long-buzzed-about Pan America is now out in the world, and we can finally get around to chatting about the details of H-D's very first adventure bike. Our own Technical Editor Kevin Cameron assembled a hugely informative big picture First Look into the 2021 Harley Davidson Pan America 1250, so you may want to check that out before going any further. Otherwise, let's look at the differences between the base-model 1250 and the higher-spec 1250 Special.
Both models ride on the same foundation, with the liquid-cooled Revolution Max 1250 as a stressed member of the chassis. (Harley-Davidson/)
To reiterate, both the Pan America 1250 and Pan America 1250 Special are powered by the new liquid-cooled,150 hp Revolution Max 1250 engine, with the entire powertrain acting as a stressed member. The front frame, mid-frame, and tailsection bolt directly to the powertrain to reduce weight while stiffening up the chassis for better handling. Suspension travel is a healthy 7.5 inches at both ends—and adjustable. There are five ride modes, a host of electronic rider aids like cornering ABS and traction control and a configurable touchscreen display on both. So, other than the weight differential and different color options, what else distinguishes the base 1250 from the 1250 Special?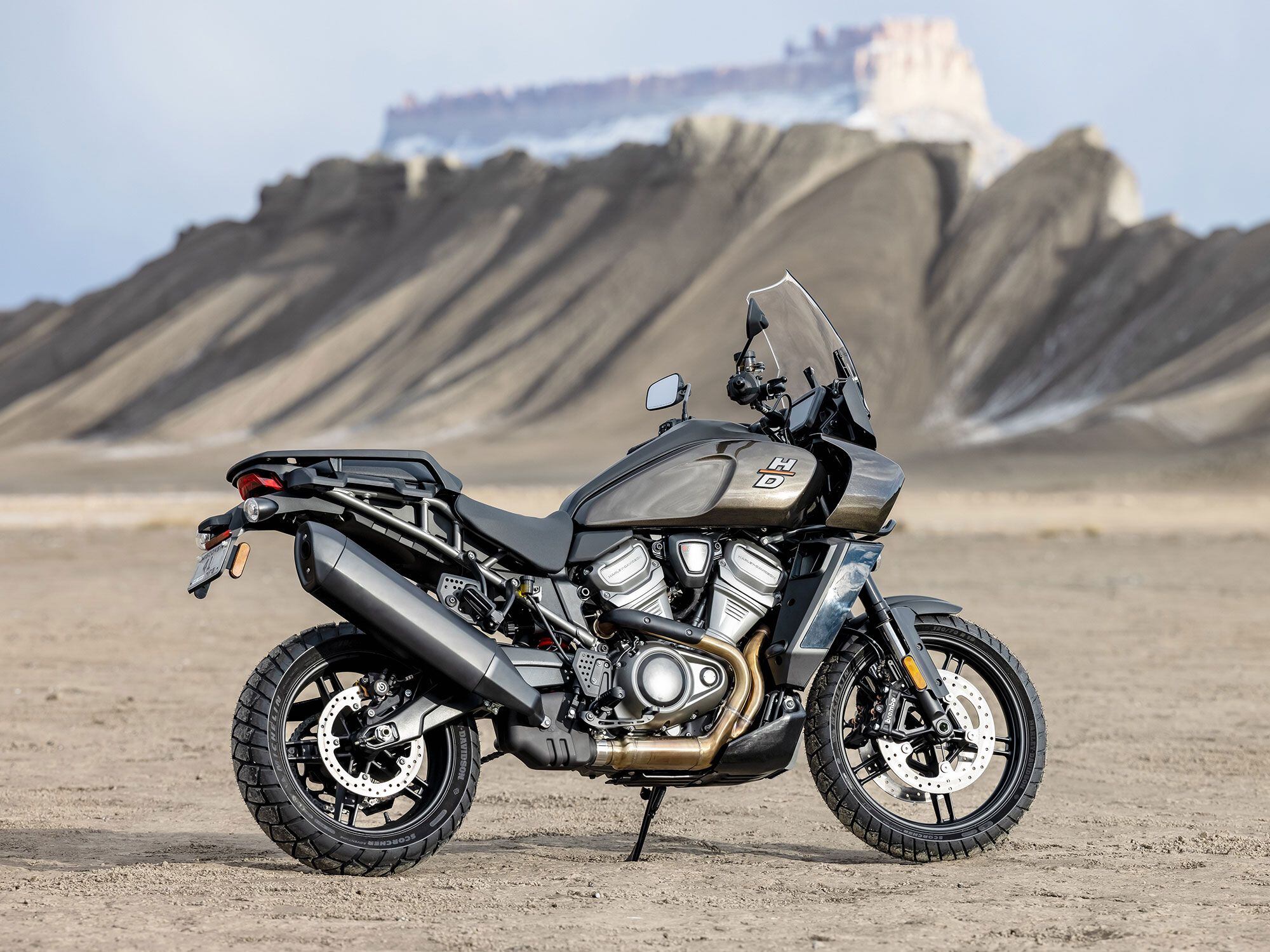 The Pan America 1250 base model comes equipped with adjustable suspension front and rear. (Harley-Davidson/)
Pan America 1250
The Pan America 1250 base model comes out of the box with passive suspension that's fully adjustable for preload and compression/rebound damping, featuring a Showa 47mm inverted cartridge fork up front and a Showa piggyback reservoir shock at the rear. Both bikes also feature an all-new braking system with radial Monoblock four-piston (30mm) caliper and dual 320mm front brake rotors and adjustable lever response from the front brake master cylinder.
You get cornering ABS and traction control as well as five ride modes on both models. (Harley-Davidson/)
The base 1250 model also offers Cornering Rider Safety Enhancements, a collection of electronic systems to optimize bike performance handling when the motorcycle is leaned over. On the Pan America 1250 model the systems include Cornering Enhanced Electronic Linked Braking (C-ELB), Cornering Enhanced Antilock Braking System (C-ABS), Cornering Enhanced Traction Control System (C-TCS), Cornering Enhanced Drag-Torque Slip Control System (C-DSCS), and Hill Hold Control.
Tying into those systems are five standard preprogrammed modes for riders to dial in, including Road, Sport, Rain, Off-Road, and Off-Road Plus. Each mode consists of a specific combination of power delivery, engine-braking, the C-ABS, and C-TCS settings made to pair performance to available traction during acceleration, deceleration, and braking. Both bikes also feature the Hill Hold Control (HHC) function, which is meant to prevent the bike from rolling when stopped, applying brake pressure until the rider actuates the throttle and clutch.
RELATED: Harley Reveals Hardwire Plan
Other standard features on both include cruise control, all-LED lighting, a four-way-adjustable windshield, toolless seat adjustability, and 6.8-inch tiltable TFT touchscreens.
But from there, the Special ladles on extra tech for better ride adjustability, offers more protection, and adds minor convenience features as well.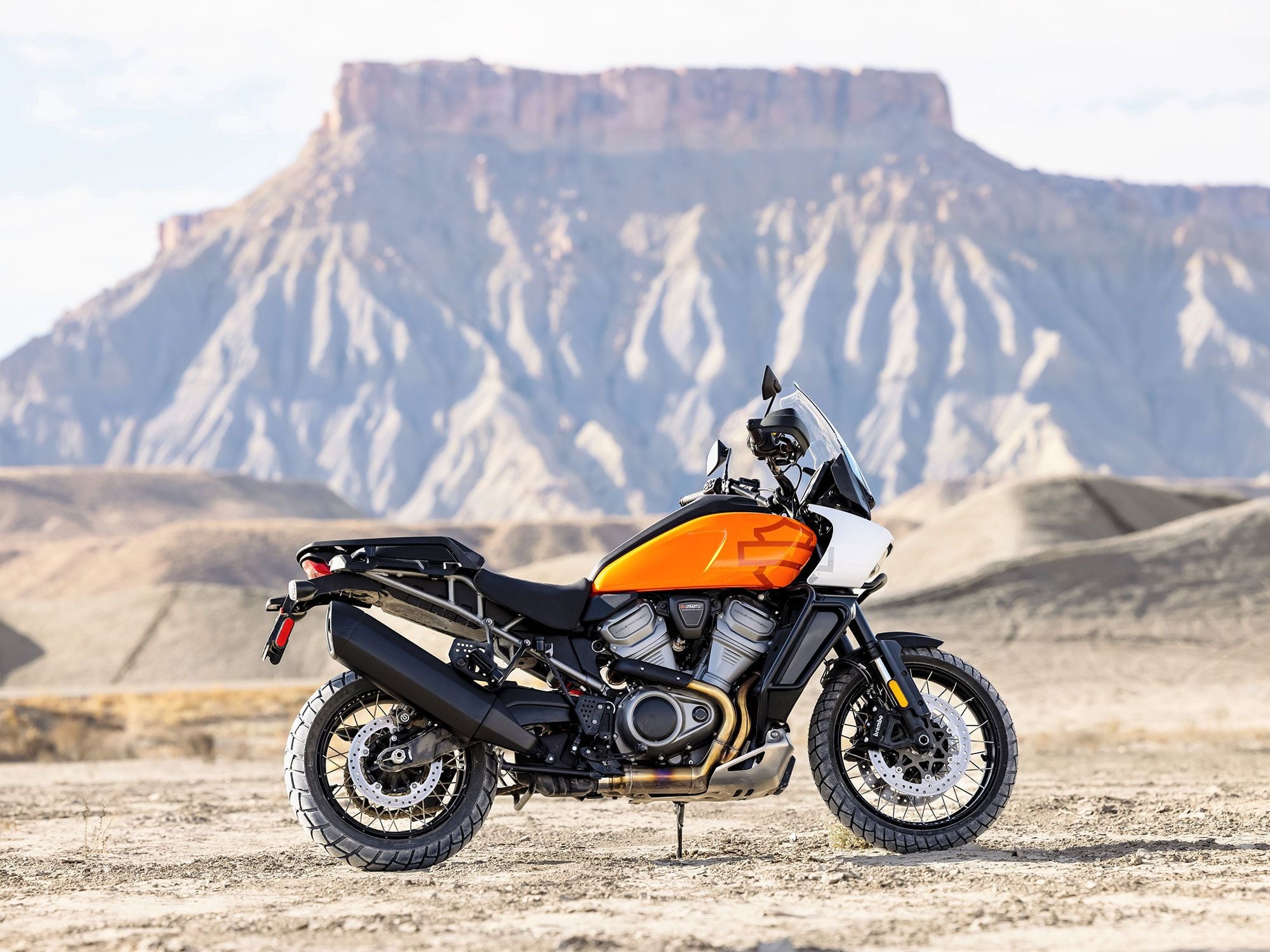 At the top of Harley's first-ever ADV offering is the 1250 Special model, which adds another layer of tech and protection to the mix. (Harley-Davidson/)
Pan America Special
First up is the added versatility of the 1250 Special's suspension, which trumps the regular model with a semi-active system designed to react to suspension position, vehicle speed, roll angle, roll rate, applied throttle, and brake torque within the selected ride mode. That's coupled with an additional Vehicle Loading Control system that senses the weight of the rider, a passenger and automatically adjusts rear preload for optimal sag (unladen seat height is 33.4 inches in the low position and 34.4 inches in the high position).
From within the semi-active suspension system, riders can choose from five preprogrammed profiles incorporated into each ride mode.
There's Comfort, which gives more compliance and isolates the rider from rough road conditions; Balanced, which balances ride comfort with control for all-around riding; Sport, which serves up maximum control with higher damping rates for more heated romps; Off-Road Soft, which backs off of initial damping for better suspension compliance on larger hits; and Off-Road Firm, which increases initial damping for aggressive riding.
The actual components handling these scenarios are also well-matched, with a 47mm inverted Showa Balance Free Fork providing semi-active damping control on the front side, and a Showa coilover shock with electronic preload control and semi-active damping control out back. As with the 1250 base model, the rear suspension incorporates a linkage system connecting the shock, swingarm, and frame for a more progressive feel.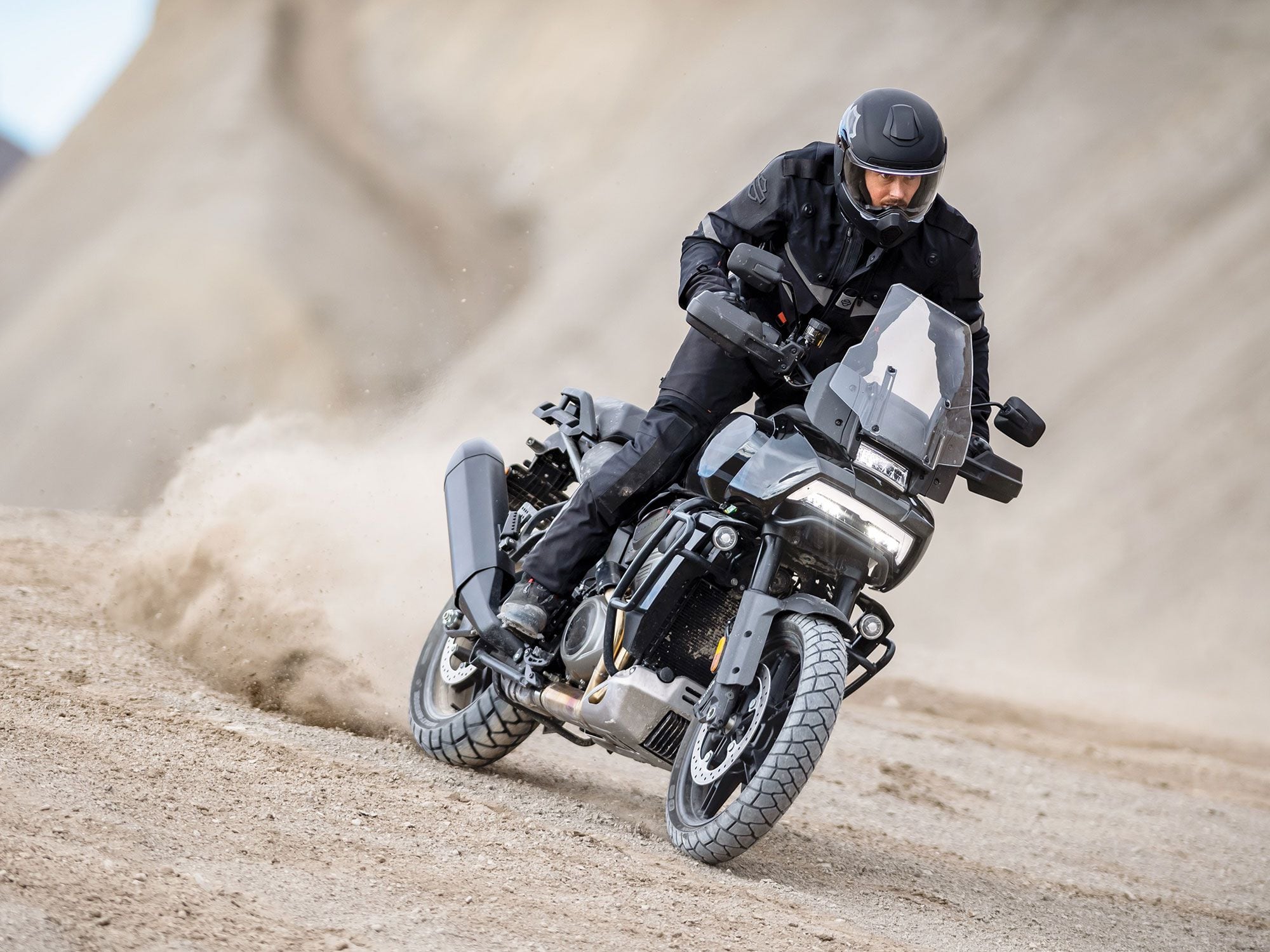 Shorties rejoice; Adaptive Ride Height (only available on the Special) could well be a game changer in the ADV market. (Harley-Davidson/)
Adaptive Ride Height
If you're looking for the latest bleeding-edge tech, the 1250 Special model can also be equipped with Adaptive Ride Height (ARH) as a $1,000 option—but on the Special only. The system, which H-D calls an industry first," automatically transitions between a low stopped position and optimal ride height when the bike is moving.
With Adaptive Ride Height, the seat is lowered 1 to 2 inches when stopped (depending on automatically selected rear preload), but raised to optimize ground clearance and ride quality when the bike gets moving again, all while still retaining the benefits (and full wheel travel) of the semi-active suspension. Without a rider, seat height is 32.7 inches in Low and 33.7 inches in High.
Again, you have your modes here too. In Auto mode, suspension is lowered based on how forceful the braking, with the bike fully lowered by the time it comes to a stop; with Short Delay and Long Delay modes, the lowering waits until the motorcycle comes to a stop, with full ride height maintained otherwise; and in Locked mode, the ARH system stays at normal ride height all the way.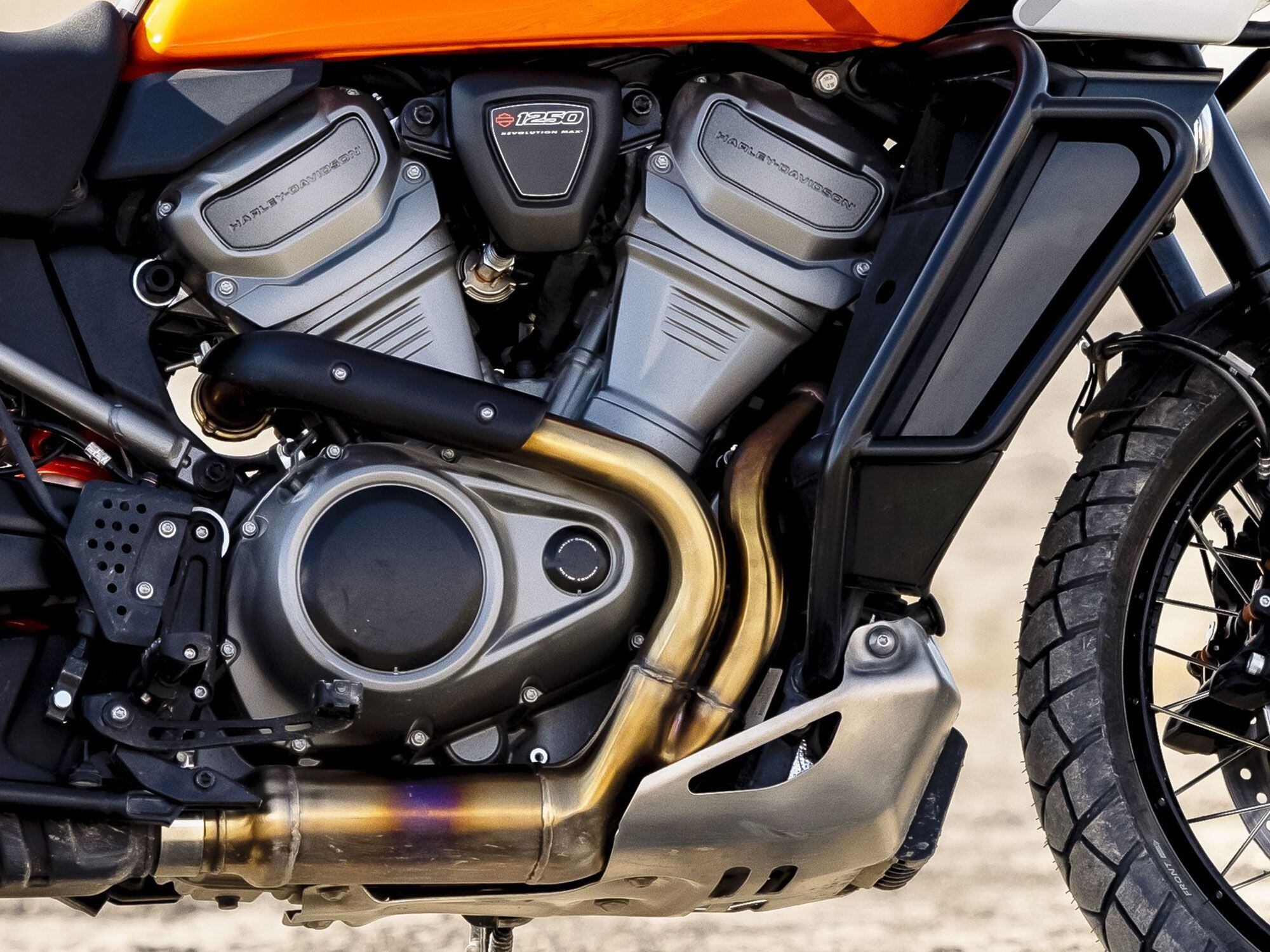 Standard protective elements on the Special include an aluminum skid plate and tubular steel bars bracketing the radiator. (Harley-Davidson/)
Hold on; there are still more modes to talk about. Along with the five preprogrammed ride modes available on the base model, the Special adds two more that can be customized by the owner (as well as giving you additional adjustments within each; for example, Sport mode will also increase the rate of semi-active suspension damping at higher speeds on the Special). The two added settings on the Special are tailored to more experienced riders, who can choose from Off-Road Plus or Custom Off-Road Plus modes, for more aggressive stints in the dirty stuff. As for Hill Hold Control, in the US market only, the Pan America 1250 Special comes with a sidestand sensor interlock, so HHC to be engaged in neutral (which is not available on the Pan America 1250).
Tire Pressure Monitoring System (TPMS) also comes standard on the Special model,as do a centerstand, a rear brake pedal that's height adjustable, and the expected vehicle protection accessories, such as steel brush guards for the radiator, aluminum skid plate to protect the engine crankcase, and hand deflectors. On the Special, heated handgrips are standard as well, while tubeless laced wheels are available as an option.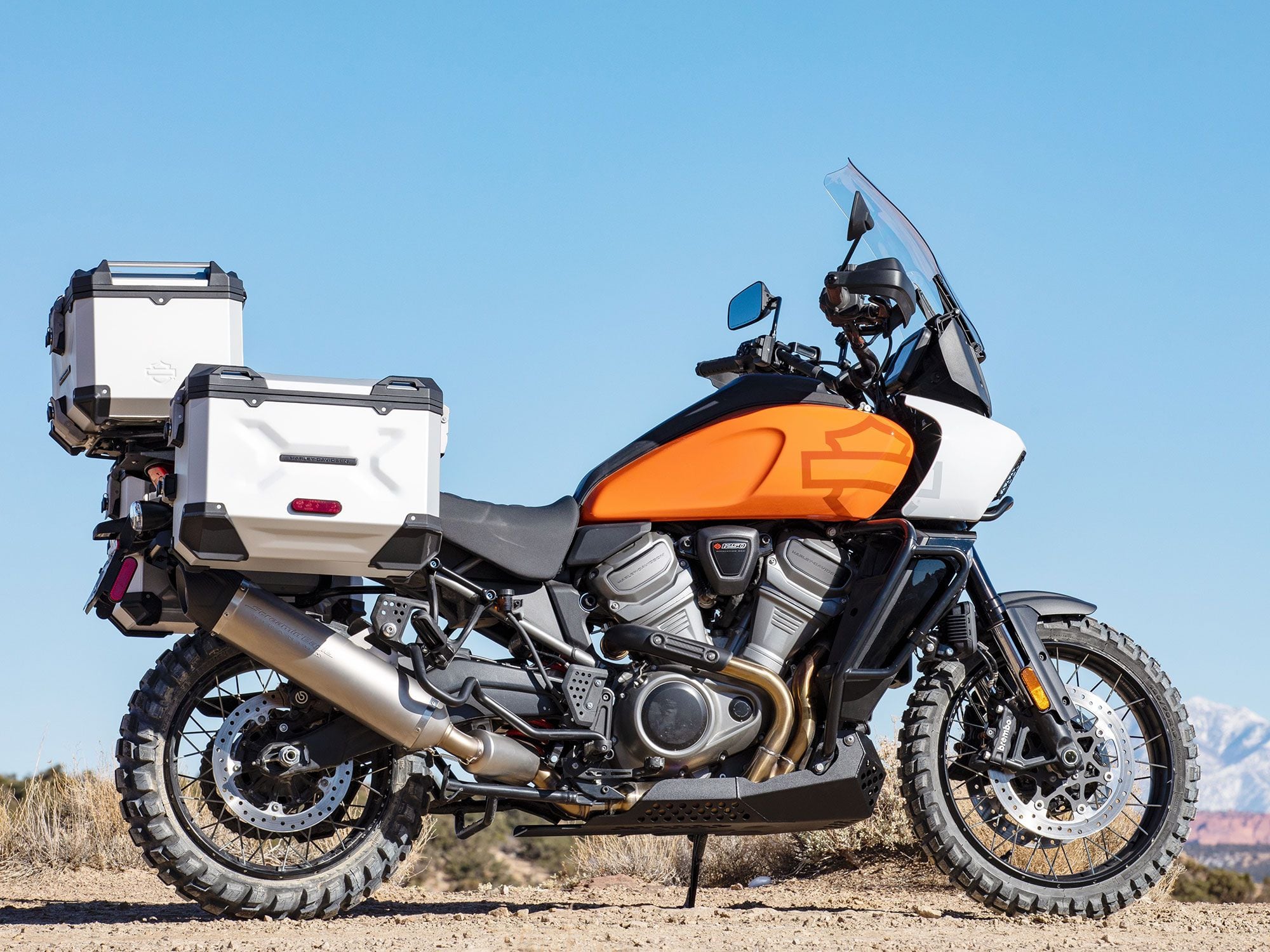 This being a Harley-Davidson product, you'll be able to farkle out your new 1250 with all manner of available accessories, from aluminum cases to auxiliary lighting to accessory mufflers. (Harley-Davidson/)
Finally, you can choose more hues on the Special, with options for Vivid Black; Gauntlet Gray Metallic; Deadwood Green (in select international markets only); two-tone Baja Orange and Stone Washed White Pearl. The Pan America 1250 and Pan America 1250 Special models will arrive at Harley-Davidson dealerships in the spring of 2021.
For more updates check below links and stay updated with News AKMI.
Life and Style || Lifetime Fitness || Automotive News || Tech News || Giant Bikes || Cool Cars || Food and Drinks

Source