Bikes
MSF Launches AdventureBike RiderCourse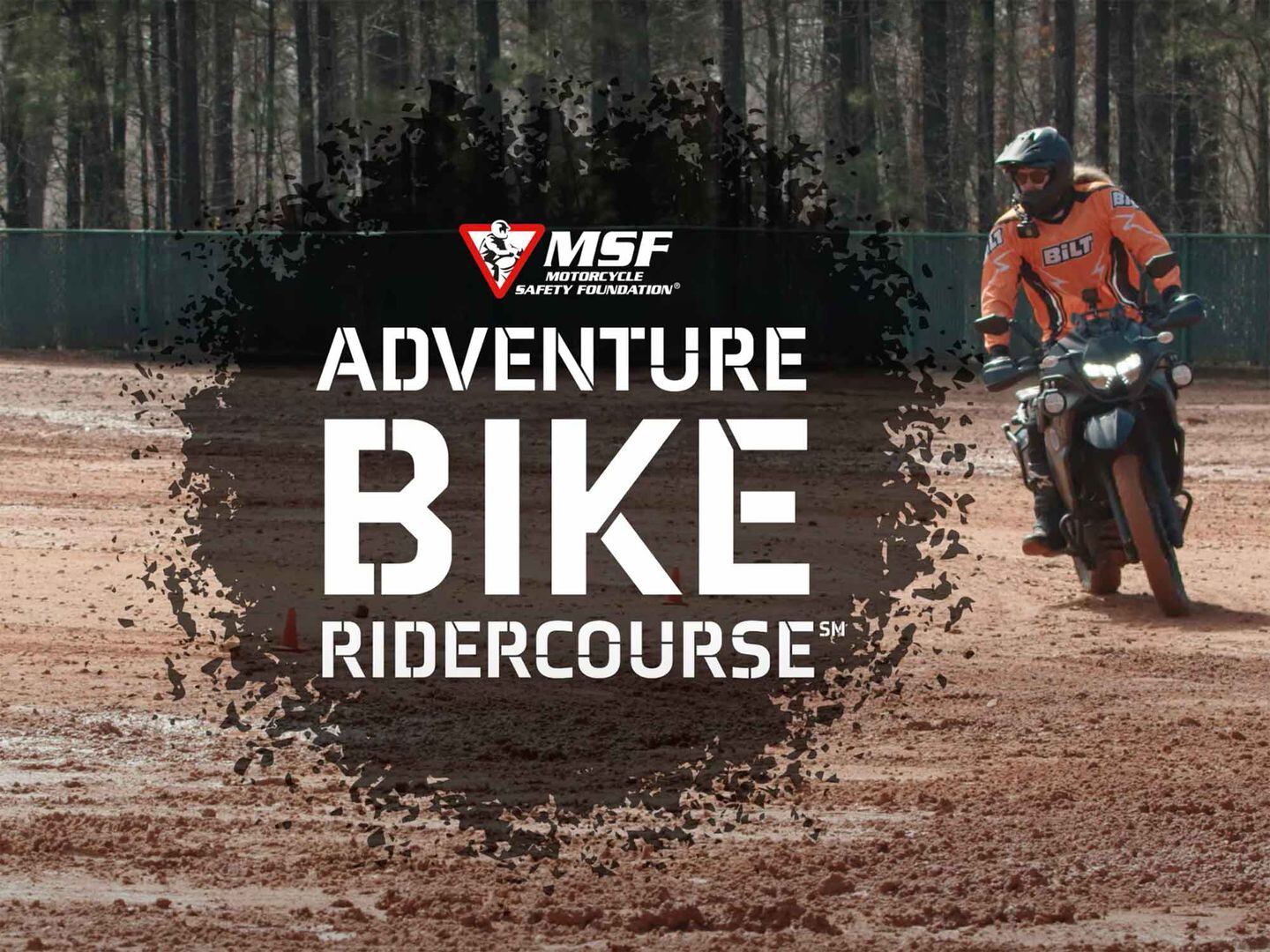 The MSF's new AdventureBike RiderCourse helps riders build off-road riding skills such as riding in the dirt while standing. (MSF/)
In the last 20 years, adventure riding has become one of motorcycling's fastest-growing niches, mostly due to its appealing combination of upright comfort, off-road capability, and easy long-distance touring.
But aside from serious dual sport camps such as the Jimmy Lewis Off-Road Riding School, or those catering to larger ADV machines such as RawHyde Adventures, adventure-focused classes offering off-road skill training were scarce.
The Motorcycle Safety Foundation (MSF) is out to change this with the new AdventureBike RiderCourse (ADVRC), a single-day class focusing on 12 dirt-focused exercises and what the MSF calls "adventure prep discussion that will help riders better understand and control their motorcycle so that they can gain off-road riding confidence and be ready to take on bigger adventure challenges, more advanced training, and participate in more tours, events, and rides."
Related: Adventure Motorcycle Gear Essentials
"Adventure and dual-purpose motorcycles open a whole new world of riding possibilities," says Erik Pritchard, president and CEO of the Motorcycle Safety Foundation. "Sales in this category have increased more than 46 percent since 2019. Creating a course to help those new, or a bit rusty, to riding off-road is a need we are excited to meet."
Students will use their own ADV or dual sport motorcycles and will be trained under MSF-certified ADVRC rider coaches. For now, the ADVRC is available in 12 states: California, Colorado, Florida, Georgia, Idaho, Kansas, Ohio, Pennsylvania, South Carolina, Texas, Virginia, and Wisconsin. The class is available through private- and MSF-run training sites, and under the Adventure Touring Rider Course name through participating Harley-Davidson Riding Academy locations.
The ADVRC is expected to be offered by more states by year's end.
During the course, riders will go through the following exercise:
ADV Familiarization: Motorcycle equipment and features
Basic Controls: Motorcycle controls for starting, stopping, straight-line riding, turning
Controlled Loss of Traction: How and when to use it
Standing Up: How, when, and why
Pivot/Rider Posture: Shifting weight and posture for bike control
Risk Management: Understanding risk offset and applying "SEE" strategy
Counterweight: Maneuvering for slow, tight turns
Straight-Line Braking: Controlling a rear tire skid, threshold braking
Rear-Wheel Steering: How and when to use rear-wheel brake or throttle to steer
Obstacles: How to cross over obstacles effectively
U-Turn on a Hill: How to make a U-turn when going uphill
Traversing a Hill: How to ride across a hill
Adventure Prep: Tips for going out and having an adventure
"Adventure motorcycles speak to the heart of motorcycling," says Corey Eastman, director of rider education expansion. "The ability to experience true freedom on any road, and beyond, make this category among the hottest in motorcycling. However, it turns out that taking these big bikes to places less traveled is not as easy as it appears in social posts and videos. The AdventureBike RiderCourse can give riders a core foundation that they can build from. Many motorcycle manufacturers and well-known professional riders offer advanced training, tours, and more. With the ADVRC, riders can go on to discover all of these as well as take adventures of their own. We hope riders take this knowledge and go on to discover thousands of ADV riding opportunities."
The MSF expects to have more than 100 coaches certified in ADVRC by 2023. For additional information, including updated training locations, visit  AdventureBike RiderCourse.
For more updates check below links and stay updated with News AKMI.
Life and Style || Lifetime Fitness || Automotive News || Tech News || Giant Bikes || Cool Cars || Food and Drinks

Source