Bikes
Triumph Bonneville Series Updated for 2022
Triumph has upgraded the majority of its Bonneville family. You're looking at seven models for 2022 so far. (Triumph Motorcycles/)
When you're updating a 60-year-old classic design for a new generation, you do so with kid gloves. A component upgrade here, a fresh coat of paint there, maybe a subtle logo update, and Bob's your uncle. Even if that classic had a resurrection 20 years ago, you still don't want to strip the familiarity right out of it. That was the challenge facing Triumph with its so-called Modern Classic line, which has long consisted of the best-selling Bonneville and its many variants; looming Euro 5 regulations demanded mechanical tweaks to meet emissions, and six years since the last overhaul, the series was also due for a face-lift—so Triumph did both. Enter the next generation of the Bonneville family, which in Triumph's telling now holds seven models (though really it's five if you take out submodels and limited editions), with the ever-recognizable Bonneville T120 still heading up the group of classic standards.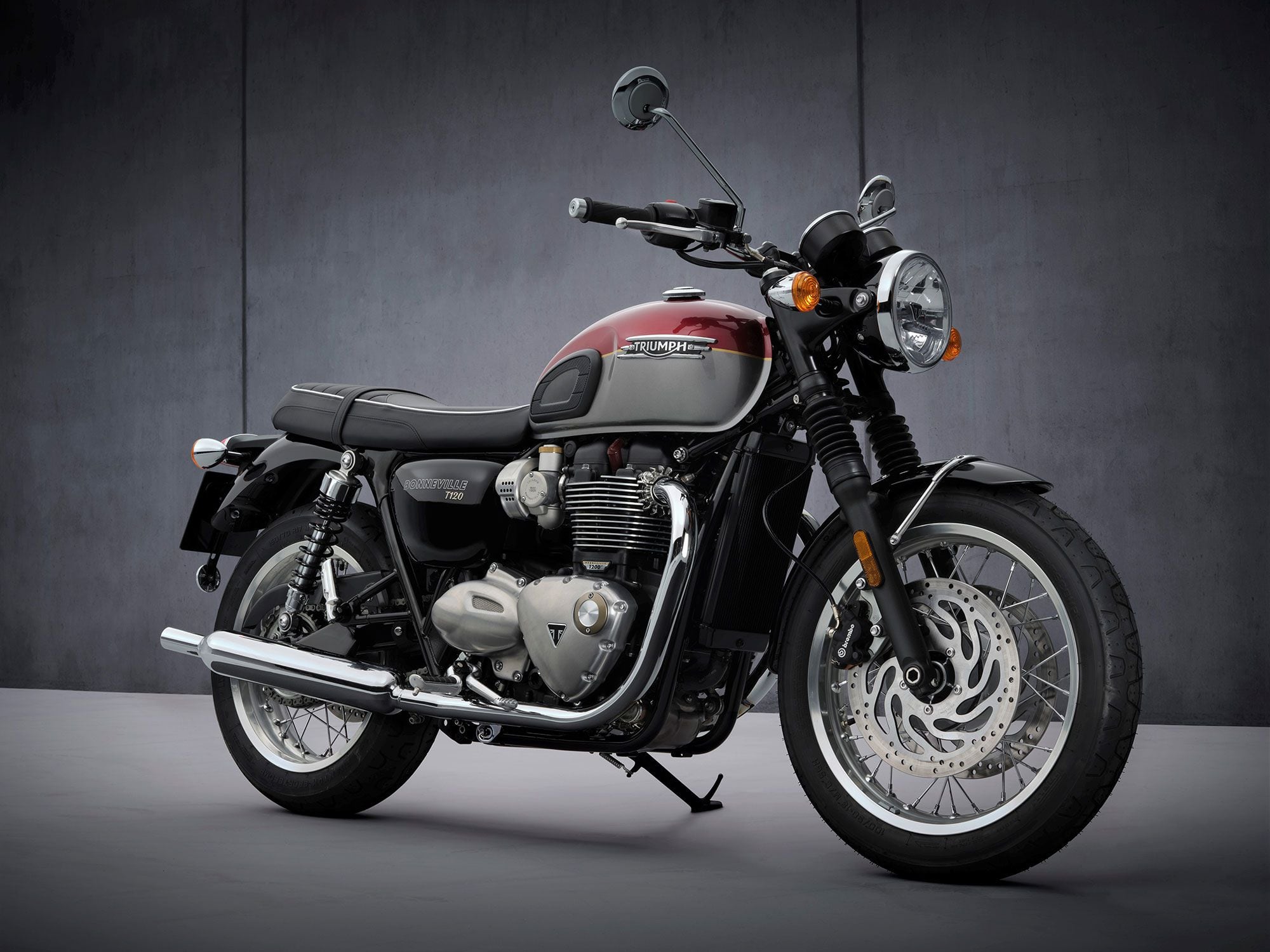 Less weight, more responsiveness, and better brakes mark the highlights for the T120. (Triumph Motorcycles/)
Bonneville T120 and T120 Black
For 2022, the Bonneville range consists of the T120 (and T120 Black), their simpler T100 brother, the top-selling 900cc Street Twin offshoot, the ready-to-rumble Bonneville Bobber, and the more laid-back Bonneville Speedmaster. For the new year, they've all received some kind of update or improvement, many of them in the same area, and most of those incremental, whether in performance, ergonomics, refinement, or styling—or all of the above. There are no jaw-dropping reboots here, with the overall silhouettes maintaining the status quo, so when you see them on the road you'll instantly know what you're looking at.
The T120 flagship wheels into the new year with maybe the most subtle changes in the bunch. The classic form seems untouched and the spirited 1,200cc High-Torque parallel twin returns with performance numbers unchanged, yielding 78.9 hp and 77 pound-feet of torque on the Triumph spec sheet. But the Brits utilized a bit of weight reduction trickery within, giving the T120 a lighter crankshaft and tweaking the clutch and balancer shafts to reduce inertia, thus imbuing the engine with more responsive feel. Keeping that theme was the addition of lighter aluminum wheel rims, which Triumph says contributes to more agile steering; in all total weight reduction is a not insubstantial 15.5 pounds.
RELATED: New Triumph Street Scrambler Sandstorm Coming for 2022
The added responsiveness is tempered by a corresponding upgrade in the stopping department, thanks to higher-spec calipers and discs from Brembo. The T120′s new twin-piston sliding axial front calipers act on twin 310mm discs, paired with a single-piston floating caliper and 255mm disc out back. Braking performance is no doubt even further bolstered by the fact that the new bike weighs that much less too.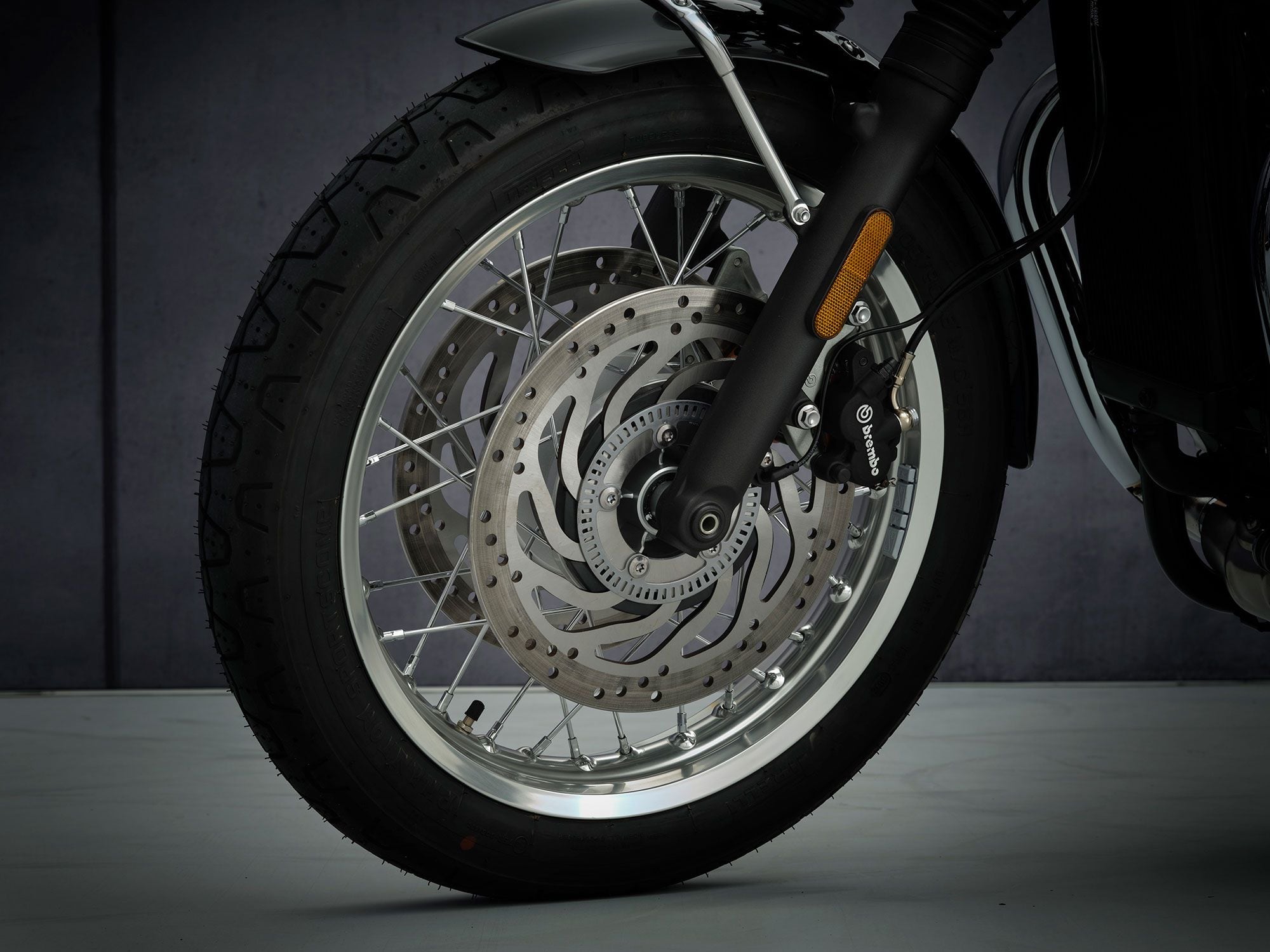 The twin discs are unchanged, but new Brembo calipers improve stopping performance. (Triumph Motorcycles/)
Convenience matters, so Triumph added cruise control as a standard feature and enhanced the selectable standard rider modes, now allowing adjustment to the throttle map as well as traction control settings. More subtle changes onboard are the addition of new 3-D chromed tank badges, as well as a fresh instrument arrangement with 3-D dial faces and new display features (including access to turn off traction control). After that, details really get slight, with things like new machined fins on the engine and more chrome finishes and contrast piping on the seat.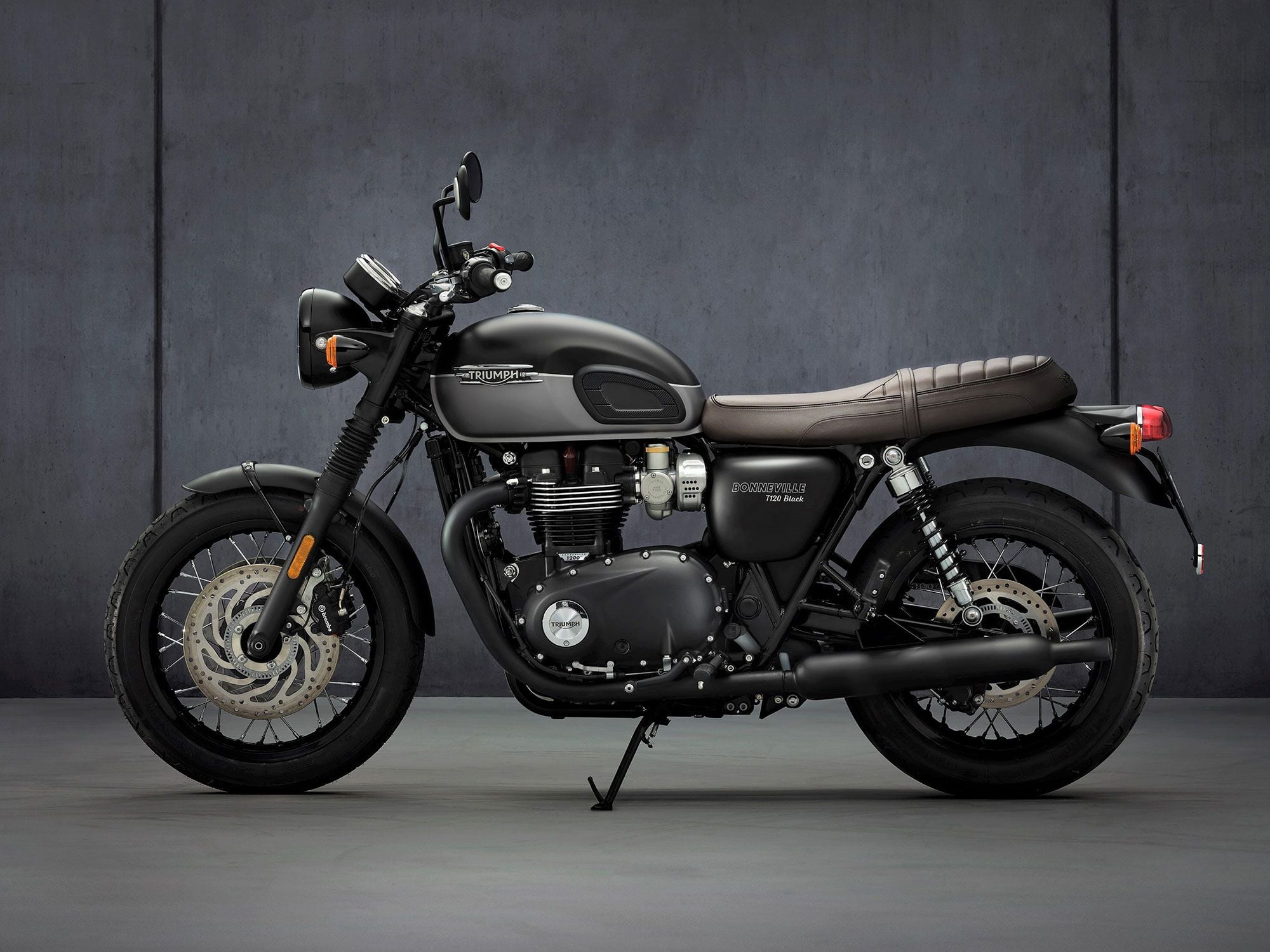 The 2022 T120 Black gets the same subtle changes: less weight, less inertia, snappier engine. Cruise control is now standard. (Triumph Motorcycles/)
With the T120 Black, it's more of the same; take the base T120 and literally just paint it black, dabbing the wheel engine covers, mirrors, headlamp bucket, and exhaust in the dark stuff. Unless you're talking about the unique dark brown seat, you'll see pretty much the same upgrades here as on the standard T120, with the lighter wheels and beefier brakes below, and new instrument faces and badges up top.
Perhaps more impressive is that with just some minor juggling of cam profiles and exhaust revisions, Triumph was able to get the relatively unchanged 1,200cc engine to produce fewer emissions and meet Euro 5 requirements, with hydrocarbons to spare.
The new 2022 Bonneville T120 will be available in black, red/silver, and blue/silver (with hand-painted gold lining on the two-tone bikes) and the T120 Black can be had in black or black/gray (with silver lining on the latter). Both models are coming to North America starting May 2021 and will be priced at $12,050 USD.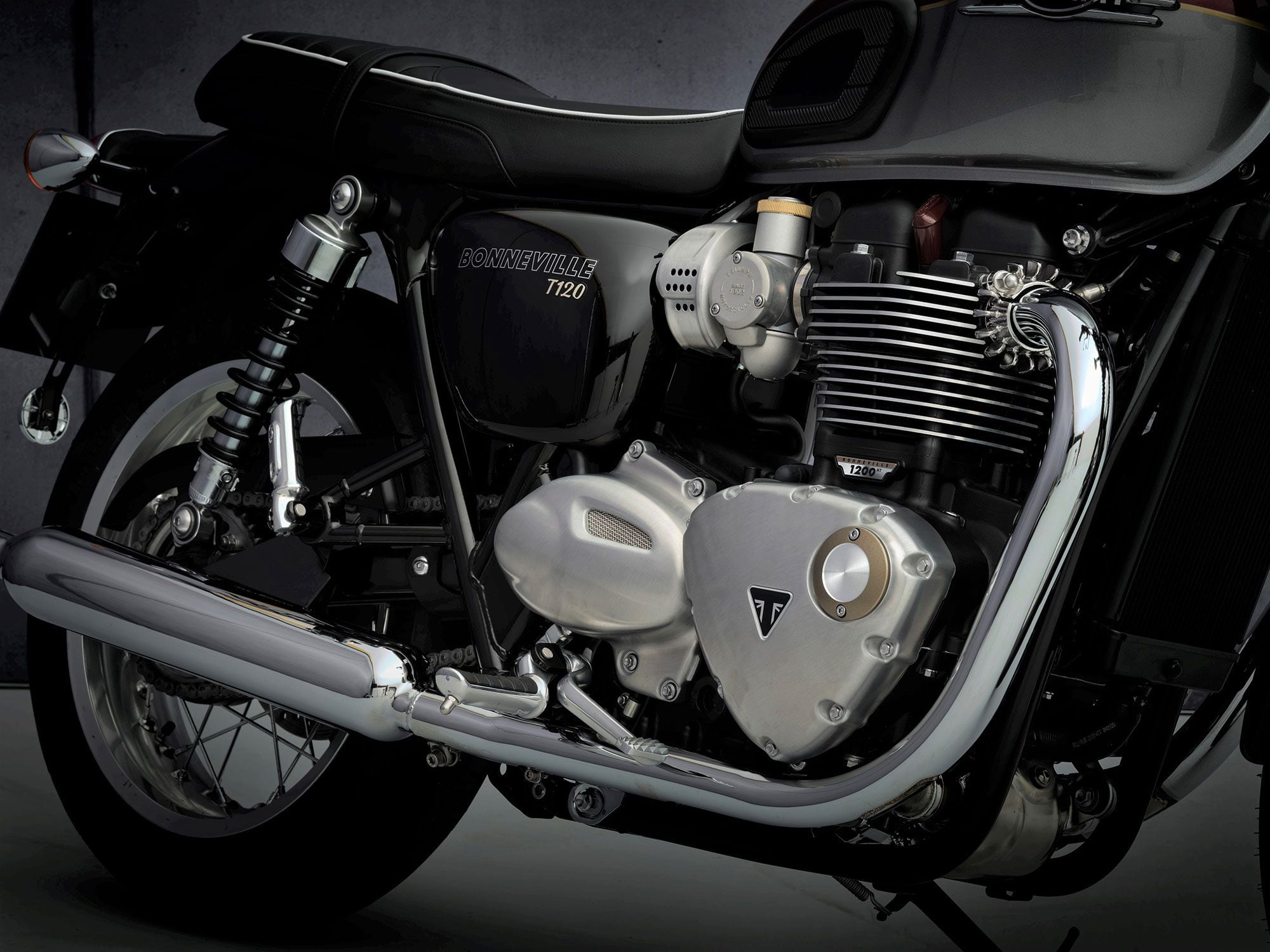 With a combination of changing cam profiles and revised porting, Triumph was able to meet Euro 5 emissions requirements. (Triumph Motorcycles/)
The 2022 T100 still rolls with the 900cc HT engine, but it gains 10 hp. It also adds a new cartridge fork and upgraded brake calipers. (Triumph Motorcycles/)
Bonneville T100
The T120 gets all the love, but really, the T100 is the one that channeled the 1959 icon first. Alas there's no Black version this year (or a Bud Ekins edition, for that matter), but the 900cc classic still gets its share of performance tweaks and sleights of hand in the styling department. In fact, the 2022 T100 gets 10 more horses and is nearly 9 pounds lighter than its predecessor, in addition to receiving upgraded brakes and a new cartridge fork. Triumph lists the engine rating as 64 hp at 7,400 rpm, with higher power across the rev range, and a 500 rpm higher rev limit to boot. The torque peak of 59 pound-feet remains unchanged from the previous model, though on the new T100 the peak now arrives at a later 3,750 rpm. Again, Triumph credits a lighter-weight crankshaft, clutch and balance shafts as well as magnesium cam covers and revised ports and cam profiles for the boost in power and responsiveness. The engine is also now fully Euro 5 compliant, thanks partially to a secondary air system.
The T100 gets the same upgrade to its brake system as its higher-spec brother, with new Brembo calipers to improve bite, though it does retain the same wheel and tire sizes from last year. A new higher-spec 41mm cartridge fork also makes the scene, and the T100 seems a bit sleeker this time around, perhaps because it no longer wears rubber gaiters around the fork legs. Other elements of the bike have been blacked out as well, including the engine, cam, and sprocket covers—and we all know black is slimming. On the instrument side, there's a new dial face, and ABS and switchable traction control come standard.
The 2022 Bonneville T100 will come to these North American shores starting March 2021, in a choice of black, red/white, and blue/white, any of which will lighten your wallet to the tune of $10,500.
Changes on the 2022 Street Twin include lower emissions, new cast wheels, and ribbed bench seat. (Triumph Motorcycles/)
Street Twin
Triumph's best seller in the Modern Classics line for the last few years running is back for 2022 and, short of a few minor styling and comfort boosts, heaves into view relatively unchanged. But then why would it be? The 900cc model has been a bona fide hit from Day One and after some fairly major updates in 2018, there isn't much to fix this time around. Same 41mm cartridge fork, same 65 hp, 900cc high-torque engine, same Brembo brakes, same ABS and traction control. Of course it's now Euro 5 compliant, but Triumph has seen fit to leave pretty much everything else alone, opting to embellish the Street Twin with new, stylish, 10-spoke cast wheels with machined details as perhaps the most noticeable change. A more shapely ribbed bench seat with thicker foam, new throttle body finishers, aluminum headlight brackets, and new tank decals round out the list of cosmetic touches, but otherwise the Street Twin keeps all of its goodness intact for 2022.
RELATED: How Much Power Does the 2020 Triumph Street Twin Make?
The new 2022 Street Twin will be available in black, blue, and Matt Ironstone (the latter with new stripe detailing) in North America starting in March 2021. The price remains pretty right as well, handily coming in under the $10K line at a suggested $9,400 USD.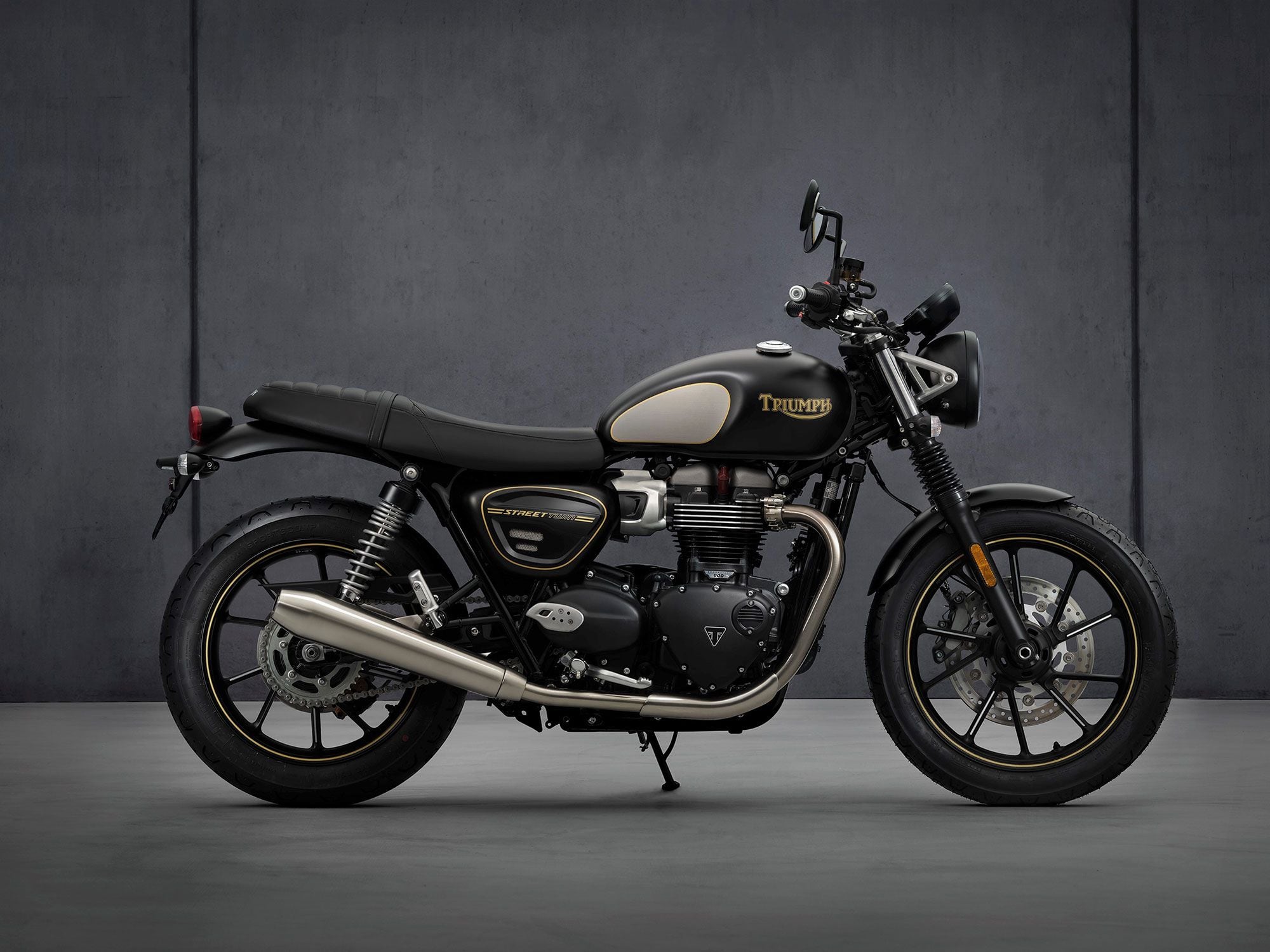 The limited-edition Street Twin Gold Line Twin boasts a hand-painted black and gold color scheme. Only 1,000 are available. (Triumph Motorcycles/)
Street Twin Gold Line
Joining the Bonneville series as a new model for 2022 is the Street Twin Gold Line, a limited-edition variant of the straight Street Twin that Triumph considers a stand-alone model. The hand-detailed custom special is pretty slick looking on the outside, featuring a classy matt black and gold paint scheme straight from Triumph's expert color shop. The wheels are framed in thin elegant pinstripes, the tank logo is painted—even the knee pads are brushed. A hand-painted Gold Line edition-special side panel with custom logo decal IDs the bike for all to see, and only 1,000 editions of the bike will be produced worldwide, each coming with a certificate of authenticity.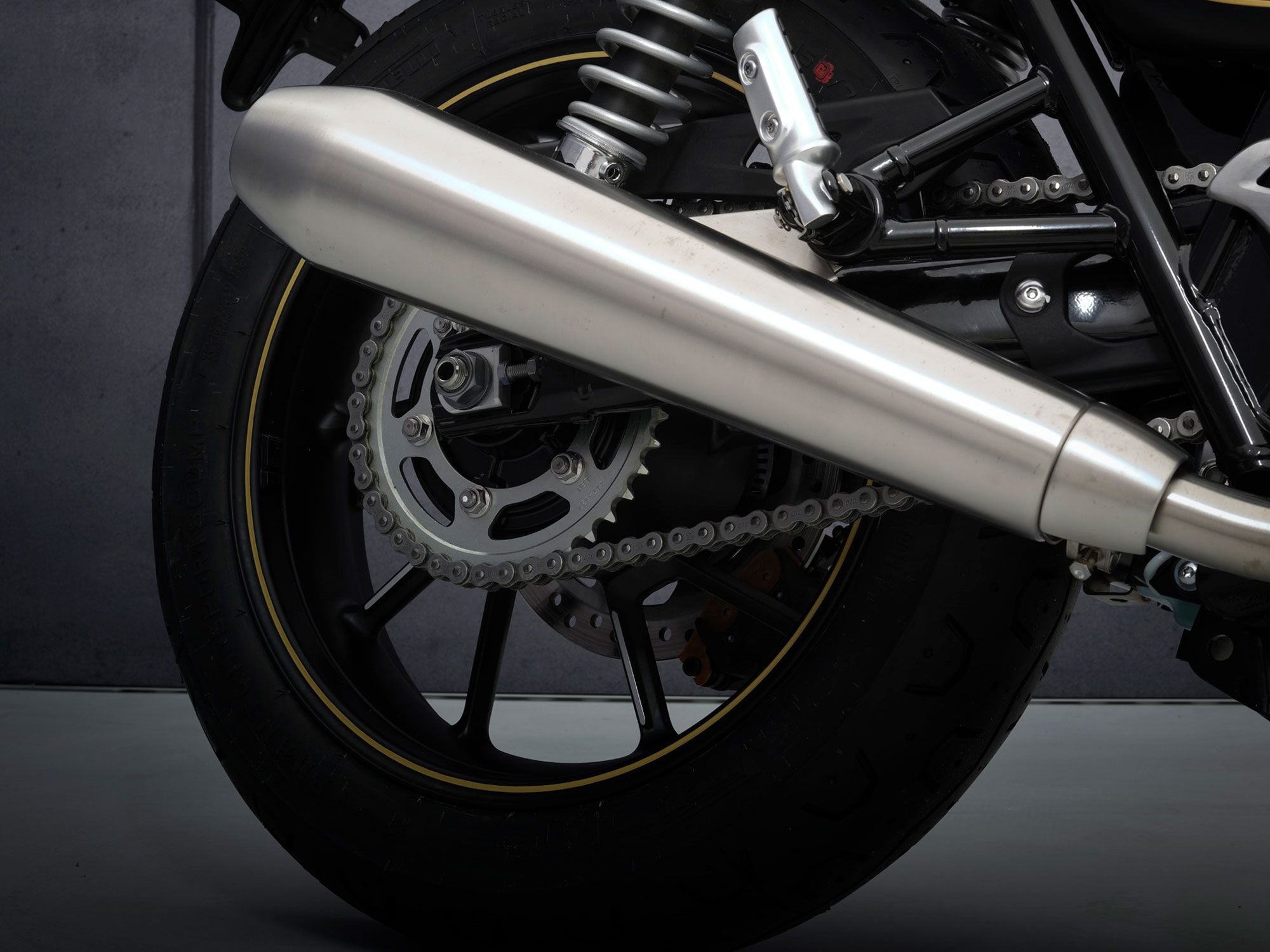 Underneath the gold and black paint is a mostly stock Street Twin. (Triumph Motorcycles/)
The Street Twin Gold Line also receives the same accents and styling tweaks as the standard 2021 Street Twin, which means the 10-spoke cast wheels with machined highlights (though these wear those fancy pinstripes), new ribbed bench seat, headlight brackets, and aluminum throttle body finishers, but underneath, it's the same now-Euro 5-compliant base model. Which is not a bad thing, though we'd like to have seen a few more unique components to further distinguish the limited edition from its closely related stock brother. The Gold Line models will be here in June of 2021; price is yet to be announced.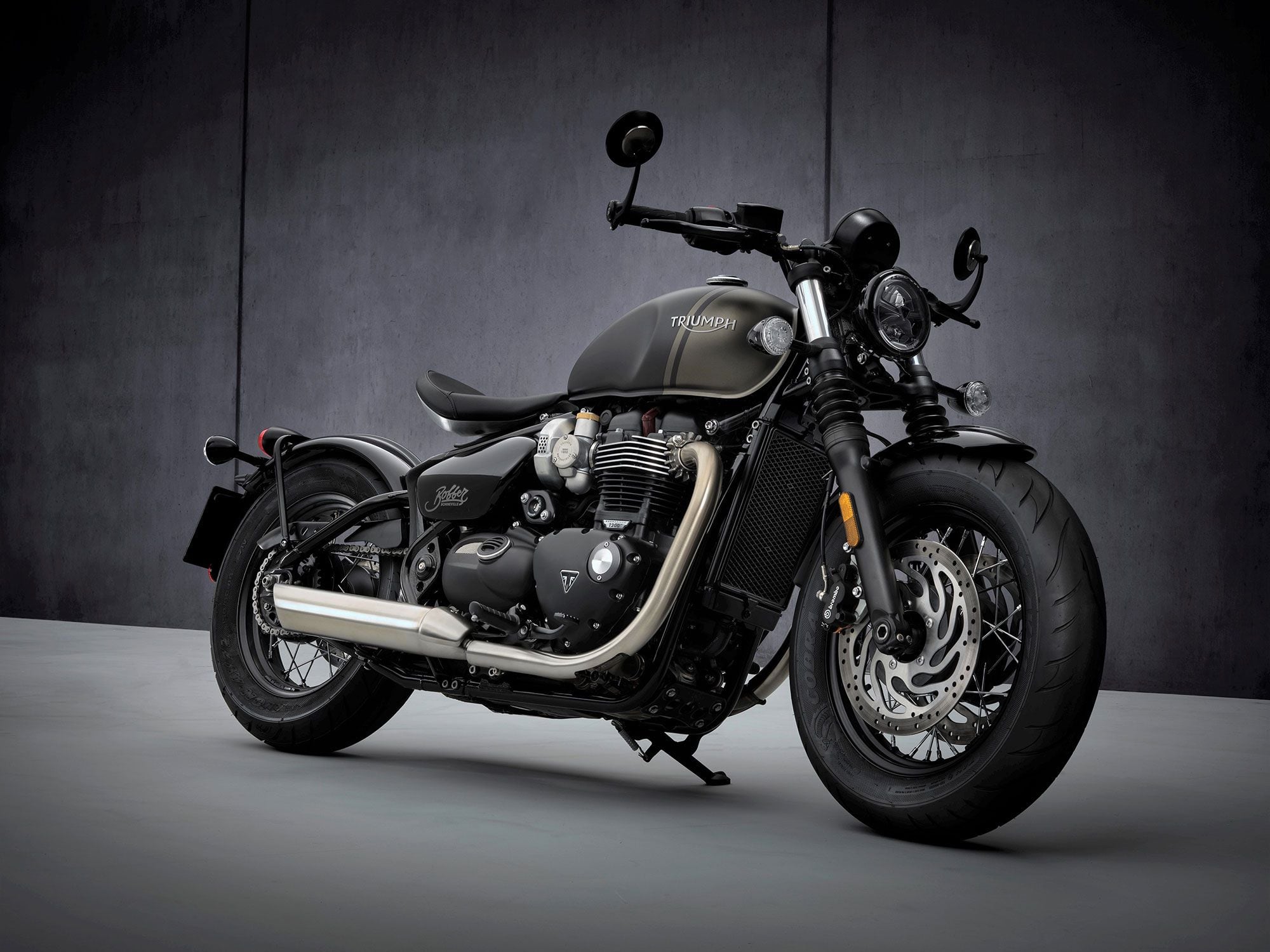 There's just one Bobber model in the Triumph range this year, combining the best bits of both of the 2020 models. So long, Bobber Black. (Triumph Motorcycles/)
Bonneville Bobber
Triumph dabbles in another bit of consolidation for the Bobber series, with just one Bobber model representing the line for 2022. Triumph says the move was made easier for the fact that the 16-inch fat tire Black model was by far the better seller, giving us the model we see here for 2022, which merges the best qualities of both models. The upgraded and refined 2022 Triumph Bonneville Bobber carries over some of the black model's darker elements naturally, but like most of the other new bikes here, it too gets better brakes and lighting upgrades, a more responsive 1,200cc high-torque engine (performance is unchanged though Triumph claims a flatter torque curve), and yep, it also meets Euro 5 requirements.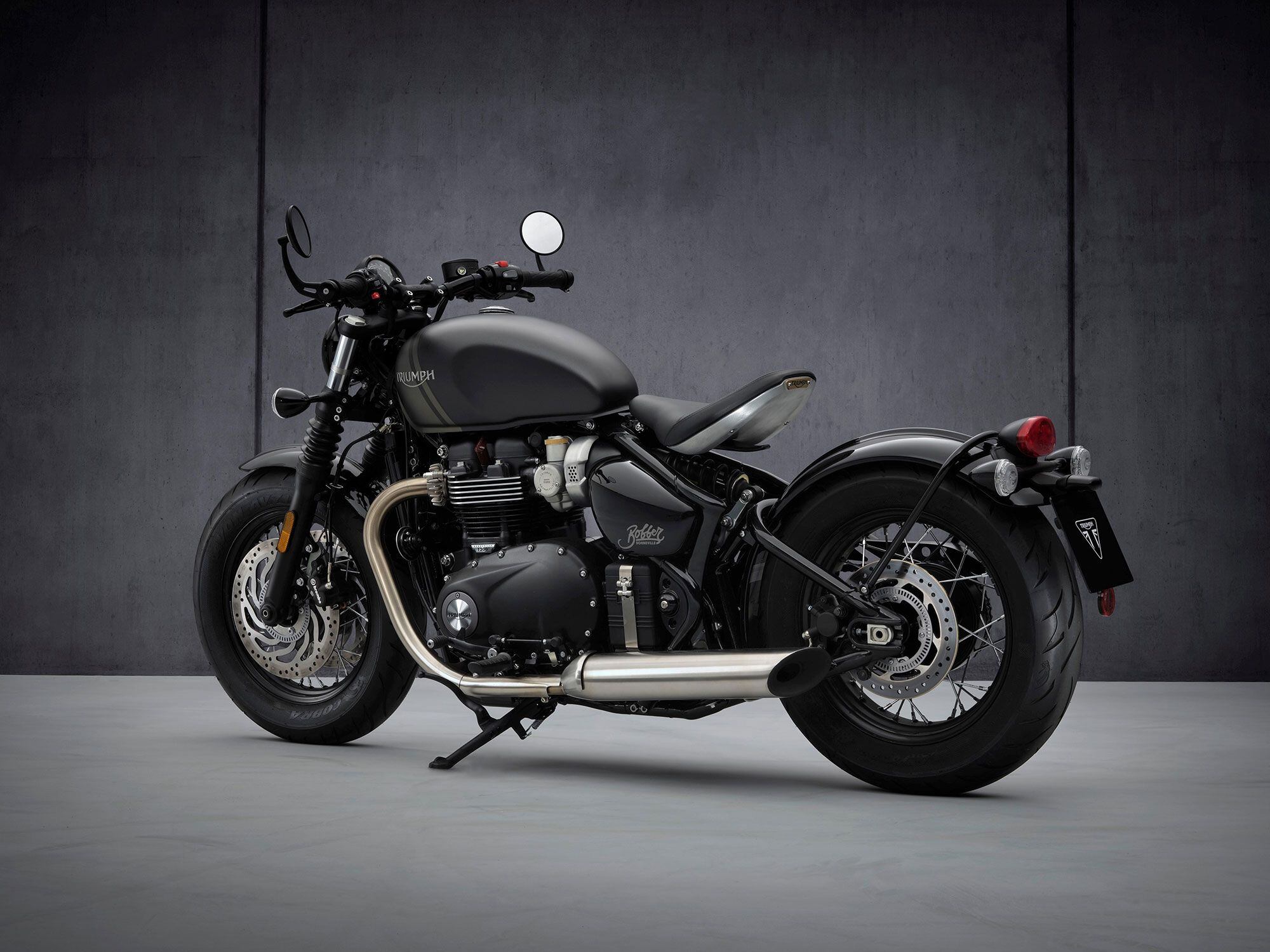 Fat 16-inch tires, a bigger fuel tank, and a higher-spec 47mm fork make the spec list this year. (Triumph Motorcycles/)
But it's not all emissions and styling; the Bobber adds a few more upgrades as well, like a larger 12-liter fuel tank (still only 3.2 gallons). Triumph also gives the new 2022 Bobber a higher-spec 47mm Showa fork, Brembo brake discs and calipers, and cruise control now added as standard feature, with all those components trickling down from the (previously) higher-spec Black model—along with that fat 16-inch front tire. Triumph added a few stylish tweaks in the form of black powdercoated engine cam and sprocket covers, and you also get an LED headlight with DRL, ABS, and switchable traction control as well as the slick adjustable solo seat to marry old-school cool with modern safety features.
The sole Bobber in the line will come in black, new Matt Storm Grey/Matt Ironstone, and red when it hits North America in March 2021, retailing for $13,150 USD.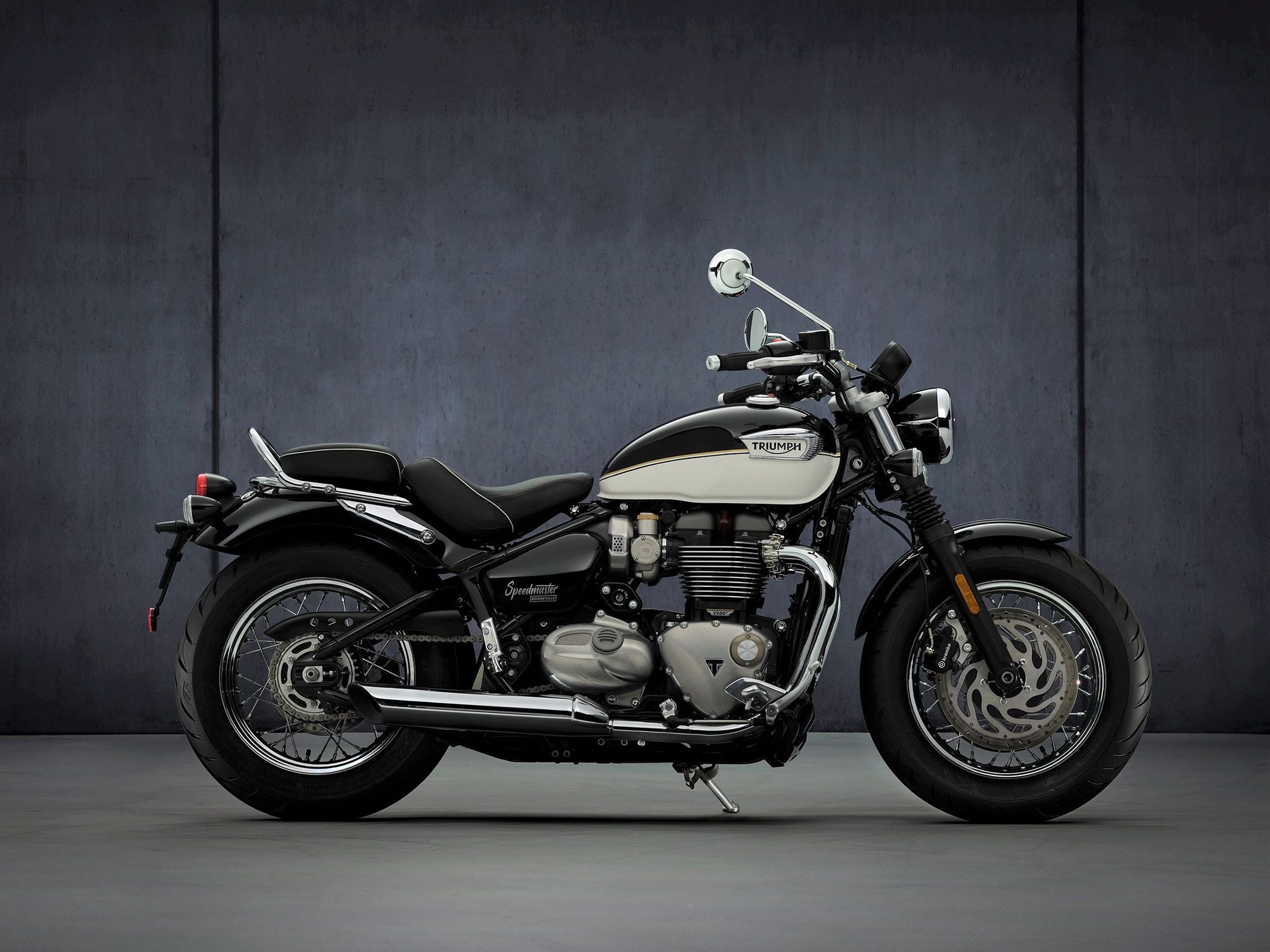 The Speedmaster cruiser also refines engine response, adds a 47mm fork, and revamps the seat for more comfort. (Triumph Motorcycles/)
Bonneville Speedmaster
The one true unashamedly cruiser-ish rig in the range is the laid-back, über-comfy Speedmaster, coming at you with fat tires, a plush two-up seat, and most of the other upgrades you've been reading about above, including a more responsive 1,200cc HT engine with lower inertia and lower emissions, that's now also Euro 5 compliant.
Triumph says the engine's peak power and torque numbers are unchanged (78 bhp peak power) but their curves are somewhat flatter, for more accessible power that lasts later in the rev range. To that, the Speedmaster also adds higher-spec 47mm Showa fork with 90mm of wheel travel for 2022, and a new more comfortable saddle with improved rider and pillion sections featuring thicker foam. You'll also see a new dial face on the single instrument gauge which is likewise enclosed in a new bezel. Like the Bobber, the Speedmaster wears chunky 16-inch tires and comes with two ride modes, ABS and traction control, a full LED headlight, and cruise control as standard.
Full LED headlights, some with DRL, are featured on most of the new 2022 Bonneville range. (Triumph Motorcycles/)
It'll be available in black, as well as new colors including red and white/black. The Speedmaster will be in North America starting March 2021, with an MSRP of $13,150 USD.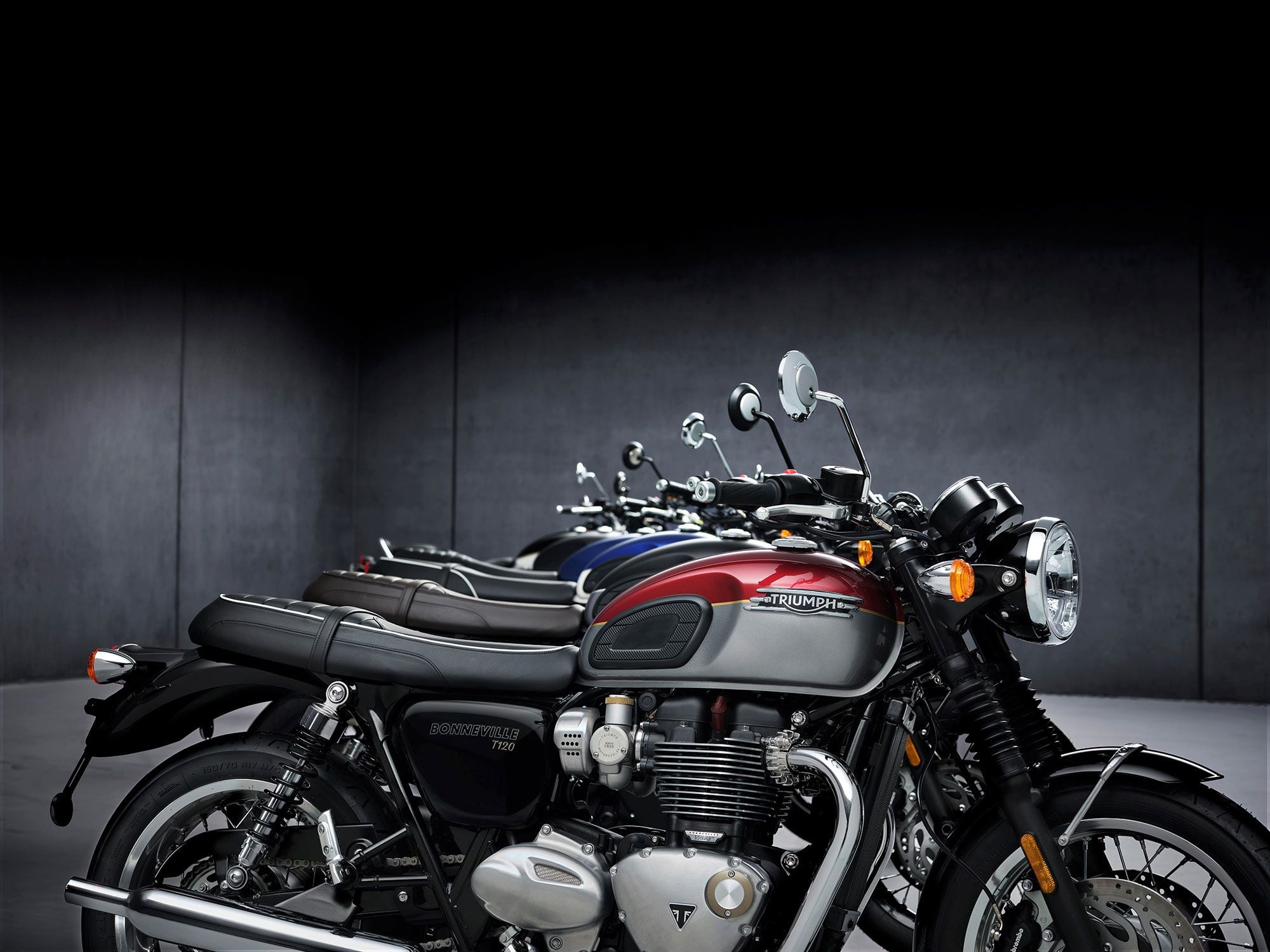 Most of the 2022 model year bikes will be available by May or June at the latest. (Triumph Motorcycles/)
The 2022 Triumph Bonneville T120 from the rear. (Triumph Motorcycles/)
If you're wondering about the Thruxton line, well the new RS launched last year, and the official reveal of the new-generation Scrambler 1200 models as well as the Street Scrambler will come in April 2021. No word as yet on if the Speed Twin will get any redos for 2022, but we'll let you know as soon as we do.
For more updates check below links and stay updated with News AKMI.
Life and Style || Lifetime Fitness || Automotive News || Tech News || Giant Bikes || Cool Cars || Food and Drinks

Source