Career & Jobs
Dis/Ability: Critical for Diversity and Inclusion Conversations in Higher Education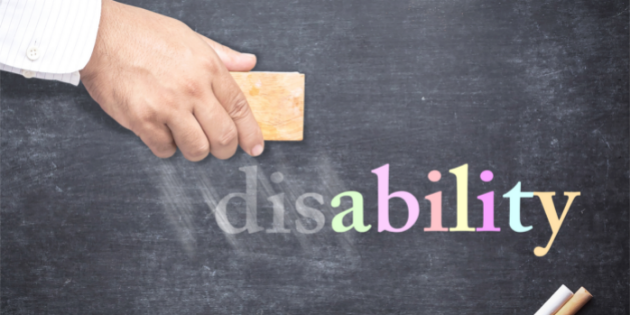 October is National Disability Employment Awareness Month (NDEAM) — a time for higher education to consider how well institutions are preparing students with disabilities for the workforce, as well as serving their employees with disabilities. Andrew Hibel asks Mercedes A. Cannon, from Indiana University-Purdue University Indianapolis, what higher education needs to do moving forward. From the U.S. Department of Labor, Office of Disability Employment Policy: "The theme for [National Disability Employment Awareness Month] NDEAM 2021, 'America's Recovery: Powered by Inclusion,' reflects the importance of ensuring that people with disabilities have full access to employment and community involvement during the national recovery from the COVID-19 pandemic."
Andrew Hibel, HigherEdJobs: Please tell us about yourself and your role in higher education.
Mercedes Cannon, Ph.D., IUPUI: I am a Black, woman of faith, mother, wife, entrepreneur, professional staff, and researcher/advocate with a dis/Ability label (speech and language impediment (SLI) established in elementary). I am also a recipient of the 2019 American Education Research Association (AERA) Disability Studies in Education Special Interest Group (DSE-SIG) Outstanding Dissertation Award. I completed my Ph.D. in 2019 at IUPUI, in the School of Education's Urban Education Studies (UES) Program emphasizing interdisciplinary and critical praxis methodologies. My qualitative research focus is critical transformative, with a narrative of care praxis mode of understanding disability and intersectionality (Cho, et al., 2013; Fine, et al., 2021) as they apply to individuals'/students' lived and educational transitions and socialization processes, which inform their self-awareness and interrelations with others (see Cannon, 2019). This is all considered in the context of their intersecting identity markers (e.g., race, gender, dis/Ability). The rationale for my focus is to privilege/center their voices, that communicate self-awareness, and within their interpersonal relations with others.
As the Associate Director of the Office of Adaptive Educational Services (AES) in the Diversity, Equity, and Inclusion Division at IUPUI, I assist the director with the daily operations of the office. I supervise three full-time staff and over ten student workers. Furthermore, part of my job is creating awareness and learning opportunities about the AES office and services for students with disabilities and explaining our interactive processes to faculty, staff, schools, and administrators on campus ensuring access to, and the implementation of, approved accommodations. I also work as an adjunct professor in the School of Education at IUPUI. Within my professional and academic roles in higher education, a narrative care praxis centers my work.
Hibel: How can higher education, as an industry, be better at employing people with disabilities?
Cannon: Disability is a critical component for diversity and inclusion in higher education. Therefore, I believe universities need to authentically engage people with disabilities and genuinely welcome them to the places and spaces where diversity, equity, and inclusion conversations are happening. Universities should include people with disabilities in conversations when decisions are being made on what it means to be fully inclusive of diverse identities and abilities. The necessary legislation of the ADA has been paramount in providing laws that protect against the discrimination of individuals with disabilities. ADA compliance is foundational in disability offices' work to remove barriers and ensure access for students with disabilities, and in the process of approving and implementing reasonable accommodations. However, the gap in recruiting and retaining individuals with visible and invisible disabilities is often unaddressed, and therefore higher education fails to prepare these students for the workforce. For example, without developing interpersonal relations with disabled communities, this marginalized group cannot be intentionally recruited by and for higher education. They also cannot be prepared for the industry. Notwithstanding intellectual effectivity, the array of skills and talents within and across disabled communities add to what it means to provide an equitable and inclusive environment in which we all live, play, and work.
Hibel: In a number of your publications, you use the term 'dis/Ability' — can you explain what this term means and its importance?
Cannon: The term is written from an asset-based understanding of what it means to be labeled and described by others from a deficit lens as broken and needing fixing. The slash delineates a dissonance between having a disability label and the subjectivity of others' deficit-mindedness towards those who are characterized by the label. Accordingly, the capital A provides space for redressing justice work taken from the lived and educational experiences of Black, Indigenous, and People/Youth of Color (BIPOC) with dis/Abilities. This group is still overrepresented in more restrictive settings and labeled more than their peers. Furthermore, the 'A' in 'dis/Ability' helps subvert the idea that white's permanence and ability in education and society is correct and justifies the erasure of others' views. The intention of writing the word as I/colleagues have, is to honor BIPOC communities' experiences with special education as oppressive and traumatic by illuminating an inverse to the word "dis/Ability." This is one of many ways DSE and critical disability scholarship has stood in solidarity with members of various BIPOC communities (re)defining their identity as assets (Annamma & Handy, 2019; "Subverted Truths," see Cannon, 2019; and Cannon & Hernández-Saca, 2021).
Equally important, although disability and racist laws enable personal, interpersonal, structural, and political oppression, which is at the heart of structural determinism, oppression is experienced categorically (i.e., structurally) and holistically at multiple vectors of identities (Crenshaw, 1991; Hernández-Saca et al., 2018). I believe this is one of the various reasons why both critical disability and intersectionality scholars frame the material and structural determinisms as embedded in legal thought and culture and illuminate its influences over content and practices. Furthermore, highlighting the sociohistorical construction of both disability and 'Ability' at the personal, interpersonal, structural, and political levels of schooling for BIPOCs, reveals it is constructed at multiple vectors of identities and dimensions hitting identity at the essence of humanity and spirituality.
Hibel: What are your two takeaways that you want higher education professionals (primarily administrative staff and faculty) to be better at to prepare students with disabilities for the workforce?
Cannon: Two takeaways:
1. Higher education institutions should develop an intentional strategic plan to incorporate opportunities throughout the academic year that invite diversity from the workforce to engage with our students with disabilities and design a more global vision and mission that is inclusive of their talents and abilities, as is reflected in the workforce.
2. Higher education institutions should intentionally allocate specific funds for students with both visible and invisible disabilities that garner additional exposure to the workforce while they are students, like internships, and thus more likely provide them the opportunity to transition the positions they held as interns into professional positions.
Hibel: What keeps you motivated and enthusiastic about the work you do in higher education?
Cannon: My epistemological scope persuades my passion for working in higher education. More specifically, it is through my faith and spirit, aligned with my philosophical views of humanity, my relationship with and my evolving understanding of God, self, and others, that bolsters my ability to detect problematic biases throughout and within group interactions. Within and across my relationship with God, myself, and others, I am very reflexive — self-aware of my beliefs, attitudes, and preferences and vis-à-vis to others. I query colleagues and staff members about their views/feedback on my approaches when addressing issues or challenges with the implementation of accommodations, or with my interpersonal communication within the classroom that is diverse, equitable, and inclusive. In doing so, I invite knowledge from others who share experiences with me as a professional staff member, colleague and/or instructor. I have found this approach to be beneficial to my overall growth. I believe my passion for research motivates the work I do in higher education. For example, utilizing tenets, voices and [counter]narratives, from the lens of DSE provides an elevated space and place for students with dis/Abilities stories that challenges and disrupts embedded inequalities experienced in higher education. Through a critical disability and intersectional approach, such privileging is the focus of my classroom ecology (Annamma & Morrison, 2018) pedagogy, which I also recognize as a praxis of care and radical love (see Cannon, 2021). Encouraging and emphasizing the importance of subverting dehumanizing practices that pathologize, disable, and exclude the voices and [counter]narratives of the lives, educational transitions, and experiences of individuals and students living at the intersection of identity markers is the type of exemplar work that I enjoy. I find pleasure in my work in higher education, and also find that privileging self-aware narratives/stories from the perspectives of marginalized populations within interpersonal group communication is a way I can explore the nature, origins, and limits of knowledge, and understand the theory of knowledge contained collectively within the group.
I contribute my roots of faith that grew deeper as I discovered what it means to be grounded in Christ — not the Americanized Christ — but the one who engaged my spirit by infusing life and knowledge of self-awareness abilities within and in my interpersonal group relations. Therefore, I am committed to fostering a diverse community of people with differing abilities to be academically successful and enrich the workforce. I believe my commitment derives from my varying life experiences that have resulted in my love of life. I feel that a life lived intentionally with hope, amid so much suffering, reflects what I have come to understand and appreciate intimately within my relationship with God.
For more updates check below links and stay updated with News AKMI.
Education News || Tech News || Automotive News || Science News || Lifetime Fitness || Sports News || Giant Bikes

Source