Career & Jobs
"How to Pivot When Your Teaching Role is Not What You Expected"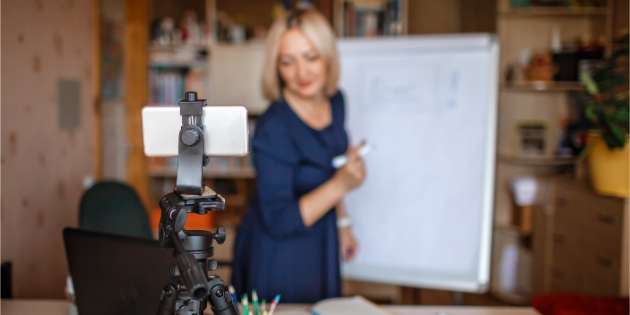 Maria Symchych/Shutterstock
Expectations and reality sometimes don't align; this can be a welcome surprise or it can deliver a worrisome jolt. It can be especially challenging to weather misaligned expectations when you're an educator. Yours is a public position, and it can feel stressful to recalibrate when you're at the head of a class.
Whether you're new to your institution, and it's different than you imagined it, departmental restructuring is changing your role, or teaching remotely is making your semester feel uncomfortable, here's how to pivot if your teaching role is not what you expected.
Don't Beat Yourself Up
You earned your job. You were drawn to your role for important, valid reasons. You have the skillset that it takes to do this work. Don't beat yourself up if it takes finessing to find job fit. This is an especially difficult time in the workplace, no matter how you're contributing. Nearly every industry has been profoundly altered by the pandemic. If you're feeling challenged to find your stride in the new paradigm, you are hardly alone. Be kind to yourself and recognize that it is certainly not your fault. Then make a commitment to using your resources to troubleshoot your way through, so that you can find your comfort zone and move forward in a way that truly suits you professionally.
Assess What's Working and What's Not
Aim to get some clarity around what dimensions of this are working and which ones are not. Write about what you are experiencing to understand your feelings better or work with a trusted friend, a therapist, or a career coach to get to the root of the discomfort. Is this a temporary dimension of the role, brought on by the pandemic, or is this a core part of the job? What kind of support do you have from your department and division and is this adequate?
Get clear about what dimensions of this job are not working for you. Only then can you get into problem-solving.
Call for Backup
Mentorship can be incredibly helpful when it comes to career growth, both during the good times and the hard times. While it can feel hard and humbling to invite support, keep in mind that higher education is fueled by these bonds. This is one way that working knowledge is passed down in the industry.
It helps to have a seasoned pro who can audit your class and provide insights, tips, and pointers. Likewise, you can visit that professor's classes. That way you can discuss teaching methods, theories, and best practices with that professor.
Being an educator reveals us. If you're not feeling fully confident in your educational approach, even if you know your subject matter, it's hard to garner the confidence that teaching requires. Working with a mentor can help build that savvy.
Invite an Experimental Mindset
Teaching is a tremendous responsibility. It can be overwhelming to find your confidence with that, especially when remote learning or the safety protocol associated with in-person learning have altered the classroom experience.
"If your classes are being run virtually but you are not enjoying virtual facilitation, there are many training firms that specialize in online interaction and apps that make the experience more enjoyable for you and for the students. Many companies have free webinars and others have very affordable courses" shares Robert Kienzle, senior consultant with Knowmium, associate professor for the Graduate School of Business of Sungkyunkwan University (Seoul) and previous instructor at the University of Arkansas.
Certainly, the pandemic presents educational challenges, but it also offers opportunities for the classroom experience to evolve. A similar evolution is happening in the business world. Though it's dizzying to be on the forefront of this growth, it's also a powerful place to find yourself as a professional and an educator. Kienzle adds: "take the time you have now to try new things that you might use in future positions or in different universities. Be experimental. If something doesn't work, you will be able to revise it and make it better to use later."
Take the Cue for Career Reinvention
The pandemic is seeding change in our daily life. It can feel stressful and strange, but it also ushers in a time for reinvention. So maybe that teaching role that you always thought would be perfect for you simply isn't a fit. Perhaps this is your opportunity to take a risk and carve out a new role for yourself. Maybe your pivot means finding something totally different.
"Educators are good writers and researchers; they are good at analysis too. Why not put those skills to work on any number of initiatives now underway to change how we do things during a pandemic? Educators can investigate strategies and possible new careers for students; they can work in state and local government standing up programs for those in need; they can become entrepreneurs and innovators; they can develop new areas of competency in fields of interest" explains Karen Gross, educator, former president of Southern Vermont College, former senior policy advisor to the US Department of Education during the Obama Administration and author of "Trauma Doesn't Stop at the School Door."
Take a hard look at the opportunity that this time presents. Think about what you know about this industry and consider those ambitions that you've long held. This could be your opportunity to take on a new role in higher education, to write about education, to become a consultant, to parlay your industry knowledge into something you are uniquely positioned to know is needed now. Gross adds: "Looking for a job now isn't easy; interviewing online via Zoom or FaceTime isn't ideal for sure. But waiting out the 'storm' may not be the optimal strategy."
Remember
You are a talented and qualified professional. If your job isn't working, it doesn't mean you're a failure. It just means you have some soul searching to do. Maybe that means reclaiming your teaching role, targeting a new way to contribute to the higher education industry, or contributing on a completely new front. This is fixable; finding that fix is the adventure of a lifetime.
For more updates check below links and stay updated with News AKMI.
Education News || Tech News || Automotive News || Science News || Lifetime Fitness || Sports News || Giant Bikes

Source