Career & Jobs
"Take this Assessment: Is Your Institution a Welcoming Place for Leaders of Color?"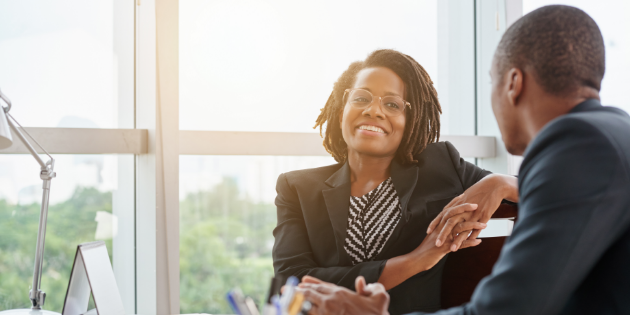 by Russell S. Thacker
Dragon Images/Shutterstock
Earlier this year, Dr. Sydney Freeman, Jr. and I wrote about our experience interviewing Black provosts at predominantly White institutions and the advice they shared for aspiring administrators of Color. Among other things, they advised up-and-coming Black administrators to seek mainstream experiences, find mentors both of their same race/ethnicity and not, and to not worry too much about Black/Ethnic scholarship holding them back.
However, these provosts' advice for young leaders was only half the message. One Black provost told us, "I think a critical part of the work is on the other side of the equation. That is to make sure that the institutions that are predominantly White are doing their self-analysis to make sure they're not increasing barriers and missing unique opportunities to cultivate strong relationships with talented African-American scholars and administrators… The work has to be done equally." Institutions need to ensure they are also taking the right steps to make themselves welcoming and inclusive places for Black and other leaders of Color.
What exactly can institutions do to better balance the equation for upcoming administrators of Color? As this provost stated, a "self-analysis" may be needed from time to time. Institutions can assess themselves by answering these questions on how they are doing in closing the three most common gaps faculty and administrators of Color have in moving into leadership roles: information, opportunity, and experience.
First, is our institution closing the information gap?
Being a higher education administrator is not exactly the job that dinner table conversations are made of growing up. When parents encourage their children to gain an education and earn a high-paying and stable job, being a provost, a graduate school dean, or even a professor just isn't on the list. As a result, careers as administrators often don't fall in the sights of young people or early-career faculty, especially for minorities. This was true for the provosts we spoke with, as the only ones who knew anything about being an academic administrator growing up had parents already serving in the academy.
A chief outcome of our study was the need to dispel this cloud of mystery surrounding senior administrative roles on campus. Visualization of senior roles needs to start early — well before students finish college — and should continue for junior faculty and staff on campus. For example, one successful provost routinely invites junior members of the faculty or staff to spend a day with her in the position. She said, "We've got to start meeting people when they come into the academy and say, is this something you have considered?"Another provost almost decided not to apply for the role, even after being a dean, until he spoke with a mentor who had served in the role before and helped him see a new perspective on what the job entailed.
Questions to consider:
Does our institution provide opportunities to learn about senior leadership positions?
Are we giving rising leaders an accurate picture of what these roles entail?
Are pathways to senior positions clear and unambiguous for rising leaders of Color?
Next, is our institution bridging the opportunity gap?
If an institution only provides information about senior roles but makes little effort to encourage future leaders of Color to pursue them, it may fall short in its diversification efforts. Information without invitation is meaningless to anyone who believes it does not apply to them. Several of our participants never considered themselves provost "material" earlier in their careers. It took the nudge, suggestion, or encouragement of a trusted friend, family member, or colleague to instill the confidence they needed to pursue their first administrative role, and then eventually the provost position. Nudging isn't just a nice idea. It has an empirical foundation. In one study of low-income high school graduates, a personalized text messaging campaign and support from near-age peer mentors significantly increased college enrollment.
One tried and true way of increasing nudging on campus is to start a mentor program. Mentors perform three important functions: they inspire to higher goals, help align priorities, and act as "gate-keepers and gate-openers." One current provost successfully created faculty-administrator mentorship programs at his three previous universities because of the value it provided him as a young faculty member. Nearly all provosts advocated for rising leaders to find trusted mentors they could relate to personally. Locating these mentors with similar backgrounds to faculty of Color can be a challenge however, so, institutions may need to formalize campus-wide mentoring programs for underrepresented groups or tap into external networks and organizations. Whether or not a mentor matches up in every characteristic, rising leaders benefit greatly from having someone to guide them on their professional path.
Questions to consider:
Does our institution have a mentoring program for faculty and staff of Color?
Are promising future leaders of Color encouraged to apply for opportunities?
Do search committees participate in bias training prior to the search?
Finally, is our institution addressing the experience gap?
Institutions should be aware of the experience gap that affects many rising faculty and administrators of Color. Leaders of Color may bring varied professional and life experiences that break from the mold at traditionally White schools. One provost observed, "For more elite PWIs, there's a tendency to only look for people who come from Ivies or flagship universities. Looking out to the Midwest, out to the West coast, thinking about great programs instead of the most elite schools, could really serve us well." Expanding the definition of what "qualifies" as an acceptable professional or academic pedigree would open the door to a range of potential candidates.
Another important aspect of experience is making mid- to lower-level leadership roles available to faculty and staff of Color. Roles such as program director, department chair, associate dean, and center director are critical to gaining the leadership experience needed for stepping into higher roles. Providing these experiences to diverse leaders — while not limiting these leaders to only these roles — strengthens the pipeline for future leaders of Color.
Lastly, it's important for institutions to not miss the forest for the trees in extending opportunities too soon to serve in administrative roles. There can be a tendency to pull promising faculty of Color into administrative roles early instead of helping them achieve the highest faculty ranks first. Our participants stressed the importance of keeping faculty of Color on the tenure-track until they had become full professors so they could fully develop their research portfolio and not have future progress stunted. This should be balanced with the organization's need for leadership at that time.
Questions to consider:
Does our institution recognize the value of diverse professional and academic experiences in considering new leaders?
Is our institution making mid-level leadership experiences available to faculty and staff of Color?
Are we encouraging promising faculty of Color to stay on the tenure-track to qualify for the highest roles?
How did your institution do on this self-analysis? For institutions looking to further diversify their leadership and help aspiring leaders of Color, organizations like the National Center for Faculty Development & Diversity (NCFDD) offer workshops, courses, and other support to leaders and individual faculty members.
For more updates check below links and stay updated with News AKMI.
Education News || Tech News || Automotive News || Science News || Lifetime Fitness || Sports News || Giant Bikes

Source