Food & Drinks
SB meets… Karina Sánchez, Don Julio – The Spirits Business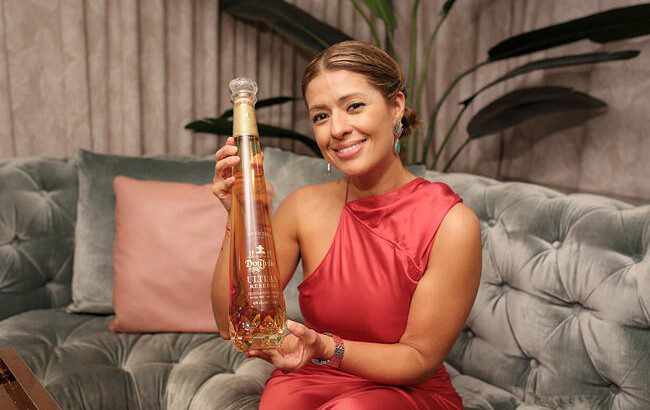 Who does Don Julio global brand ambassador Karina Sánchez admire in the Tequila world, and what trends will be big in 2023? Read on to find out.
How has Don Julio contributed to the Tequila category's premiumisation?
Consumers who know more about the spirit, about Tequila, are asking to have more quality spirits. And it's not just about the final result but also about the process, the way that we, the companies that are producing Tequila, are doing things. If we go back to our late founder Don Julio González, he was the creator of the world's first luxury Tequila, which was Don Julio Reposado.
And then in 2012, we created the world's first añejo cristalino Tequila. Many people think cristalino is actually part of the classification of Tequila – and it is not. It is a trend that was born of Don Julio, that has been pushed a lot, and now people think it is a classification.
We are always looking to take our liquids to superior levels in order to have more offerings for our consumers.
How else is the brand working to attract new drinkers to Tequila?
We have this innovator spirit, and we are keeping this innovation and tradition to create new things for our customers. We look to increase the luxury offerings and to expand occasions of consumption for our consumers, and of course to highlight the versatility of Tequila.
We have a nice portfolio of liquid; some are more complex with more character, others are smoother. Our liquids are always going to appeal to different palates, and this is the way we can be in different moments with different people.
As you're based in Mexico, can you give us some insights into how consumers there are drinking Tequila?
I know the Margarita is the most popular cocktail in the world. However, in Mexico, for us, the most common way to drink Tequila is the Paloma. We have very good bartenders creating cocktails in Mexico. I wouldn't say Mexico was like this 'birth place' of cocktails, but now we are getting into this new field and we have amazing bartenders here in Mexico too, and amazing bars to enjoy cocktails.
It's very common to see Tequila in regional cocktails that probably are unknown around the world. For example in Jalisco, in the Lowlands, they have their particular cocktails made with Tequila. One example is El Cantarito, it's like the cousin of the Paloma. It's a clay jar where we put lemon and citrus juices and Tequila.
Tequila on the rocks is also getting more popular, especially when you have amazing liquids.
Outside of the US and Mexico, the biggest markets for Tequila, where do you see Tequila really taking off next?
Great Britain is a very important market for Tequila. Australia is also showing important growth for Tequila. I think Colombia because it is a culture very close to Mexico, and they are doing great things with Tequila. What I was impressed with when I visited the market last year is now they are going so deep into this culture of food occasions with Tequila, so they are creating some very interesting food pairings.
Also Southern Europe – Greece, particularly.
Who inspires you in the drinks industry?
I really, really admire Cristina Diezhandino, [Diageo's] chief marketing officer. The way she leads the marketing team, the ideas she has for the largest company of spirits in the world – and a woman is leading that – she is one of the women I really admire.
Carolina Puerta Gómez is the person that actually is the operations director for our Tequila portfolio. So she runs all the distilleries producing Casamigos, Don Julio.
And also our colleagues who are working in the agave fields, I want to use this opportunity to say that we are always in favour of equity, diversity and inclusion. So now, we are looking to incorporate more women in different levels of the organisation – and in the agave fields, where you don't usually see women participating. Now we have brilliant agricultural engineers working to improve the conditions in the agave fields. We have women distilling our Tequilas, which is incredible also.
And I'm also going to mention someone else, Jenna Ba. Jenna is just great, and I have learned a lot from her. She has helped me a lot in the drinks industry and I really admire what she has been doing.
Lastly, what trends do you think will be driving Tequila this year?
I believe we are still going to see demand for classics with a twist. This is not a trend born in 2023, but I think people love this feeling of nostalgia. For example, you can have a Martini with Tequila. I also think we will see vegetables being used more in cocktails as well, through syrups and bitters to spice up our drinks.
For more updates check below links and stay updated with News AKMI.
Life and Style || Lifetime Fitness || Automotive News || Tech News || Giant Bikes || Cool Cars || Food and Drinks

Source