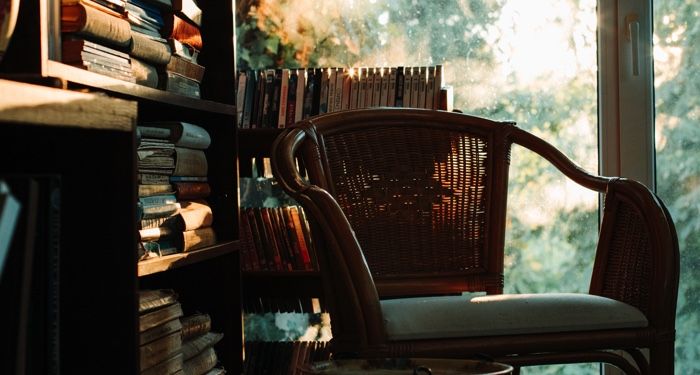 This content contains affiliate links. When you buy through these links, we may earn an affiliate commission.
I've always loved stories about moving libraries — libraries carried on the backs of mules through the Appalachian mountains or maybe a library carried on the back of a dragon. But when it came time for my library to become more mobile, I felt overwhelmed as I faced this seemingly impossible task. How on earth was I going to move over 1,400 books?
My husband, the Corgis, and I were moving back home to the mountains after spending two years in the South Carolina Lowcountry. While we loved the beautiful scenery of the surrounding wetlands of the coast, there's no place like home. But, somehow, I had acquired even more volumes since we moved down during the first year of the pandemic. My library sprawled across our house, spreading out from our office, congregating on side tables, book carts, and the entertainment center. I'd even decorated with invisible bookshelves, hanging them as decorations in our living room so anyone who visited could see stacks of my favorite books as they walked in. I'd begun to suspect they were multiplying on their own when I wasn't looking.
But while people might have asked me, "Kendra, do you have a problem you'd like to confess?" I felt perfectly happy with my library. I've always loved being surrounded by books. Plus, I'd married another creative writing major who I'd met in college, and we both had small libraries. But the serious acceleration of my book collecting started when I started working in books, and my library doubled in size in the first year. I was now coming across dozens of books that I couldn't wait to get my hands on. I started scouring the shelves at library sales and trolling overstock bookstores. It was heaven.
Fast forward to this past fall, and I'm staring at the walls of bookshelves trying to figure out how I was going to move hundreds of books. My husband and I weren't using a moving service. It would just be us and my parents loading the U-Haul and wrangling the Corgis into the car to drive north. I needed to strategize. 
My spouse found some 60 boxes from a local overstock bookstore, so about two months before we moved, I started packing. First, I packed all of the books I'd already read, lovingly pulling down my many copies of Mrs Dalloway and carefully packing my collection of novels by Jesmyn Ward. The whole process felt like visiting with old friends, and in my mind, I reassured them that they would make it to their new home okay. I culled a book here and there that I didn't want to keep, but I'd already combed through these books time and time again, so there weren't many I didn't want to take with me.
After a month, I had 40 boxes lined up in the dining room, a wall of brown cardboard over four feet tall that ran the length of the room. I hoped that somehow I'd be able to make everything fit in the remaining boxes. Sorting through my TBR was a different story. I didn't know these books in the intimate way a reader understands or connects with a book they've already read. Most of the book felt like potential friends at best, complete strangers at worst. In the last month before the move, I had to make some difficult calls and pulled out around 200 books that I didn't want to move with me. Even with that, I had more than filled the remaining boxes. On moving day, I had over 75 boxes of books, which my mom roughly totaled at over 1,400 books.
As a disabled person who is often homebound, it's important that my home be a refuge, a place I enjoy living in day in and day out. My little libraries might change locations, with different decorations or bookshelves on the walls, but they have all been a comforting space that's always there if I need it. One time as the minimalist design trends started gearing up with a renewed intensity, someone made a snarky comment about books overtaking my house. After I smoothed down some of my ruffled feathers, I realized I didn't need to care about what other people thought about my library. Books were one of my greatest joys in life, so why change that to fit my preferences into some fleeting trend of hating joyful clutter?
After we finally arrived at our new place, the guys unloaded box after box, recreating the never-ending wall of cardboard. But this time as the boxes began to pile around me, I felt relieved. They had all made it. As I unpacked them over the next few weeks, it was like everything was as it should be, every book back in its place. They all brought joy. And for me, that is enough.
Buy the Best Books from Amazon : check out this Latest and Trending Book So You Want to Talk About Race,
For more updates check below links and stay updated with News AKMI.
Life and Style || Lifetime Fitness || Automotive News || Technews || Giant Bikes || Cool Cars || Food and Drinks

Source