Fashion
37 Best Feel-Good Films to Make You Feel Happy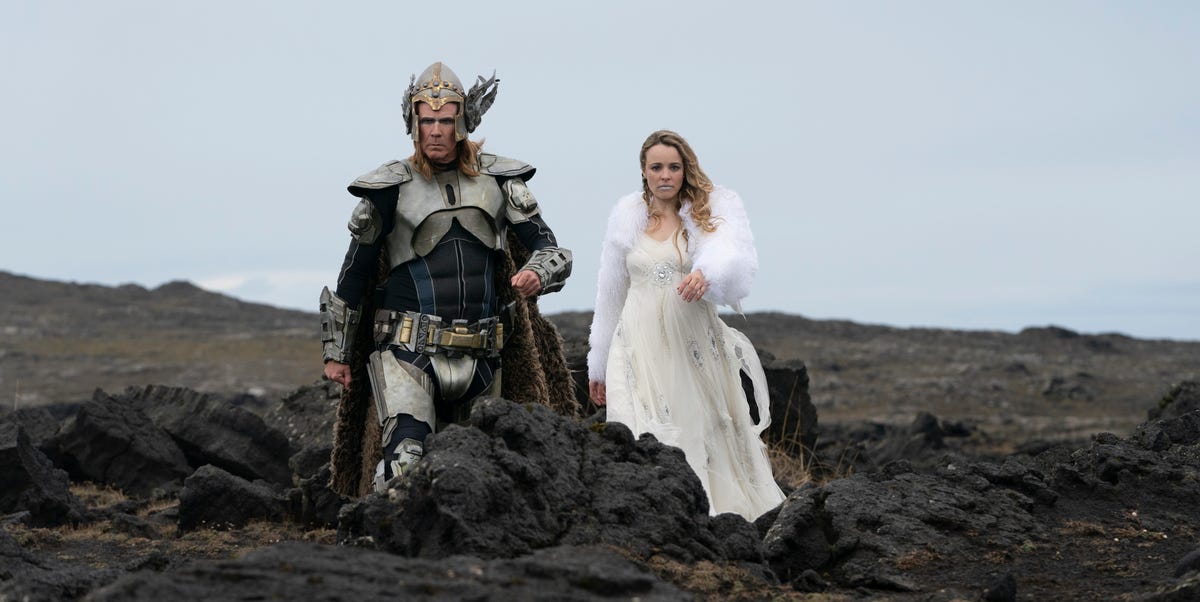 March 2020 kicked off the longest year most Americans have felt in their lifetimes. With all of us stuck inside in quarantine, we have to do something to entertain ourselves and each other. Enter these 37 selections, movies that are easy on the heart and mind. Zone out on the couch with your favorite snack, the softest blankets in your home, and try to remember what relaxing feels like. —Hilary Weaver
1
Always Be My Maybe
Sasha (Ali Wong) and Marcus (Randall Park) were childhood sweethearts who grew up together in San Francisco. Sasha, a celebrity chef, comes back to her hometown to open a new restaurant, and runs into Marcus, who still lives at home and works with his widowed father. They discover their feelings for each other haven't gone away, though there are a few complications—including one awkward double-date encounter with Keanu Reeves. —HW
2
The Holiday
This delightful film should not be reserved only for December. This is Nancy Meyers at her best: a cozy English cottage in the Cotswolds, a sprawling Los Angeles mansion (both with idyllic kitchens, by the way), little kids with perfect British accents, and four main characters who seemingly work for companies with competitive vacation packages. —HW
3
Sister Act
Deloris Van Cartier (Whoopi Goldberg) sees her mobster boyfriend commit murder and is placed in witness protection. She ends up at a convent in California, where she shakes up the lives of the reserved nuns and turns their choir into a hit-making party. —HW
4
The First Wives Club
amazon.com
Annie MacDuggan (Diane Keaton), Elise Elliot (Goldie Hawn), Brenda Morelli (Bette Midler), and Cynthia Swann (Stockard Channing) were best friends at Middlebury College in the 1960s. Fast-forward a few decades: Annie, Elise, and Brenda find out Cynthia died by suicide after learning her husband married his young mistress. Their own marriages aren't exactly great, so the three friends, once estranged, come together to seek revenge on their husbands—but end up reaching a much better (and feminist!) conclusion. An impromptu performance of "You Don't Own Me" absolutely adds to the "feel good" element of this classic movie. —HW
5
The Parent Trap (1998)
Hallie and Annie (Lindsay Lohan) are twins who never knew the other existed—until their parents coincidentally send them to the same camp. When they discover each has one half of the same photo torn "right down the middle," they realize they aren't just sisters—they're twins! This remake of the 1961 film follows Annie and Hallie's plan to switch places and get their parents Nick (Dennis Quaid) and Elizabeth (Natasha Richardson) back together. Who else ate Oreos with peanut butter after becoming obsessed with this movie? —HW
6
The Incredible Jessica James
Jessica James (Jessica Williams) is an aspiring playwright getting over a recent breakup with her long-term boyfriend (Lakeith Stanfield). She meets Boone (Chris O'Dowd), who's just gone through a painful divorce, and the two bond through their heartbreak, vowing to unfollow their exes on social media. In a move of support, they decide to follow each other's exes instead, and as they spend more time together, it's clear their relationship is about much more than a breakup pact. —HW
7
13 Going On 30
It's the 1980s, and Jenna is turning 13, but she'd much rather be "30, flirty, and thriving" like the women she sees in magazines. Her birthday wish ends up coming true, and she wakes up as adult Jenna (Jennifer Garner), a fashion editor in early 2000s New York City. But when she meets up with her best friend, Matt (Mark Ruffalo), her isn't exactly thrilled with the person she's become—and after a while, neither is she. Cue a very different kind of makeover montage. —HW
8
Eurovision Song Contest: The Story of Fire Saga
The real 2020 Eurovision Song Contest may have been canceled due to COVID-19, but fans can find solace in Will Ferrell's Netflix parody of the wildly popular international music competition. Ferrell plays Lars Erickssong, an aspiring singer- songwriter who has dreamed of representing Iceland on the Eurovision stage since watching ABBA perform "Waterloo" in 1974—but perhaps lacks the talent to get there. His bandmate, Sigrit (Rachel McAdams), has a captivating voice, but first they have to outshine front-runners Katiana (Demi Lovato) and Dan Stevens's flamboyant Alexander Lemtov while also trying to avoid embarrassing Lars's disapproving father (Pierce Brosnan). It's no Mamma Mia!, but it certainly scratches that itch. You definitely won't get the soundtrack out of your head. —Julie Kosin
9
The High Note
Maggie Sherwood (Dakota Johnson) wants to be a star. Well, more like a star maker. As a personal assistant to pop mega-diva Grace Davis (played by Tracee Ellis Ross, in a fun send-up of her mom, Diana), Maggie spends her days fetching juice orders and prepping her boss for a date with Michael B. Jordan (who unfortunately doesn't make an appearance onscreen). At night, Maggie remixes music on her dingy laptop and dreams of producing a hit for Grace that might reboot the singer's stalled career. When a chance encounter at a grocery store introduces Maggie to a swoony young musician (Kelvin Harrison Jr.), she finally gets her chance to help guide a promising young talent toward stardom—but only if her own ambition doesn't get in the way. —JK
10
You've Got Mail
Kathleen Kelly (Meg Ryan) is trying to keep up her mother's legacy at her bookstore, The Shop Around the Corner, on Manhattan's Upper West Side. As "Shopgirl," she meets a mysterious man named "NY152" in an online chat, where they talk about bouquets of pencils, Joni Mitchell songs, and the man's dog, Brinkley. Little does she know, this internet man of her dreams is Joe Fox (Tom Hanks) of Fox Books, the big-box company trying to wipe out her little independent bookstore. —HW
11
My Big Fat Greek Wedding
Toula Portokalos (Nia Vardolos) is 30 years old, and her traditional Greek family is very concerned she doesn't have a husband. While working at her family's restaurant, she meets Ian Miller (John Corbett) a handsome teacher and only child from a small, conservative family. Their romance teaches Toula and her whole family that love, in its many forms, can conquer difference. And the rest of us leave the experience with entirely new connotations for the words "biopsy" and "hormones." —HW
12
9 To 5
This office satire stars Jane Fonda, Lily Tomlin, and Dolly Parton as three fed-up employees who work for a "sexist, egotistical, lying, hypocritical bigot." They have fantasies of overthrowing this tyrant, and after an accident gone right, they get to live out their shared dream. —HW
13
Toy Story
Who cares how old you are? This Disney/Pixar classic will warm your heart with its tale of friendship and love between toys Buzz Lightyear, Sheriff Woody, Mr. Potato Head, and Slinky Dog. —Prakruti Patel
14
Legally Blonde
A chihuahua pal is recommended for this super-empowered, super-pink comedy. There's no slump Elle Woods can't (bend and) snap you out of! —PP
15
The Incredibles
One superhero is dandy, but a whole family full of them? That's downright…incredible. Rewatch this Disney classic, especially to see Frozone ice it up with his killer moves—then follow up with the sequel. —PP
16
The Princess Diaries
We are officially getting a Princess Diaries 3, so cue a Princess Diaries marathon. Get into the teen comedy vibe with Mia's ultimate makeover and the way she kills with kindness—just as a true princess should. —PP
17
Elf
amazon.com
Who says it has to be Christmas to watch Elf? Summer or winter, this fan favorite will make you want to sing, just like Will Ferrell's irrepressible North Pole stray, Buddy the Elf. —PP
18
Home Alone
Another Christmas classic that can bring cheer no matter what the season. Kevin McCallister's run-in with two of cinema's most bumbling villains, Marv and Harry, will have you gasping—in the best way. —PP
19
The Proposal
What do you get when you combine a rigid yet secretly sweet boss, a talented and funny assistant, and a fake engagement? The most adorable love-hate romance ever. —PP
20
Pitch Perfect
If you've never seen Pitch Perfect, you need to aca-scuse yourself and watch it right now. This epic musical adventure will ensure unlimited laughter and endless singalongs. —PP
21
Back to the Future
This classic is one of the go-to time-travel movies, thanks to the adventures of Marty McFly, Doc Brown, and the DeLorean. Though it was made in the '80s, it will take you on a journey through the 1950s  and 2010s as well. —PP
22
Mamma Mia!
Nothing says "feel-good" more than ABBA songs like "Dancing Queen" and "Waterloo." Add in a silly but sweet story about a young woman trying to track down her dad through her mom's diary, and you've got a family-friendly fave. —PP
23
Bridesmaids
Naughty and nice, this wedding comedy will both gross you out and leave your heart full. Starring Kristen Wiig, Maya Rudolph, Melissa McCarthy, Rebel Wilson, Ellie Kemper, and Rose Byrne, Bridesmaids doesn't have a single dull moment. —PP
24
Wall-E
Set in the 29th century(!), this futuristic Pixar tale follows Wall-E, a solo robot left to clean up Earth. His lonely existence gets a little more interesting when he meets EVE, another robot sent on a scanning mission. Who knew you could root for robo-romance? —PP
25
Crazy Rich Asians
This was the romantic comedy of 2018, and it's already a classic. The first Hollywood film with an all-Asian cast in 25 years, Crazy Rich Asians delved into the world of the Singapore elite, showcasing gorgeous fashion, glittering mansions, and a fiercely independent heroine to boot. —PP
26
50 First Dates
Adam Sandler and Drew Barrymore are such a noughties combo, but that doesn't mean you can't tune in to this rom-com right now. Henry (Sandler) wants to win the love of Lucy (Barrymore), but it's tricky since she wakes up every day not remembering the last. —PP
27
Booksmart
Booksmart is a high-school comedy anyone can watch. Two studious teens, played by Beanie Feldstein and Kaitlyn Dever, cast aside their Type-A ways for just one night and party with their fellow students, resulting in a hilarious but cathartic night. —PP
28
Girls Trip
Jada Pinkett Smith, Regina Hall, Queen Latifah, and Tiffany Haddish? I'm offended I wasn't invited on this riotous girls trip to New Orleans, which is alternately sexy, disgusting, fun, and heartwarming. —Estelle Tang
29
To All the Boys I've Loved Before
netflix.com
Based on the Jenny Han YA novel of the same name, this irresistible romance turns a disaster (your secret love letters get sent to your crushes!) into one of the most enjoyable teen love stories of the decade. Lana Condor and Noah Centineo forever. —ET
30
Bend It Like Beckham
A winning Parminder Nagra and baby Keira Knightley score big in this soccer comedy (more about family and friendship than sports). Two girls defy their parents to do what they love most, and discover hidden strength along the way.  —ET
31
A League of Their Own
Set against the tensions of World War II, this drama about a women's baseball team still shines. Based on the real-life All-American Girls Professional Baseball League, A League of Their Own stars Madonna, Geena Davis, and Rosie O'Donnell as players on the Rockford Peaches. —ET
32
Finding Nemo
Look, you'll probably cry during this animated adventure, but there's no denying that Marlin's quest to find his lost son Nemo is visually stunning, and a beautiful tale about just how expansive the idea of "family" can be. —ET
33
Singin' in the Rain
This musical's title song is the definition of feel-good, and the dynamite dancing scenes are just as delightful. Gene Kelly and Debbie Reynolds will steal your hearts as Old Hollywood stars with twinkle toes and a whole lot of chemistry. —ET
34
Won't You Be My Neighbor?
Is there anything nicer than finding out a beloved TV figure was just as wonderful in real life as he seemed on the screen? This documentary is a tender tribute to Fred Rogers, the kindly and surprisingly radical host of Mister Rogers' Neighborhood. —ET
35
Ghostbusters (2016)
Ignore the haters and flip the script with Paul Feig's all-female Ghostbusters remake. In this 2016 comedy, Leslie Jones, Kate McKinnon, Melissa McCarthy, and Kristen Wiig take shots at spooky villains and a rather inept Chris Hemsworth. —ET
36
Matilda
Precocious, unassuming Matilda is hyper-talented, but her wretched family can't appreciate her for who she is. Mara Wilson steals the show in the film version of Roald Dahl's perfect children's book. —ET
37
The Princess Bride
Cary Elwes and Robin Wright are truly enchanting in this irreverent take on fairy tales, and the rest of the star-studded cast—Billy Crystal, Christopher Guest, Mandy Patinkin—will only induce more smiles. As you wish! —ET
This content is created and maintained by a third party, and imported onto this page to help users provide their email addresses. You may be able to find more information about this and similar content at piano.io
This commenting section is created and maintained by a third party, and imported onto this page. You may be able to find more information on their web site.
For more updates check below links and stay updated with News AKMI.
Life and Style || Lifetime Fitness || Automotive News || Technews || Giant Bikes || Cool Cars || Food and Drinks

Source