Life Style
myIOU allegedly fires management team amidst ex-CFO's suspected fraud investigation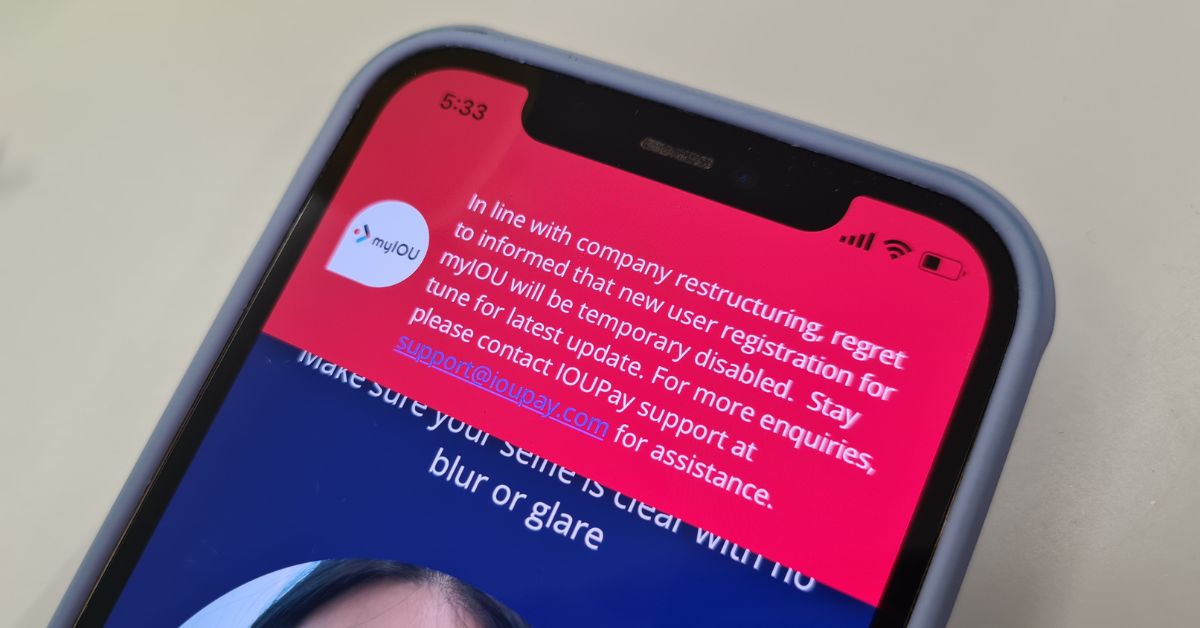 Malaysian BNPL company IOU Pay (Asia) Sdn Bhd (IOUpay) has allegedly terminated its entire management team and dismissed 60% of its staff by offering voluntary resignation, an ex-staff of IOUpay told Vulcan Post.
Meanwhile, IOU Pay's BNPL app, myIOU, has seemingly been down for a week or so for users.
On Facebook, the myIOU team has been replying with the following message to commenters who claim they are unable create accounts:
"In line with company restructuring, regret to inform that new user registration for myIOU will be disabled. For more enquiries, please contact our team at [email protected]."
On March 21, Vulcan Post also tried to set up an account with myIOU but was unable to get past the identity verification process. 
Allegedly not paying merchants
According to the ex-staff member, since last week, there have allegedly been no transactions made within the app.
The merchants of myIOU have only been informed by one notice from the BNPL app. No other explanation has been given. The notice given is the following picture:  
A representative from a popular merchant on myIOU had verified this claim with Vulcan Post, but updated us on March 22 that payments have finally been made.
However, Vulcan Post has not been able to confirm whether smaller, less popular merchants have faced the same payment issues and whether these issues have been completely resolved. 
The ex-staff member also claimed that the BNPL company is not paying merchants on its platform despite still charging consumers who have committed to a purchase.
The ex-staff member believes myIOU consumers are not being informed of the current issues—there has been no newsletter, social media postings, or app notifications. 
As such, they hope consumers and merchants will be aware of the situation at hand and proceed cautiously with using not just the myIOU app but any BNPL schemes. 
Allegations of fraud, breach of duties
The issues seem to have started March 16 when IOUpay Ltd, IOUpay's listed company, halted its trading.
Not much has been written on the subject, but Australian publication The Australian reported that IOUpay Ltd had requested for the trading suspension from the ASX on March 16. 
This was after allegedly finding its former group chief financial officer, Kenneth Kuan Choong Hsuing, involved in a significant fraud. He was subsequently dismissed from his duties.
According to The Australian, IOUpay Ltd's company secretary, Ben Reichel, wrote in a letter that IOUpay needed the halt to deal with "serious financial irregularities" it had found in its Malaysian business.
"The suspension is necessary in order for the company to manage its continuous disclosure obligations to provide an update in relation to the fraud investigation and discussions with its financiers," Reichel was quoted as writing.
Prior to Kuan's termination, the Board of IOUpay Ltd had received a shareholder notice to hold an extraordinary general meeting (EGM) with a request to remove the current Board of Directors.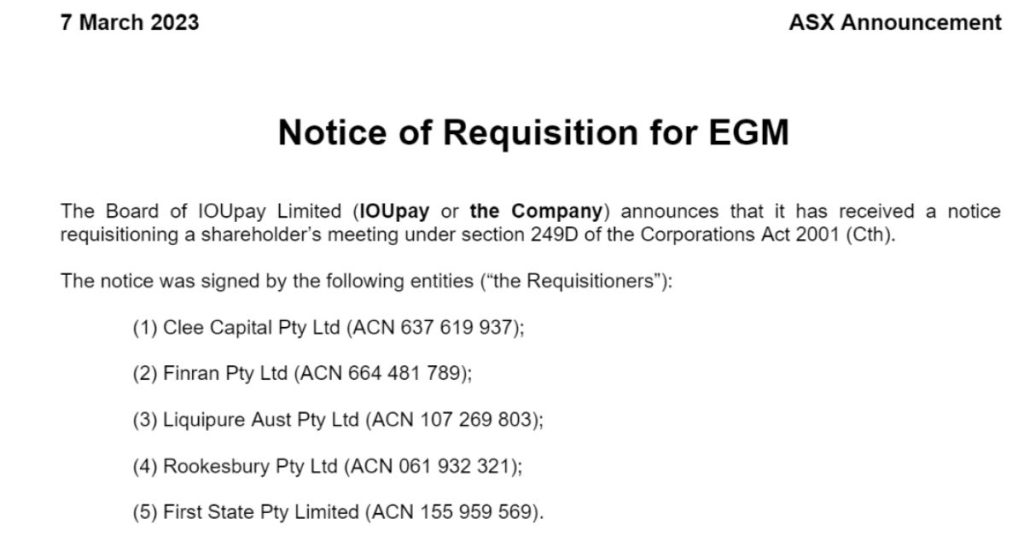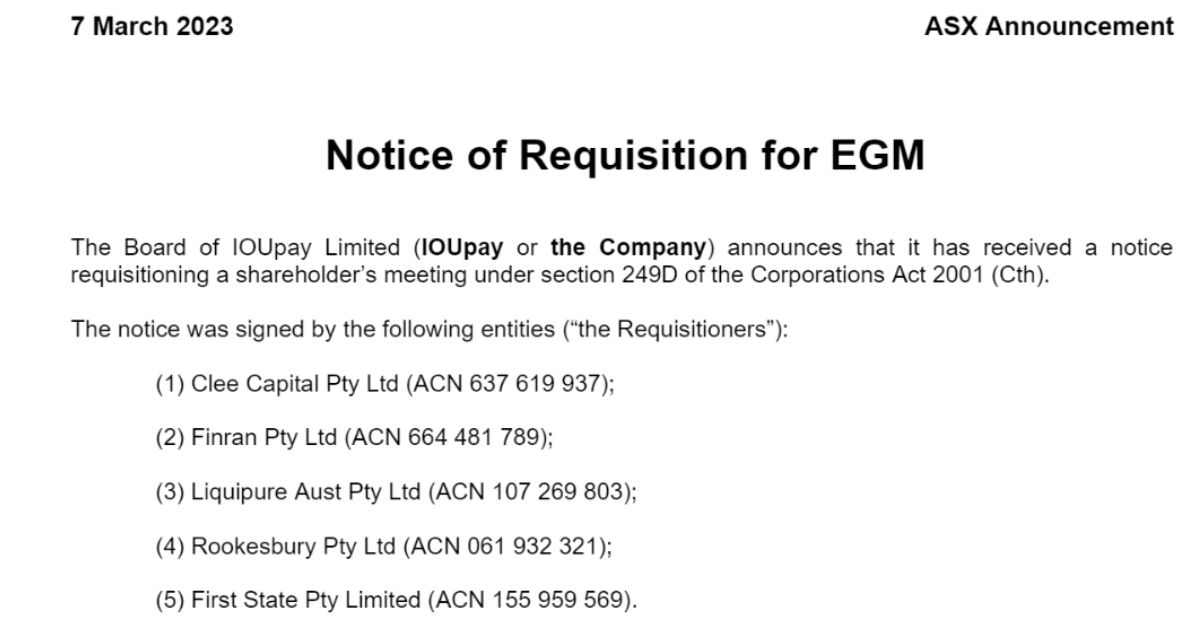 The ex-staff member told Vulcan Post that at the same time, IOUpay received several documents that alleged the Group Managing Director Aaron Lee Chin Wee's breach of duties.
The ex-staff member claimed the CFO, Kuan, had then reported this immediately by emailing the Board in order to suspend Aaron Lee for an investigation.
However, the Board has not suspended Aaron's role. Rather, it proceeded to terminate Kuan.
The ex-staff member also shared a document addressed to Kuan from Isaac Chong Kwong Yang, the executive chairman, dated March 11, 2023.
The letter announced that the CFO's employment was terminated with immediate effect on the grounds of "refusal to obey a lawful instruction from the board, via the Company Secretary, to transfer the Company's funds to its Australian bank account".
An earlier announcement of this dismissal is publicly available on listcorp.com. Here, it says Kuan was dismissed following a preliminary review by the executive chairman of cost levels and financial performance in the Company's Malaysian business.
The document also stated that the executive chairman, Chong, will assume the role of CFO on an interim basis.
According to another document on listcorp.com, Chong was only appointed as the executive chairman on March 9, 2023.
Legal actions ensue
On March 22, IOUpay Ltd released a market update stating Kuan is being investigated by Malaysian police authorities. Recovery efforts are also said to be underway in relation to the misappropriation of company funds.
Later the same day, the company also announced it has been served with legal proceedings in the Federal Court of Australia by Clee Capital Pty Ltd.
Clee Capital is a shareholder of IOUpay and is representing the group of shareholders seeking to remove the Board and install its own nominated directors.
The legal claim includes a witness statement by the former CFO, Kuan, who is assisting Clee Capital in this legal action.
The orders sought by Clee Capital, if granted, will prohibit IOUpay Ltd from being able to obtain loans or any capital injections.
The announcement from the BNPL company ended by stating that IOUpay Ltd will be resisting the legal application. 
As this story is still progressing, Vulcan Post will be updating the article with any further updates. 
Read other articles we've written about Malaysian startups here.

For more updates check below links and stay updated with News AKMI.
Life and Style || Lifetime Fitness || Automotive News || Technews || Giant Bikes || Cool Cars || Food and Drinks

Source