Education
Merging Face-To-Face With Learning Tech: How ILT Training And LMS Can Bring Your Employees The Best Of Both Worlds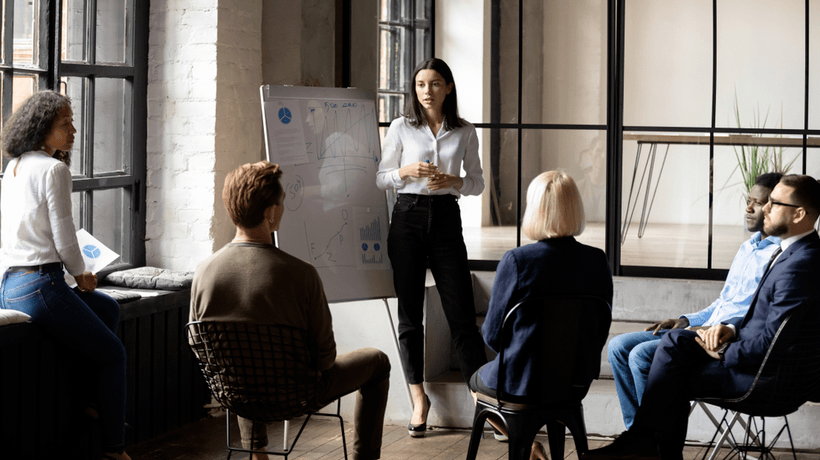 What Is Instructor-Led Training And How Can You Enhance L&D Through Learning Technologies?
Contrary to critics' claims, instructor-led training is not the remnant of a bygone era. There is still a case to be made for face-to-face sessions that offer one-on-one support. However, blending it with learning technology can help you enhance personalization and stretch your L&D budget even further. Our eBook guides you through the entire implementation process, from defining in-house roles to choosing the best ILT training LMS for your organization. But first, let's look at the traits all successful ILT programs have in common so that you can start strategizing.
4 Essential Traits Of A Successful ILT Program
1. Learner-Centered
One of the negative preconceptions that employees have regarding ILT is that it's impersonal and inflexible. Every employee attends the same event, develops the same skills, and takes the same final exam to display their proficiency. There's little room for personalization. However, ILT and LMS make the experience learner-centered. Trainers can use online tools to provide follow-up support or small group events to ensure everyone gets their undivided attention. Employees can use an LMS to pursue their own goals and overcome common obstacles autonomously.
2. Facilitates Peer-Based Support
Successful ILT programs recognize the value of collaboration. They value the individual (learner-centered) but also acknowledge that peer-based support is crucial. For example, user forums, blogs, and social media groups that facilitate peer coaching and mentoring. Invite employees to host their own live events or social media discussions to share their expertise with the team. Also, look for learning management systems with live chat features to turn top performers into resident experts.
3. Prioritizes Big Data Analysis
Blending ILT and LMS means that you're no longer limited to final assessment scores and survey results. You have vast amounts of information at your fingertips, from employee completion times and access logs to engagement scores and certification status, thanks to LMS reports. Successful ILT prioritizes big data evaluation and recognizes that it's a game-changer. You can spot weaknesses early on, identify top talent, and enhance personalization. Charts and graphs become powerful diagnostic tools that allow you to track trends and help instructors do their job more effectively.
4. Employees And Instructors Know Their Roles
Many instructors are apprehensive about learning technology because they think it will cost them a job. However, an LMS can actually improve their work practices and help them support trainees more efficiently. The key is clarifying roles before you implement your ILT and LMS strategy. Instructors and facilitators must know the part they play. Will they still host face-to-face sessions or make a move to live events? How must they provide support? What is their role in regard to data analysis and content maintenance? Employees must also be aware of how they fit into the grand scheme of your L&D design. Will they become peer coaches? What events must they attend to meet the requirements? How will they use an LMS to access training resources on their own?
How An ILT And LMS Strategy Maximizes L&D Benefits
Instructor-led training might be pushing you over budget, thanks to travel expenses, site rental fees, and payroll hours. However, an LMS can reduce spending without having to give up the good that ILT brings to your business. Granted, this does require a realistic budget, rethought roles, and training-needs analysis. Our eBook can help you navigate the transition and successfully merge ILT with LMS to maximize the benefits of both acronyms. Get your copy today and see how a hybrid strategy can enrich your online training program and retain top talent.
Conclusion
One of the most crucial applications for learning technology in your ILT program is compliance. A compliance training LMS can reduce costs and mitigate risks. Use our free online directory to choose a system that helps you blend face-to-face with training tech. After you read our free guide to determine which features deliver the best value for money, of course.
Download the eBook Merge Face-To-Face With Learning Tech: How ILT And LMS Can Bring Employees The Best Of Both Worlds to merge modern tech with instructor-led training to achieve your objectives.
For more updates check below links and stay updated with News AKMI.
Education News || Tech News || Automotive News || Science News || Lifetime Fitness || Sports News || Giant Bikes

Source