Education
Top Employee Training LMS Software (2020 List)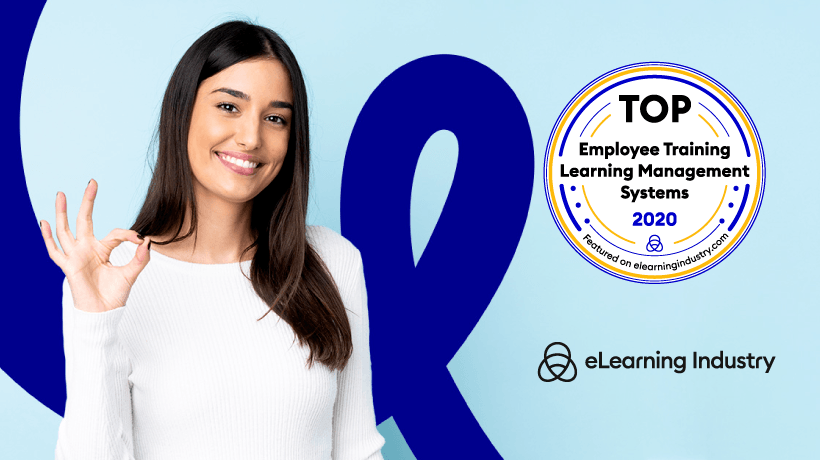 Which Are The Best Employee Training Systems? All You Need To Know
Finding a top LMS for employee training needs time, effort, and the right resources. Yet, it's been months you've been researching but still can't make a clear decision on the best tool for your workforce. Who wouldn't be lost in the LMS market's vast eLearning solutions, right?
I've always been a firm believer that eLearning is the future of corporate training. And so should you. Sometimes change brings us one step closer to realization.
For some, moving corporate training online for the first time is very frustrating. However, it shouldn't be. First, you set your online training objectives and business goals. And only then should you move into taking action.
After all, the main reason to do employee training is to develop your employees, improve performance, and boost productivity. Before you make the step to buy an LMS platform for employee training, be sure to choose wisely.
Turning back or making a wrong decision can very much affect both your budget and your training results. Worry not; in this top list, we've done all the hard work for you. We've hand-picked the best employee training LMS software for 2020.
Find, Choose, And Compare Top LMS Platforms For Employee Training
What's the best LMS for your employee training needs? Read fresh reviews and explore top features in our niche directory.
Check out eLearning Industry's list of the top employee training LMS software to:
Find LMS platforms that meet your budget
Explore top employee training LMS features
Evaluate LMS reviews and learn more about UX
Compare LMS solutions for employee training
Find the right LMS for your business needs
In this top list, our team has selected the best Learning Management Systems for employee training. In case you need an LMS based on a specific use case, you may as well visit our full LMS directory. Or you can also take a look at the rest of our eLearning solutions top lists!
What Were The Criteria That Determined Which Top LMS Vendors Made Our List?
Global recognized LMS experts, including C. Pappas, and our editorial team did a thorough review of each vendor's eligibility and relevant published content (articles, eBooks, webinars). Our committee ranked the top employee training LMS software based on the following 9 criteria:
Customer support
Customer Experience
Software features
Software innovation
Customer reviews
Economic growth potential
Company's customer retention
Employee turnover
Company's social responsibility
Before checking our top list rankings, make sure to read thoroughly our insights. You'll find all you need to consider before choosing the best employee training LMS tool.
Why Choose One Of The Top Employee Training LMS Software On This List?
All the LMS platforms on this list have plenty to offer. When selecting our top picks, we tried to pinpoint what makes each of them unique. What's more, you'll discover plenty of information about each vendor. Plus, you'll have the opportunity to read LMS reviews in our directory. Users always offer the best social proof of what makes each software good—and what doesn't.
Our list includes highlights of each LMS platform, which will also help define the tools that meet your business needs. For example, some tools have expertise in specific use cases. Other have enhanced features or analytics reporting. Some cases offer impressive gamification capabilities and mobile apps development, and so forth.
But let's face it. "What you pay is what you get," and that is true for every type of product out there. Firstly you have to take into account how much you are willing to spend. Then you need to figure out what you need to accomplish. The above will determine which is the best choice.
After reading this comprehensive software guide, you'll be able to simplify your LMS selection process.
Top Employee Training LMS Software Key Features
So, by now, you must be wondering: a) How do I choose the best LMS? b) What are some features that every LMS should have? Indeed, there's no simple answer. If you want to enhance your employee training, the LMS you choose should have certain capabilities.
Here are the key features every LMS should have:
Focus on onboarding, blended learning, and compliance
Virtual training solutions
Online training progress and assessments
Course development and multimedia capabilities
Customization and personalization
Web conferencing integrations and social learning tools
Advanced LMS reporting
Year by year, plenty of companies shift to virtual employee training. One more reason to do so with the right tool since it is a long-time investment. Clearly, the tendency to opt for online training will not go away anytime soon.
Things To Consider When Looking For The Best Corporate Training LMS
Indeed, incorporating an LMS or a platform that can support virtual learning is an excellent idea for your business continuity plans. Of course, there are several additional benefits of online learning compared to onsite training or ILT courses.
Virtual learning minimizes any disruptions in terms of productivity, making it easy to deliver anytime, anywhere training. Hence, it provides continuous access to the necessary resources and tools. As a result, learners get to complete their training sessions and stay engaged no matter where they are.
Are you ready to develop your online training strategy with an LMS? There are a few things to consider before your LMS selection. For example, does the tool offer role management and eCommerce? Does it have scalability? It might be useful if you have to train a different audience at different times.
Perhaps data migration and responsive design are a few more special cases that might interest training managers, especially when handling remote teams. Besides, your teams may need specific integrations. So, please make sure to ask everyone involved for any requirements.
Distinguishing your needs is vital, so you have to determine business goals and objectives. Plus, knowing your audience is equally important. It will help you identify your learning strategy requirements. Thus, it will lead you to the right employee training LMS selection.
Unveiling eLearning Industry's Top Employee Training LMS Software List
If you are one of the top employee training LMS software, feel free to add this badge to your website.
Almost a quarter of all employees blame lack of professional development for moving onto a new position. The cost of replacing that person can top 1.5 times their annual salary, according to research from Randstad.
With Docebo, your business can worry less about employee turnover and focus on retaining top talent by preparing your employees for the challenges of tomorrow.
They help businesses:
Empower employees to bring new ideas and skillsets to work
Develop an always-ready workforce that's prepared for what the future holds
Increase employee confidence and tie it all back to measurable business impact
Want to learn more about what makes them a top employee training LMS? Explore LMS user reviews for Docebo in our directory.
Highlights
Get personal
Docebo's depth of configurability and automation makes it easier for admins to produce experiences personalized to an employee's role and interests. Additionally, the Docebo Virtual Coach acts as a personal learning trainer through a conversational UI. Thus, it gives them instant answers to questions, course and content recommendations, and learning progress reminders.
Go all out on experience, down to every detail
For example, from personalized pages and menus to skills, content, and branding, every detail of the Learner Experience is customizable. Create pages and menus, configured for different audiences across desktop and mobile learning experiences. Plus, you can leverage its drag-and-drop, widget-based UI to deploy engaging learning experiences sooner and with less effort.
Make learning social
With Docebo Discover, Coach & Share, your employees can contribute their own content. What's more, they can share it with peers who might find it most interesting, ask each other questions, and start conversations. As a result, you get to improve collaboration in the flow of work and beyond.
Prove your programs work
Users can build customized reports and dashboards. Thus, customization and reporting help uncover data-driven conclusions. As a result, you can consistently improve the quality of your learning programs. Consequently, you can identify what your employees are connecting with the most. As a result, you can double down on what's working and eliminate what isn't.
Plans And Pricing
Docebo Enterprise Plan for organizations
You can start with 300 monthly active users, but it goes way beyond that. While most LMS vendors use a monthly active user model and base usage on the number of logins, Docebo has another approach. In comparison to other learning tech solutions, theirs focuses on users accessing learning content within a 30-day cycle.
Active users reset every month, so you're able to scale your learning programs, customer education program, or for-profit learning business, while managing costs and maximizing profitability without concerns related to license management or paying for empty seats.
Future-proof employee training; connect with a Docebo expert today!
TalentLMS is all about employee training. Obviously, it comes as no surprise that most of its users choose this cloud LMS as their main employee training platform. In fact, it is trusted by more than 70,000 teams worldwide!
TalentLMS is an award-winning Learning Management System that comes with all the tools businesses need to train their teams. More specifically, it helps you develop employee skills, thus, leading your teams to be better, fully equipped professionals. So, if you're looking for an online employee training solution—especially in this time of social distancing—it is one of the top employee training LMS platforms out there.
Need more social proof? Go through TalentLMS user reviews in eLearning Industry's directory.
Highlights
Start training immediately
With this tool, everything is easy. You can create your account in a few clicks, create your first course in minutes, and launch your training program by the end of the day. But it's not just that. Recently, they launched TalentLibrary, a collection of ready-made courses that come with your TalentLMS subscription. So, if you don't have the time to learn a new tool, this is a go-to platform to start your employee training program right away.
Monitor performance without the hassle
One thing all businesses should know is that building and delivering employee training is the easy part. Generally speaking, one of the most challenging tasks that a training admin faces is monitoring training effectiveness and learner performance. Luckily, with TalentLMS, you can track both easily. Hence, you can generate custom reports and see how your learners perform at a team and individual level. Plus, you get to edit your training based on your learners' and company's needs.
Put repetitive tasks on autopilot
You don't have to spend time assigning courses, sending reminders, and delivering training session notifications. With an intuitive system like TalentLMS, everything happens automatically. You set up your automation settings once, so you can be free to focus on things that really matter.
Plans And Pricing
TalentLMS provides users with a completely free version of their product. Plus there are 8 paid editions priced competitively. Depending on your business size and budget you have plenty of options to find the best fit. The free plan offers up to 10 courses and up to 5 users. Meaning, the free plan is ideal to test the capabilities of the software from all aspects.
What's more, users can also choose between standard or active plans (with unlimited registered users). Finally, they can set their preference for monthly or annual billing.
Can't wait to set it up and running? You can get started with your forever-free TalentLMS account today, it only takes a few minutes.
If you want to train employees effectively with a next-gen LMS, this is a great option. With Captivate Prime LMS you deliver learning experiences that are enjoyable and engaging for your learners.
Therefore, this LMS helps manage a learner ecosystem that is engaged, compliant, and updated. You can reduce skill gaps and encourage learning in the flow of work. Plus, it allows peers to learn from each other via social learning.
Adobe's world-class enterprise LMS is:
Recognized by leading analysts and industry bodies
Awarded for excellence across multiple categories
Adopted by leading corporations around the world
Used by millions of engaged learners
So, are you interested to see why the eLearning community thinks it is one of the top employee training LMS platforms?
Read Adobe Captivate Prime LMS reviews in our directory.
Highlights
Skill is the new currency
Upskill and reskill your workforce to keep them relevant.
Skill discovery and fulfillment
Keep your organization ahead of its competition by continuously reducing employee skill gaps.
Business-focused learning strategy
Align skills with business objectives and assign skill-based learning plans to employee cohorts.
Employee engagement and experience
Of course, this LMS helps drive engagement through certifications and award gamification points and badges. As a result, you get positive reinforcement for your teams. Managers can take preemptive decisions using data from the skill and compliance report dashboards.
Plans And Pricing
Pricing starts at $4 per user per month (volume discounts apply). Choose a pricing model that works for you:
Registered user pricing
You sign up for a fixed number of registered learners within your account by opting for this licensing model. These are licenses assigned to individuals and they have continuous access to the system. We recommend this model for fixed learner scenarios.
Monthly active user pricing
Alternatively, Captivate Prime LMS also offers active user pricing. In fact, this is mainly for organizations that have a floating audience. Meaning, they do not need continuous access to the system.
Feel free to visit Adobe Captivate Prime LMS for more information.
Infopro Learning's team creates products and services that unlock the performance of employees, businesses, and L&D organizations. Notably, their more than 25 years of experience in the corporate training industry have been an important drive. Hence, they know what it takes to run a successful learning organization not only for employees but also for customers as well.
Unlock:Learn is designed based on an extensive survey among corporates to identify the most utilized LMS features, including features for employee training. The above makes this product aligned for modern organizations and their business needs.
Are you keen to learn more about what makes them one of the top employee training LMS software? Go ahead and visit our directory to read Unlock:Learn user reviews.
Highlights
Their learning management tool addresses core L&D challenges. Thus, it helps organizations maximize the Return On Investment of training programs.
Learning experience
For one thing, Unlock:Learn is focused on the entire learning experience to maximize content consumption. Plus, it helps assisted employee training. Specifically, its AI-powered chatbot assists employees through organizational processes to minimize support requests.
Custom-built
In particular, their tool is customized to fit your needs and aligns with specific training requirements. What's more, it can evolve seamlessly according to the changing needs of new employees, for example, as they get settled in their respective job roles.
Easy to manage
Notably, LMS admins can better manage the progress of new learners with this tool. In fact, InfoPro researched how organizations use their LMS platforms and found that 20% of the most used features were for reporting. Hence, they made reporting and analytics features the very core of their platform. As a result, you're never more than two clicks away from accessing relevant information, even out-of-office. This helps organizations assess and plan training effectively.
Plans And Pricing
Their Learning Management System generates an effective, efficient employee training process. Plus, it automates the entire training process for all employees. You can create new training but also add in-person and online training from other sources. What's more, you can track it through reports and deadlines.
InfoPro's employee training solutions help employees feel more confident by combining online learning, VILT sessions, job aids, video-based learning, and more.
Want to get a more hands-on LMS experience? Take Unlock:Learn for a spin!
Did you know that 22+ million global users trust SAP Litmos's award-winning eLearning solution? It's impressive. By using this tool, you can create targeted learning. It has all the necessary features to help you boost employee experience and loyalty. Plus, it protects your brand by keeping the organization compliant. What's more, their powerful LMS, SAP Litmos Training, comes with a robust course library, SAP Litmos Training Content.
Most importantly, it offers an attractive and easy-to-use interface. There are plenty of ways toward engaging learners with SAP Litmos. You'll love working with its gamification elements and video-based content. Above all, SAP Litmos is a learning system that improves employee retention and performance.
Are you curious to see what makes it one of the top employee training LMS tools? Visit our directory to read SAP Litmos user reviews.
Highlights
Fast onboarding and integrations
This system makes it easy for LMS admins to quickly add and manage users. Plus, it provides pre-built integrations with leading business systems to drive employee productivity in the solutions they use most.
Next-gen feature set
SAP Litmos Training includes leading-edge features to facilitate employee learning, such as mobile-first design, gamification, and video assessments.
User-friendly with an easy interface
What SAP Litmos Training is best known for is its UI because it has one of the most user-friendly environments. Thus, it offers streamlined simplicity and incredible ease-of-use to all types of users, including admins and learners.
Plans And Pricing
Starting as low as $4 per user per month, plans can include the SAP Litmos Training LMS as a standalone solution or combined with SAP Litmos Training Content for access to 1000+ professionally designed, off-the-shelf courses.
Do you want to take a pick at its user-friendly UX and test if it meets your needs? You can always sign up for a free trial.
iSpring Solutions is an international software company that provides professional eLearning solutions for employee training. They offer high-quality web-based and desktop tools for training, assessment, onboarding, compliance, and eLearning content creation and management.
Since 2001, iSpring Solutions, Inc. has helped thousands of businesses worldwide advance their corporate training and spread best business practices in multiple languages. The company is recognized by over 54,000 clients for its powerful and reliable products that are fast and easy to use, and the exceptional technical support it provides.
Their achievements are widely acknowledged with multiple industry awards and excellent ratings. If you want social proof on what makes them one of the top employee training LMS platforms, there is plenty!
Go ahead and read iSpring Learn reviews in our directory.
Highlights
iSpring Learn is perfect for all employee training scenarios: onboarding, product training, company-wide assessment, compliance training, and more.
Automates routine tasks
iSpring Learn automates many routine tasks admins have to handle every day. Hence, you invest only once in creating an organizational structure that is a virtual copy of your company. Plus, you'll then be able to assign courses by department, job title, location, and more in just a couple of clicks.
Powerful reporting engine
It allows you to track the effectiveness of employee training and receive meaningful reports customized to your needs. Actually, the system enables instructors to store data on offline activities, for example, live training sessions, making iSpring Learn a central hub for corporate training in the company.
Native mobile apps for Android and iOS
Thankfully, learners can enjoy excellent uninterrupted training on their mobile devices and take courses literally from anywhere. That is to say, even offline, since the apps save their course and test progress.
Plans And Pricing
iSpring Learn cost varies depending on the number of active users; for example, with a 500-user plan, clients pay $2.82 per user/month, and the price per user can be lower with larger plans. Customers appreciate the idea of paying only for users who are active during a month.
That means they can register an unlimited number of users in their learning portal while at the same time pay only for those employees who take training within a given period. Plus, each plan includes the robust iSpring Suite course authoring tool.
Find out more about iSpring Learn LMS.
Learning Pool's feature-rich LMS can be a driving force behind your online L&D strategy. In fact, with this open source LMS, you can stay up to date with the ever-changing L&D landscape.
Notably, it combines powerful functionality, expertise, and creativity with award-winning support. As a result, you can deliver agile professional employee training. Plus, it is very scalable. There's no doubt your teams will find it user-friendly.
If you find embedding an LMS to your organization challenging, they can help. Thankfully, Learning Pool has built a support model that gives its customers confidence and peace of mind during every stage of the journey.
Take a look at Stream LXP reviews in our directory.
Highlights
Feature-rich open source LMS
Learning Pool's tool is one of the most feature-rich open source LMSs on the market. In particular, it's fully hosted and supported to deliver great learning, easy compliance, and clear reporting.
Performance
Align courses, competencies, appraisals, feedback, and performance reviews with company goals.
Learner engagement
Offer and accurately track digital certifications, points, badges, and leaderboards.
Dynamic audiences
Organizational and positional hierarchies allow you to assign learning to specific groups.
Plans And pricing
This award-winning open source LMS platform has unique technical flexibility, with multiple language support for your global reach and a customizable look and feel. Of course, its tailored learning plans and programs cover everything, from initial onboarding to leadership training with blended learning programs, all readily accessible across platforms, devices, and locations.
Above all, users can review employees effectively with appraisals and set goals for future development with ease. Plus, you can increase engagement and performance with feedback from managers, peers, and coworkers with 360 feedback.
All are tied together with robust reporting, so you'll see what's working and what isn't, helping you to achieve your organizational goals. Surely, Learning Pool is a dedicated learning consultant. Hence, they offer front-line telephone support and a robust innovation roadmap. In fact, you can be sure that a great experience awaits for both learners and admins.
Find out more about this top-class LMS solution.
LearnUpon is the LMS at the core of your learning ecosystem. Firstly, you can onboard employees faster and more efficiently. Secondly, you can create more opportunities for development than ever. Thirdly you can easily achieve, maintain, and record your compliance training.
Above all, this tool helps build dynamic, engaging courses to fuel development; with its native builder or your preferred authoring tool, course creation is made simple. Plus, you can monitor employee progress at every stage. How? By utilizing its powerful on-demand, out-of-the-box reporting, directly to any inbox or imported to your HRIS.
Deliver relevant courses to employees with distinct user groups and automate your training process's recurring parts to improve efficiencies and operate effectively at scale.
Make sure to read LearnUpon LMS reviews by the eLearning community.
Highlights
Guide and evaluate
For example, you can tie together technical to company culture courses in a single path. You can also simplify assessment using in-built exam and assignment features. Above all, you can ensure completion by setting the required training and video tracking progression criteria.
Engage
Surely, you can use it to engage, empower, and inspire your employees. From forums to gamification to surveys, this learner-first platform means your employees will always be motivated to grow and learn.
Integrate
What's more, you can connect your HR system and automate everyday onboarding tasks. For example, from enrollments and notifications to performance insights, its integrations make training a simple process.
Tailor
In detail, users can target groups and individual employees with the required training set by managers. Or, you can let employees carve their learning journey with self-selected content.
Certify
You can also award, verify, and give your employees a sense of achievement. In fact, by using its certification engine, you can award personalized completion certificates. Plus, you can set automated processes notifying learners to update their certificates.
Communicate
Lastly, users can set triggers ahead of time to remind learners of impending deadlines, new enrollment dates, and recertification timelines.
Plans And Pricing
LearnUpon's pricing model is practical. Based on the "price per user, price per portal" model, each price band includes a set number of active users, as well as several portals. With plans starting from 50 active users and rising up to hundreds of thousands of users, there is a plan to suit every business. That is a cost-effective and scalable pricing model for organizations delivering training where customers can start small and increase usage over time as their employee base grows.
Ready to get started with LearnUpon? Get a demo today!
Notably, this user-friendly LMS combines eLearning with marketing tech and automation. Hence, Looop offers excellent UX to learners and admins alike. Above all, it improves training delivery by giving you the right tools to create learning experiences that solve real-life problems. Plus, you get enhanced reporting so that you can optimize your training while backing it up with data.
Therefore, if you want a fast way to develop your people with employee training, it's an excellent choice. These learning experts have created a solution that helps prove your training efforts positively impact your business goals. Thus, it guarantees engagement and gives your learners what they need—the definition of edutainment. Most importantly, Looop's focus is not just frictionless UX but unique experience design as well.
Do you need more proof of what makes them one of the top employee training LMS tools? Visit our directory to read reviews for Looop.
Highlights
Makes training content relevant and engaging
This innovative platform has a full focus on productivity and performance. Thus, it has all you need to make training fun and engaging.
Can be viewed and applied on-demand
Since information or regulations change, so can your resources. Users can easily update resources; it won't take more than a few seconds. As a result, your employee training is continuously up-to-date, giving learners what they need when they need it.
Management and training optimization on any device
What's more, you can use feedback and data to identify which resources are working better. Or find out where you need to make improvements. Besides, the system is accessible on any device. Thus, you never have to worry about users being unable to access the platform.
Automation tools to boost completion rates
Also, you can leverage their automation tool to improve course completion. If you want to avoid using complicated spreadsheets, this will be your fav!
Accessible anywhere, anytime
Above all, you can easily evaluate performance and ensure your employees are where they need to be.
Plans And Pricing
Looop's mindset is that delivering great productivity in the workplace can be done at a fairly good cost. With a simple subscription payment plan, LMS users have the flexibility to choose the right plan and move between price plans as their circumstances change. Prices start at $299 per month.
Do you want to find out more about how Looop increases engagement and productivity across the whole organization? Book a demo and talk to their experts.
Learn Amp is a next-gen learning platform focused on helping businesses attract, engage, and retain the best talent to drive performance. Their intuitive and engaging platform combines learning, engagement, and performing management tools in one place.
Hence, by combining the best aspects of LMSs and LXPs, this platform balances learning and business needs. As a result, Learn Amp allows users to focus on the learning that truly matters. Above all, it's flexible and easy to use. Plus, it offers a host of integrations.
What's more, this platform gives users access to curated eLearning content as and when they need it. Finally, it allows managers to measure the impact of learning and encourages a desire to learn by creating a sense of community.
Are you curious to find out what makes it a top employee training LMS? Make sure to read Learn Amp reviews in our directory.
Highlights
Social learning
Peer-to-peer learning plays a vital role in successful L&D and engaging employees. Learn Amp uses social tools like in-app messaging, an internal directory, and Q&A and discussion to encourage self-generated content and community.
Learning pathways
Their learning pathways allow employees to develop and grow both professionally and personally throughout their careers. Admins can curate pathways to enable structured and sequential learning. Thanks to their automation tools, pathway completion can trigger the next pathway, an assessment, or a certificate of achievement.
Knowledge management
The Learn Amp platform allows employees to find and tag resources and content at the point of need. On the one hand, you can assign Subject Matter Experts as "curators." On the other hand, individuals can still add their own content to the platform and have it approved by admins and curators. The platform encourages self-directed learning without losing the element of control and curation. Thus, the above ensures quality control across the platform.
Plans And Pricing
Of course, Learn Amp has a range of scalable packages tailored to the individual needs of each business.
Learn package
In detail, this package combines LXP features with LMS tools. Plus, it provides access to thousands of items of learning. Above all, it boasts a learner-driven experience.
Connect package
Namely, this package absorbs everything from Learn package. In addition, it also includes a range of social and community features. Hence, the design of this tool focuses on driving engagement across your organization.
Perform package (full suite)
Finally, their full suite combines both Learn and Connect packages. In brief, these include organization-wide OKRs, cyclical performance reviews, and further learning integrations, performance, and career management.
You can always visit their website if you want to learn more about this next-gen learning platform.
Inquisiq LMS was designed to make employee training easy for both the system administrators and the actual employee users. By streamlining the system administration, enabling learning paths to keep employees on track, and providing custom reporting to track program progress and success, their users rely on Inquisiq LMS to help solve and meet corporate employee training challenges.
It's an excellent solution if your aim is to train more but stress less. Surely, learning management with this tool won't get in the way of creating great employee training. Inquisiq LMS users trust and depend on it to help deploy, manage, and track eLearning programs to their employees and team members. Inquisiq automates LMS administration and provides your learners with the courses and learning paths they need when and where they need them, allowing you to stay focused on building great employee training programs.
Eager to learn more about what actual LMS users have to say? Go ahead and check the submitted Inquisiq reviews in our directory.
Highlights
Automated enrollments
It allows the LMS administrator to establish rules and create parameters to enroll employees in appropriate courses and recommend learning paths based on the individual employee profiles.
Blended learning
Inquisiq LMS offers all training modalities tracking—in-person training, on-the-job training along with traditional eLearning courses.
Social learning
By incorporating a social component, your employees can share, discuss, and collaborate within designated groups they are assigned to or permitted to join.
Plans And Pricing
Inquisiq LMS provides a scalable learning solution. Hence, implementing it is easy for any size of a corporate setting. Their plans and pricing are flexible and can meet your individual, organizational needs and budget. What's more, this feature-rich solution offers full customization, and the Inquisiq API allows for integrations across your technology stack.
Contact the Inquisiq team today to schedule a consultation and system demonstration to address your training needs.
CommLab India, a global leader in designing rapid eLearning solutions for employee training, has developed the Effectus LMS. This new-age, rapid to install and use, learner-friendly tool makes training easy, streamlined, measurable, and effective.
For two decades, CommLab has been offering technology-enabled learning solutions to Fortune 500 organizations. Hence, it knows first-hand the difficulties employees face with an LMS that focuses on the software and makes accessing learning and navigation burdensome. Effectus addresses these issues and eases the learning process.
CommLab also offers a lot of solutions for corporate training, including the conversion of classroom training material to eLearning and Virtual Instructor-Led Training, Flash to HTML5 conversion, and eLearning translations.
Pay a visit to our directory if you want to read Effectus LMS reviews.
Highlights
Rapid to install and use
Effectus is an intuitive LMS platform designed by learning professionals for learning professionals. It brings together content and technology to facilitate meaningful learning experiences. You can set it up within a week, plus it is easy to use and flexible for customization. What's more, it offers personalized widgets, simplified navigation, and easy search functionality. Thus, it makes accessing any learning resource no more than 3-4 clicks away.
Effective learner usage
Effectus makes the LMS the most preferred hangout for employees, improving training completion rates. Plus, it can be customized with gamified features such as badges and leaderboards, hence, making learning competitive and fun. Besides, Effectus can be integrated with online meeting apps such as Zoom and WebEx, making it easy to support virtual classroom training. Therefore, you can use it for blended learning solutions as well. In addition, it offers offline access and it is available as a mobile app. Moreover, it is responsive, allowing easy access from any device. So, Effectus offers learners a centralized hub to access all training programs and learning resources.
Easy customization and maximized ROI
Not only does Effectus help learners, but it also eases all LMS admin tasks too. So, whether it's setting up domains for different learner groups, enabling single sign-on for learners, or integrating with applications such as Outlook, it streamlines the learning process. Hence, trainers can set up learning paths and create surveys and assessments easily. Plus, admins can create a wide variety of custom reports—in various formats—to help training managers make informed decisions.
Plans And Pricing
Effectus can be availed as a one-time purchase license or as a subscription model. On the one hand, the one-time set-up fee starts from USD 2500 for up to 250 users. On the other hand, the monthly rental starts from USD 450 for up to 250 users. Effectus can be scaled up to serve any number of users.
LMS admin support is optional and can be outsourced as a separate contract based on the number of support hours required per month. It starts at USD 550 per month for 250 users.
If you like, you can start your Effectus free trial to get a better grasp of the User Experience.
Growth Engineering creates learning technology shaped by pioneering research into brain science. The Academy LMS and The Knowledge Arcade help you build a knowledge-sharing community. Thus, they make it a habit for learners to return and complete training content while at the same time sharing their insights.
That, in combination with gamification, leads to increased engagement. As a result, you can inspire your learners to change their behavior by following your organization's goals. Hence, with Academy LMS you can create learning that delivers extraordinary business impact.
You may as well check Academy LMS reviews in our directory.
Highlights
Engage learners
Through the power of gamification and social features, The Academy LMS and The Knowledge Arcade will help you deliver unprecedented levels of learner engagement.
Your own mobile app
Smash all barriers to learning with The Knowledge Arcade, your organization's very own branded learning app. Your employees can access the training they need wherever they are, regardless of their internet connection.
Deep customization
The Academy LMS and The Knowledge Arcade are entirely customizable. From the colors and imagery through to the language choices, you can create the perfect employee training solution for your organization.
All this gives you the perfect employee training solution. Thus, you can engage your learners and deliver training that meaningfully impacts your business.
Plans And Pricing
Pricing is available upon request.
Want to engage your learners and impact your business? Then click here to find out more.
Code of Talent helps employees learn and apply training results fast in a very dynamic business environment. Namely, it is an award-winning SaaS platform that delivers minimum training time and on-the-job impact. What's more, it manages to do so at a low cost.
From skill development to knowledge transfer, Code of Talent allows corporate trainers and business managers to excel. In fact, it helps you flexibly design and deliver 100% custom-built digital microlearning journeys to your teams. Most importantly, it allows comprehensive business execution programs.
Their client portfolio includes top-tier companies such as Coca-Cola, Renault, BAT, ADP, Pfizer, Continental, Aspen Global, and others.
If you want to learn more, you can always check out Code of Talent reviews in our directory.
Highlights
Code of Talent is a platform that drives high engagement in any way possible.
Social
If you need collaborative learning, peer-to-peer learning and sharing, it is a great tool.
Self-paced
Above all, it allows learning in the flow of life. To fully leverage it, you can use its mobile and multi-device app.
Instructor and manager assistance
If you need to accelerate learning, Code of Talent is ideal. You can optimize your training through expert evaluation and feedback.
Gamification
As for the need to drive engagement, its gamification focus will prove useful. Plus, you and your teams can get a sense of progress and achievement. In fact, when creating the digital journeys for your teams, you have a multitude of learning missions available to utilize: question, story, idea, video proof, image proof, quiz, survey, point of view, etc. Meaning, internal trainers and managers get maximum relevance and business impact.
Plans And Pricing
They have subscription plans that can accommodate the needs of training companies as well as the needs of medium, large, and corporate businesses.
For a closer look, you can request a demo today!
Executive Training Technologies is one of the top leaders in learner engagement. Notably, it was founded by production industry veterans who bring the audience engagement techniques of television to the corporate learning space. Their LMS platform, Trainingworks, is explicitly designed for learners. Next to that, they've also created Studio ETT. The latter is a television-style production service for your courses. Thus, everything this team does is about driving engagement and your brand to your learners.
For more info, you can explore Trainingworks reviews in our directory.
Highlights
Flexible with completely custom design
It offers great customization features; thus, it is designed to look like your brand. Of course, this cloud-based solution makes it easy for managers to organize and develop their virtual training programs.
Ideal for virtual training
Above all, it allows for live courses through its television-style production services. Plus, you can leverage its integrations with Zoom, Teams, and Google Meet.
Fast deployment
In particular, it can be deployed for your employees in as little as one week. Lastly, you don't have to worry about customer support. From sign-up, their team is with nothing more than a phone call from you.
Plans And Pricing
When it comes to pricing, Trainingworks follows a simple and straightforward approach.
Obviously, headcount is always changing, and so is the need to train different employees. With this being the case, they've gone to a flat per year cost per system, instead of a per user per month cost.
To learn more, you can always sign up for a demo.
We've simplified LMS software selection
Our LMS consultants will match your needs with LMS vendors who meet your criteria.
Next Steps After Checking Out Our Top Employee Training LMS Rankings
I hope this list made your selection process much easier! When you explore the market, make sure to ask friends and colleagues which solutions they are using. And, don't forget to read LMS reviews and view ratings in niche directories. When you end up with your top 5, you can start evaluating vendors. This process will help you narrow down your options.
Of course, you can get an even more detailed view of what each tool can do by going through their websites. Surely, features are one of the primary selection criteria. But, you need to take a closer look. Another indication of a quality LMS could be its success stories. So, if there are any awards or case studies, that's a big plus!
Eventually, you'll be able to choose up to 3 LMS platforms that are the best candidates. That's when you can request a demo or even start your LMS free trial. If you are still unsure of which platform fits your needs, you can always ask for an LMS consultation.
Finally, we'd like to invite any vendors who haven't already to create an LMS product listing on eLearning Industry.
For more updates check below links and stay updated with News AKMI.
Education News || Tech News || Automotive News || Science News || Lifetime Fitness || Sports News || Giant Bikes

Source