Stock Market
Want to save $30,000 on a wedding? This couple got married at a gas station for $986 — and loved every minute of it.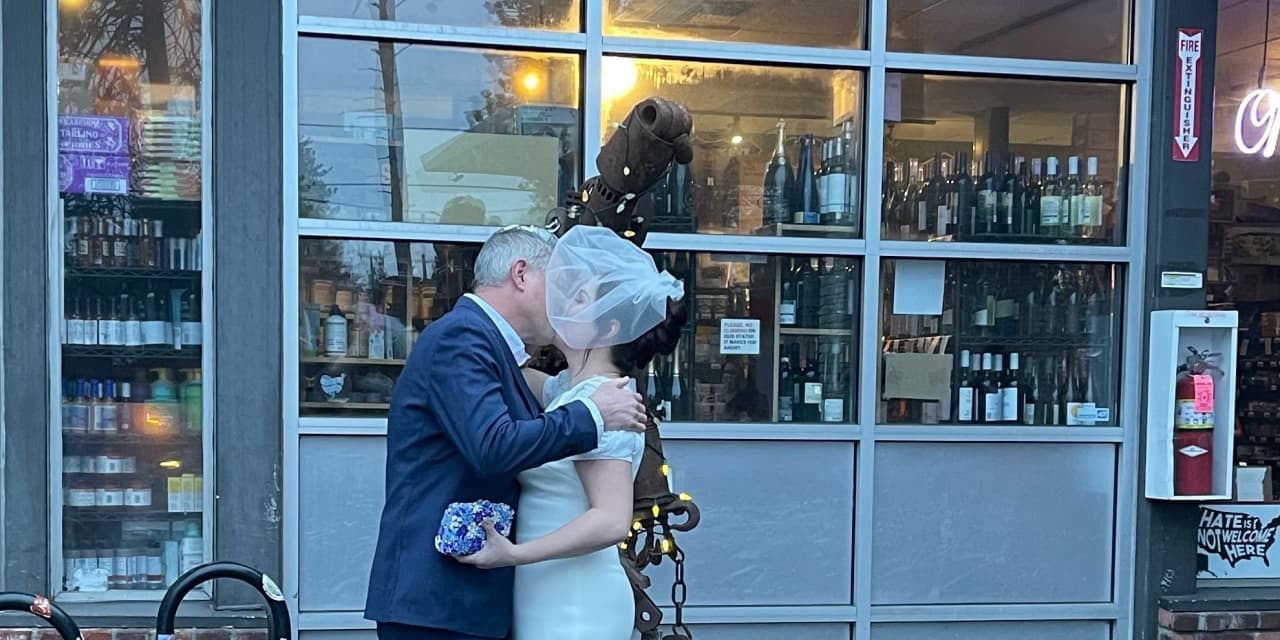 Lindsey and Tim McDermott married each other at a gas station in Spokane, Wash., this month for just under $1,000, receiving rave reviews from the 26 guests who witnessed their love.
The Feb. 3 nuptials were perfect for the couple, who didn't like the idea of having a big wedding and wanted something low-key, Lindsey, a 40-year-old working in healthcare administration, told MarketWatch. 
"We had no stress leading up to the event," Lindsey said. "We were just able to 100% enjoy the day, enjoy our friends and family. We weren't stressing about costs, making the budget — there was no stress that was associated with it." 
The couple, who were engaged for two years and started planning their wedding in August, had originally picked out a favorite restaurant for their celebration, but found out while having dinner there one night that it couldn't host a group larger than 15.  When that didn't work out, "we were kind of at a loss," Lindsey said.
"'We had no stress leading up to the event.'"

— Lindsey McDermott, who married her husband, Tim, at a gas station in Spokane, Wash.

Then they struck serendipity with Rocket Market, a local gas station and specialty-food store that hosts wine tastings every Friday night. Lindsey asked if it would rent out the area where the tastings were held, and the gas station — which had never hosted a wedding, but had done parties — agreed for a mere $500.
That included food — chicken skewers, hummus, vegetables and sandwich ingredients — as well as wine, an in-house sommelier and flowers, as the business owner is also a florist.
"You just have to not be afraid to ask," Lindsey said.
The couple skipped one big potential cost — photography — and the event eventually came out to a grand total of $986, including decor and Lindsey's dress. Going with more casual food rather than catered entrees also helped save money. 
City-hall or courthouse weddings have long been a mainstay for couples desiring an intimate, no-frills ceremony with minimal costs. But among those going the more traditional route, weddings with fewer than 50 guests — or "micro-weddings" — grew in popularity during the early days of the pandemic, due in part to public-health restrictions on the number of attendees allowed. And by offering an intimate, potentially less expensive alternative for many couples with one eye on their bank balances and another on the uncertain economic outlook, they may stick around for years to come.
After all, with persistent concerns over inflation and rising interest rates, is it any surprise some couples would want to say "I do" for less? Consider the McDermotts' gas-station union an act of resistance in an era of big, expensive nuptials: The average ceremony and reception cost $30,000 in 2022, up $2,000 from a year earlier, according to a recent survey of couples from The Knot, a wedding-planning and registry website.
The guest list for an average wedding typically clocked in around 117 people, and the biggest expense was the cost of a venue at which to host them, at an average of $11,200, the survey found.
To be sure, it's entirely possible to spend $30,000 even on a small wedding — and costs vary widely depending on the city where the event is held. But it's a lot easier to keep a tight budget with an equally tight guest list.
A big, tiny trend
Year to year, wedding to wedding, vendor to vendor, sticker shock is a constant, said Sarah Blessinger, the owner of the Los Angeles-based Kindred Weddings and Events, which plans small and intimate weddings of typically 30 to 60 guests.
Clients are often surprised by service and labor fees, administration fees from all-inclusive venues and delivery fees, she added.
Yet in Blessinger's experience, small weddings aren't all about cutting costs at all costs. Sure, the smaller the headcount, the fewer tables and chairs need to be rented and the fewer meals need to be provided. And non-traditional weddings can cut back on vendors by, say, replacing a ceremony, cocktail hour, dinner and dancing with a 15-person hike up a mountain to a sunrise ceremony. 
But for Blessinger's clients, micro-weddings are also about creating intimacy and a welcoming environment for guests, and budgets can vary widely, she said. Some costs are also fairly stable no matter the guest list: Traditional wedding venues may have a set cost to secure their space, regardless of whether the couple is filling the room to capacity, and photography and videography may have similar costs if the couple wants staff there all day.
"No matter what, I do think the couples are very in tune with what they value, and how they want to show that with their money to the people that they love," Blessinger said. 
"'It comes down to intimacy and that one-on-one time.'"

— Michelle Brey, who co-owns a wedding planning business in the Houston area

Chris and Michelle Brey, who own Brey & Co., an all-inclusive wedding-planning business in the Houston area with a focus on intimate events, also noted that COVID-19 may have encouraged more people to have smaller weddings — but added they've remained popular for both cost reasons and the closeness to family and friends they can provide. 
"It comes down to intimacy and that one-on-one time," Michelle Brey said. "That has definitely been the driving force. I say that because we have some micro or intimate weddings where cost wasn't a factor, and was as high as $30,000 [to] $40,000. It really came down to just sharing those precious moments with those that they cherished the most." 
A typical 50-guest wedding might cost $20,000 to $35,000, depending on the venue, with an all-inclusive package at Brey & Co., which would include officiating, planning, florals, photography, videography, decor, catering and more, Chris Brey said. 
"What we have found is our couples are wanting that high-end feel and want their guests to have an experience — and an enjoyable wedding experience — without spending $50,000 to $100,000," Chris added.
Asked whether that sort of cost was typical for a larger wedding, Chris said it would be about "the start" for the sort of services he and Michelle typically provide at their more intimate gatherings.
When it comes to bringing costs down from that high level, look for photographers that have hourly rates and consider that you may not need all-day services, Blessinger said. Rent silk flowers instead of buying traditional florals, too, and be candid with vendors about your guest list and budget to see where you can come together, she added.
To guest or not to guest?
A 2021 survey from Brides and Investopedia found that couples, apart from leaning on their family members for assistance, often financed their big days through savings, credit cards, tax refunds and even loans.
Couples using credit cards for their weddings charged about $8,000 on average, the survey found, while 17% said they'd take at least a year to pay off that balance — a concerning statistic if it holds true today, given that the average credit-card interest rate is at a record 20.28%. 
One way around that kind of debt, apart from micro-weddings: elopement. That's what 37-year-old Jessica Moore of Macon, Ga., settled on with her now-husband, William Meahl. 
The two had considered a more traditional wedding, but decided on a romantic getaway to Savannah, Ga., for New Year's Eve instead. Their wedding, which included a $960 elopement package through Elope to Savannah that came with photography and an officiant, came out to $3,000 — including Moore's dress, Meahl's suit, a hotel stay, food, hair, makeup and photos. Because they were married on a holiday full of revelry, the whole city felt like it was celebrating on their behalf, Moore said. 
"'My life is living off an Excel sheet.'"

— Jessica Moore, who eloped to Savannah, Ga., with her now-husband, William Meahl

At one point, when considering a wedding with guests, the couple encountered a $5,000 quote to get married at a distillery in Macon on a Saturday, not including catering. Skipping that kind of expense felt worthwhile.
"As far as the money goes, we literally live so tight on a budget," said Moore, who works in publishing and hemmed her dress on the way to Savannah. "My life is living off an Excel sheet." 
But their wedding, she said, "was perfect."
"It was about us," she said. "We wanted to be married, and so we got married."  
For their $986 gas-station wedding, Lindsey and Tim McDermott opted for baby's breath flowers, and spent $11 on invitations to the soiree, using postcards of the gas station.
The two-tier cake came from Nothing Bundt Cakes for $70, and Lindsey scored the Badgley Mischka dress she'd had her eye on "for months and months" on clearance at $123 — down from its original price of more than $400, Lindsey said. Her veil was $40 from Etsy
ETSY,
-0.48%.
 
Music came cheap from a Spotify
SPOT,
-0.19%
playlist the couple curated and played from Tim's Bose Bluetooth speaker.
Lindsey sewed white tablecloths for the day for about $35 and scored table runners for $41. Then, over the course of six months, she thrifted or sourced vases and candlesticks — which she painted gold for uniformity — for about $40. She spent $60 on her hair and did her own makeup. The couple also spent $60 on party favors: seed packets to match their theme of "Let love grow," and handmade envelopes from Lindsey's mother. 
Though Lindsey's dad has a large wedding venue to which she could have had free access, it "felt silly" to host an event with few people in a big space, she said.
"It was just not in our cards, because we had wanted to keep it more small and intimate," Lindsey said.
For more updates check below links and stay updated with News AKMI.
Life and Style || Lifetime Fitness || Automotive News || Tech News || Giant Bikes || Cool Cars || Food and Drinks

Source