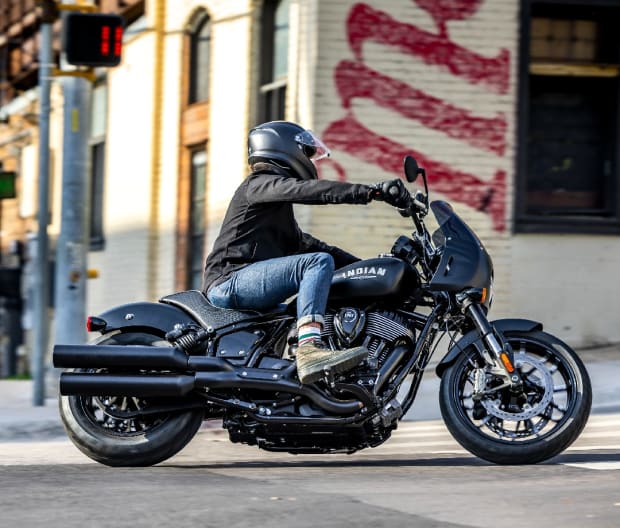 Power and style come together in the 2023 Indian Sport Chief, a fresh take on the factory performance cruiser.
Cruisers have never been my bag. I was raised to appreciate the joy of pushing a motorcycle on a tight, twisty road, and the quintessential "cruiser" has historically represented all the things I avoid in a fun two-wheeler. They're slow. They're heavy. They handle like a lead pogo stick and they stop about as well as your average Greyhound bus.
Unfortunately the terms "cruiser" and "American motorcycle" have been interchangeable for as long as I can remember. With a few notable exceptions like the short-lived Harley XR1200 and a handful of genuinely innovative designs from Erik Buell of Buell Motorcycles, handling and performance simply haven't been a part of the American manufacturing equation.
That all started to change back in 2019, when a recently revived Indian Motorcycle Company introduced the FTR 1200 and brought power, handling, and braking in equal measure back into the picture for North America. Of course the FTR isn't a cruiser by any stretch of the word, and for many riders, the term "performance cruiser" is still entirely tongue in cheek.
Related: 2022 Indian Chief Is a Muscle Bike for a New Millennium
Fortunately for cruiser aficionados everywhere, that's started to change over the past few years as well. Harley Davidson's Low Rider S and ST models have brought the dream of a true factory-custom sport cruiser that much closer to reality. Now, the new Indian Sport Chief takes direct aim at these models and their West Coast club-style aesthetic. But has Indian hit the mark? I flew out to Austin, TX, to see for myself.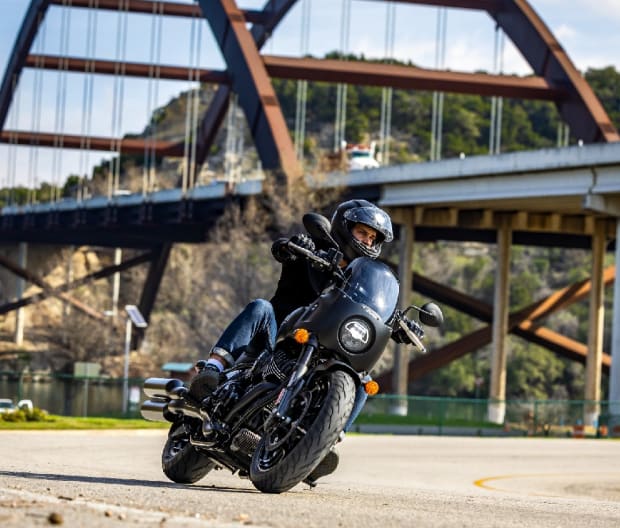 Behind the Bars on the 2023 Indian Sport Chief
You'll find two very distinct types of roads sprinkled around the meandering elevations of Texas Hill Country: The first are high-speed sweepers—those beautiful stretches of pavement as long as they are smooth with a clear line of sight that promises drama-free thrills.
The second sort of road on offer is the exact opposite. I'm talking about those tight, knotted backroads where lanes don't exist, livestock roam freely, and every blind corner promises some new, life-threatening experience, be it a patch of gravel, a rickety wooden bridge, or (my personal favorite) rusty steel cattle grates that set your teeth chattering in your skull.
Related: Epic Lessons Learned Motorcycling From Kilimanjaro to Cape Town
Needless to say, the Austin countryside seemed like the perfect place to test Indian's new Sport Chief, a fresh take on the factory performance cruiser that promises style and performance in equal measure with ample power on demand, suspension that's built to lean, and high-performance brakes to keep the whole production in check.
We've all heard these claims before, so let's address the 685-pound elephant in the room that is the Indian Sport Chief: Can this all-American fire factory actually handle, or is that whole "Sport" thing just fresh lipstick on an old hog?
I'm happy to report that Indian seems to have really put their money (and some serious R&D) where their mouth is here. The Sport Chief earns its new prefix with a smattering of premium componentry.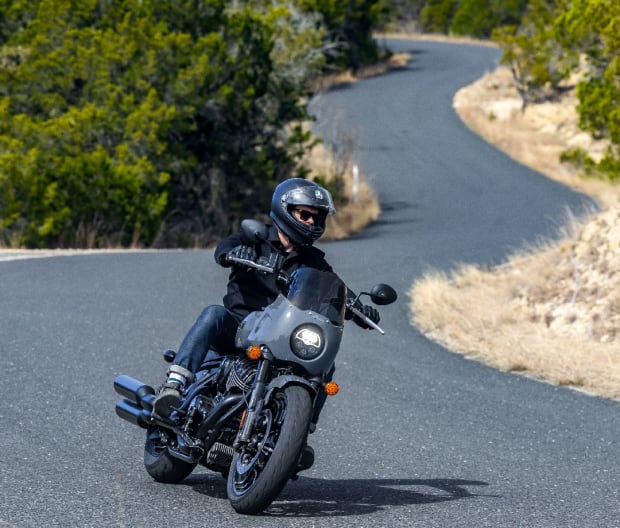 The most significant improvement here over the standard Chief is one cruiser owners have been demanding for years: A full inch of suspension travel added to the rear via a pair of dual Fox piggyback shocks, paired with a set of inverted KYB forks to bring balance and composure to the front.
We started our tour of Texas cruising around the heart of downtown Austin, where recent years of constant construction have made the city's potholes as numerous as its BBQ pits and juke joints. Where most cruisers treat your back like a first-year chiropractor, slipping disks from your spine at random intervals, the Sport Chief's new suspenders make big bumps in the road a pain-free ordeal.
The ride is impressively plush over rough stuff around town, but it's outside the city on the winding roads of Texas Hill Country where the new suspension really earns its keep.
When it comes to those sweet sweepers I mentioned, the Sport Chief handles with commendable athleticism. Come in as hot as you dare, dig the fantastic four-piston Brembo calipers into their upgraded 320mm rotors, then tip the bike in confidently with the wide moto-style handlebar. Keep going until the distinct timbre of footpeg-meeting-pavement reaches your ear. Then just hang out, reveling in the upgraded suspension's newfound competence and stability.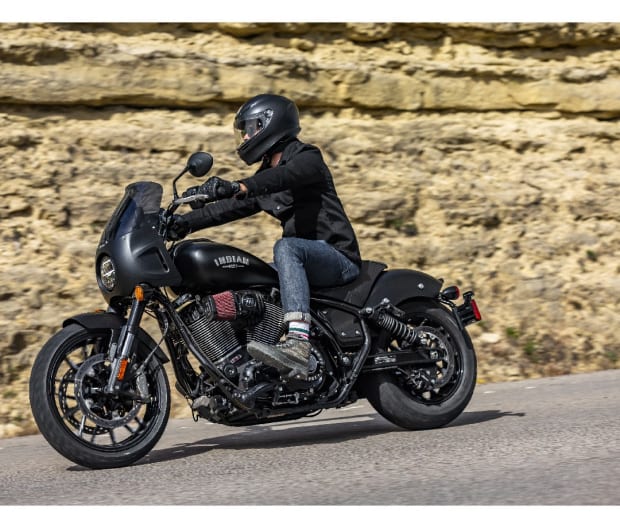 On those tight, gravel-strewn backroads, however, it didn't take long to find the Sport Chief's limitations hidden among the hairpin turns. Truth be told, bouncing a motorbike over a cattle grate at full lean will always be a harrowing experience, but having my hind quarters bucked clear out of the saddle was just the reminder I needed that I wasn't riding a proper sport bike.
Of course the Sport Chief was never intended to compete with backroad brawlers like the venerable KTM Superduke R or Ducati Hypermotard, and keeping in mind this is still a cruiser at heart, I've got to give credit where credit is due. That extra inch of finely tuned suspension travel does wonders for the overall handling of the bike, and once you learn to respect its limitations, it's clear to see the Sport Chief does indeed raise the bar for the factory sport cruiser.
Yes, you'll still get a bit of wobble from the rear when the bike is near its limit. And no, you'll never quite forget you're riding a 600-plus-pound sled with a nearly 65-inch wheelbase, but the Sport Chief is a giant leap in the right direction from the usual white-knuckled pogo-ing I've experienced aboard other cruisers.
Related: First Ride: 2022 Indian Pursuit Dark Horse
Now would also be a good time to mention the Indian Sport Chief inherits its massive 114 cubic inch Thunderstroke V-twin (that's 1,890cc for those of us measuring in metric) directly from the Chief Dark Horse, which means it also inherits the Dark Horse's beefy 120 ft-lbs of peak torque at just 2,900 rpm.
Out in the twisties this translates to stump-pulling power on every corner, and reliable engine braking each time you roll it back. Personally, this has always been my favorite one-two punch for finding the "groove" on a winding road. The Sport Chief delivers a particularly satisfying rhythm in that regard.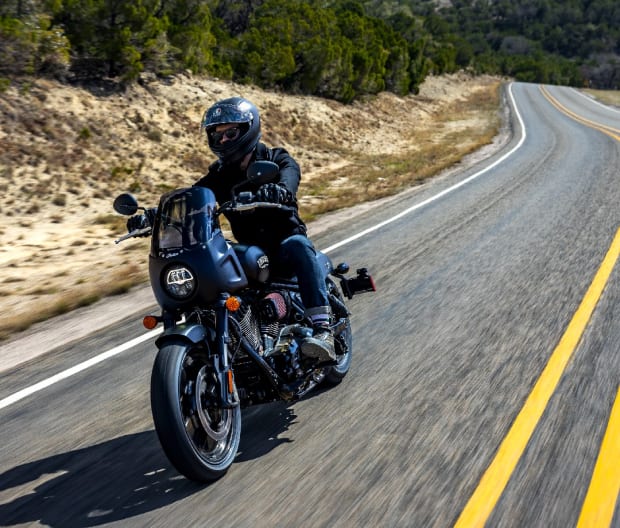 Overall, my complaints with the Indian are few and far between. Truth be told, the only time I really didn't enjoy the bike was when it stopped moving. The chief culprit here is the twin low-mount exhaust which, in the 80-degree Texas sun, radiated a ton of heat and felt something akin to sticking your leg inside a roadhouse smoker.
I'll also note that while the Sport Chief comes standard with three selectable engine modes (tour, standard, and sport), sport mode isn't something you want to take lightly when leaving a stoplight. The throttle response from a standstill in sport mode is so immediate and abrupt it can be downright shocking when taking off from a stoplight.
The extra-aggressive character is good fun out on the open road, but I had to constantly remind myself to either tread lightly or switch it off completely when it came time to stop. I've never been opposed to the occasional burnout, but I do prefer to know in advance when it's coming.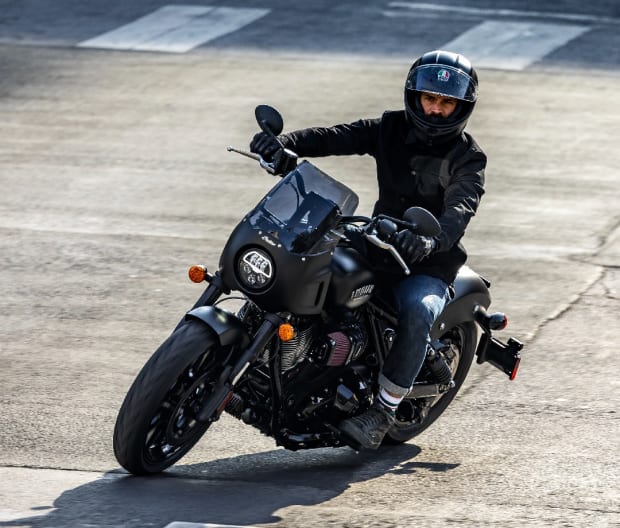 Tech, Fit, & Finish
The Indian Sport Chief hits dealerships this month starting at $18,999, and if you're wondering what else you're getting for your money aside from a brawny motor, top-tier ABS brakes, and a dramatically improved chassis, the answer is quite a lot.
Cosmetically, Indian nails the club-style look on the head with sleek quarter fairing, sporty mid-mount controls, 6-inch machined bar risers, and a nice wide handlebar that delivers both comfortable ergonomics and aggressive looks. From there the devil is truly in the details, as every inch of the Sport Chief looks and feels refined and cohesive from the blacked-out engine and steel tube frame to the matching contrast-cut wheels.
I'm also genuinely impressed by the amount of modern technology Indian has managed to sneak aboard the Sport Chief and how well they've managed to hide it.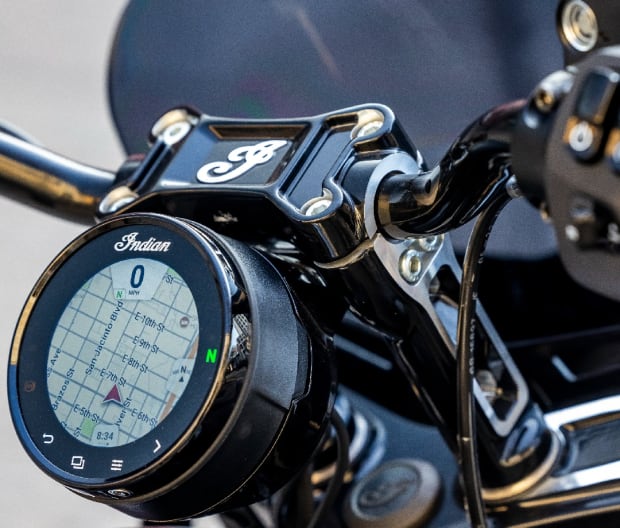 The new Chief's 4-inch, full-color touchscreen display is small and unobtrusive enough to pass for an analog gauge from a distance, but upon closer inspection, you'll find a lot to love there. Nestled within this compact clock you've got all the usual suspects, like a speedometer, tach, fuel gauge, and gear indicator—but Indian also managed to shoehorn GPS navigation, Bluetooth connectivity for calls and music, and menus for selecting your desired road mode inside.
Indian does a particularly good job of walking the precarious line between old-school charm and modern performance, and the Sport Chief may be their best example yet of keeping tradition alive without sacrificing anything in the way of technology or creature comforts. While I firmly believe a package deal with a flannel shirt and a pair of high-top vans would certainly help seal the deal, I'm confident the Sport Chief has everything it needs to convert its fair share of Dyna-devotees this riding season.
[From $18,999;
indianmotorcycle.com
]

For more updates check below links and stay updated with News AKMI.
Life and Style || Lifetime Fitness || Automotive News || Tech News || Giant Bikes || Cool Cars || Food and Drinks

Source