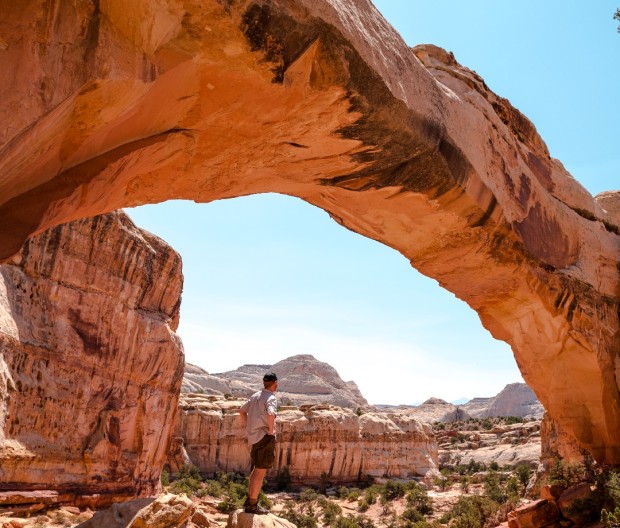 Call it a geologic crinkle—or even a wrinkle in time. That's what you get in south-central Utah's Capitol Reef National Park, a must-see stop on a tour through the Southwest.
It's a treasure trove of cliffs, canyons, domes, and natural bridges. Capitol Reef's mindboggling features owe themselves to what's called the Waterpocket Fold, a giant monocline in the sandstone created 65 million years ago that rises up like a spine and spans nearly 100 miles. The result is a startling maze of canyons and rock formations within easy striking distance, from hiking through golden sandstone washes and scenic drives to gazing up at arches and sky-piercing pinnacles that let your imagination run wild.
Early inhabitants referred to this area's multicolored geological brew as "the land of the sleeping rainbow." The place was also briefly known as "Wayne Wonderland" by early park advocates prior to becoming a national monument in 1937, reclassified as a national park in 1971, and taking on a name derived from its iconic white dome-like formations of Navajo sandstone—said to resemble the U.S. Capitol building.
Related: Unique National Parks You've Probably Never Been To
You can include Capitol Reef during a week-long spin through southern Utah—hitting four of the country's most spectacular national parks in one shot. Given that Zion National Park, Bryce Canyon National Park, Capitol Reef National Park, and Grand Staircase-Escalante National Monument are all within about 200 miles of each other, why not? (And it's not like the drive between them is shabby, either, from the towering gates of the Zion Narrows to the hoodoos of Bryce, slots of Escalante, and canyons of Capitol Reef.)
Here's what you need to know before heading out to Capitol Reef National Park.
Where Is Capitol Reef National Park?
Located in Utah's south-central desert in the heart of red rock country, the park's hub is roughly 20 minutes east of the town of Torrey, UT—with Salt Lake City (the closest major city and airport) 225 miles north. Las Vegas is 335 miles southwest. The park is bisected by Hwy 24, which connects with Utah's Scenic Byway 12 from the west and UT-95 from the east.
Containing much of the massive Waterpocket Fold in its boundaries, Capitol Reef is about 60 miles long from north to south and barely six miles wide on average. The park is divided into three regions, with most of its top attractions located in the Fruita Historic District just off Hwy 24, where you'll find the Capitol Reef Visitor Center, trailheads to several favorite hikes, and the area's most popular scenic drives.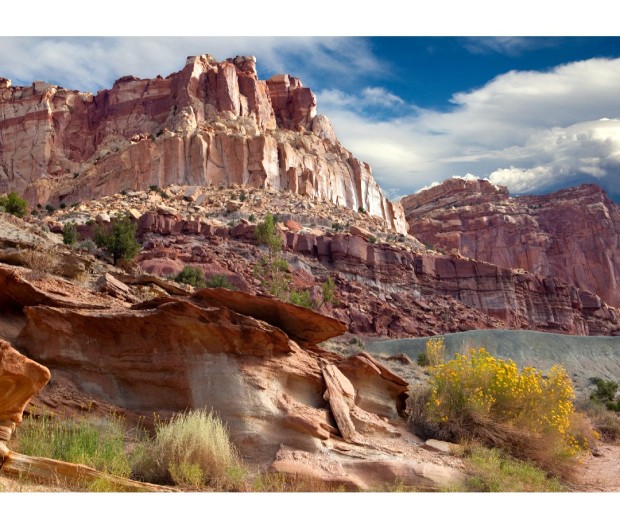 Capitol Reef National Park Weather: Best Time to Visit
Spring and fall are optimal times to visit the park when temperatures are mild and crowds are far thinner than peak summer travel season, which sees about 4,000 visitors per day and temperatures climbing into the 90s. Pushing your visit into early spring (March) or late fall (November) will provide that much more solitude. Winter is beautiful here in its own right—and cold. If you come at this time to see a whole different side of Capitol Reef's red rocks laced with snow, bundle up and prepare for unpredictable road conditions.
Want to visit this, and our other national parks, for free? Hit them on any one of the following days: Fri., Aug. 4 (second anniversary of Great American Outdoors Act); Sat., Sept. 23 (National Public Lands Day); Sat., Nov. 11 (Veterans Day).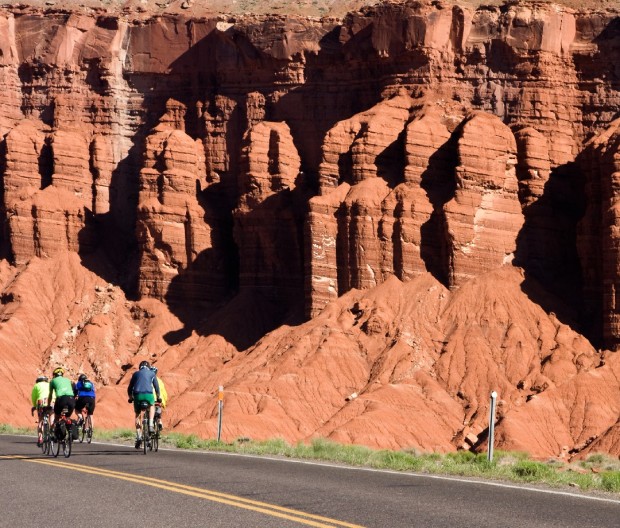 What to Do in Capitol Reef National Park
From day trips to lengthier stays, Capitol Reef offers myriad opportunities and ways to recreate—and plenty of space. Most of the park's nearly 250,000 acres are wide open for exploration.
Cathedral Valley is a scenic backcountry area whose monoliths resemble ornately designed edifices, sporting such names as Temple of the Sun and Moon, and the Walls of Jericho. Follow a 60-mile loop from River Ford on Hwy 24, just over 10 miles east of the visitor center onto the Hartnett and Caineville Wash roads before returning to Hwy 24 west of Caineville. You'll need high clearance, not 4WD, but don't try it in the rain. An easier option is the park's eight-mile Scenic Drive ($20 per vehicle) from the visitor center to views of the Golden Throne and Capitol Gorge.
Orchards and Blooms
Fans of fruit and blossoms can time a visit with the flowers and fruits of the tiny hamlet of Fruita, whose historic orchards were planted by Mormons in the late 19th century. While its blooms end in late April, its fruits are open for picking by the public, with proceeds benefitting the orchards. Visit the following times for specific fruit: cherries (June 11 to July 7), apricots (June 28 to July 31), peaches (Aug. 4 to Sept. 6), pears (Aug. 7 to Sept. 8), and apples (Sept. 4 to Oct. 17). Afterwards, reward yourself with a piece of fresh pie in Torrey—which the town is known for—or a glass of cider.
Trails
Spectacular trails of all lengths and levels cover a broad assortment of terrain through famous canyons, natural bridges, and other geological wonders. For the real Western experience, parts of the park can be experienced on horseback, and cyclists can choose from four designated roads open to mountain bikes.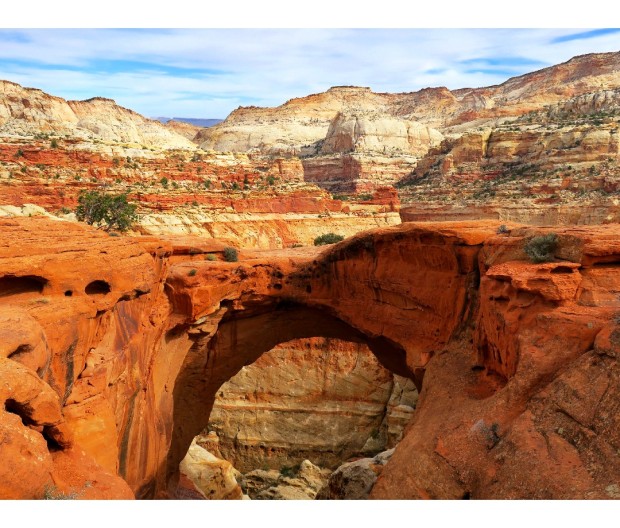 Best Hikes in Capitol Reef National Park
Not to be missed, Grand Wash is the best (and easiest) hike in the park, leading through a towering canyon in the Waterpocket Fold from the Scenic Drive (two miles south of the homestead of Fruita) to the Fremont River and Hwy 24 just east of Spring Canyon at its northeast trailhead. Do it as an out-and-back (4.4 miles) or drop a car at the far end and make it a shorter point-to-point hike. Either way, you're in for an eyeful, as the winding wash meanders down a narrow gorge that will leave you craning your head skyward.
Related: A Kayaker's Guide to Channel Islands National Park
To log more miles and incredible features, you can combine the above with a hike up Cassidy Arch Trail onto Frying Pan Trail, then down Cohab Canyon. Named after famous outlaw Butch Cassidy, Cassidy Arch is located near Grand Wash, 400 feet above its namesake trail. The Cassidy Arch Trail spurs off the 3.5-mile roundtrip Frying Pan Trail, which climbs atop the fold before dropping down into Cohab Canyon and Hwy 24. Take a photo from any angle, but it's best when the sun is low to bring out the rocks' colors.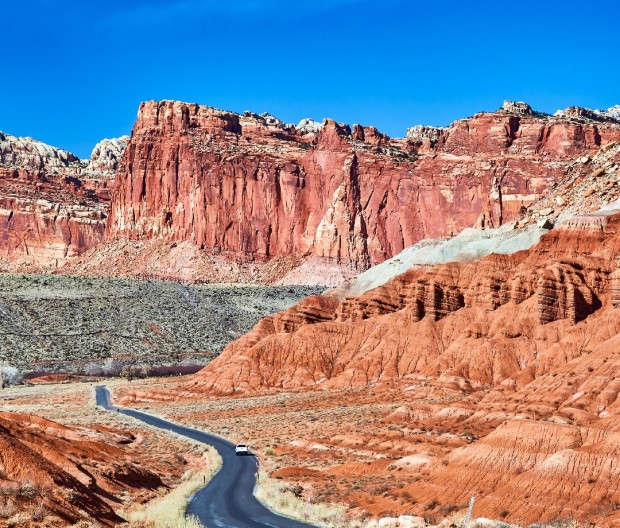 How to Get to Capitol Reef National Park
Hwy 24 is the main artery cutting through the park's midsection and the primary access route. Reach it from I-70 just west of Green River, UT, or farther west in Salina. The park is about a three-and-a-half-hour drive from Salt Lake City and a five-hour drive from Las Vegas. You can also reach it via Utah's Scenic Byway 12 from the south from Escalante.
Where to Stay in Capitol Reef National Park
Most lodging is in Torrey, just eight miles west of the park's west entrance, which has everything from small cabins to hotels and lodges. Adorned with a rooftop terrace for stargazing, desert-themed artwork, and 6,000 dangling entranceway ropes mimicking a slot canyon, Skyview Hotel offers 14 well-appointed guest rooms as well as six geodesic domes for glamping—and a great backyard for your dog to roam.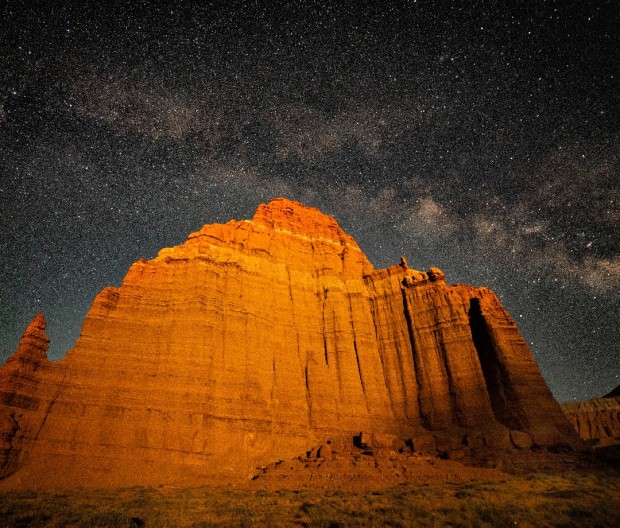 For camping, try 71-site Fruita Campground, the only developed campground in the park. There are also two free primitive campgrounds in more remote parts of the park (first come, first served): The small, six-site Cathedral Valley Campground is 36 miles from the visitor center and Cedar Mesa Campground is 23 miles away on Notom-Bullfrog Road, with five sites.
Best Guide Services in Capitol Reef National Park
Southern Utah Scenic Tours, Capitol Reef Outfitters and Capitol Reef Adventure Co. all lead tours in the area, covering everything from rock climbing and ATV/4WD outings to biking, canyoneering, hiking, photography, and more.

For more updates check below links and stay updated with News AKMI.
Life and Style || Lifetime Fitness || Automotive News || Tech News || Giant Bikes || Cool Cars || Food and Drinks

Source