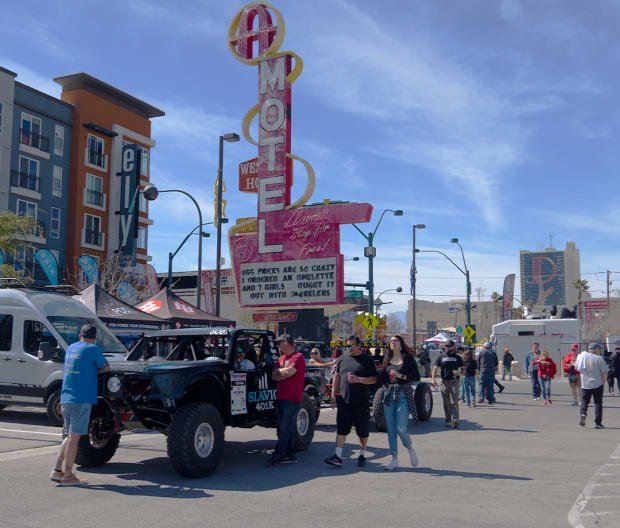 Mint 400 proves once again to be the wildest off-road race on this side of Baja—and the easiest to savor as a spectator.
For fans of off-road racing, the sheer logistics of attending an event in person can easily seem not worth the effort. Want to check out the Baja 1000? Get ready for interminable border crossings and camping on sketchy terrain. Hoping to catch some of the action at King of the Hammers? The jumble of humanity that is Hammertown sounds pretty iffy, to say the least. And good luck getting a visa and spending thousands on flights to Saudi Arabia to "watch" the Dakar Rally—let alone find out where the race course actually goes.
Not so for Mint 400, billed as America's oldest off-road race and held—for better or worse—just outside the metropolitan hustle and bustle of Las Vegas, NV. Four laps of a roughly 100-mile loop starting and finishing in Primm afford spectators multiple areas and opportunities to check out the action, all visible only a few hundred yards from the pavement. The proximity to civilization means anyone can roll up in a Prius—but get ready for some good-natured heckling if you do.
Welcome to Sin City
The weekend starts with tech and contingency on Thursday in downtown Vegas amid a bevy of scantily clad "models" showing off the latest shocks, tires, radios, and accessories for prepping SUVs, trucks, and side-by-sides for four-wheeling fun.
The city blocks off an extensive stretch of Fremont Street where the perfect Venn diagram of trashy outfits and dirty trucks commingle—featuring fans, locals, and unsuspecting tourists partying next to strip clubs and casinos while a parade of off-road race cars inches toward inspection. These vehicles run the gamut from purpose-built million-dollar trophy trucks to beefed-up UTVs, factory-supported racecars, a lifted Miata or two, and even a 4×4-swapped stretch limo.
Amid the mushy mass of humanity, I bump into three-time Mint 400 winner Dustin Jones, back-to-back winner of the last two years. I ask him how the Mint caters to his own particular driving style.
"Everybody knows that I race checkers or wreckers," Jones laughs, "Which means I'm either gonna win a race or I'm gonna crash a car. And I'm willing to do either one of those things at any time!"
Related: Tony Stewart On the Smartest Racing Tip He's Ever Received
That kind of rough-and-tumble attitude sounds just about right in the hullabaloo around us, but it turns out that this apparent lack of strategy stems from real-world racing considerations.
"This is a once-a-year race," Jones explains. "It's not in our point series, so there's no need to get second, third, fourth…You come out here to win Mint 400."
Jones races Can-Am Maverick X3 side-by-sides throughout the calendar year at events including several fast-approaching Baja races and King of the Hammers where, in a particularly memorable moment this past February, he helped push a competitor's broken racecar over the finish line. No doubt, the jokey air Jones has perfected with media belies an intense focus, talent, and commitment required to actually win the races he enters.
Flip that switch and it's no wonder his cars receive extensive (and expensive) modification to handle the kind of abuse a guy nicknamed "Battleaxe" dishes out over hundreds of miles of rugged terrain. On the other hand, just about any consumer can drop a few hundred bucks on a Can-Am or Polaris down payment, then test their luck roaring around in the dirt.
"Mint 400 brings out everybody from trophy trucks all the way down to Volkswagen Bugs and everything in between," adds Jones. "But the UTV is an affordable vehicle that's very capable, so it's the most popular off-road racing right now and the fastest growing, because a consumer can go pick up a unit, do some little bolt-on accessories, and literally come race."
Such easily attainable speed in the desert always reminds me to appreciate how many amateurs don't hurt themselves (and others) taking side-by-sides out to designated off-highway vehicle areas across the country. The lack of alarming figures and news stories sounds almost too good to be true. But these days, the innovative technology that goes into the spectacular suspension setups on Can-Am Mavericks or Polaris RZRs blows my mind even more.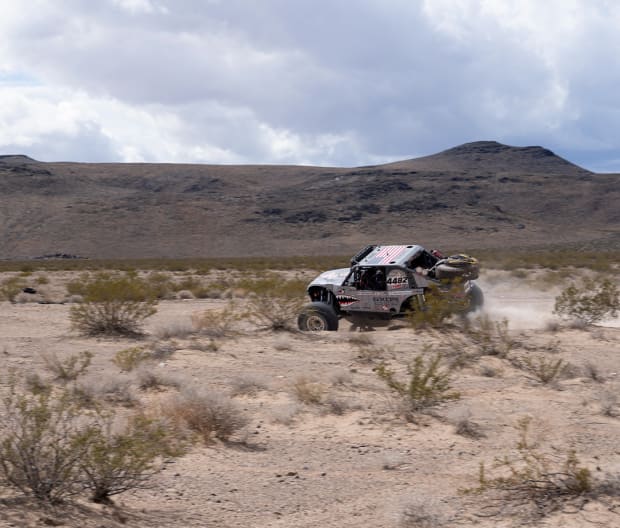 Race Tech for the Masses
Factory race teams take those concepts to another level of extreme, though. I find out when approaching a group of guys wearing Multimatic shirts and peppering them with pointed inquiries about the suspension system in Chevrolet's next-gen Colorado ZR2 race trucks entered at the Mint this year. Mostly, I want to know how the shocks in a factory-built Colorado ZR2 differ from the actual technology in a consumer version. Hao Wang, Multimatic's executive director of marketing communications is happy to pipe in.
"It's a production-based truck and the dampers are production-based," says Wang, "Obviously, with some slight valving changes, because the demands of desert racing differ from what you see on the road."
Related: Riding Shotgun With Jimmie Johnson
Multimatic's product line manager for dampers, David Meyer, then jumps in with some engineering specifics.
"We've retuned the production Colorado dampers to make quite a bit more force—almost two times more peak force," Meyer says. "There's a position-sensitive damping function on these ones. In different travel regions, as the shock moves from normal operating range into the compression region, the Multimatic DSSV dampers provide a lot more damping force to control the energy—and not tear up the driver or the truck."
Fair enough, but surely something even more significant than some retuning allows a factory Colorado to race at pace for over 400 miles in the desert.
"The team has applied cooling fins to the race dampers," Meyer adds. "But under the bolt-on cooling fins, they're the exact same components. In fact, the race dampers are built with production components."
My own minimal experience off-roading in sand, rocks, and a bit of snow taught me quickly that even the best shocks or springs, the most powerful engines, or all the locking differentials available still make much less of a difference than tires. And at Mint 400, just like Dakar Rally, Baja 1000, and King of the Hammers, just about every last vehicle entered wears BFGoodrich rubber.
When I'm introduced to BFG's brand director for North America, Stephen Peters, of course I have to ask what rubber I should put on my latest toy. Should I just go whole hog and shell out for off-road racing tires?
"When you're talking about a racing tire, it's gonna be designed a little differently," says Peters. "They want endurance, but they also want maximum chip and tear. The weight's not necessarily as critical as it would be for a consumer tire."
Related: The Best Desert Road Trip Destinations In America
Peters gives me a rundown of BFG's new tire set to launch on April 1 of this year, the HD-Terrain T/A KT, which sounds just as heavy duty as its acronym-heavy name suggests. Targeting heavy-duty truck owners looking for the magic combination of long tread life, high-towing capacity, and off-road capability, this all-in-one tire is slotted into the lineup somewhere between mud-terrains and all-terrains.
"Everything we build isn't designed to be one-purpose only," says Peters. "It's kind of a hybrid of what we've learned with the mud-terrain usage, the K02 usage, and in racing. It's super tough. The compound is actually more similar to our all-terrain tire, just with an aesthetic, the way the tread design is made, to resist that chipping and tearing."
BFG tested the HD-Terrain extensively on trucks that service mines, where tire lifespan is typically measured in days rather than tens of thousands of miles. And the next morning out at Mint 400 start-finish line, behind the post-apocalyptic edifice that is Buffalo Bill's Resort and Casino hulking on the southeast side of I-15 in Primm, a bunch of the race support trucks wear HD-Terrains, too. Sounds just about right for my lightweight two-door SUV.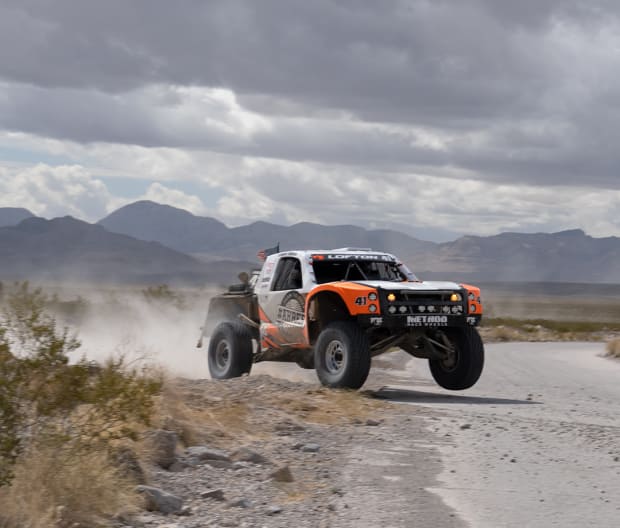 Racing Outside Primm, NV
Rolling into Primm, the race traffic begins to build. A lineup of lifted Broncos greets guests at the parking lot entrance, complemented by more product display booths and even a drifting demonstration skid pad set up with stanchions and barricades. Walking out to the grandstands and spectator area to catch as much of the actual action as possible, I'm immediately struck by how Mint 400 delivers exactly what other off-road races struggle to offer: letting you watch the actual race.
The start line festivities begin with fire-spitting launches while the crowd pounds Bud Lights and White Claws, cheering for every wheel-to-wheel jump over the man-made short course segment that kicks off the four-lap competition. Out in the desert, call-outs brand onto each racer's livery. The high-speed whoops and rooster tail-inducing berms make for stellar moments in the dramatic light of a winter storm looming on the horizon.
Related: Backpacking Gear We Took for a Night of Desert Camping
Side-by-sides whip past. Hummer trophy trucks zing through with suspension whomping and V8 engines roaring. Homemade sand rails blast by at top speed, slinking through the creosote-carpeted desert.
Farther up the 15, just past the psychedelically intrusive Seven Magic Mountains art piece north of Jean, hundreds more spectators gather at a gravel pit where the course snakes through tight turns and more jumps. Here my media credentials allow me to keep driving where the general public technically isn't allowed—right next to the actual racetrack, as trophy trucks haul past at three times my speed.
At race mile 38, up a climb past a section where the route crosses a public road, I park next to a long straightaway that provides an excellent overtaking zone for a bunch of competitors—while sirens wail as a warning to those being overtaken. Standing to the side, I'm wary of the many warnings I've received about the dangers of getting too close, especially on the outside of sweeping corners where crashes can potentially fly hundreds of yards off track.
Specific spectator watching areas, officially three in addition to the start-finish line at Primm, dot the rest of the Mint 400 map. But, really, anyone in a side-by-side might easily find their way out onto the race—and not necessarily as a competitor, as Dustin Jones had semi-joked. So, keep an eye out, is my warning to anyone headed into the desert near Primm or Jean for some early-March four-wheeling. You might well wind up in the middle of the action.
Shooting Mint 400, the struggle gets very real, very fast. In no way can I keep up with a race starring some of the fastest off-road vehicles on the planet. Missing the early winners on both Friday and Saturday, I'm told that highlights include Chad Hall in the Chevy Colorado arriving first in class with the bed bent up like a taco due to frame damage about 40 miles from the finish line. Even some of the best dampers I've ever experienced (i.e. on a Silverado ZR2 press truck) can't save the frame of a production pickup that's been abused at racing speed for 360-plus miles.
Related: The Non-Gamblers Guide to Las Vegas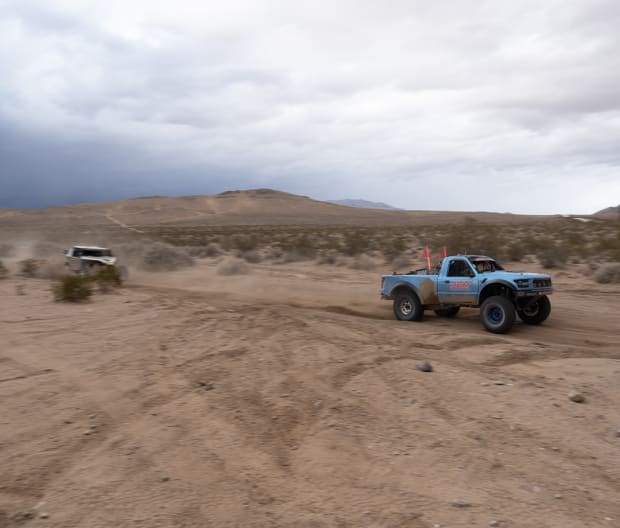 The three-time Mint winner, Dustin Jones, struggles on his last lap and ends up finishing eighth in class, while the Unlimited Trucks class winner Eric Hardin manages to finish the grueling race with a time of 6:46:37.651.
Press releases announcing winners, losers, teams, and sponsors only go so far at the Mint 400. In person, the drama of finishing order quickly fades as the different classes mix it up. Lapping each other, spraying dirt and grime all through the desert, the drivers have literally moved past it, while their spectators cheer every aggressive maneuver and celebrate some of the closest off-road action available at any race on the planet.
Once the spectacle fades and nighttime slowly shrinks the panoramic desert views, the audience finally fades—no doubt slithering back to the magnet of Vegas. With any luck, those felt tables will be favorable nightcaps after a day of unforgettable racing in the close-but-so-far Nevada outback.

For more updates check below links and stay updated with News AKMI.
Life and Style || Lifetime Fitness || Automotive News || Tech News || Giant Bikes || Cool Cars || Food and Drinks

Source