Lifetime Fitness
The Rise of Seam Butchery: A More Sustainable Way to Carve a Cow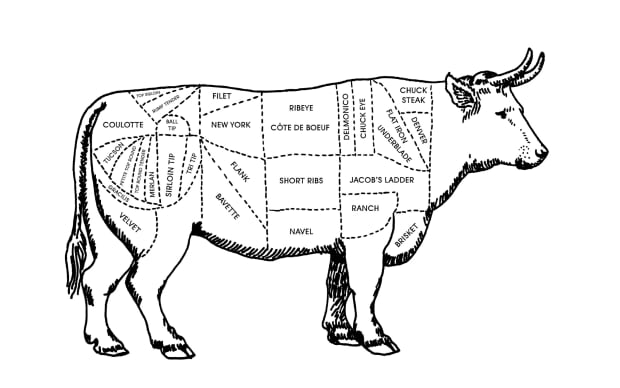 Embracing the European tradition of seam butchery, Seattle's Bateau is a different kind of steakhouse.
If you've been at a steakhouse or butcher, you've no doubt seen a cut chart: a diagram of a cow with demarcations where each cut is located. You'll see familiar names like chuck, rib, rump, etc. But there's more than one way to skin a cat—or in this case, carve a cow. At Bateau, a French-style steak restaurant in Seattle, WA, they use seam butchery.
Butchers cut along the natural seams between the animal's muscles, which yields far more cuts like gracilis, velvet, and coco lei lei. It's more laborious, but it's also the sustainable choice. `
Bateau doesn't cut corners. It uses heritage cattle that are conscientiously raised, grass-fed, and grass-finished. Taylor Thornhill, the chef at Bateau, spoke to Men's Journal about how butchery works at the restaurant.
Originally from Wyoming, Thornhill got his start in the culinary program at the Art Institute of Seattle. He worked at Rover's, Harvest Vine, and The Walrus and The Carpenter—all Seattle institutions—before becoming the chef at Bateau when it opened in 2015.
Along the way, Thornhill's interest in "breaking down proteins" grew. Given the opportunity, he spent time learning from butchers in Spain and France. He discovered European butchers work differently than American. Thornhill recalls working with a butcher in Spain when a woman from Texas came in looking for a brisket. The butchers had no idea what she was talking about; it's not typically used for anything except ground beef. Thornhill says it was an example of what different cultures "prize in an animal."
Related: 13 Best Dishes in America We Can't Stop Thinking About
Thornhill brought seam butchery to Bateau. Every week the restaurant gets a single cow carcass that's been aged at least 21 days and minimally processed. As Thornhill says, the restaurant wants its supplier to, basically, "skin it, cut it into four pieces, and give it to us."
Once Bateau gets the carcass, it's a simple concept performed by skilled experts. "You're just following the seams," explains Thornhill. According to the chef, the muscles in a cow are self-contained and the restaurant's butcher cuts between them, not through them. This result in beautiful pieces of beef you're not always going to find at the typical butcher's counter.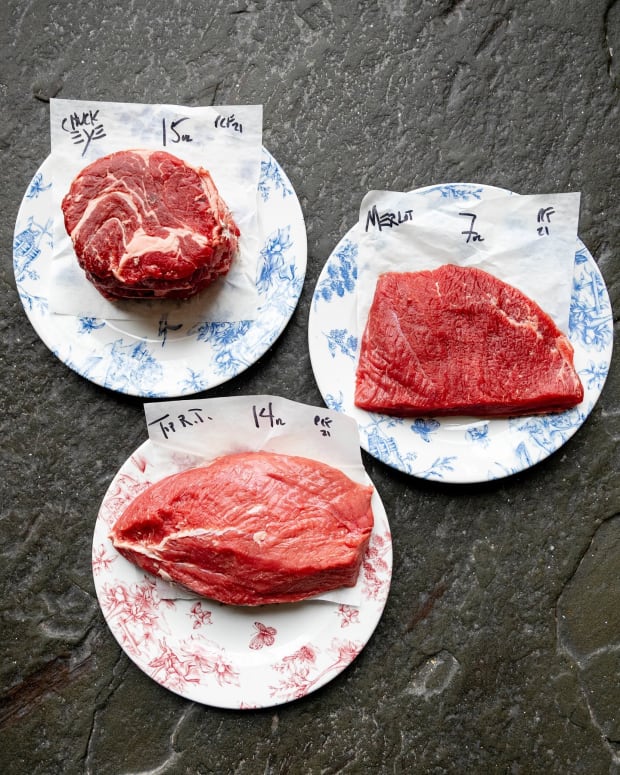 When you think about it, seam butchery makes sense. A typical chuck roast, for example, consists of several different muscle groups, some tough and some tender. If you're cooking at home, you're typically going to braise or slow cook it until it falls apart. You're applying heat until the tough part breaks down. But you can give cuts the respect they deserve. At Bateau, they're able to "cook all these pieces of meat as they're supposed to be cooked."
Related: The 10 Best Mail-order Steaks
When you come to Bateau, there are chalkboards that list the name of steak cuts, weight, and price. And even for devoted lovers of beef, not all the names are going to be familiar. Along with Delmonico and rib-eyes, you'll see teres major, Jacob's Ladder, and onglet. When Bateau opened, not all the nearly 50 varieties of steak cuts had a name. So Thornhill used a European name, as in the case of the French merlan, or just made one up.
The waitstaff at Bateau is there to lead you through the menu to help find what you want. Don't walk in with a plan to order the 12-oz. rib-eye. Because of the way the restaurant cuts meat, it doesn't have standardized portioning. Thornhill says they have pieces of meat that are as small as four ounces. And once a cut is sold, it's crossed off the list. Just missed the coulotte on the list? You'll have to come back next week.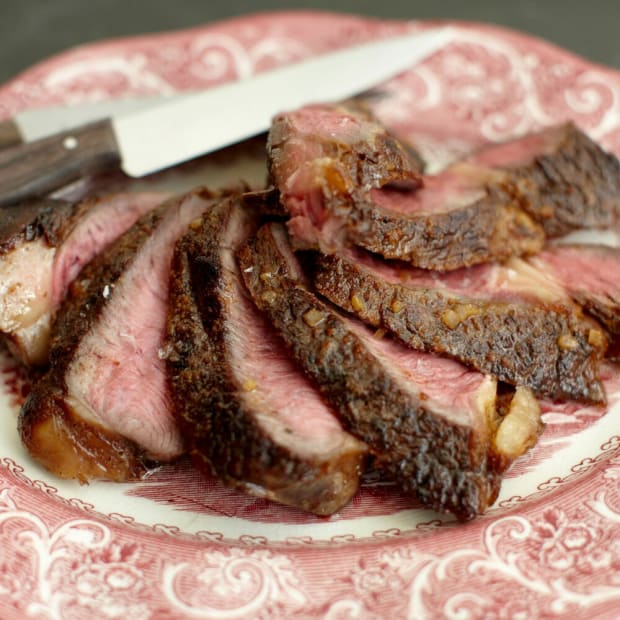 Thornhill says that in the U.S. beef being tender is the top priority. But Bateau has a different philosophy. "We're putting flavor on top," he says. As he explains, not all steaks at Bateau meet the same metric of quality. Some are going to be toothsome–chewy–or fatty or funky.
And Thornhill is being honest when he says "We have steaks that aren't for everyone." He says there is a range of customers from "Give me the craziest shit you got" to people who have only eaten filet mignon and will continue to only eat filet mignon. There are others, he says, "who want to eat their way through the list."
Seam butchery doesn't just mean delicious meat. Due to how the meat is cut, there is less waste. And Thornhill really doesn't like creating waste at his restaurant. He believes that the only things they should be throwing in the compost are eggshells and the towels they use to dry their hands. From vegetable trimmings to beef silver skin, he is always looking for a way to divert the waste stream.
Thornhill talks about using cuttings to make garum, a condiment that's salty, beefy, and full of umami. Other times, they'll ferment waste, put it on a shelf, and "kick it down the road." Until, it becomes, "the perfect thing we didn't know we needed."
It's not always easy to be a restaurant that practices seam butchery. It's careful, time-consuming work that takes time and money to do right. However, Thornhill says that if you're going to serve beef, it "deserves reverence and respect." As the chef says, "We do it to push ourselves creatively and be conscious of what and how we're serving it."
For more updates check below links and stay updated with News AKMI.
Life and Style || Lifetime Fitness || Automotive News || Tech News || Giant Bikes || Cool Cars || Food and Drinks

Source