Nomad Goods, with more than a decade in developing accessories for iPhones, offers several MagSafe wireless charging systems.
This article was produced in partnership with Nomad Goods
Many of us rely on our phones for daily tasks once handled by multiple pieces of technology, like alarm clocks, stopwatches, timers, and even maps. Those all drain the iPhone's battery eventually, and now it's habitual to place your iPhone on a wireless charger overnight so that the battery is full in the morning and your alarm clock goes off as planned.
Until the morning you don't wake up on time because you didn't place your iPhone in exactly the right spot to charge, and your phone is now dead on arrival.
It's happened to everyone who uses a regular wireless charger, because unless the iPhone is placed perfectly, the connection to charge doesn't happen and your battery drains instead of recharges. Wireless charging is a vast improvement over corded, but missing that sweet spot for charging is incredibly frustrating.
MagSafe Charging Options
Apple re-introduced us to MagSafe with the iPhone 12 — first as the cable that saved our MacBooks from flying off a table if the cord was pulled, and then as a magnetic ring on the back of the iPhone to ensure proper alignment. It even allows for faster wireless charging for the iPhone when compared to a standard charger.
Nomad Goods, with more than a decade in developing accessories and chargers for iPhones, has introduced several wireless charging systems with official MagSafe components. No more missed charging opportunities, and no more pile of wires and cords as you try to charge your phone, Apple Watch, and AirPods.
There are three MagSafe Charging options from Nomad — Base One, Stand One, and Base One Max. Each uses a ring of magnets around the wireless charging chip to guarantee proper alignment via official "Made for MagSafe" components, and therefore a full charge, for your iPhone. And with 15 watts of charging power (almost double the industry standard of 7.5 watts), your iPhone charges up to two times faster than with a standard wireless charger.
All three chargers use an integrated 2.0-meter USB-C cable, but do not come with the 20W USB-C (or 30W as recommended for the Base One Max) power adapter needed, and for good reason. Nomad works hard to reduce waste and sustainability is one of the company's core values, going so far as to work with Climate Neutral to make sure to offset 100% of their carbon emissions.
They believe many of their customers already have multiple power adapters already, and that excluding adapters from their packaging makes it lighter, requiring fewer shipments from factory to warehouse, and thereby reducing the carbon footprint even more. And if you do need a charger, Nomad offers a 20-watt plug for $18.95 or a 30-watt for $29.95.
As the name implies, this the base version of a MagSafe charger. It looks much like a standard wireless charger at first glance, with one big exception — the raised charging platform that snaps your iPhone into place every time you set it down to charge. That extra room between the charger and the base ensures compatibility with any iPhone camera, so no worries about your charger scratching the lenses of your camera. The base works with iPhone 8 or later, but the magnetic feature only works with iPhone 12 or later.
One reviewer said of Base One, "If you are someone who appreciates the finer things in life, and you are willing to spend a little more for a luxury experience…this is your charger. This really takes MagSafe charging to the next level. I love using it. If you have the means, I highly recommend picking one up."
At $100, it's more expensive in the realm of wireless chargers but with MagSafe and an ultra-premium build from aluminum and glass, it's a next level experience.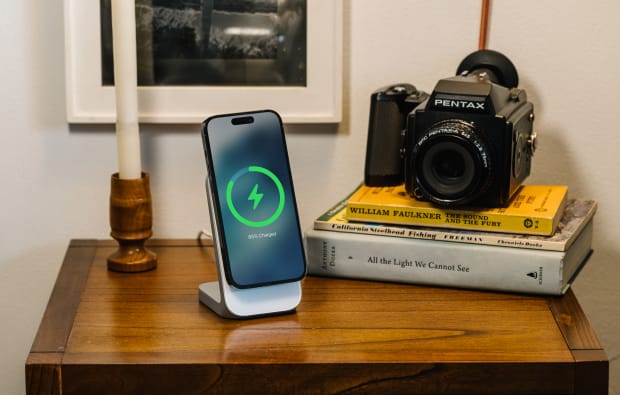 The Stand One features the same magnetic functionality as the Base One, but in an upright stand model. It can be used with the phone in either a horizontal or vertical position, so you can use it to charge and watch videos or FaceTime with loved ones easily.
Like its siblings, the Stand One weighs about a pound, which gives it a lot of stability, so it's not easily knocked around (or off your nightstand). Because of the slanted design, however, it's only compatible with iPhone 12 or later, as the magnets both charge the phone and hold it to the stand.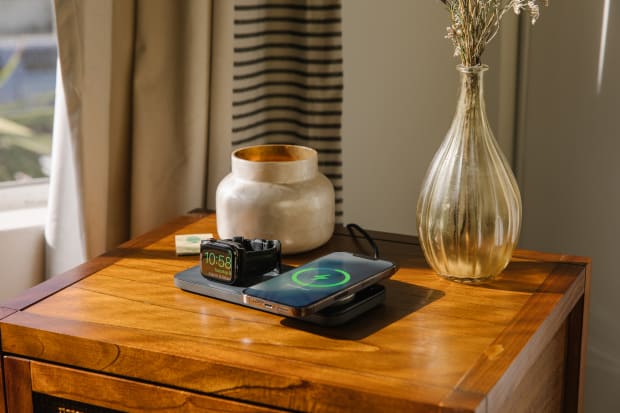 This is the most feature filled option out of all three and it's worth the extra money for Apple enthusiasts. The Base One Max is designed to charge your iPhone and your Apple Watch at the same time on this one device. Both the phone and the watch charging stations use the Apple official pucks, and the phone charging station has the same raised platform as the Base One. This allows plenty of room for the iPhone camera lenses and a place to grab the phone safely. With slightly more charging power (up to three times faster than standard wireless charging) and a heftier weight (two pounds), it's the ultimate in wireless charging. The Base One Max, like Base One, will charge iPhone 8 or later, but the magnetic alignment is only compatible with iPhone 12 or later, and it's compatible with Apple Watch Series 4, 5, 6, 7, 8, SE, and Ultra.
Reviewers really love the Base One Max, with one saying, "This is a really well made, high end looking product, that complements any space. The charger itself works well (as expected), and the watch charger is a lot more secure in actually charging the watch, than my previous, also supposedly superior product from a rival company, that never seemed to connect. Well done Nomad!"

Base One, Stand One, and Base One Max all come in either carbide or silver, and are available now at nomadgoods.com.
For more updates check below links and stay updated with News AKMI.
Life and Style || Lifetime Fitness || Automotive News || Tech News || Giant Bikes || Cool Cars || Food and Drinks

Source