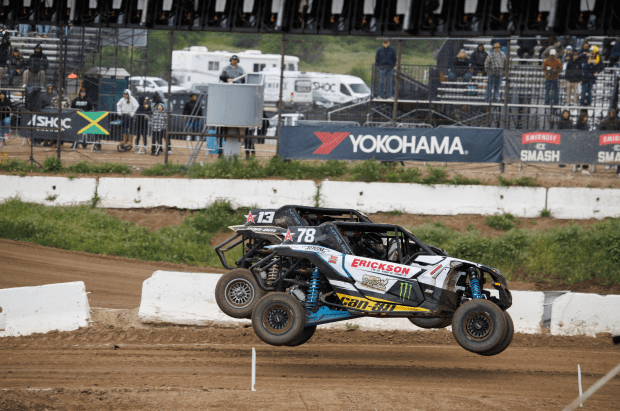 Nitro Rallycross's star-studded season finale features fresh new faces and fast-changing demographics.
The usual off-road racing image involves grizzled old guys barreling through remote reaches of desolate desert, pushing beefed-up Broncos and lifted Jeeps to the limit for hours on end. A tad less typical—electric hatchbacks drifting on short courses with 100-foot jumps. Enter the 1,000-horsepower EVs of Nitro Rallycross Group E.
It's a mashup between Formula D and advanced F1 technology, where everyone feels like newcomers as screaming racecars and side-by-sides spray rooster tails of gravel while freestyle motocross riders launch 75-foot backflips nearby.
Among a group of racing royalty—which, over the years, has included the likes of creator Travis Pastrana, Ken Block, Tanner Foust, Brian Deegan, Terry Madden, Jenson Button, and more—the current crop of Nitro Rallycross drivers comprises a growing list of talented women—notably Amanda Sorensen, Leticia Bufoni, and Demi Bagby—fueling goals to expand the sport's appeal and demographic draw.
This past weekend's season finale at Glen Helen Raceway in San Bernardino, CA, brought over 12,000 screaming fans out for an exciting night of on-track action and excitement.
Nitro Rallycross Classes: Spec and Fun
NRX, as those in the know call it, started back in 2018, but expanded to an inaugural full season in 2021 with X-Games champion, occasional Nascar driver, and general adrenaline-fueled stunt junkie, Pastrana, as the series' beating heart alongside the late Hoonigan head honcho, Block. In 2022, NRX went global, introducing a new Group E class featuring one of the most advanced racecars on the planet, FC1-X EV, built by First Corner LLC and QEV Technologies specifically to compete in Nitro Rallycross.
Related: Avicar Brings Remote Reality to Racing
Now, Pastrana and his compatriots—and, by extension, the entire traveling circus that is NRX—face the tall task of introducing rally racing to an American public generally unaccustomed to hearing about the legends of FIA WRC (World Rally Championship) and often entirely unaware of the ARA (American Rally Association).
I walked into Glen Helen to catch the last rounds of practice a few hours before Friday rush hour opened the floodgates on the '22–'23 season finale—complete with cheering fans and flowing beer as the cloudy afternoon transitioned to good-old-fashioned racing under the lights.
NRX splits into three classes made up essentially of spec cars: FC1-X EVs, a fleet of gas-powered NEXT hatchbacks, and a bunch of Can-Am Maverick X3 side-by-sides. Luckily, I bumped into Pikes Peak record-holder and NRX technical director Robin Shute, who helped me comprehend the scrum with a little primer on FC1-X.
"Hot numbers are over a thousand horsepower," Shute says. "They have four electric motors all within the full-time four-wheel-drive system. The car is 800-volt, so it's a high-voltage vehicle with a 50 kilowatt-hour battery pack. And the suspension travel, I believe, is about 12 or 13 inches."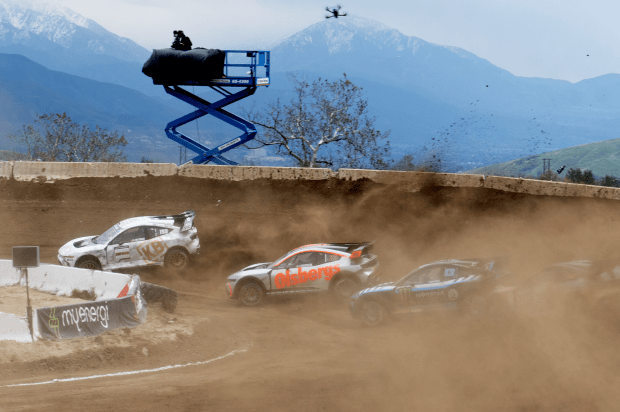 Each race lasts between four and six laps of a winding, circuitous short track—with the choice of a 100-foot jump or a so-called "Joker" lap that skips the risk of leaping through space but adds time as a tradeoff. Still, putting 1,000 horsepower through an electric drivetrain at race pace must require serious batteries, right?
"What you find over a weekend is they're not going from full charge to fully depleted each race," Shute says. "They have enough charge and time to basically put back in what they used in the last race, so it's slowly depleted throughout the day, but they're not losing performance."
Related: Tony Stewart on the Smartest Racing Tip He's Ever Heard
The cars actually charge and cool their batteries simultaneously between heats, which helps to keep the componentry flying around sideways simpler and lighter. While drivers exercise immense control push-pulling through drifts in the dirt, the cars' impressive suspensions keep the actual bodies in smooth form. But Shute wants me to know how much tactical focus NRX requires, too, especially when it comes to picking the right time to take that mandatory Joker lap each driver must complete in a race.
"You're mainly worried about time here," he says. "This [Joker] is about seven seconds for Group E—and while there's no golden, hard-and-fast rule when you choose or not, it can be key to a short race where you've only got four or six laps to make your move. It's not like a 20-minute race where you can slowly chip away."
The NEXT cars and side-by-sides don't have enough power to make the 100-jump feasible, but two different pathways through the circuit still keep the Joker in play. Then there's the fun stuff: Class 11 Volkswagen Beetles, plus a bunch of beat-up vans race between heats in significantly less serious fashion with windows and doors removed, spray-painted livery featuring off-color sarcastic references, and neon lights flashing.
The entire atmosphere at NRX caters toward that kind of fun for fans with an arena format allowing for easy access to drivers, racecars, pits and paddocks—plus the requisite beers, burgers, and energy drinks. DJ sets pound through the hillside, a bevy of announcers explain NRX rules, races, classes, and sponsor giveaways while Nitro Circus freestyle moto riders fling themselves into the sky with reckless abandon.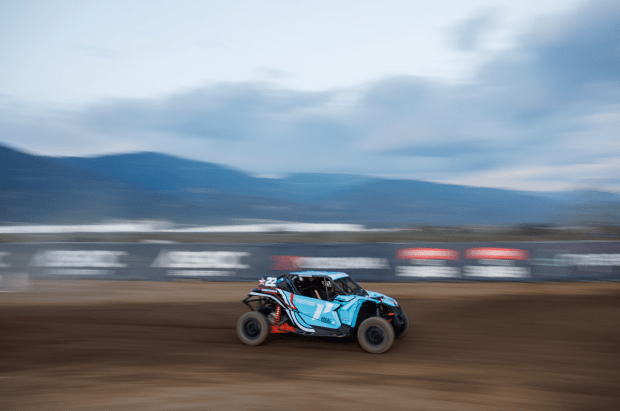 Side-by-Sides Graduate to Serious Business
The side-by-side class originated as a celebrity guest program to help raise awareness for Nitro Rallycross by bringing in big names with serious social media followings. But the popularity of side-by-sides in general, as well as the fun of watching the low-power, long-travel carts sprint around the track, started attracting experienced racers, too.
Pastrana and Shute both took their turns—Shute recounting whipping past Pastrana right before a spectacular end-over-end crash. At Glen Helen, experienced Can-Am drivers included King of the Hammers champ and NRX SxS crew chief, Scottie Lawrence; Extreme E and Formula Drift driver Amanda Sorensen; SCORE Trophy Truck Spec Class champion and X Games medalist, Sara Price; and this year's eventual champion, Gregoire Michaud.
Aggressive drivers who can draw new demographics to Nitro Rallycross are in demand too, so NRX brought on six-time X Games (and Tokyo Olympic) gold medalist skateboarder Leticia Bufoni to drive, as well as inspirational CrossFitter-turned-fitness-influencer Demi Bagby.
Related: Best Off-Roading Trips in America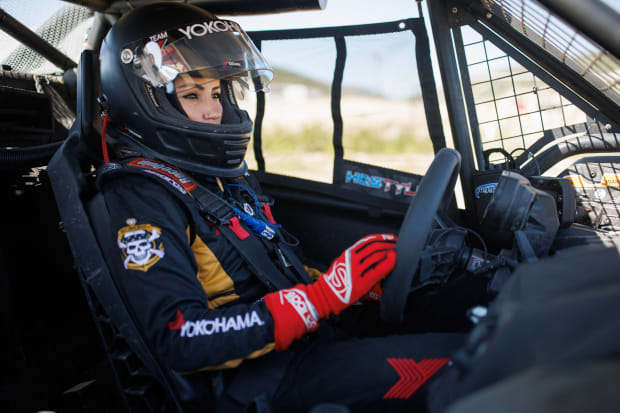 For Bufoni, the excitement of racing helped overcome the prospect of actually being bad at something for the first time in a long time. "My first race was the first time I'd ever been in the car," she says. "I didn't get any practice. I just went straight into that race against Travis Pastrana, Brian Deegan, Terry Madden, and all the big guys. I was the only girl, I didn't know what I was doing, and I was really slow at first."
Entering an entirely new genre of motorsport after a childhood in go-karts and later transition to drifting, Bufoni says she feeds off the energy of her fellow racers.
"Pretty much everyone who's here, they have way more experience than I do," she says. "All the other girls, they've been doing it for years and years. So I try to learn from them—while at the same time trying to beat them."
In the side-by-side pits—where Scottie Lawrence's 15-year-old daughter, Ava, helps keep the Can-Ams race-ready between heats—that competitive fire on the track evaporates quickly.
"They're super welcoming," Bufoni says. "They're always giving tips and helping each other out. On the track, it's who's faster. Off the track, everyone's friends."
That spirit of collaborative competition helped to attract Bagby, a former high school cheerleader who broke her back in a high-flying accident and faced the prospect of never walking again. She made a spectacular recovery, committing herself to a life of fitness, then fell in love with on-road racing while taking a series of courses at Radford Racing School in Arizona.
Related: The Best Side-by-Side UTVs of 2023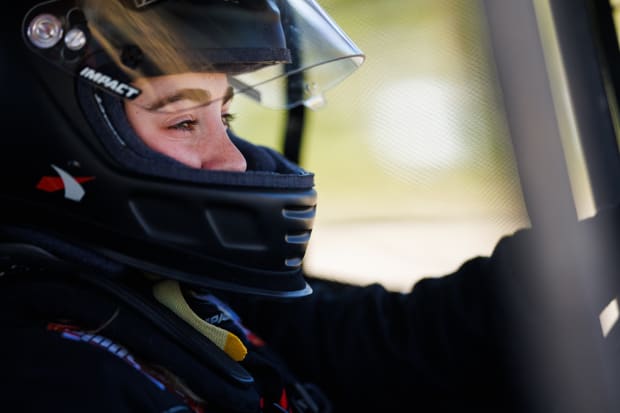 "I thrive in competition, and I'm really competitive with myself over everyone else," Bagby says. "I really like that having people around me pushes me to go harder. I feel like I wouldn't drive as fast or as aggressive without people doing the same around me."
Racing side-by-sides at Nitro Rallycross presents an entirely different set of challenges than hustling dialed-in sports cars around a well-manicured road circuit, as Bagby discovered during a practice session at Glen Helen when she dipped a tire into a rut on a tight turn and flipped over sideways, landing on her roof.
It would happen a second time to her in the exact same spot during the next heat. Luckily, Lawrence's team kept the Can-Am running to support Bagby's determination to keep racing—and learning.
"You have to decide that you're either gonna do it or you're not, because there's no in-between," she says. "If you don't learn from it or understand what happened, it's definitely intimidating. But you take the hit and you gotta be able to just brush it all off and keep going."
On Saturday, Bagby earns the most spectacular image of the entire weekend with a full end-over-end nosepick that damages the car's roll cage, tears the engine off its mounts, and leaves her with a concussion. Before heading off to the hospital, she'll still sit down for an autograph session with a long line of fans. The close connection that NRX allows with her community helps to keep Bagby motivated through each setback.
"I definitely think dirt racing can seem super intimidating with the crowd and everything being so new, but I love people and I love making everyone smile," she says. "It allows me to have an opportunity to go out there and have fun, then meet people who are hopefully inspired."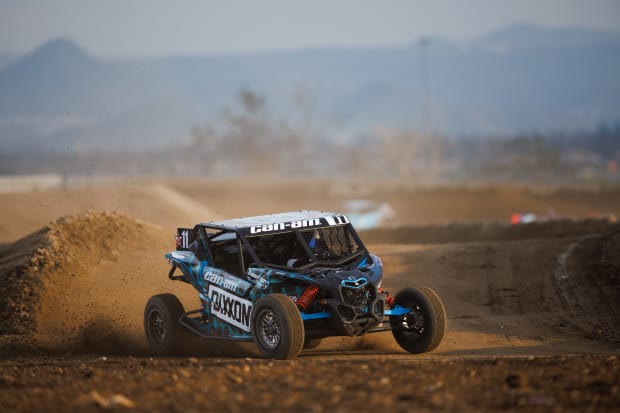 Growing the Nitro Rallycross Community
Back at the pits, Bufoni also tells me about her first few flips in the side-by-side. Apparently, everyone needs to get their licks in. But after two seasons, Bufoni's competitive pace alongside far more experienced racers proves that her presence is much more than just another publicity stunt catering to social media clicks.
I also visit with Candace Cogan, who bounces around NRX handling Yokohama Tire's efforts as official tire provider of the series—while helping to expand the sport's appeal for women, and especially young girls. The female majority racing in NRX's side-by-side class supports the point, but that doesn't mean the job is done.
"My role is really just providing an opportunity," Cogan says. "I think the road has been paved for us already. It's always gonna be a struggle, but the vision is there and we know we can get there. I think Leticia and Demi are both great examples of being able to cross into a different discipline and really be competitive while still having fun doing it."
Related: West Virginia Off-Roading Adventures
Bufoni and Bagby's achievements outside NRX have helped to grow a global social media following that Cogan believes already contributes to the expanding popularity of side-by-sides in other Yokohama-sponsored series.
"We've got this amazing program in an off-road series," she says. "It's in the 170cc class and we call it the Hard Charger Award. Three of the five winners have been young girls."
Cogan believes that bringing in multidisciplinary stars like Bufoni and Bagby can help to grow NRX's fanbase, but if they aren't seriously racing, the fans will quickly turn elsewhere. In the pits at Glen Helen—handling fan experiences, fielding racer requests, and helping her engineers develop beadlock tires that can stay on the rims of 1,000-horsepower screaming EVs—Cogan herself is instrumental in helping to bring Nitro Rallycross to that greater audience. She asks me to note that the series decided against using bead-lock tires for every class this year, which will help prevent the regular de-beading issues I've witnessed multiple times at Glen Helen.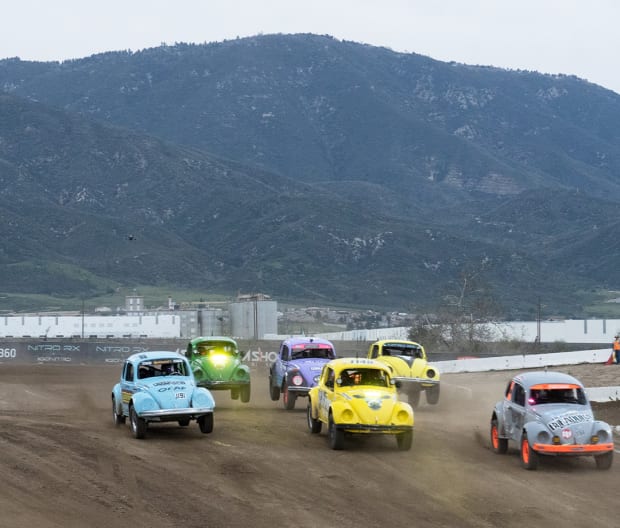 Adjusting to Nitro Rallycross
By the end of the weekend (and the season), I've begun to understand how each heat affects starting positions during the final, how the choice of an earlier or later Joker lap affects strategy, and just how gnarly the actual wheel-to-wheel racing gets. And I've witnessed a few VW Bugs hooking bumpers during a collision and towing each other around a few bends, plus a minivan flipping over and nearly catching on fire. All in good fun.
Pastrana himself takes a win during the Group E final on Saturday night before Robin Larsson clinches the season championship with a bit of a hit-and-run on the last turn of the final lap. Both then pull through directly in front of the crowded Glen Helen grandstands to celebrate—all high-fives and fist-bumps, cheers and selfies.
Related: Riding Off the Deep End at the 2023 Dakar Rally
All in all, the wild spectacle of Nitro Rallycross caters perfectly to such a stadium atmosphere—with every crash, rollover, overtake, and 100-foot jump celebrated wildly. But the serious business side cues when racers let the emotional pressure loose after big wins. These are drivers at the height of their powers, fighting for inches of position during short-course races across the globe all year long, earning sponsorships, seats, new fans, and followers. Shute tells me the NEXT class truly lives up to its moniker. NRX plans to field up to 24 cars in Group E—once they have enough of the advanced EVs actually built and an even larger engaged audience.
"Rallycross is quite unique—and not really mainstream right now," he says. "Most people haven't heard or seen it, but it's a very exciting sport and I think it's coming of age. If you look at how people consume media and entertainment, it's a lot shorter, sharper, and in your face."
In the age of social media, NRX delivers a weekend of intense action at Glen Helen where influencers with millions of followers meet off-road racing stars in a frenetic series unlike anything I've seen. A new season calendar kicks off in only two months. Buckle up!

For more updates check below links and stay updated with News AKMI.
Life and Style || Lifetime Fitness || Automotive News || Tech News || Giant Bikes || Cool Cars || Food and Drinks

Source