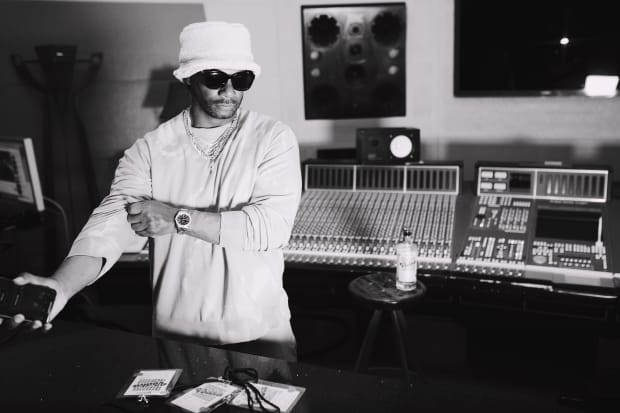 Music producer Polow Da Don is encapsulating the freedom of expression and individuality of the "young country" genre with YoCo Vodka.
In 2019, Nashville-based music producer, Polow Da Don, launched a radio station dedicated to a new era of "young country" (YoCo) musicians. Though it started as a platform for artists who felt like they didn't have a voice in country music—Polow Da Don points to the likes of Lil Nas X and Kane Brown—it's since evolved into an expression of freedom and individuality as a lifestyle.
The latest pillar to this lifestyle is YoCo Vodka, which the music producer released in June 2022, exactly three years after the launch of YoCo radio.
"Music and good times go hand in hand," explains Polow Da Don. "With YoCo Vodka, we're extending our message of the radio station (Young Country Nashville 96.7FM) with the genre of music. The engine behind our intent is bringing everyone together."
The Tennessee vodka is made from corn and uses activated carbon to create its ultra-smooth texture. It's why Polow Da Don enjoys sipping it neat.
"I used to only drink tequila, but what's great about YoCo is how smooth it is…no harsh bite," he says.
He's is in the midst of expanding YoCo Vodka throughout the U.S. So far, the brand sold out of its introduction launch in Georgia at the beginning of February. We caught up with Polow Da Don to learn more about the vodka and what he's hoping to achieve with the unique YoCo movement behind it.
Men's Journal: How did the concept of "young country" come about?
Polow Da Don: Young Country was formed through experience and what I felt was missing in music as it relates to the connection between people and the industry. There's a huge disconnect. I believe the developments of technology and digital has caused many companies to look at themselves as a tech company and approach music with a corporate rather than an art lens. I started to see a huge void in music but specifically country music as I was working in the genre. I've seen this happen before with rock and with hip hop so I wanted to be a bridge of what I saw to be the cure and thus "Young Country" was born.
Can you elaborate on how exactly young country as a genre is an expression of freedom and individuality?
As we know, it takes new ideas for the world to move on. When you have a new idea, at first you're one of one. Then you test your ideas out by telling other people and you can be met with a lot of non-believers. But then you get someone who believes, and that idea slowly begins to grow. As far as the freedom part of it, and freedom of expression, it's your take on how you would like to do things, which may be different from everyone else's version of something. In this case, it's pushing the boundaries of music and culture. Country music was dying and the kids that represent the bloodline of the genre have a broader perspective now.
Why did you feel it was important to create this new genre?
This new sound of music and the generation's perspective on it didn't have a home. It was not embraced in the country space. It was not embraced by hip-hop and R&B, so it started to be standalone. Let's take somebody like Lil Nas X when he did "Old Town Road." He was not embraced by country. He was not signed by a country label. That song was originally dismissed by the country community other than a few creatives. Then you saw what happened with the remix with Billy Ray Cyrus, because he was "in the space." From there, you see the next few songs he released after he was signed were nothing like "Old Town Road." He was pushed over into the pop lane. He was separated from his original entrance to the game.
Can you point to some other artists who reflect the values of young country? What about them resonates with the genre?
Bubba Sparks, who I consider to be the godfather of the genre and sound. He went through the battles in reverse by being accepted. He was a country boy who loved hip-hop. He had to fight even in his hometown to be accepted, then he had to go into an unknown world and fight all the racial battles while being given all the reasons he couldn't be a rapper. He made an album that was a mix between country and hip hop. I'll go on the record and say it was the first ever.
Kane Brown, of course. You have Migos, Jimmy Allen. I even believe that "Young Country" is Taylor Swift. Her original label, Big Machine, was brave enough to fight the battles. Scott Borchetta was not embraced by the country world and had to fight a lot of battles. But that's exactly what country music needed because she brought so many ears, eyeballs, and light to the genre. Music and the business ultimately grew the industry, which is the same thing we did with Kane Brown. When he entered the game, country music was stalling. But now it's the reverse, country music is thriving. It's its own streaming genre. It's still one of the biggest selling physical genres.
Nelly is [another] perfect example. Where would you place him? A rapper? One of the greatest hip-hop artists who's also country, but then you have country music saying he's not real country, which is exactly my point. We had to create a genre and a home for artists like [this] where everyone belongs.
How do you reflect this mission in the vodka you're creating?
"Young Country" is a melting pot of people, music, class, generations, and lifestyle. With YoCo Vodka, we talk about gatherings. There's nothing like a toast to bring people together. Music and celebration go hand in hand. Let's say you meet someone and you invite them into your home. The kind gesture is to offer to have a drink together. Even when someone has a disagreement, it's common to settle your differences over a beverage. When people get together and have drinks, they let their guard down. It's a way to unwind, enjoy and come together.
Has it been challenging to produce and brand your vodka in a state that's renowned for its whiskey?
Actually, no. Some people like to ride waves. I get my enjoyment and fulfillment from voids. People, specifically in Tennessee, have been underserved in the vodka space so people have been extremely welcoming to YoCo. Sometimes when you take a chance instead of just riding the wave, you find a lot of energy and open arms of people welcoming something that isn't the norm—something that hasn't happened yet.
What are you trying to achieve with this niche rebrand of country and spirits?
One thing about spirits is that people enjoy it in the best and worst of times. When you think of celebrating, whether it's with vodka or tequila—a toast is a moment of accomplishment. If you get married, if you close a huge deal, if you win a championship. We're truly a symbol of completion, of success. As a musician I get to experience it a lot. Making music is beautiful. If you're lucky enough to have a hit, it originally came from just a couple people in a room and now the world is sharing the same energy. I have a saying: better music, better life. That's magical. I feel the same when you have a toast—a toast to music, laughs, and celebration. That's when people usually give speeches, when someone says something that touches everyone. It's harmony.
What's been a driver of your success thus far?
I've been able to achieve because of the people around me. We have a great team, working with people who know so much more than I do, and following other people's lead who are passionate. I have a general dream, [then] people have specific ideas and dreams within [that], so I just learn to support those and I know the importance of those being supportive.
For more updates check below links and stay updated with News AKMI.
Life and Style || Lifetime Fitness || Automotive News || Tech News || Giant Bikes || Cool Cars || Food and Drinks

Source