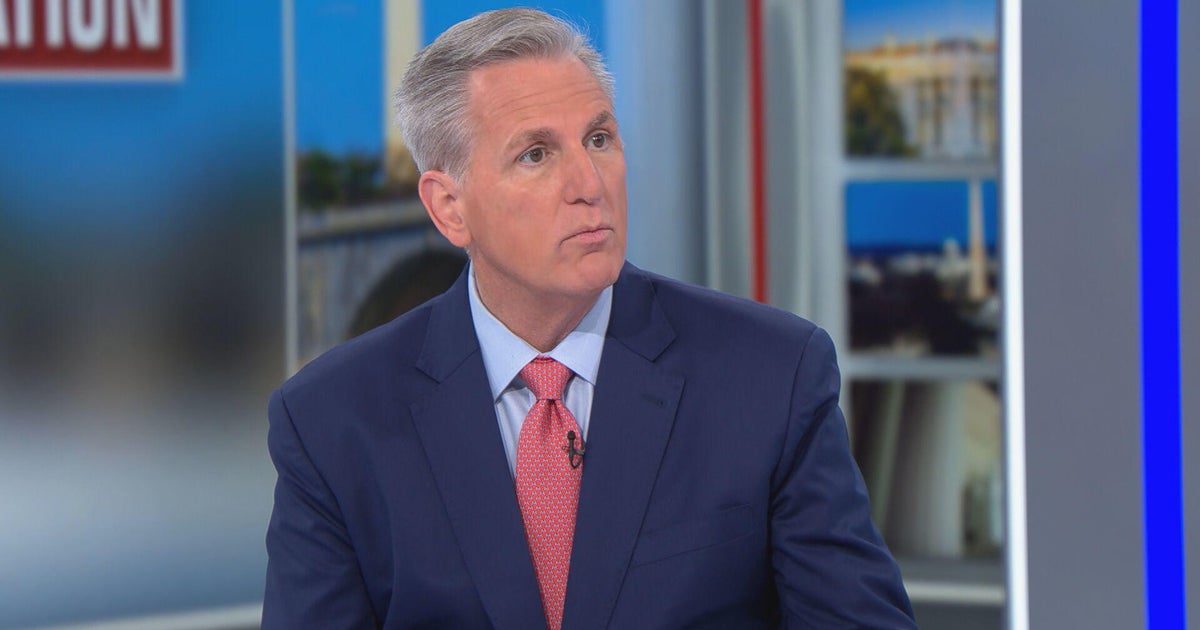 Washington — House Speaker Kevin McCarthy said Sunday that he wants to reach a "reasonable and responsible" agreement on lifting the debt ceiling, but one that would include cuts to spending and put the United States on the path to a balanced budget.
McCarthy and President Biden are set to meet Wednesday at the White House, the speaker confirmed in an interview with "Face the Nation," and the two are expected to discuss a range of issues including raising the debt limit and Republicans' fiscal priorities. 
"I want to find a reasonable and a responsible way that we can lift the debt ceiling but take control of this runaway spending," McCarthy told "Face the Nation."
The speaker criticized Democrats for increasing spending and said the U.S. "can't continue down this path." 
"I dont think there's anyone in America who doesn't agree that there's some wasteful Washington spending that we can eliminate," he said. "I want to sit down together, work out an agreement that we can move forward to put us on a path to balance, at the same time not put any of our debt in jeopardy."
The U.S. hit the limit on the amount of debt it can issue to fulfill its obligations earlier this month, forcing the Treasury Department to begin taking "extraordinary measures" to allow the nation to avoid a catastrophic default until roughly June. 
The impending summer deadline for Congress to either raise or suspend the debt limit has set up a political battle between the new GOP-controlled House and the White House, as Mr. Biden has called for Congress to pass a bill raising the debt ceiling without conditions attached. But McCarthy and members of the House Republican conference want legislation that pairs a debt ceiling hike with federal spending cuts. 
"I know there's a willingness on our side to find a reasonable and responsible way to get this done," he said.
Some conservative Republicans are pushing for reductions to mandatory spending, which includes funding for entitlement programs like Social Security and Medicare. McCarthy told "Face the Nation" that cuts to Social Security and Medicare are "totally off the table," and noted that House Republicans' agenda includes calls to strengthen the programs. 
There are also divisions among Republicans as to whether there should be cuts to military spending, which some GOP lawmakers have said they oppose. 
McCarthy said Sunday he wants to ensure the U.S. is "protected in our defense spending" but suggested there could be areas that warrant cuts.
"You're going to tell me inside defense there's no waste? Others? Everything, when you look at discretionary, is sitting there," he said. "It's like every single household. It's like every single state. We shouldn't just print more money. We should balance our budget. So I want to look at every single department, where can we become more efficient, more effective and more accountable?"
Complicating the path forward for McCarthy is Republicans' narrow majority in the House, where he can afford only four defections for legislation to pass without relying on Democratic support. It's unclear what kind of legislation addressing the debt limit would win enough GOP support to clear the lower chamber, and also pass the Democratic-led Senate and win Mr. Biden's support.
McCarthy, though, expressed optimism that Congress would act in time to avert a default on its debt obligations.
"We're not going to default," he said, likening the showdown in Congress over the debt limit to a family going over its own bills. "Every family does this. What has happened with the debt limit is you've reached your credit card limit — should we just continue to raise the limit or should we look at what we're spending?"
McCarthy accused Mr. Biden and Senate Majority Leader Chuck Schumer of spending recklessly over the last four years — which would include the last two years of the Trump administration — and pointed to the $1.7 trillion omnibus spending bill passed with bipartisan backing in December to avert a partial government shutdown as evidence of sweeping bills that include wasteful spending.
"The rational position here is sit down, eliminate the waste and put us on a path to balance," he said.
For more updates check below links and stay updated with News AKMI.
Education News || Politics News || Journal News || Daily Local News || Lifetime Fitness || Sports News || Automotive News

Source