Science
All Medical Students Should Be Vaccinated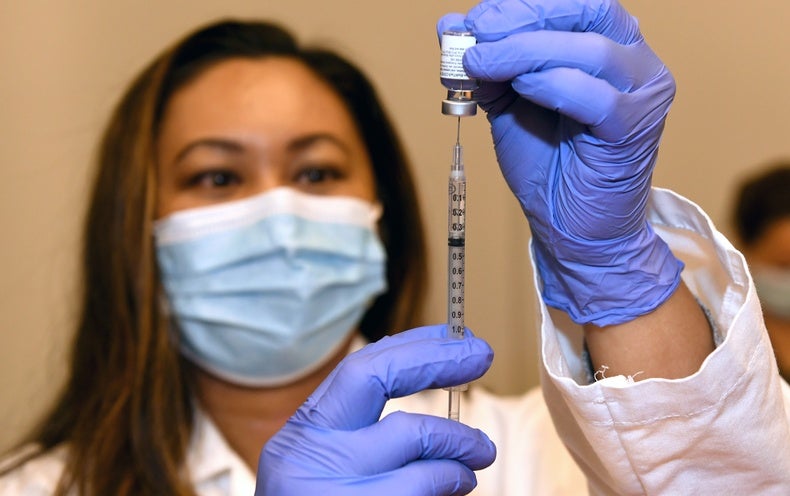 Since early January, medical students across the U.S. have joined physicians, surgeons, nurses and hospital employees in vaccination rollouts. When Trump's CDC released the phase 1A guideline to vaccinate health care workers first (along with long-term care residents), patient-centered goals were not a factor in the decision. States were left to decide if, for example, COVID-19-facing health care workers, or providers who see patients in person, or simply all health care workers, should be prioritized. The ambiguity of the national guideline and the patchwork roll-out led to wide discrepancies in where medical students were placed on the priority list.
While schools like Yale, N.Y.U., Michigan and Northwestern included all medical students in the first wave, others, including Duke, UCLA, Tufts, UNC, Emory, Georgetown and Thomas Jefferson categorized students according to hours of patient contact or the risks of their current rotation (putting them in group 1B and beyond). Meanwhile, many schools have continued to encourage students to volunteer in COVID-19 task forces to administer vaccines to group 1A health care workers and now to elderly community members, all while they themselves may not know when they will receive their first dose.
The result, amidst a deluge of student vaccination selfies, is tension among students, families and university administration amplifying an already taxing atmosphere. We open Twitter to see classmates urging medical students who have in-person or online classes to conscientiously object to vaccine doses that could, in theory, go to high-risk patients. We feel guilty for receiving the vaccine when we too are logging into Zoom every day. But we also recognize the reality of wasted doses across the country and the benefits of vaccinating one more body to protect our community at the grocery store, on the subway or at our free clinics.
Some students have expressed distress with how their school appears to undervalue them, despite known or equal risks compared to other medical school students. Spending hours examining an unmasked patient in intimate physical proximity is antithetical to most COVID-19-era interactions, but still being asked of many medical students. The protocol patchiness creates odd situations even within household pods. One of the authors, at Harvard, was vaccinated a month before her partner, at Tufts. He attends multiple in-person sessions per week with students and faculty who see patients, while she is online except for one day a week in the hospital with non-COVID-19 patients. Trying to parse meaningful differences in their exposure takes a back seat to supply constraints: the Harvard hospitals had enough shots for all medical students, while Tufts did not feel so confident in their stock and told students to seek shots on their own.
What emerges from these frictions is a structural problem disguised as individual guilt: instead of locating the problem within the system, the problem becomes us and our failure to object or advocate for others. Like campaigns to recycle plastic goods and turn off the lights rather than push for comprehensive climate change legislation, in this paradigm, a medical student receiving a vaccine feels guilty imagining a medically frail senior or essential worker whom they feel is more deserving. It's hard because those people are often our friends and family, and we know their stories and fears too well. But the individual guilt we feel may waste precious doses and precious time; whatever our wishes for the system, we are the ones eligible right now when so many are not.
Allocating scarce resources is a classic and much-discussed problem in bioethics. In its phase 1A guidelines of health care workers and long-term care residents, the CDC combined utilitarian and prioritarianist approaches. Utilitarianism tries to maximize total benefit, although what "total benefit" means changes depending on the situation. The prioritarian framework favors the "worst-off," which again may change situationally, but here applies to nursing home residents who have borne the brunt of COVID-19 deaths. States that have opened vaccinations to residents over 75 or 65 are also using a prioritarian framework.
The utilitarian argument for vaccinating all health care workers is that they can continue caring for sick patients and churn out immunized trainees to increase workforce capacity. In other words, they are desperately, critically useful. Utilitarianism seems less compelling for the first or second-year medical student who has yet to formally enter their hospital rotation or assist in any medical decision-making, and who may just be taking their first blood pressure reading on another person after months of being on Zoom. But vaccination efforts require healthy, committed bodies to train and administer shots into arms, especially as allocation phases include more and more people.
The utilitarian framework could also be applied to the CDC guideline itself. Is it more useful to follow the vaccination phases as already written, or not? Will we get to the end of the pandemic faster by following the guidelines we have, or changing them midstream? We are taught in CPR training that effective lifesaving follows a clear procedure through to the end, as efficiently as possible. You reflect on the process only after the patient is breathing again. This pandemic is an ever-increasing, ever-intensifying emergency. For better or for worse, in their December statement the CDC guidelines indicated vaccinations for "all healthcare workers," which included medical students. If we stop now to adjudicate specific comparisons between a medical student and a newly eligible 75-year-old, we will lose time for everyone, and everyone may be worse off.
For the individual student, the discrepancies in vaccine rollouts have widened differences among students between and within medical schools. Students included in the 1A groups or immediately notified of leftover doses may leave the pandemic with a stronger sense of their place in health care, and their active role in responding to present and future public health crises. Medical schools have worked hard to undo toxic cultures, from "pimping" (an instructor rapidly firing difficult questions at a student) to public humiliation to military language. But the vertical hierarchy within medicine that has always prioritized certain bodies over others has been reinforced by the lack of uniformity in vaccinating medical students and even residents.
While not without exceptions, there seems to be a gap in wealth and prestige between the schools that covered all students and those that did not or could not. This gap may have had a direct effect on the safety of students, all of whom will be needed to provide care in this country no matter the average MCAT score of their school. In the winter COVID-19 surge, it became clear that the most critical shortage is staff, not stuff. We face provider shortages in many important specialties, including primary care. Telling students that they are on their own to find a COVID-19 vaccine contributes to burnout, fear and potentially the disease that threatens our health care system itself—a system that reduces total benefits and fails to benefit those that are worse-off. As a community, culture and institution, medicine has missed a vital opportunity to empower and unify its students and trainee physicians as invaluable members of the workforce they have already begun to serve.
This is an opinion and analysis article.
For more updates check below links and stay updated with News AKMI.
Life and style || E Entertainment News || Automotive News || Science News || Tech News || Lifetime Fitness || Giant Bikes

Source