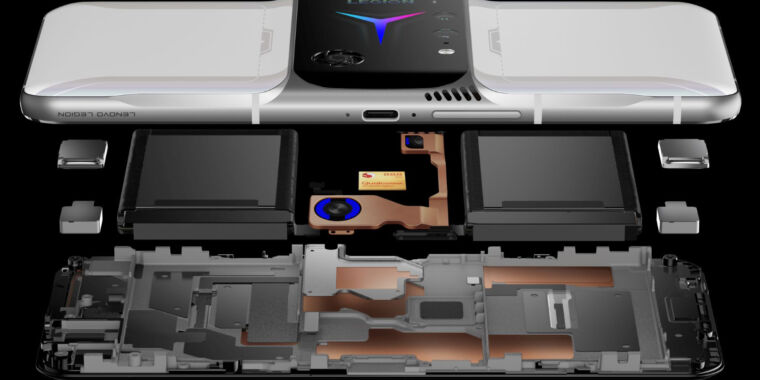 The Lenovo Legion Phone Duel 2, with its wild center-bump design.


Lenovo

The main guts of the phone, including a huge cooling system, live in the middle.


Lenovo

The batteries are on the left and right side, which Lenovo says helps balance the phone.


Lenovo

Also in the center bump: a pop-up, landscape front camera, leaving a blemish-free display.


Lenovo

The center bump is very tall.


Lenovo

There are six rear shoulder buttons.


Lenovo

For maximum charging, plug in two USB cables. No, seriously.


Lenovo

It's hard to imagine what holding this in portrait would be like.


Lenovo
Android manufacturers occasionally try to push this idea of a "gaming smartphone"—usually, these companies try to extend the "PC gamer" design motif to smartphones, with RGB LEDs and aggressive marketing. Since Android games are mostly casual pay-to-win tap fests, though, we often have to ask, does anyone want a gaming smartphone? If you're Lenovo, the answer is apparently "no," as Android Authority reports Lenovo is killing the "Legion" gaming phone business.
The site quoted a Lenovo spokesperson:
Lenovo is discontinuing its Android-based Legion mobile gaming phones as part of a wider business transformation and gaming portfolio consolidation. As a leader in gaming devices and solutions, Lenovo is committed to advancing the gaming category across form factors, as well as focusing on where it can bring the most value to the global gaming community.
While gaming phones often seem like a product without a market, we are a bit sad to see Lenovo pack it in since the Lenovo Legion Phone Duel 2 was the most extreme version of the idea. That phone had what must have been the most powerful cooling system ever fitted to an Android phone, with two internal cooling fans, copper heat pipes, and loads of graphite pads. While most passively cooled Android phones would quickly throttle in a graphics-intensive game, this was one of the rare phones with what looked like sustainable cooling. Of course, it didn't fit into a normal smartphone body—the phone's center (in landscape) was about twice as thick as normal, but it was a neat product.
Lenovo packed a lot of other interesting additions into its gaming phone: it had six touch-sensitive buttons on the back: four on the top edge of the phone, replicating L1/R1 L2/R2 design of console controllers, and two on the back of the phone for your middle fingers. It also had two USB-C ports: one in the usual location, but since that would be blocked during landscape gaming, a second port was on the side of the phone, so it would point downward during landscape gaming. You could charge from either port, but you could also charge with both ports simultaneously, which Lenovo called 90 W "ultra-fast double charging." The included charger had two USB ports on it.
Lenovo was right to focus on cooling because while PC gaming computers can prove their worth with premium parts, there's no such thing as "better than flagship" parts for smartphones. The Duel 2 had the same Snapdragon 888 SoC as every other flagship device, but at least it could run without throttling. The other things that exist for PC gaming and don't exist for Android are games, or at least games that would encourage buying enthusiast-grade hardware. Even if you found a faster-than-normal phone, there would be few apps that could take advantage of it other than an emulator.
Listing image by Lenovo
For more updates check below links and stay updated with News AKMI.
Life and style || E Entertainment News || Automotive News || Consumer Reviewer || Most Popular Video Games || Lifetime Fitness || Giant Bikes

Source