US
2 witnesses in Alex Murdaugh's murder trial testify his voice was caught on video just before killings | CNN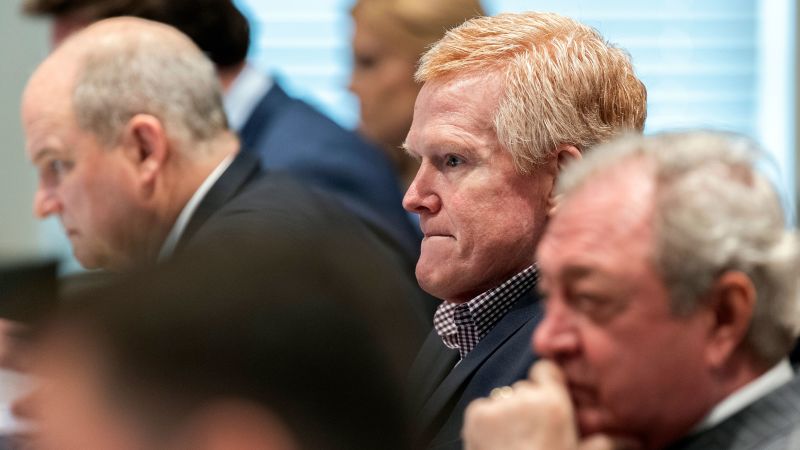 CNN
 — 

Two witnesses in the murder trial of Alex Murdaugh told the court Wednesday they are "100%" certain that Murdaugh's voice is on footage prosecutors say undermines the disgraced former South Carolina attorney's claim he was not at the scene of the killings when his wife Maggie and 22-year-old son Paul were fatally shot.
The video, just short of a minute long, was filmed on Paul's phone starting at 8:44 p.m. the night of the killings in 2021, according to Lt. David Britton Dove, a supervisor in the computer crimes center at the South Carolina Law Enforcement Division who extracted forensic data from the phones of Murdaugh, his son and his wife.
Three different voices could be heard in the footage, Dove testified Wednesday, saying the video appeared to have been recorded in the area of the Murdaugh family's kennels. And while Dove did not personally know the voices, he said, "You can tell that they're different voices."
Prosecutors believe one of those voices – the only other on the video besides the victims' – belongs to Alex Murdaugh, placing him at the scene at the time of the murders. And while Murdaugh maintained in interviews with law enforcement he was not there, two witnesses Wednesday backed up prosecutors' claim.
Rogan Gibson, who said he was a close friend of Paul's and the Murdaughs were like a second family to him, told investigators shortly after the killings he was 99% sure he heard Alex Murdaugh's voice in the background of a phone call he had with Paul at 8:40 that night. When he was shown the video last November, he told investigators he was 100% sure it was Murdaugh's voice in the background of the footage – an assertion he repeated in court Wednesday.
When asked by state prosecutor Creighton Waters if he recognized Alex's voice, Gibson said, "Yes, sir."
"100%?" asked Waters. "Yes, sir" replied Gibson.
Will Loving, another witness who was Paul's friend, also testified he was "100%" sure it was Alex's voice on the video.
Prosecutors have indicated cell phone evidence is key in their case against Murdaugh, who has pleaded not guilty to two counts of murder and two counts of possession of a weapon during the commission of a violent crime in the killings of his wife Margaret "Maggie" Murdaugh and his 22-year-old son Paul on June 7, 2021.
Murdaugh called 911 the night of the killings to report he'd found his wife and son shot dead at the family's home in Islandton, South Carolina – a property known as Moselle.
But prosecutors accuse Murdaugh of committing the murders to distract attention from a series of alleged illicit schemes he was running to avoid "personal legal and financial ruin," per court filings. Separate from the murder charges, Murdaugh also faces 99 charges stemming from alleged financial crimes, per the state attorney general.
Evidence will show, the state has claimed, that Murdaugh's alleged financial crimes were "about to come to light" when his wife and son were killed.
Gibson knew the Murdaughs practically his entire life, he said. He testified it was Alex Murdaugh's voice that could be heard in the video calling for the family's yellow lab, Bubba, to drop a chicken from his mouth.
Paul Murdaugh called Gibson the night of the shooting, at 8:40 p.m., to ask if something was wrong with Gibson's dog, Cash, which was in a kennel at the Murdaugh property. The two tried to hold a video call so that Gibson could see the dog, but the reception was not good enough, Gibson testified.
Paul told him he would take a video of the dog and send it to him if the FaceTime call didn't work, Gibson said, but he never received the footage. Gibson tried to call and text Paul after the failed video call, he said, but his friend never responded.
Prosecutor Waters of the South Carolina Attorney General's Office – which is prosecuting the case due to the Murdaugh family's decades-old ties with the local solicitor's office – teased the video in his opening statement last week, saying that while Alex claimed to investigators he was napping at the house, video evidence would show he was present at the family's kennels, where the bodies of his son and wife were found.
"You'll see that video and you'll hear from witnesses that identify Paul's voice, Maggie's voice and Alex's voice," Waters said, telling the court Paul was filming a dog that belonged to his friend because they were concerned about the animal's tail. Murdaugh "told anyone who would listen he was never there … The evidence will show that he was there. He was at the murder scene with the two victims" minutes before Paul's phone "locks forever."
In his own opening statement, defense attorney Dick Harpootlian said the audio from the video obtained by the prosecution would simply show Murdaugh and his wife having a "normal discussion" with "no animosity." Paul is "very happy," Harpootlian claimed. "Nobody's down there threatening him. Daddy is not pulling out a shotgun and killing him."
During cross examination by the defense Wednesday, Gibson said Alex and Paul Murdaugh had a great relationship, and spoke about Alex as an affectionate and loving father who was involved with his sons. Alex was like a second father to him, Gibson said.
Murdaugh cried a lot and "was just real distraught, sad, just tore up" about the deaths, Gibson testified.
"Can you think of any circumstance that you can envision, knowing them as you do, where Alex would brutally murder Paul and Maggie?" defense attorney Jim Griffin asked.
"Not that I can think of," Gibson answered.
The defense attorney also questioned Gibson about the sheds, workshops and vehicles frequently being left unlocked at the Murdaugh property, and guns often left unprotected or just laying around. Gibson conceded it would be easy for someone to sneak on the property and steal something. On redirect from the prosecution, Gibson acknowledged he had never heard Paul complain about people doing that.
In his testimony Tuesday, Dove, the 15th witness called by the prosecution, detailed the communications of Maggie's phone the night of the killings, including a text from Alex at 9:47 p.m. that read, "Call me babe." It was never read.
In his opening statement last week, Waters told the jury Murdaugh repeatedly called his wife that evening before texting her that he was going to visit his mother and driving to Almeda, South Carolina.
"It's up to you," Waters said, "to decide whether or not he's trying to manufacture an alibi."
According to Dove's testimony Tuesday, the night she was killed, Maggie read two text messages – at 8:31 p.m. and 8:49 p.m. – in a group chat with family about Murdaugh's father, who was in ailing health, seconds before her phone locked for the final time.
The display of Maggie's phone turned off minutes later, at 8:53 p.m. At 8:54 p.m., the orientation changed to landscape and the camera activated – an indication, Dove said, the phone was moved and the camera tried to locate Maggie's face in an unsuccessful attempt to unlock.
Maggie's phone showed repeated missed calls from her husband over the course of the next hour, Dove testified, along with evidence it had switched to portrait mode. That, the expert said, was another indication the phone was likely held in someone's hand. A final call from Murdaugh was missed just before 10:04 p.m.
But those calls appeared to be missing from Murdaugh's phone, Dove said Wednesday, testifying that call logs show a gap in calls between June 4 and 10:25 p.m. the night of June 7.
"A gap like that would indicate" that calls were "actually removed from there," Dove said, adding the only way to remove the calls from the log would be to do so manually.
Asked specifically if the calls were deleted from the log, Dove said, "it would appear that way," noting there was no way to know when they were deleted or who was responsible.
Additionally, Murdaugh was in the same group chat as his wife when relatives were texting about his dying father, Dove said Wednesday. And while evidence shows Maggie read both messages, Murdaugh did not read them until the next day, Dove said, despite telling state investigators about his concern for his father's health.
This behavior appeared to be outside Murdaugh's typical texting habits, Dove testified, saying Murdaugh typically had a habit of checking texts within 5 minutes, or sometimes 30 to 40 minutes.
Correction: An earlier version of this story misspelled the Murdaugh family name. The story also incorrectly described a portion of Rogan Gibson's testimony. He told investigators shortly after the killings that he was 99% sure he heard Alex Murdaugh's voice in the background of a phone call he had with Paul at 8:40 that night.
For more updates check below links and stay updated with News AKMI.
Education News || Politics News || Journal News || Daily Local News || Lifetime Fitness || Sports News || Automotive News

Source