US
3 cases that fueled a movement returned verdicts in the last 2 weeks. Here's what the jury decisions highlight — and what's next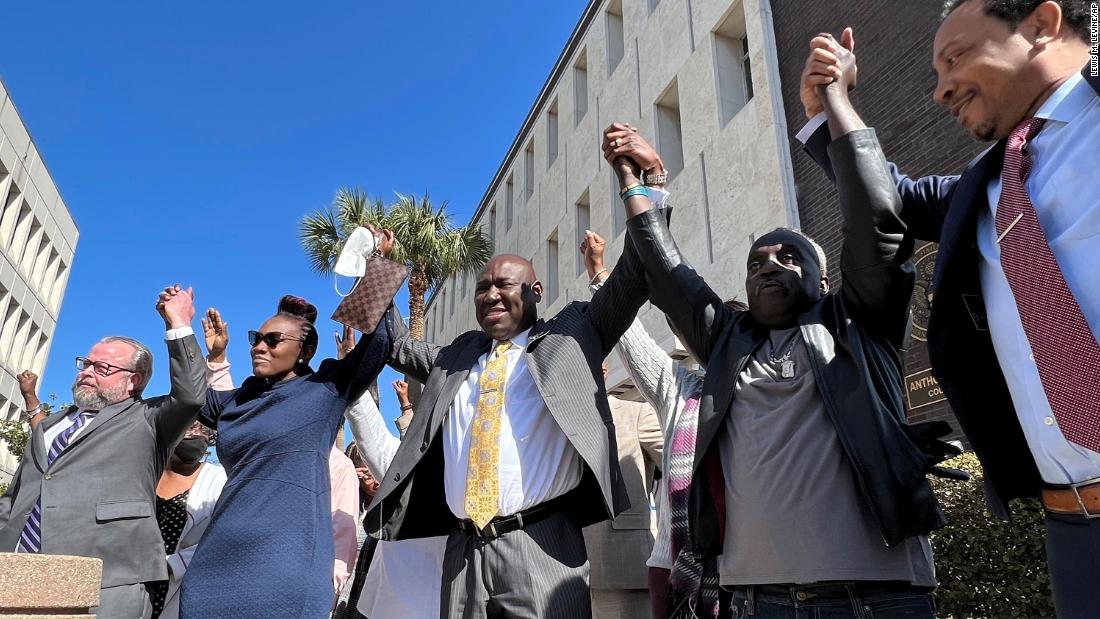 On February 22, jurors in southern Georgia convicted
Arbery's killers,
Travis and Gregory McMichael and their neighbor William "Roddie" Bryan,
of federal hate crimes.
Two days later, a federal jury in St. Paul, Minnesota,
found
former police officers Tou Thao, J. Alexander Kueng and Thomas Lane violated Floyd's civil rights when they ignored his medical needs while Derek Chauvin, a supervising officer,
knelt on his neck and ultimately killed him.
"In many cases, it's social movements that translate into political movements, that translate into political or legal change. And that's what's happening here," said David Schultz, a law professor at the University of Minnesota. "Where it's headed next, it's not completely clear."
Here's what's next for those involved in each case and what experts say the verdicts could mean for the future.
Arbery verdict raises awareness about laws perpetuating violence
The latest verdict in the case could have far-reaching impacts across the US because it shows other victims of hate crimes cases can be successfully prosecuted, and it also raises awareness about the kinds of laws that help drive this type of violence, said Thaddeus Johnson, an assistant professor of criminal justice and criminology at Georgia State University. "It is an opportunity to take stock of these mechanisms that perpetuate these inequities, in particular, when you talk about things like citizen's arrest (laws)."
But because outcomes like this remain rare, many victims may not be willing to speak up or have their case go to trial and receive coverage, Johnson said.
Decision in Floyd's killing puts new pressure on officers
"We got hints that some things are changing, but I wonder and worry about the fact that a resurgence in crime in America takes the political pressure off of elected officials if they don't want to change," Schultz said. "To what extent does this mute any message for police reform?"
An acquittal speaks to 'the bigger picture' of reform
But if anything, the Minnesota verdict, and days later, Hankison's acquittal, highlight the need to holistically rethink how police operate, and not just attempt to hold officers accountable after wrongdoing, said Johnson, a former law enforcement officer. It includes changing the policies police operate under, how officers and supervisors are selected and trained and figuring out how departments can create an environment in which officers feel safe to intervene and speak up in problematic situations, he added.
Jurors deliberated for three hours before acquitting Hankison, a former Louisville officer, of endangering a family in a neighboring unit when he fired into Taylor's apartment during the execution of a search warrant.
Prosecutors argued he shot blindly into a window from outside the apartment, with his gunfire ripping through Taylor's apartment and endangering a man, a pregnant woman and her 5-year-old son who lived next door. Defense attorneys said Hankison's fellow officers were not well-prepared to serve a search warrant, and he made a reasonable "split-second" decision to protect them.
"(The decision) speaks to the bigger picture that it's hard to hold these officers accountable when they're acting under the office of the law, and policy and the direction of their local leadership," Johnson said. "It really points to not (only) the sad and tragic ending, but the events that led up to it and that these are opportunities for reform, and that it shouldn't happen anymore."
In any of the cases, true change will not come out of one verdict, Johnson said. It will take time and consistency.
"What's real justice in these cases?" he said. "If we don't commit to a long-term plan… then unfortunately this will always be our conversation."

For more updates check below links and stay updated with News AKMI.
Education News || Politics News || Journal News || Daily Local News || Lifetime Fitness || Sports News || Automotive News

Source