Australia
Anti-trans activist drenched in tomato sauce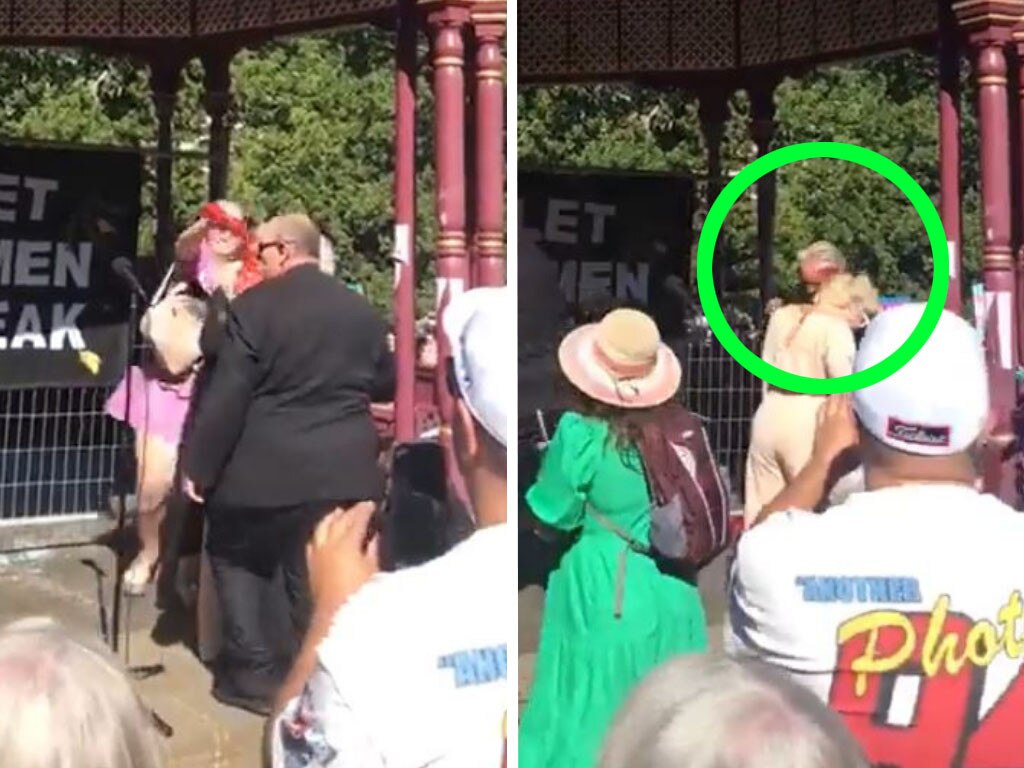 Controversial anti-transgender campaigner Kellie-Jay Keen-Minshull has been forced to cut a rally short after she was attacked with tomato sauce, while her supporters have dubbed LGBTIQ+ protesters as a "deranged mob".
New Zealand immigration officials reviewed the British activist's travel status after she held a rally in Melbourne and decided she is not a threat to public safety, clearing her to enter the country.
The biological sex campaigner, who also goes by Posie Parker, staged a rally in Auckland on Saturday on the next leg of her international Let Women Speak tour, which is aimed to support women's rights.
Read Next
Ms Keen-Minshull attended her organised rally at Auckland's Albert Park, but it was quickly drowned out by LGBTQIA+ protesters.
One of the counter-protesters ran towards Ms Keen-Minshull and poured a bottle of tomato sauce on her head as she was on stage preparing to address the crowd.
Footage shows the controversial activist struggling to get through the crowd to escape the crushing mob with her security.
The crowd quickly became violent with supporters and protesters pushing against each other, while a metal barrier was pushed down by screaming counter-protesters.
"Oi Posie, bugger off," one of the signs in the crowd read.
The anti-trans activist attempted to speak but she was consistently drowned out by screams and chants of "go home".
Counter-protesters quickly took over the rally, chanting "trans rights are human rights".
Police filled out the crowd, attempting to help the British activist escape as signs from counter-protesters read "trans pride" and "real feminists support ALL women".
Another sign read "Protect trans lives".
Controversial Liberal candidate Katherine Deves shared a video of the carnage to her Twitter, calling the mob "utterly deranged".
"So vulnerable and oppressed," she wrote.
"They are an utterly deranged mob, I hope this goes viral."
Ms Deves made further comments saying she was "utterly appalled" by the crowds.
She continued to say the "extreme left are domestic terrorists" emboldened by the state.
"Their rage intensifies as women refuse to back down, they will do anything – intimidation, threats, violent, mobs, screaming to drown women out – to shut women up," Ms Deves wrote.
Ms Keen-Minshull quickly took to Twitter saying the situation was "shameful" and she quickly "feared" for her life.
"I'm very afraid for the women here. The woman hatred is extreme," she wrote.
Another tweet from Ms Keen-Minshull read: "The bravery of the New Zealand women and men who came to speak the truth shall not be forgotten. I was honoured to be among you. I'm so sorry."
She further said that her activism was simple by letting women speak.
"Why does that make anyone so angry?" Ms Keen-Minshull said.
"We showed the world what happens to women when they try to speak. No one can pretend they don't see the salivating misogyny."
Co-leader of the Green Party, James Shaw, issued a statement following the violent rally, saying the party stands with trans and non-binary whānau.
"Aotearoa should be a place where everyone can live their lives without fear of hate or discrimination," he said.
"The Green Party's commitment to nonviolence is at the heart of our founding values."
Victorian MP Moira Deeming said the "vilification and escalating, extreme, public violence" is a "cultural and political crisis".
Ms Keen-Minshull held a rally outside Victorian state parliament last week which quickly descended into violence and was attended by about 30 men dressed in black, who repeatedly performed the Nazi salute before being led away by police.
Anti-trans protesters clashed with pro-LGBTQI+ rights campaigners who staged counter-protests at each of Ms Keen-Minshull's Australian rallies, which were also held in Perth and Hobart.
Read Next

For more updates check below links and stay updated with News AKMI.
Education News || Politics News || Journal News || Daily Local News || Lifetime Fitness || Sports News || Automotive News

Source