Australia
Australian Open 2023 day 8 live scores, results, schedule and order of play: Djokovic v de Minaur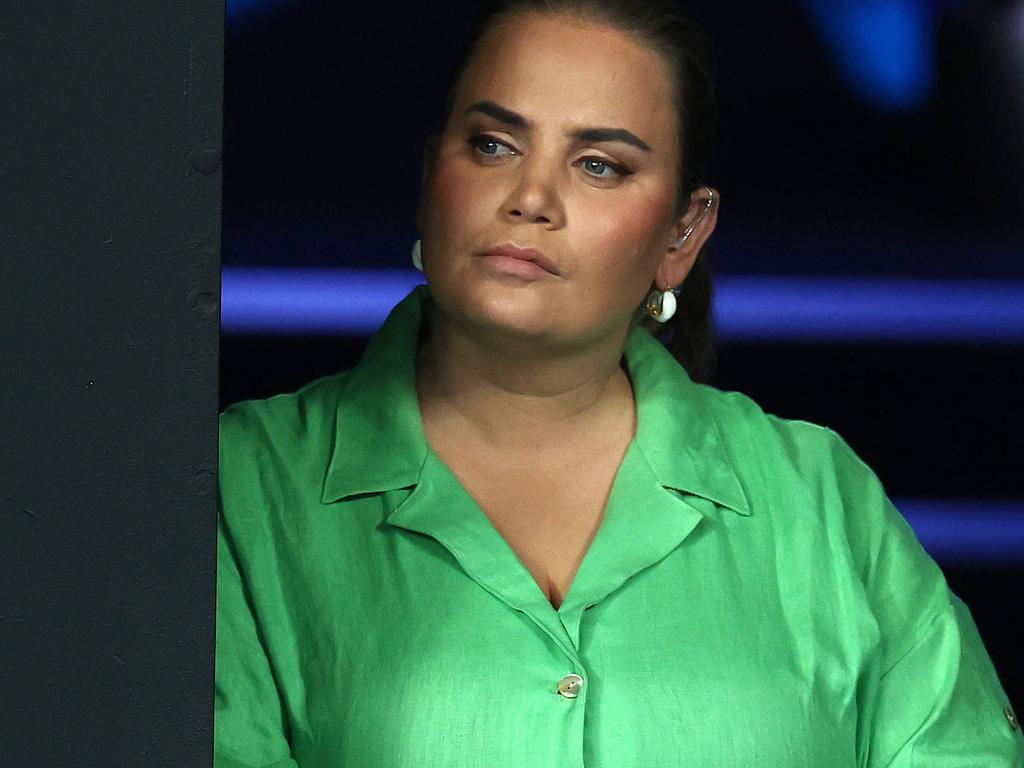 Jelena Dokic has taken social media trolls to task for the second time this Australian Open after being fat shamed by "evil and disgusting" people.
The 39-year-old, who made the quarter-finals of the Australian Open in 2009 and has been open in her experiences with family violence and mental health, took to Instagram on Monday morning to expose the sickening messages she is being sent.
Dokic – who revealed in June that she had considered taking her own life last April – said the vast majority was coming from women
Read Next
"The 'body shaming' and 'fat shaming' over the last 24 hours has been insane," she wrote on Instagram.
"Coming from everywhere in the world and a special shout to so much of it coming from Serbia as the last picture confirms.
"And yes a lot of them are women too. So much for 'women supporting women'.
"Here are just a few examples confirming just how much body shaming I am being subjected to in Serbia as well. And this first picture? EVIL. There is no other word for it.
"Disgusting. People should be so ashamed. The most common comment being 'what happened to her, she is so big'?
"I will tell you what happened, I am finding a way and surviving and fighting. And it really doesn't matter what I am doing and what happened because size shouldn't matter.
"What matters is your online abuse, bullying and fat shaming. That's what matters because those of you that do it are just evil,bad, mean and ignorant people."
It is not the first time Dokic has called fat shaming out as an issue on social media, nor is it the first time she has aired abuse this tournament.
Last week she exposed what she called "a new low" after being sent the following message: "Now that the Australian Open is starting, will Jelena Dokic try to kill herself like she does every year," a commenter wrote to her in Serbian, with a laughing emoji."
1PM TERRIFYING FORM
Public service announcement to the entire WTA tour…Aryna Sabalenka is in devastating form.
The world number 5 has just secured her spot in the Australian Open quarter-finals for the very first time after an incredible recovery against olympic champion Belinda Bencic.
Sabalenka, took it in straight sets 7-5, 6-2, winning 11 of the last 14 games.
She is 8-0 in 2023, 16-0 in sets
12:05PM WHERE IS PENG SHUAI
Shuai Zhang said she is "just waiting for good news" when it comes to compatriot Peng Shuai and the women's tour returning to China.
Peng is not believed to have been seen or heard from since November 2 2021 after she went public with allegations that a former senior vice-premier and high-ranking member of the ruling Chinese Communist Party, had sexually assaulted her 10 years earlier.
The allegations were posted on social media website Weibo before being deleted 30 minutes later.
Global fears for her safety followed and have continued to this day despite video and interviews being released by Chinese authorities purporting to be from Peng.
Not satisfied with the authenticity the videos, phonecalls and stories of Peng's safety, the WTA suspended all competition in China – a decision expected to cost the tour hundreds of millions of dollars in broadcasting and sponsorship.
Even their 2023 calendar is blank after the US Open in September.
11:34PM INSANE COMEBACK FROM THE BRINK STUNS AUS OPEN
WTA chief executive Steve Simon said in April 2022 that the stance would not change until a resolution is found regarding the former world number 14.
"I don't know about this question," Shuai said when asked about the WTA returning to her home country being dependant on Peng's safety.
"I focus on myself so much, and I don't know too much about this, and it's not in my control.
"I'm just the same as everyone.
"I just know from the news or the WTA website.
"But I'm totally the same as everyone.
"Just waiting for [more] good news."
International Olympic Committee (IOC) President Thomas Bach was pictured on a number of occasions with Peng during last year's Winter Olympics in Beijing yet many continue to question the legitimacy of them.
Earlier this month The WTA said it had received confirmation Peng was safe but were yet to meet with her personally.
"We continue to hold firm on our position and our thoughts remain with Peng," they said in a statement. "The WTA continues to work towards a resolution.
"While we have always indicated we are hopeful we will be in a position to again operate WTA events in the region, we will not compromise our founding principles in order to do so."
We've seen some comebacks at the Australian Open but this surely goes down as one of the most unexpected.
In the second round of the women's doubles, Czech pairing Marketa Vondrousova and Miriam Kolodziejova defeated Beatriz Haddad Maia and Shuai Zhang after saving an incredible nine match points.
At 3-6, 7-6, 5-0 and 40-0 up, victory for the Chinese-Brazilian duo looked a foregone conclusion.
Surely there was no way back into this?
Vondrousova-Kolodziejova won five straight games before the deciding set was forced into a tie-break which eventually finished 16-14 in their favour.
They play their third round clash against Kostyuk and Ruse later today.
10:05AM 2:16AM FINISH: AUS OPEN SLAMMED AS DJOKER DEMANDS CHANGE
Two-time Australian Open champion Victoria Azarenka reached the quarter-finals at 2:17am on Monday after winning a bruising late-night encounter against China's Zhu Lin.
The 24th-seeded Belarusian won 4-6, 6-1, 6-4 and will play Jessica Pegula of the United States, the highest remaining women's seed left in the draw at three.
Tournament organisers were widely criticised days ago when Andy Murray and home player Thanasi Kokkinakis did battle until 4:05am.
The match between Azarenka and unseeded Zhu started late at Rod Laver Arena because the preceding encounter between Stefanos Tsitsipas and Jannik Sinner went to five sets.
It turned out to be a gruelling clash, which started late on Sunday and concluded in the early hours of Monday, in front of what was a nearly empty stadium by that time.
"It was two hours and 40 minutes of complete pressure," the 33-year-old Azarenka said afterwards.
Asked what time she would get to bed, she replied: "I don't even know what time it is.
"Probably I'll be up till 6:00am, then mask on and sleep during the day."
Broadcaster and former player Pam Shriver questioned the starting time of the encounter, which was caused by the preceding game.
Earlier in the tournament, Andy Murray and Novak Djokovic both called on Australian Open officials to seek change in the schedule with the amount of late night games.
Players' input is always important for tournament organisation," Djokovic said. "Whether it's decisive, we know that it's not because it comes down to what the TV broadcasters want to have. That's the ultimate decision-maker.
"For the crowd, it's entertaining, it's exciting, to have matches [at] midnight, 1, 2, 3am. For us, it's really gruelling. Even if you go through and win, prevail in these kind of matches, you still have to come back. You have your sleeping cycle, rhythm disrupted completely, not enough time really to recover for another five-setter.
"Something needs to be addressed in terms of the schedule after what we've seen this year."
8:25AM GREEK GOD'S NOD TO ROCKET
Stefanos Tsitsipas took inspiration from the watching Rod Laver to stay calm in the face of an onslaught and battle into a third consecutive Australian Open quarter-final.
The Greek third seed extended his win streak this year to eight matches with a 6-4, 6-4, 3-6, 4-6, 6-3 triumph over Italian 15th seed Jannik Sinner on Rod Laver Arena as the clock ticked over four hours.
Victory set up a clash against surprise package Jiri Lehecka for a place in the semis after the 21-year-old stunned sixth seed Felix Auger-Aliassime 4-6, 6-3, 7-6 (7/2), 7-6 (7/3).
That upset put the Czech into the last eight at a Grand Slam for the first time after being knocked out in the first round at all four majors last year.
"I just stayed really calm, just like Mr Rod Laver used to do in his day," said Tsitsipas as the crowd roared their approval and Australian legend Laver saluted the Greek player from the stands.
"It was a long match, I felt like I spent an entire century on this court playing tennis.
"What a great night. That was superb, 'a ripper' as they say here. I'm really excited to be sharing moments like this on the court, especially in Australia.
"I'm trying to do my best out here, it's not easy. I had an unbelievable opponent on the other side of the court today," added Tsitsipas, the highest remaining men's seed.
7:43AM IS SINNER THE KEY?
Forget reading the form, there's a new theory in town.
Jannick Sinner could be the key to identifying the Aus Open champion and here's why.
7AM BAD BOYS BEHAVED: DID KYRGIOS LOSE AUS OPEN $105K?
Owen Leonard
All-night matches, flag bans and bathroom break denials aside, the Australian Open is reclaiming its 'happy slam' status with tennis' bad boys behaving, the fines tally shows.
The men have thus far been fined a total of A$23,700.60 – just 18 per cent of last year's A$129,276 recorded by the end of week two.
The women have combined for just A$6463.30 in comparison, meaning they will draw closer to their 2022 tally of A$13,645.80 but remain a long way off the umpire abuse and racquet smashes seen in the men's.
Fines collected are reinvested into the grand slam player development program, which gives grants to selected players early in their careers.
The men, however, have been far more tame than previous years, a trend expected to continue given the early exits of serial offenders Denis Shapovalov and Daniil Medvedev as well as the absence of Nick Kyrgios.
Shapovalov in 2022 was fined A$21,546 – nearly this year's week one total – but did not violate in this tournament at all before his third-round departure.
Medvedev was fined A$17,236.80 last year and was one of four players to have copped $4309.20 this tournament but was sent packing by Sebastian Korda in a boilover.
The other three fined that same amount – Oscar Otte, Stan Wawrinka and Adrian Mannarino – are now all out of reckoning.
The PG-rated feel of the tournament has no doubt been aided by Kyrgios' withdrawal, with the crowd favourite fined A$14,364 in 2022.
Kyrgios was also fined more than double that at Wimbledon, which included a fiery stoush with Stefanos Tsitsipas – who is typically one of tennis' greatest donors himself.
However, the Greek star is yet to be fined a cent at this year's Australian Open, probably courtesy of the fact he won all of his first three matches in straight sets.
When his tournament heats up in week two, history shows there's every chance his attitude will, too.
For now, officials appear on track for an unusually meagre collection.
But with the most heated matches to come, racquets, chair umpires and fans evading balls angrily whacked into the crowd aren't out of the woods just yet.
Read Next
Comments

For more updates check below links and stay updated with News AKMI.
Education News || Politics News || Journal News || Daily Local News || Lifetime Fitness || Sports News || Automotive News

Source