Australia
Australian Open Day 12 live scores: Men's semi-finals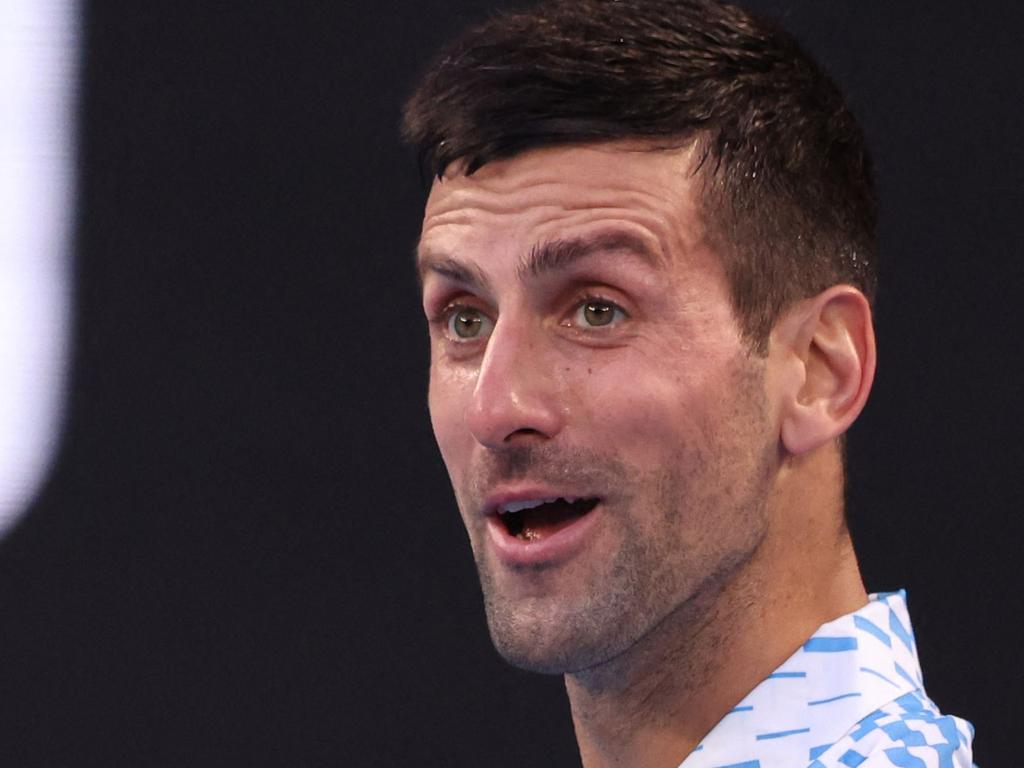 Novak Djokovic is eyeing a date with Stefanos Tsitsipas in the Australian Open final as the nine-time champion takes on American Tommy Paul.
Paul is considered the rank underdog against Djokovic, who has racked up a formidable winning streak at Melbourne Park.
Djokovic has managed a hamstring issue throughout the tournament and his dad Srdjan is not in the stands tonight after being pictured with a Russian flag featiuring Vladimir Putin.
Read Next
Whether that drama has any impact on Novak remains to be seen.
Follow every key moment live below.
TSITSIPAS EYES NO.1 RANK AFTER REACHING AUS OPEN FINAL
Sam Landsberger
Rewind 12 months and Greek umpire Eva Asderaki was planted under Stefanos Tsitsipas' father and coach, Apostolos Tsitsipas, to detect whether he was receiving illegal coaching advice during the Australian Open semi-final.
Opponent Daniil Medvedev's claims were upheld and the Greek star was fined $5000 US for receiving tactical advice.
It was Tsitsipas' second coaching violation in three games. But off-court coaching has since been legalised and Tsitsipas said it was common sense as he shoots for a maiden grand slam that would also deliver him the No.1 ranking in the world.
"Well, the coaching has always been there. Some coaches might have not been using it as much," Tsitsipas said on Friday night.
"In my case, it has always been part of how I do things when I'm on the court. I'm glad it's not penalised now.
"That's how it should be. I see no reason to have a coach with you if they can't share some of their view and knowledge with you when you're competing.
"I feel like it's something very natural in our sport. For sure it should be used."
Tsitsipas, 24, also claimed he – like opponent Novak Djokovic – had a memory blank over their meeting in the 2021 Roland Garros final.
Djokovic came back from two sets down to deny Tsitsipas a maiden slam crown.
Djokovic said on Wednesday he didn't remember Tsitsipas making a grand slam final and Tsitsipas' memory also failed him ahead of his second decider.
"I don't remember either," he said.
After scoring a 7-6 6-4 6-7 6-3 win against Karen Khachanov in the semi-final he is on the brink of forging an unforgettable memory.
Tsitsipas had match point in the third set before finally winning through to the final about 40 minutes later.
A win on Sunday night would seal Tsitsipas as the best current player in the world, overtaking injured youngster Carlos Alcaraz.
"No.1 in world. I like that number," he said.
"It's all about you – it's singular. It's one."
The 24-year-old fan favourite entered the Australian Open as one of three players who could overtake injured youngster Carlos Alcaraz as the world No.1.
Tsitsipas now has Aussie Mark Philippoussis on his team.
What has 'Scud' added?
"Sense of humour," Tsitsipas laughed.
"(And a) serve and volley, which I never use."
"These are the moments I have been working hard for, to be able to play in finals like this but finals that have a bigger meaning than just the final.
"I know it probably doesn't mean as much for Australians…but coming from a small country like Greece I am so grateful that I get support like this.
"I would have never thought I would be treated so well here so I'm extremely happy I'm in the final now and let's see what happens."
Friday's semi-final was marred by a couple of foot-fault calls.
"Apparently I found out it was just a really close foot-fault from the side of the separation line between deuce and ad (court)," he explained.
"That was a foot-fault from that perspective, which we don't get very often in tennis. It's normally when you step on the line.
"Yeah, hasn't happened to me much before. Tactically I wanted to use that. I don't know, I feel like it was a very small foot fault that the line could read.
"Yeah, I was a little bit frustrated 'cause in my eyes I didn't feel like I was doing anything. I changed it, and that was the last time."
What would achieving his childhood dream of becoming world No.1 and banking a slam on Sunday?
"I remember watching it on TV saying to myself, I want to be there one day myself. I want to recreate that feeling for me," the fan favourite said.
"I knew that's a very long journey to get there. There are certain steps you have to take to give yourself the chance to be competing for something like this.
"But I very much believed it. I very much believed it
"First of all, it's your ego that speaks. You either have it or not, you know? As a kid, I was very confident.
"Thank God I was good in my country. Starting from that, I knew if I'm able to get out of my country and compete in other countries, European leagues, European tours, I proved myself over and over again that I'm actually good.
"I did finish as a junior No. 1. Now I want to do it in the men's side, in the men's professional tennis."
9.30PM WHAT DJOKER SAID ABOUT TSITSIPAS THREAT
It looks certain Novak Djokovic will be facing Stefanos Tsitsipas on Sunday for the Australian Open title — and maybe he knew what was coming.
Speaking after his fourth-round win over Aussie Alex de Minaur, Djokovic singled out the Greek star for praise as a player that was ready to become a Grand Slam champion.
"What I wanted to say is I wanted to compliment him because he's someone that looks ready to go for the title, and the way he has been playing, he's been coming closer and closer," Djokovic said.
There was a slightly awkward moment in that press conference when Djoker forget he had already played Tsitsipas in a final.
But I guess that happens when you've played in so many finals…right?
9.20PM DJOKOVIC LEADS TWO SETS TO LOVE
Novak Djokovic has no trouble on serve at 5-1 in the second set, cruising to a two sets to love lead against Tommy Paul. It's surely a bridge too far for the American now, if it wasn't already.
9.10PM DJOKER DOUBLE BREAK
He's done it again. For everything Tommy Paul has thrown at Novak Djokovic this is turning into a stroll — on the scoreboard at least. Djoker leads 4-0 in the second set.
9.07PM COMMENTATORS AT LOSS TO EXPLAIN DJOKER DRINK
Jim Courier has been doing his best in the last 10 minutes or so to try and work out what's going into Novak Djokovic's drinks which his team have been mixing in the stands. Here's the commentator's latest thought: "That's what was taped to the bottle, a little tablet. No way for us to know exactly what that is for. But based on his look after some long points, you would suspect that it is energy-based.
"Some sort of a pill to try and give him an energy boost here but the scoreline should give him a boost. If he is feeling fatigue for the moment, he could dump a return game and not really worry about it. Save some energy."
9.05PM DJOKER SURVIVES MORE BREAK POINTS
Tommy Paul is pushing Novak Djokovic physically but just hasn't been able to finish off his chances.
The American has had eight break points compared to Djokovic's six but has only converted twice.
Djokovic meanwhile has nailed four of his six opportunities.
Djokovic leads 3-0 in the second set.
There was a nervous moment where he appeared to grimace and had to take a moment to catch his breath in the middle of that game.
8.55PM DJOKOVIC BREAKS…AGAIN
Tommy Paul has had huge issues on serve tonight, conceding six break points. This time Novak needs two to seal the advantage and go 2-0 clear in the second set.
8.44PM DJOKOVIC BREAKS TO TAKE FIRST SET
And just like that all Tommy Paul's good work is undone. Djokovic breaks again and seizes the first set 7-5.
Djokovic was very animated at the change as well, pumping his fist to the crowd. There's a decent number of Novak fans in tonight but also a lot of booing going on.
8.36PM FOUR IN A ROW – PAUL LEVELS
Tommy Paul is right back in this match!
From 5-1, the American underdog levels at 5-5 in the first set.
This has come from absoutely nowhere.
8.31PM 'SUBSTANTIAL DROP OFF': DJOKER REELING
Tommy Paul has both breaks back! What a plot twist. The American gets the first serve back on serve at 5-4 and Novak Djokovic needs to find some answers. The last three games have been well below his usual level. "The last couple of games…the quality of play has dropped and now he's also not being quite as aggressive with his shots," Jim Courier says in commentary.
"He's moving back more into his old pattern of less aggressive, trying to be more consistent but hasn't found the consistency to match the slower pace yet. What a chance for Tommy Paul."
8.23PM PAUL GETS ONE BREAK BACK
There was a moment of tension at 40-40 when Novak Djokovic approached the chair umpire, seemingly frustrated by the service clock. The agitation seems to have affected Djokovic as he sends of a backward wide and hands Paul back one of his two breaks in the opening set. Djokovic still leads 5-2, but that was a strange few minutes from him.
8.17PM DJOKER BREAKS AGAIN
The first set is almost Novak Djokovic's after he breaks again to lead 5-1. Paul only has two wins and 13 unforced errors.
8.05PM PAUL ON THE BOARD
Tommy Paul holds serve but Novak Djokovic still leads 3-1 in the first set.
7.56PM DJOKER BREAKS
We asked a few minutes ago whether Paul believed he could win. If he did, his confidence will have taken a hit after dropping his opening service game. Djokovic leads 2-0.
7.52PM 'UNUSUAL' START BY DJOKOVIC
Todd Woodbridge describes it as "unusual" as Novak Djokovic double faults to give up a break point in the opening game of the semi-final. Tommy Paul also got a look after Djokovic hit a backhand into the net at deuce when he overbalanced. Djokovic's serve gets him out of trouble on both occasions and he eventually holds after an early scare. Maybe that's enough for Paul to believe?
7.35PM PAUL ON SEMI-FINAL DREAM
Tommy Paul has spoken of the importance of putting American tennis back on the map 16 years after Andy Roddick featured in the last four at Melbourne Park.
Paul, the rank underdog against nine-time champion Novak Djokovic tonight, said the importance of being a custodian for US tennis was not lost on him.
"It's important to me. American tennis is, since I was young, that's all we've been hearing, since like 14 years old," Paul said.
"The coaches have been telling us, we need new Americans, we need new Americans. It's kind of engraved in my head.
"We all want to perform. Obviously Frances (Tiafoe)was pretty damn close at US Open to getting past the semis. Who knows what would have happened in the finals.
"Yeah, I mean, I think we all want it pretty bad for ourselves, but we want it for U.S. tennis, too."
Lleyton Hewitt says of Tommy Paul's chances: "He has to take it to him as much. s possible. Easier said. I think he has to try to change direction. Got to use his shots down the line to open up Novak as much as possible. He has to find a way of holding serve."
7.20PM WILL 'SCAR TISSUE' HURT TSITSIPAS HOPES?
Stefanos Tsitsipas was one set away from sealing his first Grand Slam win in 2021 at the French Open.
The Greek star led Novak Djokovic two sets to love after taking the first two sets 7-6 6-2 at Roland Garros.
Then Djokovic produced one of his greatest comebacks.
The next three sets went 6-3 6-2 6-4 in Djokovic's favour to leave Tsitsipas stunned.
Commentator Jim Courier wondered whether the result would still cause mental scars if Djokovic progresses to face Tsitsipas in Melbourne.
"He's got to believe it. He can," Courier said on Channel 9.
"If it's Novak, he's got – you know, some scar tissue from the one final he had played.
"He led (by two sets) at Roland Garros a few years ago against Novak. He couldn't close that. "Does he believe that he's different now? That's what he has to believe, that this is his time and he had to take his chances and play on the front foot."
7.05PM WILL DJOKER DRAMA OVERSHADOW SEMI-FINAL?
Hours after his dad Srdjan issued a statement to say he would not be attending tonight's match, Novak Djokovic will take the court against Tommy Paul.
Novak is no stranger to controversy and the likelihood is the drama will not impact on his performance tonight.
The timing though is at least less than ideal though and Ukranian tennis star Marta Kostyuk has tonight described the video of Srdjan with a flag featuring Vladimir Putin as something which "cannot be left unseen".
'SO NEGATIVE': COACH'S FIERY ANTICS CALLED OUT
Former British tennis player Laura Robson has called out the coach of an Australian Open finalist for his antics on Rod Laver Arena last night.
Elena Rybakina booked her spot in Saturday night's final with a straight sets win over Victoria Azarenka but it is her coach Stefano Vukov who has Melbourne Park talking.
Under new rules, coaching is allowed from a player box throughout the match and Vukov appeared to grab the opportunity with both hands.
A number of times he was shown throughout the telecast addressing Rybakina.
But Robson wasn't a fan of the delivery of the message.
"We were actually watching the box a lot through the match anyway because, I don't know how she deals with the coach," Robson said.
"He seems to be so negative to me on the side."
Despite the liveliness, Rybakina won through her match but will be an underdog in the final against No.5 seed Aryna Sabalenka.
'UNACCEPTABLE': NOVAK'S DAD'S ACTIONS CONDEMNED
Opposition Leader Peter Dutton and Victorian Shadow Sports Minister Sam Groth have condemned the actions of Novak Djokovic's father, who was caught up in a pro-Russian flag furore.
Images emerged of Srdan Dokovic dad posing alongside a man with a flag bearing Russian president Vladimir Putin's face, in an apparent breach of Melbourne Park rules.
He was filmed appearing to say "long live the Russians" in Serbian as a group of fans waved banned Russian flags and chanted pro-Russian slogans on the steps of Rod Laver Arena after Djokovic's Wednesday night win over Russian Andrey Rublev.
Dutton said it was a "bizarre act".
"The Russian onslaught continues, and frankly everybody of goodwill should be trying to deter, not encourage Putin," he told Nine.
"It's a bizarre act – sometimes you see these (things) from tennis parents and others over the years, but it's an issue for Tennis Australia."
Groth said the behaviours were "unacceptable".
"Acts of incitement have no place in our state and no place at our major events," he said.
"The Australian Open must be a welcoming, safe and inclusive event for all, not an opportunity to express a harmful and offensive agenda or deliberately intimidate others.
"Melbourne and Victoria are on the world's stage and our reputation as a major events capital is on the line.
"It isn't good enough for the state government to avoid responsibility and buck pass to others.
"This situation has gone on for too long and the State Government and event organisers must explain what actions they are taking to put an end to these unacceptable behaviours."
It comes as 11 Ukrainian civilians were killed and nearly a dozen more were injured in the wake of a deadly Russian missile attack overnight.
The attack came in response to the announcement the United States and Germany would send tanks to the besieged country.
CHANNEL 9'S AWKWARD SEMI-FINAL PROMO GAFFE
Channel 9 … you had one job!
The Australian Open's host broadcaster threw to a network promotion during the seesawing first set of the Elena Rybakina-Victoria Azarenka semi-final on Thursday night.
Nine was, of course, plugging the men's semi-final double-header on Friday.
There was only one problem – the games they advertised won't be happening.
The players were right but the match-ups were horribly, horribly wrong.
"Crowd favourite Tsitsipas takes on American Tommy Paul," the voice over read.
"Plus, he's breaking all the records. Novak Djokovic faces Kachanov in a semi-final epic."
Umm … nope.
Tsitsipas faces Kachanov in a semi-final epic and the bloke breaking all the records, Novak Djokovic, takes on American Tommy Paul.
You'd think with four players and three games remaining in the men's tournament you would get that one right. Oops.
SNUB WHICH SHOWS DJOKER-PAUL HATRED IS REAL
– Scott Gullan, Liam Healy and Julian Linden
Tommy Paul has never played Novak Djokovic in a match before, however that doesn't mean the American hasn't had a run-in with the Serbian great.
While Djokovic's mental toughness on court and in game may be his greatest strength, will a certain moment from the 2022 Laver Cup be enough for the American to be in his head?
After defeating Frances Tiafoe, Djokovic approached the USA bench to shake the team's hands.
One opponent did not shake the nine time Aus Open champion's hand.
In an awkward moment, Paul turned his back, avoiding the Serbian.
So have the two been waiting for a moment such as this ever since?
Paul caught a glimpse of a scoreboard as he was on his way to his press conference on Wednesday night and wasn't surprised.
His potential semi-final opponent, Novak Djokovic, was already having his way with Andrey Rublev on Rod Laver Arena.
Two hours earlier he'd produced his best career result on that court, defeating fellow American Ben Shelton to book a spot in the final four at a grand slam for the first time.
"I think I saw Novak 5-1 in the first or something," Paul said. "That's probably who I want to play. I mean, probably have a better chance of winning if it's Rublev, but to play Novak here in Australia would be awesome."
And there it is. The mental hold Djokovic has over the rest of the field in a nutshell.
Paul, 25, was just being a realist. The world No. 35 has never played the nine-time Australian Open champion before which adds to the element of intrigue.
"I saw him in the locker room after I finished my match and he said, 'Congrats'," Paul said. "I think we have practised before. I mean, I'm sure we practised before but we've never played a match against each other.
"Obviously he's pretty comfortable here in Australia. It's going to be a challenging match. But I'm playing some of my best tennis, so it's a good time."
Djokovic has been in this situation many times, an up-and-comer with nothing to lose on their first trip to the final four. Most seem to melt in those circumstances but there is the odd one who can play with freedom.
"He's been around for a few years, I watched him play quite a bit, especially during this tournament," Djokovic said. "He's been playing probably the tennis of his life.
"A very explosive, very dynamic player. Quick, very solid backhand. Likes to step in, dictate the point with the forehand. Great, great service motion.
"I think he can hit all the spots with the serve. Very complete player. He's got the coach (Brad Stine) that has been around with some top players for many years.
"First semi-finals for him, so of course he doesn't have much to lose. I'm sure he's going to go out trying to play his best tennis."
The bad news for Paul is that according to Rublev, who had faced Djokovic three times previously before the quarter-final, the 21-time grand slam champion is going better this year.
"Out of three times that we played before, today he played much better compare our previous meetings," Rublev said. "Today, in my opinion, he was playing much better. That's it. I don't know what else to say."
Former Australian Open champion and leading commentator Jim Courier says his countryman needs to try and exploit Djokovic's injury concerns.
Even though the Serbian hasn't showed too many issues with his hamstring in his last two matches, Courier believes it is something Paul has to focus on.
"He's a heavy, heavy favourite, there is no doubt that is the case," Courier said. "But there's still the strapping on the leg that is hovering. He has played unbelievably well, ruthlessly efficient in his last two matches against quality opposition, but you're only one step away from trouble if you have the hamstring issue.
"That is what Tommy Paul has to sell himself, to tell himself. Novak, when he is normal, he hits the back end and he slides the open stance on the open side but he is turning around so as not to put pressure on the left leg.
"That is not normal. That tells me he is protecting a problem there so it's tougher for him to defend in the backhand corner. He (Paul) will need to use that and get Novak to do something awkward."
All aboard the Tsitsipas magic carpet ride
Greek tennis star Stefanos Tsitsipas is back on his magic carpet and taking everyone along for the ride.
Now, he just needs to make sure he doesn't fall off this time.
The adopted favourite son of Melbourne's large Mediterranean community, Tsitipas is just one win away from reaching his first Australian Open final.
He's so close he can feel the excitement and is already talking up his chances.
"It's a match that I'm looking forward to. It's great to be back in the semi-finals," he said.
"Of course, I'm definitely happy with the way I've been playing so far. I'm looking ahead for more, for better. Looking to create some magical experiences here in Australia."
All the omens look good for Tsitsipas this time as he prepares for his semi-final opponent, Russia's Karen Khachanov on Friday.
The pair have played each other five times before with Tsitsipas winning each time but he still isn't taking anything for granted because this is the first time they've squared off in a best-of-five sets match at the Australian Open.
Ranked fourth in the world, Tsitsipas has more experience on Melbourne's hardcourts than his Russian rival, but he's also bombed out in his previous three Australian Open semis, in 2019, 2021 and 2022 so has been working as much on getting his head right as his body.
"I'm a different player, playing differently. My mentality is different," he said.
"When I'm out on the court, I don't really think of negatives, to be honest. I just go out there and play the game. It's clearly mindset. Nothing more. I think it's absolutely that.
"I feel great. I've been playing some good tennis. The thing that I talked about with the mindset, it's also the perspective that you get to see things from."
Still only 24, Tsitsipas has all the physical attributes to be a grand slam champion but questions remain about his mental toughness after he imploded during his bitter showdown with Nick Kyrgios at Wimbledon last year.
Tsitsipas has been on his best behaviour since returning to Australia but knows the biggest tests are still to come when the stakes and pressure get ramped up
Khachanov is no shrinking violet.
A semi-finalist at last year's US Open, he is one of the most improved players in the game and has a reputation as a giant-killer after beating Kyrgios in New York.
He's had to deal with a lot of other issues in Melbourne – including being heckled over his nationality even though he's competed as a 'neutral' so is battle-hardened and ready for anything.
"It's all the details," he said. "All the small things that you put together in order to kind of do those steps forward and to, yeah, to keep achieving those goals which are set.
"Making the semi-finals at the US Open gave me an extra boost and extra confidence to show where I really am and what I can do when I'm at my best and how I can be more consistent.
"All those things together, they've pushed me to where I am right now."
Being a Russian at the Australian Open this year is hard enough because of Vladimir Putin's trooping wage war in Ukraine, so Khachanov knows he won't be popular if he manages to defeat Tsitsipas.
But he's used to that too, because he's been knocking out the crowd favourites ever since he stepped foot in Melbourne Park, with his victims including Aussie hopeful Jason Kubler, American showman Frances Tiafoe and Sebastian Korda, the son of the 1998 Aussie Open champ Petr.
Topics
Read Next

For more updates check below links and stay updated with News AKMI.
Education News || Politics News || Journal News || Daily Local News || Lifetime Fitness || Sports News || Automotive News

Source