Australia
Exclusive: Scott Morrison's high-flying $3.1 million travel and accommodation costs revealed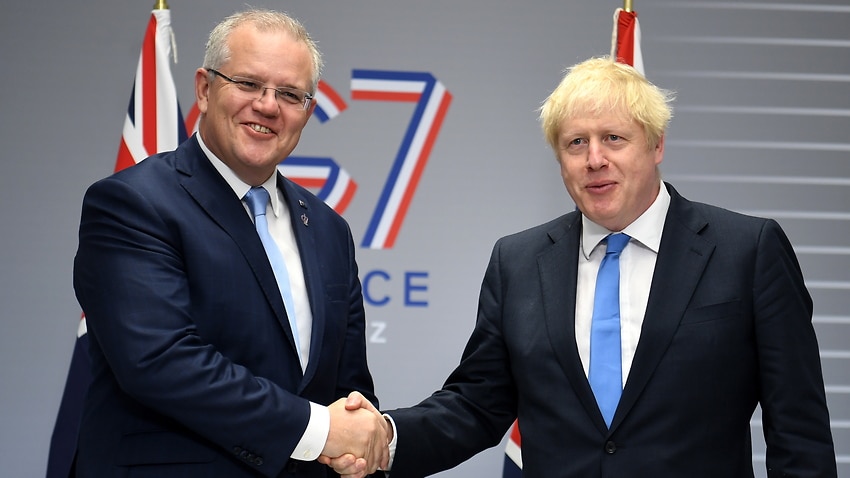 Scott Morrison has become Australia's highest-flying new Prime Minister, spending more than $3 million on international flights and accommodation during his first 15 months in office.
It has been previously revealed by SBS that Mr Morrison embarked on more overseas trips in his first year in office than each of his predecessors.  
New figures show the Prime Minister made 17 international trips to 19 nations during his first 15 months in office, at a cost of $3,105,537.
Figures released by the Department of Prime Minister and Cabinet and Defence show Scott Morrison's State Visit to the United States of America was his most expensive international trip, costing $527,840, including $328,176 in Royal Australian Air Force flights.
The visit, in September 2019, was the first abroad by a Prime Minister onboard the new KC-30A aircraft, dubbed 'Shark One' by Scott Morrison's aides.
The former commercial Qantas and JetStar aircraft was refurbished at a cost of $250 million.
The documents show flights to Wapakoneta in Ohio, where the Prime Minister appeared on stage with President Trump at the Australian-owned Pratt Industries Paper Mill, cost $17,553.
Ten of the Prime Minister's 17 international trips cost in excess of $100,000.
Scott Morrison's least expensive international visit was a $41,154 day trip to Auckland to meet with New Zealand Prime Minister Jacinda Ardern in February 2019. 
TOP TEN PM TRIPS
US State Visit, September 2019 – $527,840
UK / Singapore, June 2019 – $391,970
G20 Argentina, November 2018 – $350,572
G7 France, August 2019 – $291,747
G20 Osaka, June 2019  – $287,735
East Asia Summit Thailand, November 2019 – $174,504
President Widodo Inauguration, October 2019 – $135,951
UAE / Iraq, December 2018 – $181,135
Pacific Island Forum, August 2019 – $119,450
ASEAN Singapore, November 2018 – $115,851
"Every trip the Prime Minister makes is to advance Australia's interests strengthening our trading relationships and strengthening our national security," a spokesperson for the Prime Minister told SBS News.
"As the Prime Minister has said, he only travels overseas when it is necessary and will deliver outcomes that benefit Australian families and businesses."
The spokesperson said the travel schedule included "additional trips to the usual Prime Ministerial schedule" and did not include deducting the cost of journalists accompanying the Prime Minister on overseas visits.
The COVID-19 pandemic has meant the Prime Minister has not made any international trips since he attended the East Asia Summit in Thailand in November 2019, cancelling planned visits to Japan and India, co-hosting a series of "virtual summits" instead.
"I hope that virtual summits are part of the future," the Prime Minister told reporters in Canberra.
"I think there's rarely been a more frenetic period in which an Australian Prime Minister has engaged with other leaders but the traditional method of leaders coming together also can't be underestimated.
"I mean, I don't think it's a question of 'either' 'or', I look forward to a time where you can do both."
The expenses have raised eyebrows in Canberra, particularly given the Prime Minister's public critique of what he called "negative globalism".
"Most Australians will see these travel expenses as very large and won't understand how it is that a Prime Minister could spend this amount on travel in just fifteen months", Labor Senator Tim Ayres told SBS News.
"This Prime Minter and his friends in the government were very critical of previous Labor Prime Ministers who spent much less travelling around the world putting Australia's interest first."
Michael Shoebridge from the Australian Strategic Policy Institute told SBS News the investment in meeting international counterparts in person has likely helped during the pandemic. 
"If you want Australians to be safe and prosperous, then you want our government and our leadership to be engaged with the world and that is a cheap price for those outcomes," he said.
"Scott Morrison was at the G20 meeting in the middle of last year and he met a bunch of world leaders there.
"That meant that when the pandemic hit and people couldn't meet face to face, he already had that reservoir of relationships and rapport, he's already met them physically, and that makes the virtual meeting far more effective."
For more updates check below links and stay updated with News AKMI.
Education News || Politics News || Journal News || Daily Local News || Lifetime Fitness || Sports News || Automotive News

Source