Australia
F1 Australian Grand Prix 2023 live results, Oscar Piastri, schedule, practice times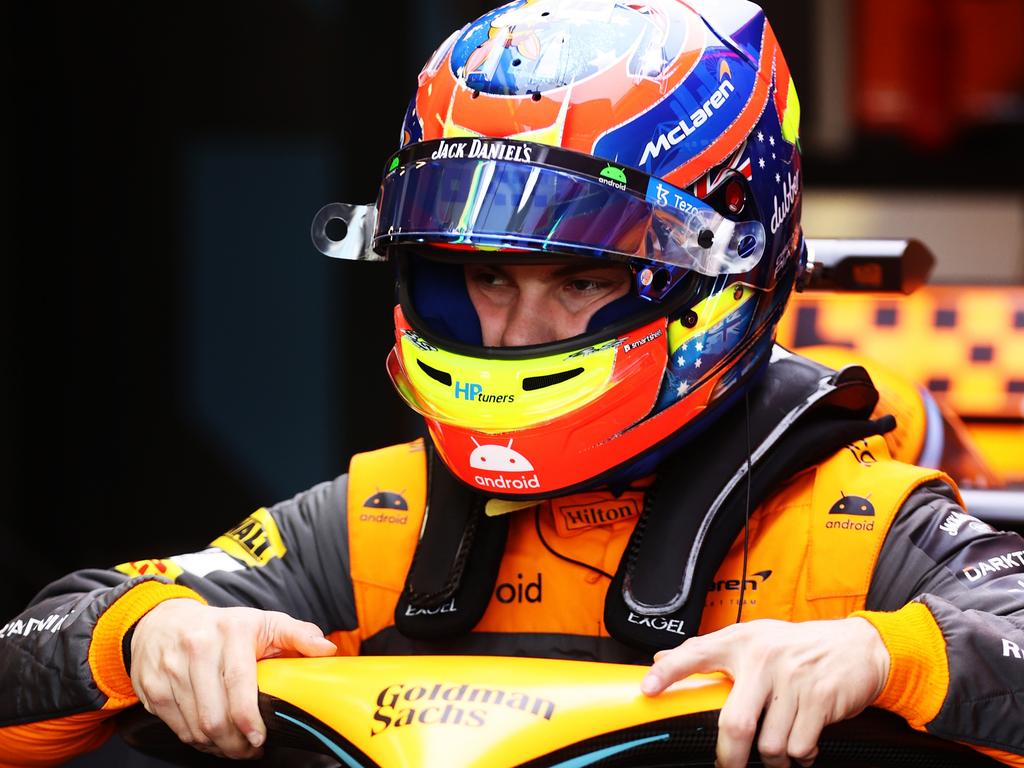 In a practice session which was interrupted for 10 minutes due to a GPS system outage, Verstappen gave his rivals a taste of his intentions at Albert Park after topping the practice times ahead of Mercedes rival Lewis Hamilton and Red Bull teammate Sergio Perez.
Red Bull looked like having the two fastest cars for most of the practice before Hamilton moved into second position late in the session, almost half a second off the pace of Verstappen.
Read Next
But the Dutchman survived a hairy moment in the last 10 minutes of the practice session when he spun at turn four, but was able to recover and keep going.
Aston Martin's Fernando Alonso and Ferrari's 2022 Australian Grand Prix winner Charles Leclerc rounded out the top five.
Australian young gun Oscar Piastri steered his McLaren to just outside the top 10 in his debut on track at his home Grand Prix.
Piastri, who has only ever raced go-karts in Australia previously, was 11th fastest in his first spin around the Albert Park track.
His McLaren teammate Lando Norris fared better, finishing seventh fastest after being the last driver out on track while he team worked on his car in the garage for the first 25 minutes of the session.
Alpha Tauri's Yuki Tsunoda also survived a big moment half-way through the session when he ran off the track and bounced along the gravel trap at turn one, but was able to continue.
After a dominant start to the year, Red Bull is attempting to secure a third consecutive one-two finish for the first time in the team's history, at this week's Australian Grand Prix.
Verstappen and Perez each have one win each from the opening two races in Bahrain and Saudi Arabia.
1:30PM PRACTICE ONE ORDER
Verstappen
Hamilton
Perez
Alonso
Leclerc
Sainz
Norris
Gasly
Russell
Stroll
Albon
Piastri
Hulkenberg
DeVries
Sargeant
Ocon
Tsunoda
Bottas
Zhou
Magnussen
1:26PM SPIN AND OUT
Verstappen finding himself the wrong way on the track, his tyres totally shot and he's not happy with the balance of the car.
Meanwhile at the exit of 11, Logan Sargeant is off the track and I don't think that car is going anywhere soon. Power loss.
1:10PM BIT OF CARNAGE ON TRACK
Cars in the gravel everywhere you look.
F1 STARS BACK CEO'S CALL FOR DRASTIC RACE CHANGES
Formula One drivers have backed the CEO's calls for practice sessions to be reduced to just one per race weekend.
Earlier this week, Stefano Domenicali double down on his view that fans don't like the current format and that drivers didn't need the time on track.
Of the 23 races on the calendar, six weekends adopt the new sprint format while the remaining 17 consist of three one-hour sessions for drivers to push the car, adapt to the track and test changes.
The sprint format effectively exchanged one practice session for a one-third-distance grand prix at six weekends.
Domenicali was forced to tone down his call for all practice sessions to be scrapped but remains intent on reducing them.
George Russell echoed the CEO's thoughts but insisted one session was essential.
"We obviously can't have no testing at all," Russell said.
"I think one session is good enough for all of us to do the various things we need to try to help develop.
"This is still the pinnacle of the sport. You don't want to be just left with the car that you created at the start of a year with no opportunity to trial new things.
"That is sort of the beauty sometimes, you've got this 60-minute session, you can try new things, develop, improve further.
"Whereas if you're going straight into a session that is points-worthy or there is a reward, you're less likely to trial new things."
Pierre Gasly agreed.
"Definitely three's not needed," he said.
"As a driving point of view it's always nice, you can work on fine details on the car and really try to nail that car balance for the weekend. But generally speaking I think one, two maximum is more than enough for us."
F1 rookie Logan Sargeant said having three hour-long practice sessions "is definitely a lot, especially coming from F2 where you just have to take risks a lot sooner than I currently have to.
"So as a rookie, I don't mind having two or three, but going forward, I don't think three is necessary."
11:24AM NEVER SAY NEVER
Sebastian Vettel has been retired for all of three and ahalf months and we're already talking about the German star returning to the track.
Vettel announced his plans to walk away from the sport midway through the 2022 season and was replaced by Fernando Alonso thi year.
When asked if the door was completley shut on his F1 career, Vettel said: "Everything is possible at the moment, It can go in all different directions.
"Maybe I go crazy in half a year, can't stand it on the couch and want to drive.
"But it can also be that my passion turns in a completely different direction and my ambition, all the experiences can be bundled into another project we'll see"
F1 FUN POLICE: MAJOR RULE CHANGE ON EVE OF AUS GP
The F1 police are in town and there's a late rule change for the Australian Grand Prix.
Teams have been told they can no longer celebrate drivers' victories on the pitwall in another barmy ruling by the FIA.
The sport's governing body, who bungled the outcome of the last race in Saudi Arabia by taking four hours to award Fernando Alonso third place, have taken issue with teams climbing on the fencing.
The celebrations have long been part of the end of F1 races but nit-picky stewards are clamping down.
It comes after they turned their attention to Lewis Hamilton's nose stud and drivers wearing non-regulation underwear.
Ahead of this weekend's Australian Grand Prix, FIA race director Niels Wittich reminded F1 teams that climbing on the pitwall is not allowed.
In his pre-weekend event safety notes, he said "it is forbidden to climb on the pitwall debris fence at any time".
The FIA's International Sporting Code states: "The pit wall signalling platform should be forbidden to all except authorised officials or race team personnel, having a special pass."
It adds: "It is forbidden for personnel to climb on pit wall debris fences at any time.
"Any action by a team breaching this ban will be reported to the stewards."
Meanwhile, the FIA have amended the rulebook after Alonso's Aston Martin team failed to observe a time penalty.
In Jeddah, the team placed a jack under his car and then waited five seconds before working on his car.
While Alonso was eventually cleared and allowed to keep third place, the rules now say it IS illegal to place a jack under the car during such instances.
Instead, they have to wait for the time penalty to be served before doing anything, including putting a jack in position.
10AM HAMILTON WELCOMES RACISM RESULT
Lewis Hamilton applauded the hefty fine imposed on three-time Formula One champion Nelson Piquet for racist remarks about the British driver, saying people "full of hate" should not be tolerated.
Piquet was fined US$945,000 last weekend for calling Hamilton "neguinho" ("little black") in a 2021 interview.
In handing down its judgement, a court in Brasilia ruled that the "intolerable" remarks constituted a "serious offence to the fundamental values of society".
World champion in 1981, 1983 and 1987, Piquet used the term while criticising Hamilton's role in a clash with Max Verstappen, his daughter Kelly's boyfriend, at the British Grand Prix the same year.
Seven-time world champion Hamilton praised Brazil for its action. "I still believe that we generally shouldn't be giving people that are just full of hate a platform," he said in Melbourne ahead of the Australian Grand Prix on Sunday.
"I'd like to acknowledge the Brazil government, I think it's pretty amazing what they've done in holding someone accountable, showing people that that is not tolerated.
"Racism and homophobia is not acceptable, and there is no place for it within our society. So I love that they've shown that they stand for something." Piquet, 70, was fined for "collective moral damages" with the money being donated to groups fighting against discrimination.
He had issued an apology, saying his words were wrong but that he did not intend to offend.
Read Next

For more updates check below links and stay updated with News AKMI.
Education News || Politics News || Journal News || Daily Local News || Lifetime Fitness || Sports News || Automotive News

Source