Australia
F1 Australian Grand Prix 2023 qualifying start time, live, results, grid, Oscar Piastri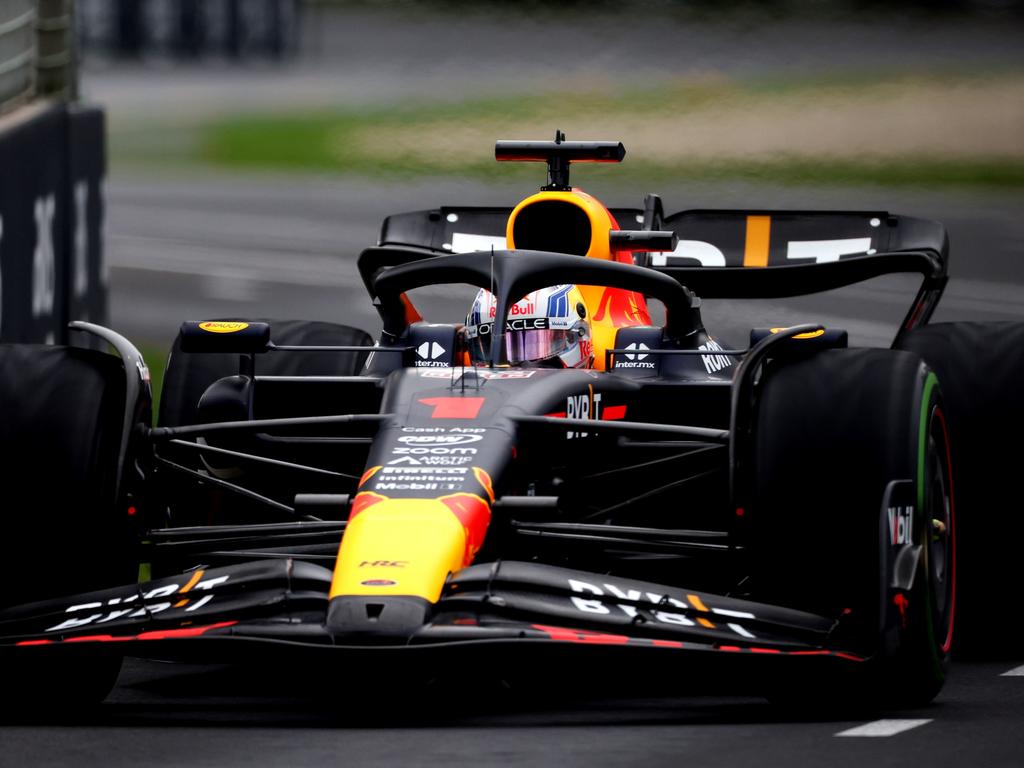 Red Bull drivers Max Verstappen and Sergio Perez are desperate for the showers to stay away during the final practice session after Spanish champion Fernando Alonso outgunned them in the slippery conditions on Friday night.
Possible showers are forecast in the early afternoon with the next hour-long practice session scheduled for 12.30pm, but dry conditions are expected for crucial qualifying hitout at 5pm.
There was intermittent rain around the Melbourne CBD this morning, but conditions have improved significantly with a southerly 20khm breeze fanning the 5km circuit at Albert Park.
Read Next
Alonso produced the fastest time during a wet session on Friday night, finishing ahead of Ferrari's Charles Leclerc and world champion Max Verstappen, who was fastest in the opening dry practice session.
All eyes with be on Australia's Oscar Piastri as he looks to improve on 14th place from Friday when he hit Albert Park for the first time.
'Your Mum' joke leaves F1 fans in stitches
Formula One team principal Guenther Steiner left fans in stitches after a brutal fan put-down. Thanks to Netflix's Drive to Survive F1 series lifting a lid on the Italian, Haas team chief Steiner is known to be prone to angry tantrums as he much as he is a cheeky joke.
And during a Q&A session with fans ahead of the Australian Grand Prix, one young petrol head found himself on the receiving end of one of his jokes.
The young Aussie, named Noah, asked who was the better driver out of Haas duo Kevin Magnussen or Nico Hulkenberg.
Steiner then responded by saying: "Ask your mum.
"Who does she like better, you or your brother?"
The 57-year-old could not help but cast a wide grin after his comeback, with the crowd also left cheering and clapping the response.
SUPERCARS: NIGHTMARE CONTINUES FOR REYNOLDS, SVG SHOCK
David Reynolds has dominated the Supercars qualifying narrative on Saturday morning but not in the way he would have liked.
The veteran's nightmare Melbourne SuperSprint continued with the No. 26 Penrite Mustang ruled out of both sessions.
In eerily similar circumstances to Friday's race, Reynolds found himself in the gravel at turn one, bringing an early end to the early qualifying session and catching the field out.
That handed Erebus a Race 5 front-row lockout with Brodie Kostecki and Will Brown banking the two fastest times before Reynolds' roll-off brought out the red flag.
Read the full report from qualifying here.
'RIDICULOUS' DECISION WILL TRASH F1 CARS
Christian Horner has slammed F1's decision to hold a sprint race at the Azerbaijan Grand Prix as "ludicrous".
The street track has been selected as one of F1's six short races on a Saturday, which are used to determine the grid.
However, the fast nature of the track and close walls with little run off area, leads Horner to fear that teams will "trash" their cars.
Red Bull were penalised for breaking the cost cap last year and big damage in Baku could cause another headache.
He said: "It's absolutely ludicrous to be doing the first sprint race of the year in a street race like Azerbaijan.
"From a spectacle point of view – a fan point of view – it's probably going to be one of the most exciting sprint races of the year.
"But from a cost cap perspective, all you can do is trash your car. And it costs a lot of money [in repairs if you crash] around there.
"One race is enough in Baku."
McLaren boss Zak Brown agreed with Horner's concerns as the parts bill comes out of the team's budget, which is capped at $205 million this season.
He added: "Anytime we go to a street circuit – Baku creates pretty exciting races – some pretty big crash damage bills.
"It'll be very exciting for the fans and hopefully, all the cars will come back the way they started."
The Azerbaijan GP is set to take place at the end of April.
SURPRISE FUNDING SOURCE FOR F1'S SEXUAL REVOLUTION
Red Bull chief Christian Horner said Friday it was inevitable that gender equality would reach Formula One amid reports that a team employing an equal split between men and women was looking to enter the sport.
Former British American Racing (BAR) founder Craig Pollock told CNN last week he wanted to debut "Formula Equal" from the 2025 or 2026 season onwards.
The aim was to have a 50 per cent split between males and females across the whole organisation, from the cockpit to the engineers and the boardroom.
He has reportedly submitted an expression of interest to racing's governing body, the FIA, which opened up the process for finding a potential 11th team earlier this year.
Horner, when asked about Pollock's plan, said he believed gender equality in the traditionally male-dominated sport would happen "naturally" anyway.
"I think it's fantastic to see the amount of girls, females, that are showing interest in Formula One now and we're seeing it at all levels," the Briton said in Melbourne ahead of the Australian Grand Prix.
"I think the interest is growing … it's appealing to more women to get involved in the sport, whether that's from an engineering basis or across all aspects of the organisation.
"As the sport does become more accessible, and we are pushing to make it more accessible, I think that it is something that will naturally happen anyway." Pollock, formerly the manager of 1997 F1 champion Jacques Villeneuve, acknowledged funding such a venture would be hugely expensive but said he was in intense discussions with "a Gulf-area country" about bankrolling it.
CALL FOR HUGE SHIFT TO REVOLUTIONISE AUSSIE GP
The Australian Grand Prix becoming a night race has been endorsed by F1 CEO Stefano Domenicali who also wants the blockbuster event returned to the season curtain raiser.
With the F1 race secured to remain in Melbourne until 2035 despite efforts from Sydney to steal, Domenicali has confirmed talks are underway about Albert Park becoming one of seven night races on the calendar.
Melbourne billionaire and Australian Grand Prix chairman Paul Little said he hoped the event could be staged under lights by 2030 but flagged that significant investment would e needed.
Victorian taxpayers are estimated to have spent a record $78.1 million to host Melbourne's 2022 Grand Prix.
"I'd love to not rule out a night Grand Prix," Little said.
"I just think if we could make that work, that would be amazing and also great for reaching the rest of the F1 audience.
"There is no question more people would watch it if they could see it live at a reasonable hour on the other side of the world.
"So I think we will continue to explore the viability and the capability of doing that."
Aussie F1 rookie Oscar Piastri has endorsed the idea but flagged a significant increase in work absentees on a Monday.
"It definitely adds something a bit different,'' he said.
"I don't know if there would be too many happy people going to work on a Monday morning.
"But from a commercial perspective and it would obviously make a lot of sense.''
Read Next
Comments

For more updates check below links and stay updated with News AKMI.
Education News || Politics News || Journal News || Daily Local News || Lifetime Fitness || Sports News || Automotive News

Source