Australia
FIFA World Cup 2022 Australia v Argentina live score, Socceroos results, stream, TV, teams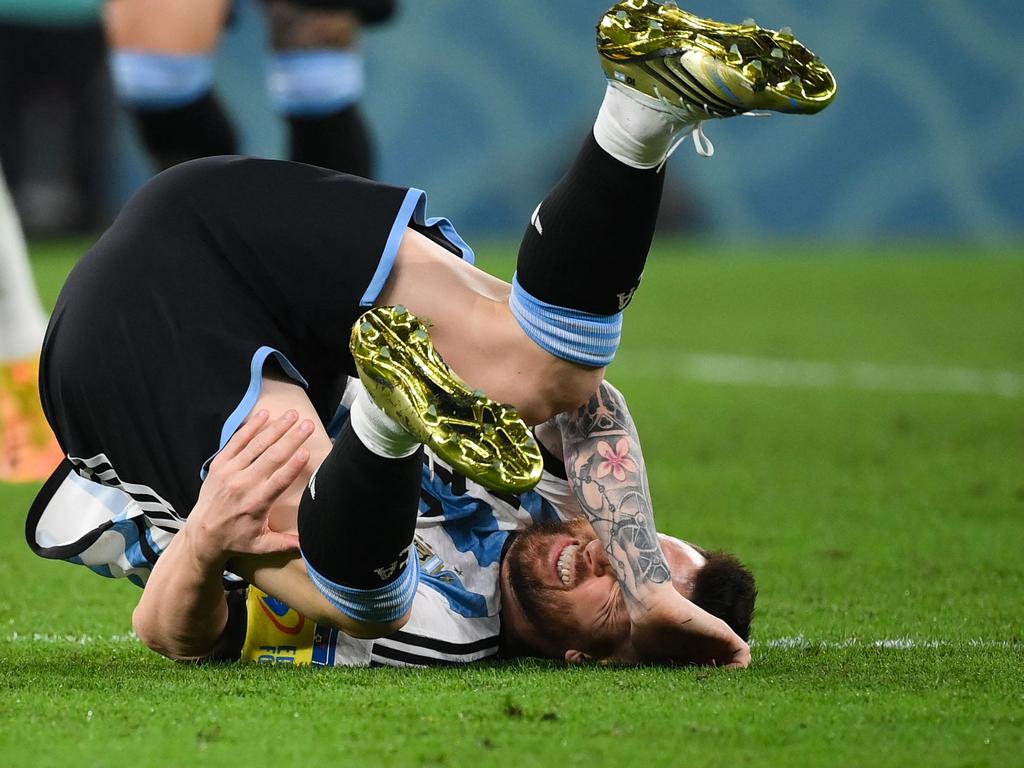 Holland 3-1 USA (Holland into ¼ finals)
Welcome to our coverage of one of the biggest football matches in Australian history!
Read Next
Graham Arnold has the confidence I am lacking so it's a good job he's the one in charge.
Speaking ahead of this morning's clash, here's what he had to say.
"I feel great. Already it's a great atmosphere out there, and it's, you know, a great opportunity for the players. We're just looking forward to the game.
"The boys have recovered fantastically. Their energy has been great. We've built a lot of belief in the starting XI.
"We're prepared well. We're ready to go out on the park. There's great memories here from the Peru game. Overall we have a lot of good memories here in Qatar. We've played eight games, won seven, we're looking forward to continuing that.
"Go out there and give it everything you've got. Leave everything on the pitch. I truly believe that if we do that, we have a great chance of shocking the world."
28 AUS COME CLOSE
Australia playing their hearts out and the ball finds its way into the area and just can't find Souttar where he needs it.
s expected, Argentina calling for a foul every time on of their men is challenged, ref having none of it, real Pierluigi Collina areas this guy. Love it.
25 MINS MESSI MARKING
Big note that messi is not being man marked tonight and he's still not having a massive impact on the match.
21 MINS POSSESSION
A good spell for the Socceroos, a decent run into the area and they continue to frustrate Argentina.
Just 19% of the possession of this half has been for the Aussies – but hey, just ask Japan what stats like that mean.
stralia get their first corner 23 minutes in, it's all good signs, it's all pressure but the finishes are ultimastely poor. Curving balls going way too long.
16 MINS: AUS BLOW
Not looking too far ahead of myself but a cheap, cheap yellow card from Jackson Irvine there and IF Australia comes through this match, he will miss the quarter-final against Holland.
A ridiculous tackle to make.
10 MINS MISSING MESSI MAGIC
Internationals are just not where he shows off the GOAT thing eh? Watch how long it takes for me to regret typing that.
It's not a criticism, it's indicative and symptomatic of the group he's playing with.
How often to international sides really train?
Anywho, the GOAT is playing his 1000th international in the blue and white today which is nothing short of insane in itself.
On the field, Australia doing exceptionally well to frustrate the Argentines. Not an enormous amount of possession going in Australia's favour but they're doing well to irk their opponents.
Shutting them down early enough that we're not all enduring heart palpitations. Solid start.
4 MINS: WE ARE UNDERWAY
Two minutes in and we have hand ball appeals going against Argentina…as an English woman that still stings, every time it happens.
Argentina's penalty appeals fall on deaf ears and rightly so.
My sincere sympathies with the referee he's copping it from the crowd already, a long, long 88 minutes ahead of him.
But a solid start from Australia, to state the obvious they're going to be tested beyond belief in this match. Not just from a fitness perspective but in terms of how they deal with the theatrics of the South American opponents.
You're about to see some brilliant acting.
5:32AM CHAOS AT LIVE SITES
It's pandemonium at the live sites around Australia this morning with capacities reached and flares set off hours before kick-off.
Fed Square in Melbourne was closed to the public by 4am AEDT with fans turned towards AAMI Park instead.
Sydney, Adelaide and Hobart also saw huge crowds come together for this massive match.
Now, not to celebrate an injury but, Australia has received an enormous boost with Argentinian star Angel di Maria failing to overcome a thigh issue for this round 16 clash, as Socceroos coach Graham Arnold made just one change.
Putting his faith in the squad which has taken Australia to victories over Tunisia and Denmark, Arnold has injected youngster Keanu Baccus into the starting lineup in place of winger Craig Goodwin.
It replicates the change Arnold made at halftime in the Denmark win, with Goodwin running on empty after two starring performances in Australia's opening two group games.
But the likes of Mat Leckie, Australia's centre-back pairing of Kye Rowles and Harry Souttar, and midfield duo Aaron Mooy and Jackson Irvine have all been called on to empty the tank once again.
Riley McGree, who had a career-best performance against Denmark, has retained his central midfield role ahead of Ajdin Hrustic.
Meanwhile, Argentina have named Di Maria on the bench after he suffered a thigh injury in their win over Poland with the short turnaround played a part
5:25AM LIVE SITES
Things look totally normal at Fed Square this morning. Where on earth do people buy flares last minute?
5AM TEAMS ARE IN
Argentina (4-3-3) Emiliano Martinez; Nahuel Molina, Cristian Romero, Nicolas Otamendi, Marcos Acuna; Rodrigo De Paul, Enzo Fernandez, Alexis Mac Allister; Alejandro Gomez, Lionel Messi (capt), Julian Alvarez Coach: Lionel Scaloni (ARG)
Australia (4-4-2) Mathew Ryan (capt); Milos Degenek, Kye Rowles, Harry Souttar, Aziz Behich; Mathew Leckie, Aaron Mooy, Jackson Irvine, Keanu Baccus; Riley McGree, Mitchell Duke Coach: Graham Arnold (AUS)
4:30AM HOLLAND AWAITS
A clinical Netherlands ended the United States' World Cup dream, sweeping into the quarter-finals with a ruthless 3-1 victory.
First-half goals from Memphis Depay and Daley Blind and a late strike from Denzel Dumfries sealed a deserved victory as the Dutch handed out a painful lesson in finishing to their American opponents.
The Netherlands, bidding to win their first World Cup after losing in three previous finals, will face Argentina or Australia in the last eight.
4AM DARE TO DREAM
The Socceroos are claiming the moniker of the 'invincible underdogs' – a nickname that will be tested like never before against two-time World Champions Argentina on Sunday morning at 6am AEDT.
Data revealed by online transfer analysts TransferRoom this week exposed the truly gigantic gulf between the Round of 16 opponents, at least when it comes to their respective squad worth with Argentina valued at almost 18 times more than the Socceroos.
Using the site's Expected Transfer Value tool, which it claims is "the most credible, data-led measure of a player's value in the market", the enormity of the task facing Graham Arnold and his players is truly staggering.
With a frontline led by unheralded strikers Mitchell Duke ($330,000 transfer value) and Melbourne City's Mathew Leckie ($1.1m) Australia's total value for its 26-man squad comes up to a mere $55.81m.
When stacked up against the $996.84m Argentinian squad, it makes for terrifying reading if you're a Socceroos fan. But that's exactly how Arnold wants it to be.
"We've been named the invincible underdogs around the world. Everyone is an underdog until you have success, nearly everyone in the world at some stage in their life has been an underdog," Arnold said.
"It's until you have success that you're seen as a success. Again, Australia's the underdogs. We love that.
"We love our backs to the wall and no one giving us a chance, going out there and fighting the Aussie spirit way. That's our strength."
Australia's number is boosted significantly by the impressive efforts of centre-back Harry Souttar, who is earns a $9.3m value from TransferRoom – though it is unlikely his club side, Stoke, would let him leave for anything short of an asking price approaching $50m given his breakout tournament.
But Souttar is not the only player with a seemingly modest price tag. Lionel Messi, arguably the greatest to ever lace a boot, is priced at just $21.7m.
"The xTV tool takes into account not just performance data on the pitch and the size and level of their club, but the length of their current contract, the buying market and historical fees for the player," said a representative for TransferRoom.
That means Messi is not one of the six Argentinian players whose value dwarfs the entire Australian squad combined.
Lautaro Martinez ($114.4m), Lisandro Martinez ($108.2m), Cristian Romero ($95.3m), Enzo Fernandez ($66.2m), Julian Alvarez ($66m) and Alexis Mac Allister ($65.1m) all have transfer values that eclipse that the Australian squad.
Stats expose monstrous task facing Socceroos
– Callum Dick
These are the giant-sized stats that expose the monstrous task facing the Socceroos when they meet the Lionel Messi-led Argentina in the round of 16.
Not only has Messi created as many goal scoring opportunities as the entire Australian team combined so far this World Cup, the numbers illustrate the gulf between the two nations across almost every statistical category.
To the surprise of absolutely nobody, Messi profiles as the Socceroos' biggest hurdle between a shock quarter-final berth and a round of 16 exit.
In what is expected to be the Little Master's final World Cup he leads Argentina in almost every major attacking statistical category.
If the World Cup ended tomorrow he would trail perhaps only French wunderkind Kylian Mbappe for player of the tournament, but La Albiceleste's great hope is far from done just yet.
The stats paint a bleak picture for the Socceroos' hopes of springing another upset, though in a World Cup full of surprises – that began with Saudi Arabia toppling Argentina 2-1 – stranger things have happened.
But the tape cannot be ignored. Graham Arnold and his coaching staff will be working tirelessly between now and kick-off to construct a game plan capable of making the impossible a reality, again. And the winning formula could well be found on the stats sheet.
EXPECTED LINE-UPS
AUSTRALIA (4-3-2-1)
– – – – – – – – – – – – Ryan – – – – – – – – – – –
Degenek – – Souttar – – Rowles – – Behich
– – – – – Mooy – – Baccus – – Irvine – – – – –
– – – – – – – – Leckie – – McGree – – – – – – –
– – – – – – – – – – – – Duke – – – – – – – – – – –
ARGENTINA (4-3-3)
– – – – – – – – – – Martinez – – – – – – – – – – –
Molina – – Romero – – Otamendi – – Acuna
– – De Paul – – Fernandez – – MacAllister – –
– – – Di Maria – – Messi – – Alvarez – – – – –
KEY STATS
Goals: 5-3 (Argentina)
Conceded: 4-2 (Australia)
Cleansheets: 2-2
Attempts: 44-20 (Argentina)
Attempts on-target: 21-7 (Argentina)
Corners: 22-5 (Argentina)
Fouls against: 37-33 (Australia)
Forced turnovers: 234-176 (Australia)
Possession: 66.7% – 37.0% (Argentina)
FRONT THIRD
AUSTRALIA
Leckie – – McGree
Duke
ARGENTINA
Di Maria – – Messi – – Alvarez
Touches in front third: 615-294 (Argentina)
The front three of Argentina, featuring Messi, veteran playmaker Angel Di Maria and Manchester City rising star Julian Alvarez, could be the most potent in Qatar.
Argentina has conjured a tournament-high 17 shots on-target and is behind only reigning world champions France for expected goals (xG) through pool play.
The Socceroos conversely boast seven shots on-target – the fewest of any Round of 16 entrant – but have outperformed their xG by more than two. It's all about making the most of your chances, and the Socceroos may have to ride their luck once again.
No team has spent more time in its attacking third than La Albiceleste, meaning the Socceroos' backline must prepare for an offensive onslaught on Sunday.
Argentina's forwards have combined for 24 shots to Australia's 12. The gulf only widens when we take into account chances created: 12-6 in favour of the two-time world champions.
Mitch Duke has done an exceptional job leading the line for Australia but when compared to perhaps the greatest player of all time, it's no contest.
Messi has taken more shots and created as many assists as the entire Socceroos team combined.
SHOTS (GOALS)
Lionel Messi (ARG) 13 (1)
Julian Alvarez (ARG) 7 (1)
Mitchell Duke (AUS) 7 (1)
Angel Di Maria (ARG) 4 (0)
Riley McGree (AUS) 3 (0)
Mathew Leckie (AUS) 1 (1)
CHANCES CREATED (ASSISTS)
Lionel Messi (ARG) 6 (0)
Angel Di Maria (ARG) 6 (1)
Riley McGree (AUS) 3 (1)
Mathew Leckie (AUS) 2 (1)
Mitch Duke (AUS) 1 (0)
Julian Alvarez (ARG) 0 (0)
MIDFIELD
AUSTRALIA
Mooy – – Baccus – – Irvine
ARGENTINA
De Paul – – Fernandez – – MacAllister
Touches in midfield: 1266-695 (Argentina)
Aaron Mooy is the workmanlike energiser bunny who makes it all happen in the centre of the pitch for the Socceroos and the stats back that up. He's run 4km further than any other player who will take the pitch on Sunday, averaging 12.1km per game in the group stages.
However Rodrigo De Paul has been the pick of the midfield starters and looms as the pivot the Socceroos must smother if they are to make headway against one of the World Cup favourites.
Once again Argentina leads the way for touches in midfield, while Australia ranks 17th in the same metric.
De Paul is Argentina's midfield playmaker and the one offering the most supply to their dynamic front three. No player has had the ball at his feet more this tournament than the Atletico Madrid man.
COMPLETED PASSES (PASS%):
Rodrigo De Paul (ARG) 260 (85.2%)
Enzo Fernandez (ARG) 140 (87.5%)
Aaron Mooy (AUS) 115 (73.7%)
Alexis Mac Allister (ARG) 84 (92.3%)
Jackson Irvine (AUS) 75 (82.4%)
Keanu Baccus (AUS) 16 (64.0%)
TACKLES WON:
Aaron Mooy (AUS) 5
Rodrigo De Paul (ARG) 3
Enzo Fernandez (ARG) 2
Jackson Irvine (AUS) 2
Alexis Mac Allister (ARG) 2
Keanu Baccus (AUS) 0
DEFENSIVE THIRD
AUSTRALIA
– – – – – – – – – – – – Ryan – – – – – – – – – – –
Degenek – – Souttar – – Rowles – – Behich
ARGENTINA
– – – – – – – – – – Martinez – – – – – – – – – – –
Molina – – Romero – – Otamendi – – Acuna
Touches in defensive third: 604-552 (Australia)
Of the teams already through to the Round of 16, the Socceroos have conceded the most goals. However since the 4-1 loss to France, they have been near-perfect at the back.
The win over Tunisia produced Australia's first World Cup clean sheet since 1976 and what followed six days later was a record-breaking second in a row, against Euro semi-finalists Denmark no less.
The Socceroos have blocked the most shots on goal (18) of any team in Qatar and it's two men in particular, Harry Souttar and Kye Rowles, who have led the way.
Souttar has deservedly earned the plaudits for his mammoth performances but Rowles has been equally as good, if not better, than his centre-half partner according to the stats.
Regardless, they profile as the best defensive pairing at the tournament over the past two games – and they'll need to be at their brilliant best against Messi and co.
Between the posts, Mat Ryan has faced 13 shots on target and saved nine of those, while Emiliano Martinez has been tested just three times and let two in the back of the net.
It's a small sample size, however Argentina's 'keeper boasts the second-worst save percentage in the tournament. If Australia can manufacture chances, there could be goals on offer.
BLOCKS (SHOTS)
Kye Rowles (AUS) 8 (6)
Harry Souttar (AUS) 7 (4)
Aziz Behich (AUS) 5 (2)
Nahuel Molina (ARG) 4 (1)
Marcos Acuna (ARG) 4 (1)
Milos Degenek (AUS) 2 (1)
Nicolas Otamendi (ARG) 1 (0)
Christian Romero (ARG) 1 (1)
TACKLES:
Kye Rowles (AUS) 7
Aziz Behich (AUS) 7
Nicolas Otamendi (ARG) 6
Milos Degenek (AUS) 5
Marcos Acuna (ARG) 4
Nahuel Molina (ARG) 3
Harry Souttar (AUS) 2
Christian Romero (ARG) 1
INTERCEPTS:
Kye Rowles (AUS) 6
Nicolas Otamendi (ARG) 5
Harry Souttar (AUS) 3
Aziz Behich (AUS) 2
Milos Degenek (AUS) 1
Marcos Acuna (ARG) 1
Nahuel Molina (ARG) 1
Christian Romero (ARG) 0
SAVES (SAVE%):
Mat Ryan (AUS) 9 (69.2%)
Emiliano Martinez (ARG) 1 (33.3%)
Read Next
Comments

For more updates check below links and stay updated with News AKMI.
Education News || Politics News || Journal News || Daily Local News || Lifetime Fitness || Sports News || Automotive News

Source