Australia
Showdown 53 Port Adelaide v Adelaide 2023: All the latest news for the huge round 3 match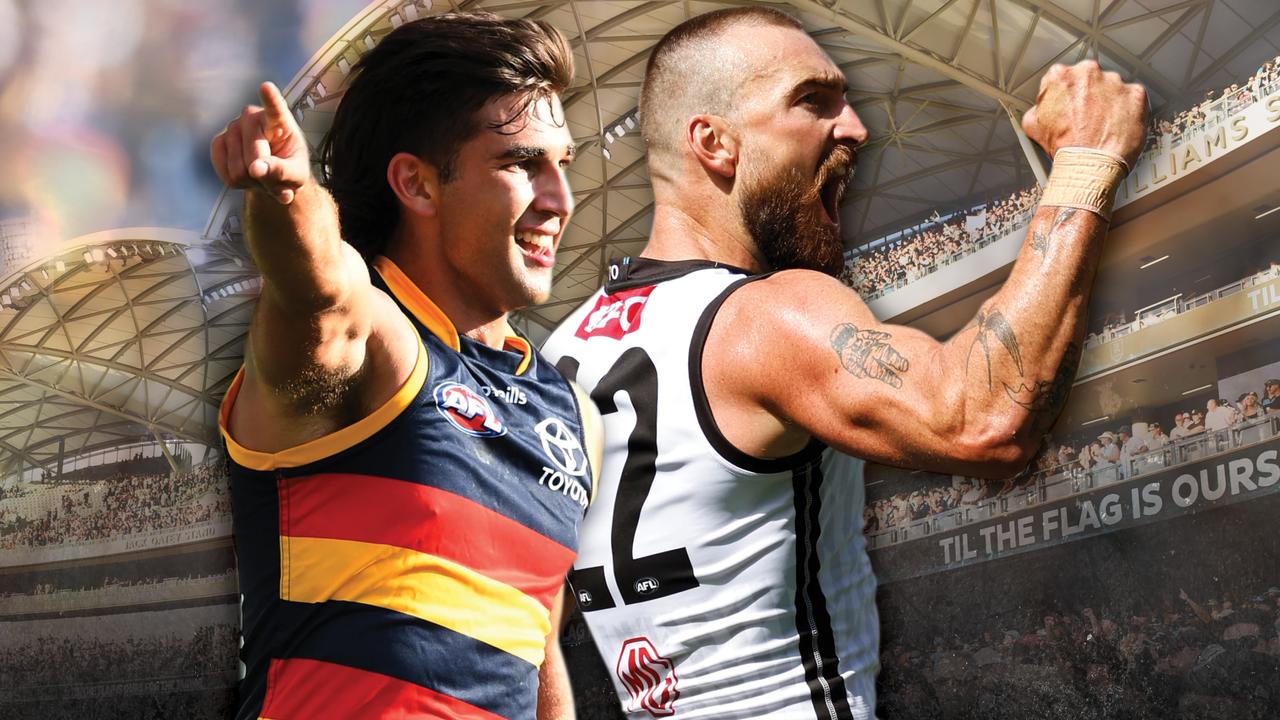 On Friday, Ken Hinkley and Matthew Nicks were together again, smiling, laughing and with their arms around each other.
But the duo, who worked together when Nicks was a Power assistant from 2012-18, were still not mincing their words about the feeling between the two SA clubs.
Read Next
"There's genuine hatred," Hinkley said.
"I'm not frightened to use the word 'hatred' because it's a sporting rivalry.
"It's not a personal thing in any way.
"I think everyone in this state loves the fact that both teams want to get each other and want to get them good."
Hinkley's Crows counterpart said there was no doubt the hatred was mutual.
"We watch Port play on the weekends and we want them to lose," Nicks said.
"We don't like them."
Saturday night's Showdown is the first since Tom Jonas and Ollie Wines's "entitled and arrogant" barbs about the Crows' "DNA" eight months ago.
That week, the coaches conducted separate pre-match press conferences.
The Power made the last-minute call to return the favour to Adelaide for going solo in round 3 and keep it waiting — then prevailed by 56 points in the clubs' final game of the season.
"There were some things last year that were different so we've done what we should do," Hinkley said on Friday, when asked why he was back alongside Nicks.
"We'll stand here together and we'll lead the way, and show it's a great game."
Nicks said last week he would try to come up with another Showdown line for the media.
He had trolled his former employer ahead of the August match, calling it "Port Power", but opted not to weigh in again on Friday.
Just as the history and animosity between the clubs helps make the rivalry so enthralling, so too does the narrow win-loss ledger.
Port Adelaide leads 27-25 and has won five of the past six.
Two of those results — its August 2021 win and last April's Jordan Dawson-inspired loss — were by four points.
"The Showdowns are the highlight, in my view, of a lot of AFL seasons," Hinkley said.
"We play these ridiculous games, one last year in round bloody 3 where the ball (from Dawson's post-siren kick) looks like it's moving out, then it's moving in and I've seen a bounce (from an Angus Monfries shot in 2013) go my way.
"In the home-and-away season, this is as big a game as you get to play in.
"This is as big a build-up of any game in the competition, bar none."
As always, it will be a tough pill to swallow for the loser on Saturday night.
Even more so when it will mean a 0-3 start for the Crows after an impressive pre-season or a 1-2 opening for Port Adelaide ahead of a really difficult trip to face Sydney at the SCG.
Adelaide is coming off a 32-point home loss to Richmond and the Power is looking to respond from a 12-goal defeat to Collingwood at the MCG.
With plenty at stake, Hinkley denied this week's build-up had been too placid.
"I know the tension that goes with the Showdown," he said.
"There's enough tension going on in my world and our club.
"I'd much rather it be a much smoother and quieter week, but the reality is it's not.
"It's a Showdown and there's a lot riding on it."
THE TEAMS
Adelaide Oval, Saturday 7pm (local time)
POWER
B: R.Bonner, T.Jonas, T.Clurey
HB: D.Byrne-Jones, A.Aliir, D.Houston
C: M.Bergman, W.Drew, X.Duursma
HF: J.Finlayson, T.Marshall, C.Rozee
F: Z.Butters, C.Dixon, S.Powell-Pepper
FOLL: S.Lycett, O.Wines, J.Horne-Francis
I/C: K.Farrell, T.Boak, J.Rioli, L.Jones
EMG: O.Fantasia, B.Teakle, J.Burgoyne, J.Mead
IN: R.Bonner, T.Clurey, J.Finlayson
OUT: O.Fantasia (omitted), M.Georgiades (omitted), J.Burgoyne (omitted), R.Burton (suspension)
CROWS
B: T.Doedee, N.Murray, M.Michalanney
HB: B.Smith, J.Dawson – C, M.Hinge
C: B.Keays, R.Laird, L.Sholl
HF: J.Rachele, L.Pedlar, J.Soligo
F: T.Walker, L.Gollant, I.Rankine
FOLL: R.O'Brien, R.Sloane, S.Berry
I/C: J.Butts, W.Milera, L.Murphy, R.Thilthorpe
EMG: W.Hamill, C.Jones, E.Himmelberg, N.McHenry
IN: L.Gollant, J.Butts, W.Milera
OUT: E.Himmelberg (omitted), H.Schoenberg (omitted), D.Fogarty (knee), P.Parnell (concussion)
'Slack' young Crow's brutal self-assessment
– Simeon Thomas-Wilson
Sam Berry is honest on his footy, just like the way he plays it.
After a breakout year in 2022, where few could shake his grasp with Berry the best tackler in the league, the young Adelaide midfielder came into this season with a goal of lifting his disposals of 17.6 per game.
And while he averaged an elite 9.5 tackles per game last year he has only averaged six so far in 2023, with a one tackle effort against GWS in round 1.
"Personally I just wasn't at the level as far of my pressure and around the contest," Berry said of his effort against the Giants.
And as for how the 21-year-old plans to address this and get back to the elite hunter of the ball he was last year, it is in keeping with his attitude on the field.
"I think training is really important during the week because we only really get one main session," he said.
"So I like to go in with a couple of focuses to get done.
"If I had a bad game and was slack in a few areas on the weekend it is a great opportunity to try and bounce back and remind myself on how I need to do it."
Berry had a strong pre-season, which fuelled hope he could make a significant jump in his third year and add more possessions to his strong defensive game.
It is still a focus for the young Crow, and he is confident the fruits of his labour in pre-season will emerge.
"I feel like I have put myself in a pretty good position to start the year, now it is about focusing on performing on the weekend," he said.
"I think a lot of it is about confidence, there are a lot of craft things that I have been working through. Especially with Nathan van Berlo our midfield coach.
"I've been doing a lot with him, especially around the stoppage work.
"When I get my defence and my pressure right, winning the ball comes off the back of that.
"It has taken me a little bit to figure out once the ball leaves to get used, it is something that I'm still trying to work on.
"I'm really looking to try and do that this year."
One thing Berry isn't looking to try and do more of this year is acting.
Last month he — along with teammate Jake Soligo — starred in an Instagram video around the premise of him setting up his own self-defence and tackling business, after his league-leading efforts last year.
"I can't even watch the video to be honest," Berry said.
"I struggle, I cringe at myself.
"Acting is not a strong point, it isn't me but to be honest it probably turned out better than I thought it would.
"I was a bit like no I don't know where this is going but they did well, Josh and the boys who the video did well.
"I definitely didn't expect to be doing that when I woke up that morning."
Rather Berry is a lot more keen to keep enjoying Adelaide in his spare time.
From Maffra, 220km east of Melbourne, Adelaide is a place that has grabbed a hold of Berry.
"I love Adelaide, I think it is great," he said.
"Especially after being there a while and getting to know people outside the club.
"It is just a great place to live, I love the beach and those sorts of areas.
"It is just an easy place to live, I really enjoy it.
"Melbourne and Sydney they are just so busy where Adelaide is definitely toned down a lot.
"It is a lot easier, things aren't as hectic and if you want to do something you can just drive 10 or 15 minutes.
"It is just so convenient."
Read Next
Comments

For more updates check below links and stay updated with News AKMI.
Education News || Politics News || Journal News || Daily Local News || Lifetime Fitness || Sports News || Automotive News

Source