Australia
There's something you don't know about Sam Kerr
The captain of the Matilda's is busily preparing for the upcoming World Cup, to be hosted in Australia next year.
By

Alice Clarke
Gaming writer
Sam Kerr might now be considered one of the greatest athletes to ever play the game, but she didn't grow up dreaming of playing soccer on the world stage. She wanted to play AFL like her dad and brother. In fact, she hated soccer, and didn't even have a soccer ball around the house until she was 12. But, even before she picked up a physical ball, she was playing the FIFA videogames.
Now, she's the first female player to ever feature on the global cover of FIFA, for FIFA 23.
When I spoke to Kerr, it was the morning after she won a match with her Chelsea team in the UK. She was sitting in her manager's office wearing a pink Balenciaga hoodie, the effort of the night before and the relatively early hour clearly leaving her a little tired, but her pride at the honour still clearly shone through.
"I think FIFA is a global game. So, for me, it's been amazing to be in the game. And then to be on the cover is a dream come true," she said. "My friends that don't even watch football play the game. It's just got such a massive reach, and to be the first female on the global cover is, just. Yeah. I mean, I don't think it's hit me yet. Like, every time I see it in store, or I get tagged, it's just it's awesome."
It's only relatively recently that women's sports have even been included in games like FIFA. NBA 2K20 in 2019 was the first in the popular basketball series to include the WNBA, two years after EA's less popular NBA Live first included the WNBA. This year's NBA 2K23 includes a WNBA career mode where you can create your own female player, but it lacks the cut scenes and depth of the men's career mode.
FIFA introduced a few international women's teams in 2015, but FIFA 23 marks the first in the series to include women's club teams, currently limited to the UK and France. The game still lacks a women's career mode.
While Kerr acknowledges that female inclusion in sports games like these is still in its infancy, she is looking forward to seeing where it goes. "I think it's really important that young girls can see themselves in the game, or see themselves aspiring to be in the game. There's people that play FIFA that aren't necessarily ever going to be an athlete. So, to be able to play as a female in the game is incredible. It also just allows young girls to have the reference of 'when I play, I want to play as my favourite female athlete rather than my favourite male counterpart.' And I think that's important."
More broadly, Kerr is pleased with how women's sport is gaining support in Australia. "I think it's a great place. We'll have the FIFA Women's World Cup coming up next year, which is going to be the first time ever in Australia, the AFLW is doing great, the Diamonds [Australia's netball team] are doing great," she said. "I'm really proud to be part of it, and really excited for women's sport… I think it's in a really good place. But, like I said of the game world, it's just the start. We've got so much more to give and so much more to do."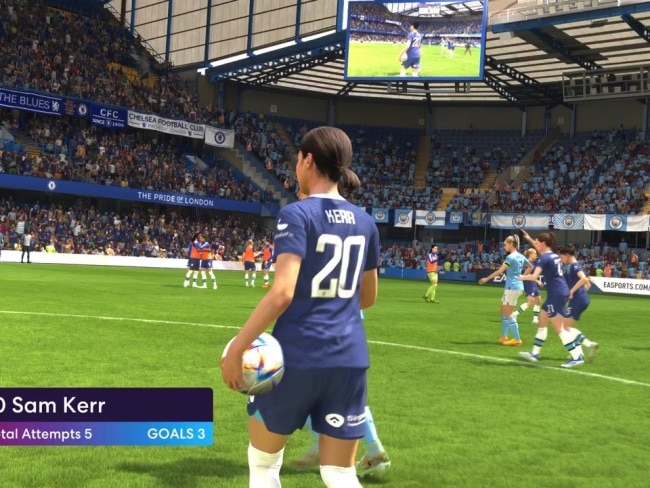 What struck me through the interview was how down to earth Kerr was. Here is an athlete at the top of her game, in a sport that requires confidence and determination almost as much as pure athleticism. She has every reason to be cocky, yet she has the attitude of someone who's just having a good time with her friends and trying her best. Her best just happens to be significantly better than most other professional players.
When Kerr was a kid, she was devastated when she could no longer play Aussie rules with the boys, because the AFLW didn't exist yet. However, now that it does exist, she doesn't have plans to try and pull off what Michael Jordan never could, and dominate two sports any time soon. "I have said at the end of my career, maybe in 15 years' time that I'll give it a crack. But who knows, my body would be too old, maybe. But I think there's just too much opportunity in football at the moment for me." 
As 2023 fast approaches, all eyes are turning to the FIFA Women's World Cup, which is going to be hosted in both Australia and New Zealand across July and August next year. Kerr, who is captain of the Australian team, thinks the team is preparing well. "On the field, I think we're doing everything we can to peak for next year. But then there's also the added pressure of it being a home World Cup and we've been working on that for quite some time now, dealing with different circumstances, different pressures. We think it's going to be such an amazing life changing moment for all of us and hopefully we can show the world and Australia where women's football is headed and put on the best tournament to date."
Part of the lead up to the tournament has included hosting friendly matches on home soil, and Kerr has been enjoying showing her opponents the ups and downs of living in Australia. 
"In those FIFA friendly windows, it's nice for them to come out and see Australia and see what a beautiful country it is, and what amazing crowds we have. But also it's really nice to show them what the regular Australian does to travel to and from their country. They're used to getting on a one-hour flight from London to Sweden, or London to Spain and we're on the flight for 24 hours. So, it's been really enjoyable to see how they deal with the travel, the time zones, and everything that comes with being an Australian footballer or an Australian traveller, for that matter."
FIFA 23 is available in stores now.
For more updates check below links and stay updated with News AKMI.
Education News || Politics News || Journal News || Daily Local News || Lifetime Fitness || Sports News || Automotive News

Source