Australia
Tim Tszyu vs. Tony Harrison latest news: Paulo Aokuso signs incredible deal, the fight to push pay-per-view records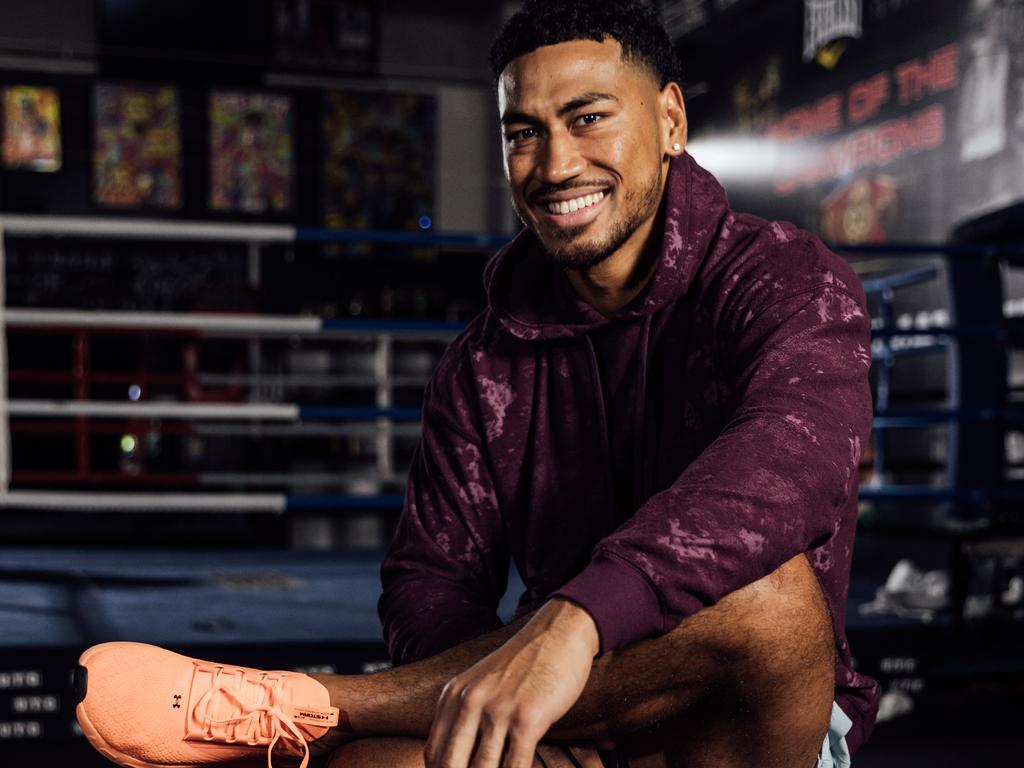 After just three professional fights, Aokuso has joined Patty Mills and Chloe Logarzo as Australian athletes signed by apparel giants Under Armour.
The American sports brand inked a deal with Aokuso this week, ahead of his showdown against Cuban Yunieski "The Monster" Gonzalez on Sunday on the undercard of Tim Tszyu versus Tony Harrison.
Read Next
Aokuso (3-0, 3KO) battles Gonzalez (21-5, 17KO) for the IBO Inter-Continental light heavyweight title at Qudos Bank Arena.
"Sunday, I'm winning, I'm coming home with the belt," Aokuso said.
"I'm going to show the world more of me. This fight will definitely go longer than two rounds, and I'm going to entertain and show the world what I'm about."
Aokuso, the uncle of NRL superstar Joseph Sua'ali'i, has already declared he wants to earn more than $100 million in his boxing career, says the new sponsorship deal is just the start.
"For someone to only have three fights and be sponsored by one of the biggest sports brands in the world, I am just grateful," the 25-year-old said.
"I always knew I was going to be a big star in Australia. But not only in Australia, in the world as well.
"To have that status early in my career, a one year professional fighting career, it's crazy. I don't know anybody else that's been in the sport for one year, only had three professional fights, getting sponsorships like this.
"When I go to the store, I just grab clothes.
"With everything that's coming now, just imagine the blessings that will come in the future."
Boomers basketball captain Mills, Matildas and Kansas City football star Logarzo have Under Armour deals, along with global icons Curry, Tom Brady, and Canelo Alvarez.
Aokuso is hoping to soon meet The Rock – also of Samoan heritage – during future advertising campaigns.
Watch undefeated Aussie superstar Tim Tszyu return to the ring for his biggest fight yet versus USA's former world champion Tony Harrison for an Interim WBO Super Welterweight title LIVE Sunday March 12. ORDER ON MAIN EVENT ON KAYO SPORTS
"I was over the moon, I always told myself I wanted to be sponsored by Under Armour, years ago when The Rock got involved," Aokuso said.
"To be part of the same stable as The Rock, it's incredible. That's one more step closer to meeting him too.
"I'm pretty sure we're part of the same village."
Aokuso, a Tokyo Olympian, has developed a remarkably large following since turning pro.
"It's my personality, my charisma," he said.
"My personality walking into the ring, inside the ring, I'm not much of a talker outside the ring but in the ring I like to talk with my actions.
"One thing about me, I love having fun. I love my family, I love God, what life wouldn't be better than that?"
Tszyu-Harrison blockbuster set to push PPV records
Tim Tszyu pulled up to the press conference in front of Sydney Opera House in a red Dodge Ram, hopped out in a tailored blue suit and strutted to the stage.
"He got out that b— like a diva, like they was opening the door and Beyonce was hopping out that thang," shirtless rival Tony Harrison mused in his Detroit drawl.
He made everyone laugh.
But in Australian boxing terms, Tszyu is about to hit Beyonce level.
The Tszyu-Harrison bout on Sunday, at Qudos Bank Arena, is now forecast to become the second-highest rating pay-per-view fight staged in Australia in Main Event history, behind only Anthony Mundine versus Danny Green in 2006.
Expectations are that the WBO super-welterweight bout could surpass 120,000 buys on Main Event and Kayo, which would far surpass the Mundine-Green rematch in 2017 that did 100,000 buys.
Only the American-staged mega bouts involving Floyd Mayweather, against Manny Pacquiao and Conor McGregor, have done more PPV sales in Australia.
It is quite remarkable to think that after just 21 fights, 28-year-old Tszyu could sit in the same sphere as Mundine, Green, Mayweather and Pacquiao.
But No Limit Boxing boss George Rose said: "The numbers speak for that, when it comes down to it, if you do the numbers you belong in the same breath.
"Wherever he lands on Sunday, that's his benchmark. He'll only keep growing from there.
"If you're not on the Tim Tszyu bandwagon yet, there's plenty more room."
Pre-sales for the fight have been so strong already that Foxtel has added more staff to field phone calls for those ordering.
"I'm very happy with what I'm seeing so far, when you've got an American star like Tony Harrison come out to take on our superstar of Australian boxing, it deserves that magnitude," Rose said.
"Mundine-Green, it was a fight that was made for Australia, a fight that was always going to do great numbers, I think the result we'll see with Tim on Sunday will really solidify that he's our guy for the future and the guy to fly the flag for Australia.
"This is bringing international boxing and the global stage to Australia. We've had a great scene here for a long time, great boxers for a long time. Now we've got great shows that can attract those eyeballs.
"We've got fighters taking on fights that people want to see not only in Australia but across the globe, Americans want to see this because these are the next two killers in the 154 pound division. All roads lead to [undisputed champion] Jermell Charlo, that's where Tim's going next."
Tszyu is so confident he's even predicting that Charlo – who will be on the commentary team in the US – will try to dodge him after the bout.
"I wouldn't be surprised to see if he moves up after this, Charlo vacates and moves up, headlines on Monday," Tszyu said.
"[I'm in] killer mode, I'm in the zone. The last time I wore a suit was to the Jeff Horn [presser] and the only reason I did it was because I was in that mental state, and this time I feel it."
But Harrison, who has more than done his part to sell this fight with his wit and verbal sniping, is just as convinced of victory.
"He's vulnerable to get hit anywhere, body and head, he's vulnerable when he's going back on his back foot mostly, so expect the unexpected," Harrison said.
"I know exactly how this fight is going to play out, I think the whole world knows exactly how this fight is going to play out and I've mimicked sparring exactly how I think this is going to play out.
"It's going to be a great fight. Most of these Australians are coming out because of me, not because of him."
Tszyu swiftly replied: "If you went and fought some random Aussie, I reckon there'd be 200 people in the crowd, so don't say it's because of you.
"It's the Tim Tszyu show."
BIGGEST PPV BOXING EVENTS IN AUSTRALIA
1. Anthony Mundine vs Danny Green, May 17, 2006, Sydney. PPV buys: 200,000
2. Floyd Mayweather vs Manny Pacquiao, May 2, 2015, Las Vegas. PPV buys: 195,000
3. Floyd Mayweather vs Conor McGregor, August 26, 2017, Nevada. PPV buys: 190,000
4. Anthony Mundine vs Danny Green II, February 3, 2017, Adelaide. PPV buys: 100,000
5. Tim Tszyu vs Jeff Horn, August 26, 2020, Townsville. PPV buys: 94,000
BOXING CHAMPS TIP HARRISON TO END TSZYU'S STREAK
It's Tszyu versus the world.
Former world champion and American commentator Shawn Porter has joined the growing number of high profile boxing identities tipping Tony Harrison to defeat Tim Tszyu for the WBO title on Sunday.
While Tszyu retains betting favouritism, there has been a growing feeling throughout the week that Harrison is primed to spring an upset and become the first man to defeat Tszyu.
Porter, who will commentate the fight ringside at Qudos Bank Arena for American broadcaster Showtime, told News Corp Australia: "On paper, Tim Tszyu is supposed to win this fight, but Tony is still very rugged and very smart.
"It's hard to go against the grain seeing as this has the makings of Tim winning, this fight is in his back yard.
"But I'm going to go against the grain, I'm going to pick Tony for this one."
World champion boxers Shakur Stevenson and Errol Spence have also picked Harrison to win, while Harrison himself believes he'll have the sold-out crowd on his side at Homebush.
"I'm really a hard guy not to like, I'm a hard guy not to go for, I think everyone is going for, not just past the skill, just the charisma, just the way I interact with people," said Harrison (29-3-1, 21KO).
"I don't know what Tim did to a lot of people but trust me, everybody that don't like Tim, I'm going to do everybody's job in one night."
Porter believes that not only can Harrison win, but also knock out Tszyu.
"Tony has got power, it's really deceiving power especially because he hasn't had a knockout in a long time," Porter said. "It's underrated power.
"Tony has been through enough to weather this storm that Tim is going to bring.
"You'd think this is a walk-through fight for Tim, but you've got to understand Tony is very, very smart, he can win on points, he's got a great right hand, he can win by knockout.
"A lot of people forget that is he is a very strong and courageous fighter, he didn't come over here to lay down.
"The same thing for Tim, he is that youth, which means he is really hungry, he has not tasted the top yet and he is not willing to stop. That's what makes this fight really compelling."
Stevenson, the undefeated and unified super-featherweight world champion, said: "I don't think Tszyu is that good.
"I could see this fight go the distance. Like I said, Tony, as long as he don't get caught with a good shot that hurt him, wobble him, or get him out of there, he's skilfully really good.
"It's going to be really hard for anybody to beat Tony Harrison when he's on his A-game."
Meanwhile Spence, a pound-for-pound great and potential future opponent for Tszyu, said he'd be willing to bet $10,000 on his countryman.
"I'll bet 10 on a Tony Harrison upset," Spence wrote on Twitter.
Undisputed women's super-featherweight champion Alycia Baumgardner added: "Come fight night, people will see the difference between a fighter from Australia and a fighter from Detroit, a different type of grit, a different type of grind. Tony has shown that more than once."
However, none of this bothers Tszyu (21-0, 15KO).
"I've heard it for most of my fights, words are just words," Tszyu said.
"Every time I've had a step up, I've delivered.
"After a couple of rounds, watch his face change, watch how his body language changes.
"He's going to be the 22nd body on the list."
TSZYU VICTORY CELEBRATION PLANS REVEALED
The Tszyu camp has labelled Tony Harrison as "delusional" during a tense confrontation in which the American questioned his management's decision to challenge him for the world title.
As it emerged Tszyu has already booked a celebration trip to Spain to watch Real Madrid play Liverpool in the Champions League blockbuster next week, Harrison continued his claims that Tszyu has made a major mistake fighting him.
In fact, Harrison confronted Tszyu's manager, Glen Jennings, to say he'd derailed his fighter – given Tszyu is already the No. 1 mandatory challenger for all four major belts and could've waited for injured champion Jermell Charlo to heal and then fought for the undisputed championship, instead of risking it all to fight Harrison on Sunday for the interim WBO super-welterweight belt.
Harrison has repeatedly stated that Tszyu, with a record of 21-0 (15KO), should never have been in the frame for the undisputed title shot against Charlo because he's not fought top calibre contenders in the division.
Harrison, who is the only man to have beaten Charlo and held the WBC title, repeated the gibe to Jennings, who confirmed the incident with Harrison to News Corp Australia.
"Tony Harrison wants the world to believe Tim's got no chance. Well I said it to his face, 'I think you're delusional'," Jennings said.
"Tony's delusional in that regard because look at Tony's record. First 21 fights, there's nobody on the list that we even know, none of us know any of the names there.
"They're happy to sit opposite Tim and say, 'You don't deserve to be here'. Hang on a second, let's look at this for what it is.
"And Tony's a great guy and a great salesman, but don't assume that because Tim hasn't gone over there and fought Jarrett Hurd and all these guys that he's missing out on something, he's not and Tony will find out on Sunday."
During a face-off for Main Event, presented by Ben Damon, Harrison said Tszyu was only in position to face Charlo for the undisputed titles because his father is legend Kostya Tszyu.
"Tim has fought and beat everybody they told him to beat, but he hasn't crossed the pond to beat guys like me," Harrison said.
"Guys from America that really possess the talent structures to give him problems. He hasn't faced those guys.
"So to be next up to fight for everything?
"C'mon man, that's a last name thing."
Tszyu fights 32-year-old Harrison (29-3-1, 21KO) at Qudos Bank Arena on Sunday afternoon – a fight that will be beamed back to millions in the United States in prime-time Saturday night.
The 28-year-old Australian is so confident of victory, he's booked a victory trip to Europe with his girlfriend Alex Constantine, with the couple to visit the 81,000-seat Santiago Bernabeu Stadium to watch his team Real Madrid, featuring Ballon d'Or winner Karim Benzema.
"We're going to Europe to watch Real Madrid versus Liverpool," Tszyu said.
"It's always been a dream of mine to watch the Champions League, that's what I'll reward myself with."
Tszyu believes that he will defeat Harrison, and then take all four belts in the rescheduled bout with Charlo later this year.
"This fight on Sunday represents where I want to get to, this isn't the clear end, it's the start of another journey," Tszyu said.
"The magnitude of this event, to be able to say that because of me, all these people are talking about it and excited, the whole of Australia is excited, if I can do small things like that my job is done."
Read Next

For more updates check below links and stay updated with News AKMI.
Education News || Politics News || Journal News || Daily Local News || Lifetime Fitness || Sports News || Automotive News

Source