Australia
Victoria is considering suburban lockdowns, what could they look like?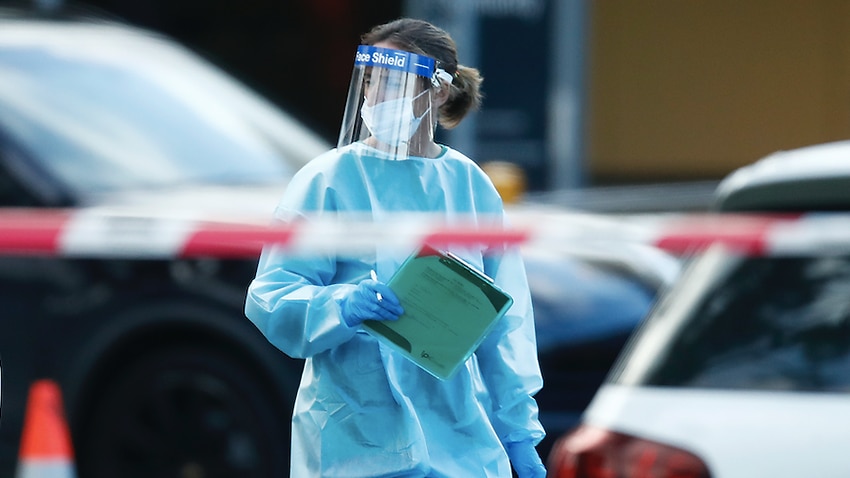 As COVID-19 cases spike across Melbourne, authorities have floated the idea of locking down individual suburbs to stop the spread of the virus.
"It is absolutely an option … and we will use it if it is required," Victorian Chief Medical Officer Brett Sutton told reporters on Monday.
So what would this look like and how could it be enforced?
A spike in cases
On Monday, Victoria recorded 75 new coronavirus infections, which Mr Sutton called "absolutely concerning".
It was the state's fourth-highest daily total since the start of the pandemic and 13th day of double-digit growth.
A number of "virus hotspots" have been identified around the city, with authorities now targeting 10 suburbs with high levels of community transmission as part of its testing blitz.
Broadmeadows and Keilor Downs have been prioritised and eight other suburbs in Melbourne's west and southeast are next on the list.
The Victorian government has given little detail on what suburban lockdowns would entail, but one or more of these would be the likely target.
"I'd imagine it would essentially be a return to the lockdown we had in place in March and April," said Tony Blakely, an epidemiologist and public health medicine specialist at the University of Melbourne.
"[So] you could only leave home for four reasons: For self-care or care of others, to go to the doctor, to shop for essentials, or if you're an essential worker."
Professor Blakely said for maximum effect, the definition of an essential worker would be "reasonably tighter" this time around.
And he said there is the thorny issue of schools within locked-down suburbs.
"Schools can be open when you're doing a suppression strategy – when you accept there's going to be a low level of the virus … [but in this case] we're trying to stop all transmission, so schools would need to close in my view."
He said a locked-down suburb should have "movement of essential workers and essential shopping but not much beyond that".
How would it work?
Professor Blakely said applying lockdown rules to individual suburbs would "require some enforcement".
"But I use that word cautiously – I'm not sure what level of enforcement would be required but I'd expect there to be some," he said.
"[There could be] public health officials wandering around providing health information, but I also imagine it would involve police and possibly military patrols."
He said this definitely would not mean "people carrying machine guns or anything like that" but rather "just a sense of presence, so if people are out and about, they're questioned about what they're doing".
What are the challenges?
Experts and authorities say there are many challenges with suburban lockdowns.
Professor Blakely said states can have different rules as there are well-defined borders, where roadblocks and other measures can be used.
"But in a suburban environment that would not be possible as there are just too many streets in and out," he said.
"So I would imagine patrols would be concentrated towards the boundaries and there would be spot checks of people going in and out to check if they're leaving for essential business."
Mr Sutton described some of the challenges on Monday.
"It would be a significantly difficult exercise to manage a stay-at-home order that is just about particular postcodes, particular suburbs or local government areas. So we have to think about all of those challenges in doing so," he said.
Mr Sutton said "lockdown fatigue" could "drive people out of suburban areas into new unaffected areas".
"[And] we know that it is a real challenge for businesses."
For these reasons, Premier Daniel Andrews has stressed "we don't want to have to move to local lockdowns".
"We know the impact that would have on businesses and on families."
Would suburban lockdowns work?
Professor Blakely said lockdowns are "a blunt instrument but they really do work".
"Every other state with the possible exception of NSW has successfully eliminated community transmission of the virus. Why did this happen? Because of lockdowns."
Other experts have also said authorities should consider localised lockdowns.
"They can be effective. Anything you do that stops people interacting with each other will reduce the risk of transmission," said Raina MacIntyre, the head of the biosecurity program at the Kirby Institute at the University of NSW.
"In South Korea when they had a surge in cases in March, they used very extensive testing along with targeted lockdowns … and that was effective in controlling the outbreak."
"So the lesson there is if you're going to use lockdowns, it doesn't need to be country-wide or even city-wide, it can be targeted to just the most affected areas."
Professor MacIntyre said Australians cannot afford to get complacent at this time.
"To most Australians, the pandemic is not a reality, if you lived in New York or London, you'd most likely know somebody who's died or you'd be personally affected in some way. But it's just not the case for most Australians," she said.
"So it's very easy to go into denial and think everything is just back to normal when it's not. The pandemic is actually getting a lot worse overseas. This is a really diabolical virus."
People in Australia must stay at least 1.5 metres away from others. Check your state's restrictions on gathering limits.
Testing for coronavirus is now widely available across Australia. If you are experiencing cold or flu symptoms, arrange a test by calling your doctor or contact the Coronavirus Health Information Hotline on 1800 020 080.
The federal government's coronavirus tracing app COVIDSafe is available for download from your phone's app store.
SBS is committed to informing Australia's diverse communities about the latest COVID-19 developments. News and information is available in 63 languages at sbs.com.au/coronavirus.
For more updates check below links and stay updated with News AKMI.
Education News || Politics News || Journal News || Daily Local News || Lifetime Fitness || Sports News || Automotive News

Source