Australia
World Surf League 2023: Stephanie Gilmore knocked out of Billabong Pro at Pipeline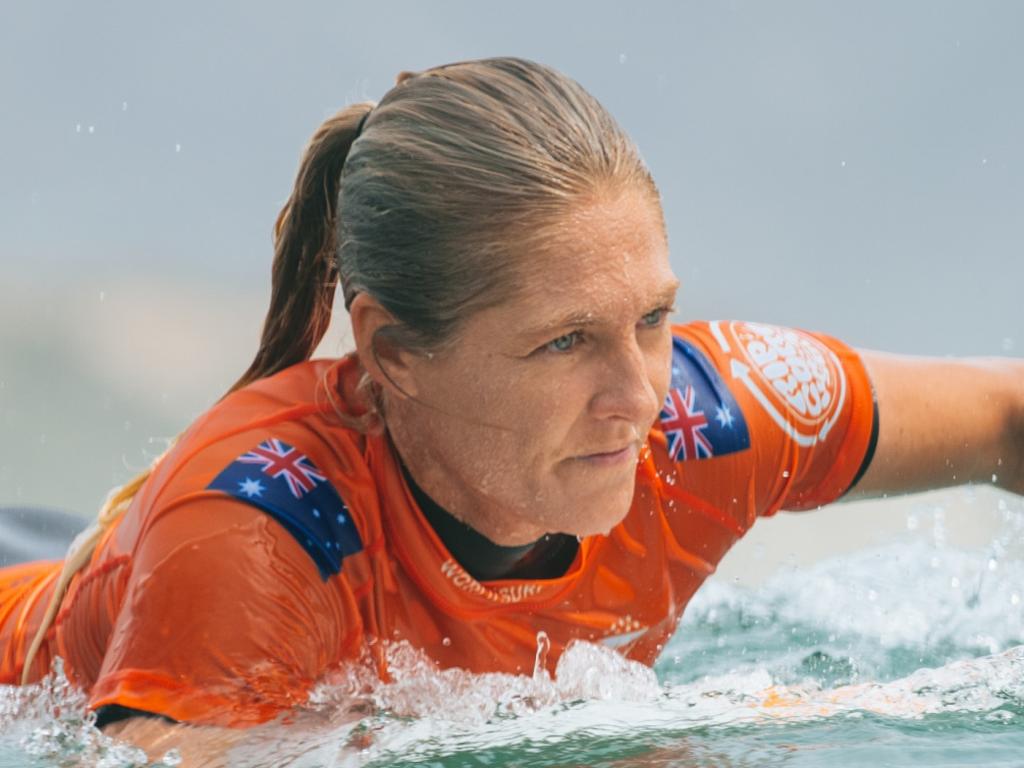 Stephanie Gilmore's World Surf League season is on thin ice after just the first event of the year after she crashed out of the Billabong Pro at Pipeline.
Gilmore was pitched into an elimination round after losing her opening heat and was knocked out in a shock result after failing to better the scores of teens Caitlin Simmers and Alyssa Spencer — trying to get busy but failing to ensure she was on high-scoring quality waves.
It's a massive blow to the veteran, who will now have to lift her game in the next four event just to avoid the mid-season cut.
Read Next
"I feel like I've gone from hero to zero but surfing has a great way of keeping you humble for sure.," Gilmore said.
"It's a bummer way to start the year but that's sport, that's the way it is and there's really no better motivation than to have a shocker and want to come back better."
Gilmore, who turned 35 earlier this week, won a record eighth world title last season despite missing Pipeline after being forced into quarantine due to Covid.
She was in danger of missing the cut before a semi-final finish in Portugal and a pair of quarter-final results in Australia helped her claw across the line.
She eventually finished the season in fifth place overall and won a mammoth five heats in a row at the WSL finals to secure her eighth title.
But she knows with the talent on tour this year she can't afford any more lapses.
"I'm already two heats better than what I started last year, so it's not too bad," Gilmore said of last year's Covid-enforced absence.
"But we have a group of young girls on tour this year and some of the rookies who were on tour last year that didn't make the cut but they're back with a vengeance and have got a lot more experience.
"So I think this year will be different.
"I'm not going to be able to scrape by like I did, I'm really going to have to knuckle down at Sunset and then go to Portugal — which is always a wildcard for me.
"Then I feel really comfortable at Bells and Margaret River but we'll just have to wait and see what happens.
"But I'll do my best."
FITZGIBBONS CALL OUT SURFING'S HIDDEN STIGMA
Sally Fitzgibbons' immersion in Hawaii's north shore surf culture ahead of the World Surf League season means she'll have no hesitation in donning a helmet at Pipeline next week.
The window for the first event on the WSL championship tour opens on Monday (Australian time), with Fitzgibbons set to "buckle up" as the women take on the heavy Pipeline swell for just the second year in competition.
Several athletes on the women's tour will don helmets, something Fitzgibbons said was widely accepted in Hawaii from the grassroots to the elite level of the sport — among boys and girls, men and women.
But the 32-year-old, a three-time runner-up on the world tour, was puzzled as to why there was still a stigma around wearing headgear, especially in Australia.
"It's actually not as supported really wearing helmets back in Oz, I feel like there's still a bit of that reluctant cool factor," Fitzgibbons said.
"But over here (in Hawaii) in particular, all the layers from the young kids to the women to even the top, top guys and the Jamie O'Briens (Pipeline masters winner and surfing legend) of the world, it's really supported.
"The Backdoor Shootout was on the other day and some of the iron men, the ones that are indestructible, there were three of them one after the other off to the hospital."
Hawaiian surfer Kala Grace wiped out in a closeout in what was described as "double overhead" conditions, lost his helmet and was driven into the reef and knocked unconscious before being brought to the surface in a dramatic rescue.
It comes seven years after Aussie surfer Owen Wright suffered a brain injury following a wipeout at Pipeline that forced him off tour for over a year.
"There's been so many more (head injuries) since (Wright) too," Fitzgibbons said.
"I've still got my helmet from Fiji back in the day, so I just clip it up and let's go."
The start of the 2023 season marks just the second time the WSL women's tour has had a full event at Pipeline, a move Fitzgibbons said was a "significant step" for the sport.
"Something like Pipeline, they say, (the women) have had it on the schedule now for two, two years," she said.
"Well, this wave takes a lifetime. It takes a lifetime of dedication and even then you don't get to keep anything. You have to paddle back out and experience the exact same amount of fears, so in a way, it's sort of levelled rivalries and who you're competing against.
"Any of that just gets put aside because it's you and the ocean first and foremost and it is a bit of a survival of the fittest out there."
Despite that, Fitzgibbons, who takes her place in this year's tour courtesy of a wildcard after being a victim of the controversial mid-season cut last year, is grateful to be challenging herself and learning something new at this stage of her career.
"I think it definitely is the fountain of youth," she said.
"I paddle out and when that time comes in the heat and that big set's rolling your way, you just think it's keeping me young, it's keeping me young and just put your head down and go."
Read Next
For more updates check below links and stay updated with News AKMI.
Education News || Politics News || Journal News || Daily Local News || Lifetime Fitness || Sports News || Automotive News

Source