Canada
A shortage of school bus drivers spurred this trustee to get behind the wheel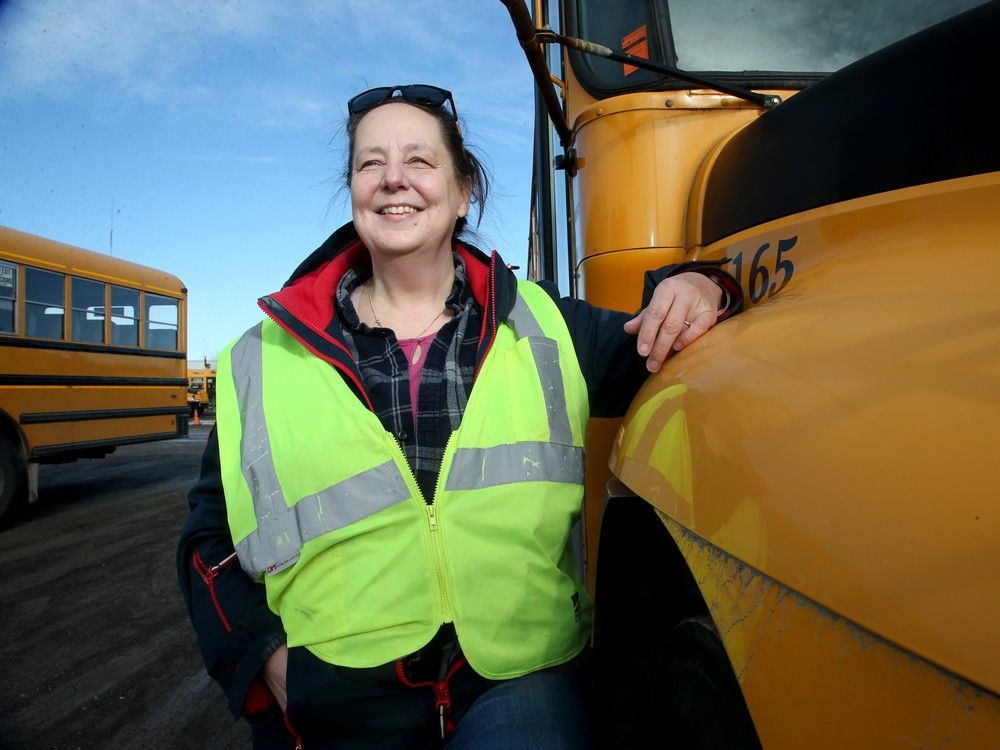 As an Ottawa Catholic School Board trustee, Sandra Moore took about two months to learn the ropes, starting with driving a mini-van.
Article content
Sandra Moore's first name is hand-printed on a piece of paper that's taped above her office chair, a helpful reminder for clients who drop in. In return, she tries to remember each of their names and encourages them to repeatedly let her know if she's mispronounced one, until she gets it right. It is, she believes, a small, but important act that shows respect and earns trust.
Article content
For Moore's office chair is no ordinary one — it's the driver's seat of a yellow Voyago school bus, No. 16165, and her clients are elementary schoolchildren.
Additionally, Moore is not your average school bus driver. She's also the Ottawa Catholic School Board trustee for Zone 2, representing a dozen schools in Kanata North, Kanata South and West Carleton-March, including a couple where she drops off and picks up her young charges each day.
She's been a trustee for nearly a decade, entering the political fray in 2014, when incumbent trustee Ted Hurley stepped down. She was already volunteering as a "reading lady" at Holy Redeemer and other schools, and chaired the school council at Holy Trinity. But, as a former schoolteacher herself in B.C., with degrees in education and political science, she felt the role of school trustee was one she would enjoy and at which she would do well.
Article content
"I didn't run because I wanted to change anything," she told me as we sat in her bus on a cold and rainy morning this past week. "I ran because I really enjoy the whole process of policy and governance. I know, It's a wonky thing, but I thought I could do a good job."
The bus-driving gig began in the fall of 2021 in response to some pandemic-related issues. The volunteering she had been doing at schools, for one, was no longer permitted. With four children, now all in their 20s, diagnosed with mild Asperger's Syndrome, Moore had been a stay-at-home mom for the better part of two decades, and, with COVID restrictions keeping everyone, including her husband, in the house, Moore felt an increasing need to get out of it. And, as a trustee, she was well aware of the shortage of bus drivers that the pandemic exacerbated. It seemed like a perfect fit.
Article content
"I missed being with the kids," she added.
It took about two months to learn the ropes, starting with simply driving a mini-van — "I'm a mom of four," she says. "I can drive a mini-van" — before graduating to slaloming pylons, both forwards and backwards, in a school bus and eventually manoeuvring around traffic circles. By the end of November 2021, she had her own route, driving for between 25 and 30 hours a week, morning and afternoon, for $20 an hour. If you add that to the $13,000 she receives annually as a school trustee, it's clear she's not in it for the money.
True, the occasional conflict-of-interest arises. She recuses herself from board votes concerning busing and transportation, for example. But, by and large, the two roles dovetail nicely.
Article content
"You're the first person a lot of these kids see each day, outside of family," she said. "Mom and dad are handing them off, and the younger ones, the JKs especially, are nervous about it. But, if they see that you're comfortable and that you're happy to have the child on board, they become happier. And you're their first connection to the school system."
While Moore only sees the students for a few minutes each day, relationships develop, with youngsters excited to show her new umbrellas, loose teeth, test results and the like, or tell her it's their birthday or share news of new siblings. She sometimes receives artwork, which she displays on the bus. A drawing of a heart from a Grade 1 student, now taped by the bus's door, bears the message "Happy March 5" because … well … just because it was March 5. Who needs a better reason?
Article content
Now in her second school year, the few minutes of daily interaction Moore shares with students have developed into something bigger as she's watched them grow.
"At first they don't know each other," she says. "But they get on the bus and they start to have to interact with each other. They start to have to talk. Other problems happen, but then they solve the problems and they figure it out. And then, by the end, they're starting to become good friends.
"You feel like you're creating a community in here. I really enjoy that."
The bus-driving also informs her work as a trustee. Moore hears first-hand from the school system's end users — students — in ways that other trustees don't. Instead of simply working on school policies and implementation in a room with senior administrators and department heads, she's watching the results from her driver's seat, listening to what students say and how they say it. To listen to Moore describe it, you start to wonder why ALL school trustees don't at least occasionally take the wheel.
Article content
She cites as an example a young girl from St. Martin de Porres School who told her one morning this past week that it was the best day of the year because artist-educator Abel Maxwell was coming in to speak to her class as part of Standing Against Racism Week.
"I get to actually talk to the kids and hear that and find out what it's like." Moore says. "I'm not hearing from the adults that the kids liked it. I'm hearing a little girl who told me that this is the best day of the year."
For more updates check below links and stay updated with News AKMI.
Education News || Politics News || Journal News || Daily Local News || Lifetime Fitness || Sports News || Automotive News

Source