Canada
Deachman: Don't sacrifice LeBreton Flats public space for new Sens owners — even if they include Ryan Reynolds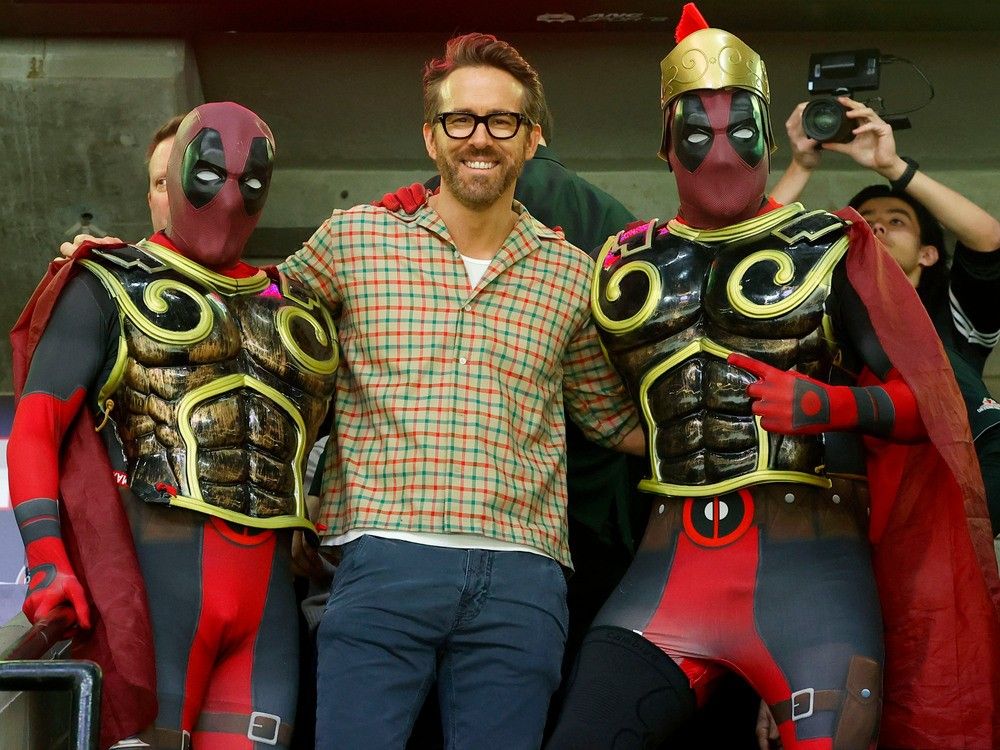 Article content
Ottawa hockey fans were treated to an epic Odyssean battle Thursday night, as the Senators kept their playoff hopes alive by beating the… Okay, I actually can't remember much about what happened on the ice, what with minority owner wannabe Ryan Reynolds in attendance.
Article content
It's something of a tent revival show when the Hollywood star is in town, like a healer laying on hands and walking on (admittedly frozen) water. Such is the fervour that Ottawans seem to feel about having the genuinely affable actor as the new face of the team, even if he would only be a part of the bid by Toronto real estate behemoth The Remington Group.
It was certainly more than enough to make folks forget Monday's off-ice gamesmanship when NHL commissioner Gary Bettman had "getting to know you" meetings with Mayor Mark Sutcliffe and NCC head Tobi Nussbaum.
Bettman held a news conference where he said little and tamped down any questions about the Sens sale that he considered speculative. He wouldn't even confirm or deny that there were six parties interested in buying the team, as if that information might involve theorizing or guesswork. "Somewhere around six," he said while twirling a speculative finger in his coquettish fashion.
Article content
He did note that there were a "meaningful" number of potential suitors and that the interest they'd expressed was at "meaningful" levels. I've never heard the word used in such meaningless ways.
Meanwhile, the NCC must be wearing out the LeBreton Flats drawing board, for all the ideas and plans that have come and gone since the federal government announced the expropriation of the land more than 60 years ago. The Department of National Defence's planned three-tower Pentagon-of-the-North was the first project to be scrubbed following the unceremonious ousting of residents there, and in the decades since, all manner of imagined dog-and-pony shows have also failed to materialize. Will a National Hockey League team be the latest?
Article content
If Bettman was playing most of his cards close to his chest on Monday, he did significantly walk back a statement he made in 2017, when he warned that a new downtown arena was "vitally important to the long-term future, stability and competitiveness of the Senators." Instead, he gave the impression this week that the decision of where the team ultimately played would be left to whoever bought the club.
He also offered his opinion that the more than six acres that the NCC had parcelled for an arena and hotel might be too small to accommodate all the needed parking, loading bays and TV hookups.
Together, those statements sound a lot like a play to get the NCC to offer the Sens a bigger footprint at the Flats. It dovetails nicely with Sutcliffe's recent comments that, while he's not against LeBreton as the Sens' future home, and he's by and large opposed to spending taxpayers' dollars to build an arena for the club, there are some city-owned sites that might be suitable if the conditions were right, including Bayview, RCGT Park on Coventry Road and land near Hurdman Station.
Article content
It all adds up to some tag-team posturing aimed at the NCC that essentially says, "Is this the best you can do? Could you at least throw in a roof rack and some winter tires?"
It also begs the question of what the real reason is for any required additional space and where it will come from.
Loading bays and TV hookups can surely be accommodated in the space already allotted. And, if it's for the other thing Bettman mentioned — parking — then maybe we've always been at the wrong place. Wasn't it LeBreton's central location and proximity to LRT that made it an ideal site for an arena in the first place, so that it needn't be so auto-centric? Yes, the proposed downtown site is tiny compared to the Canadian Tire Centre's 75 acres, but the current arena is almost all surface parking and as ugly as a mud fence. The NCC shouldn't tear up its LeBreton plans to add surface parking.
Article content
Meanwhile, we'd do well to ignore Sutcliffe's comment that other sites might be suitable because LeBreton was "not walking distance from Elgin Street, for most people, especially in January." I'd argue that the furthest parts of Lots 5 and 9 at the Canadian Tire Centre are not especially walkable to the current arena in winter, either, but that's not stopping hockey fans from showing up.
Another possibility is that whoever buys the team would want to develop the property beyond simply an arena and hotel. After all, there's an excellent chance that the group with the winning bid will include a developer—the Remington Group is hardly the only one. A few hundred extra parking spaces at an event centre hosting 100 or so games and concerts a year isn't going to move the needle nearly as much as another condo tower or two.
Article content
As for where this extra land is going to come from, the simplest, most obvious and—I can't stress this last part enough—worst solution would be to carve it out of LeBreton's planned green space. You know, the part of the whole redevelopment where anyone in Ottawa—hockey fans and non-fans alike—can go and sit under a tree and read or have a picnic. Green space, it seems, is always the wiggle room that gets sacrificed.
LeBreton seems the obvious choice to relocate the Sens, but if it's at the expense of the development's public space all for the sake of our new owners — and yes, even if they include Deadpool — then my vote says the team can stay parked in Kanata.
For more updates check below links and stay updated with News AKMI.
Education News || Politics News || Journal News || Daily Local News || Lifetime Fitness || Sports News || Automotive News

Source