Canada
Deachman: Draft budget follows Sutcliffe's promised, safe plan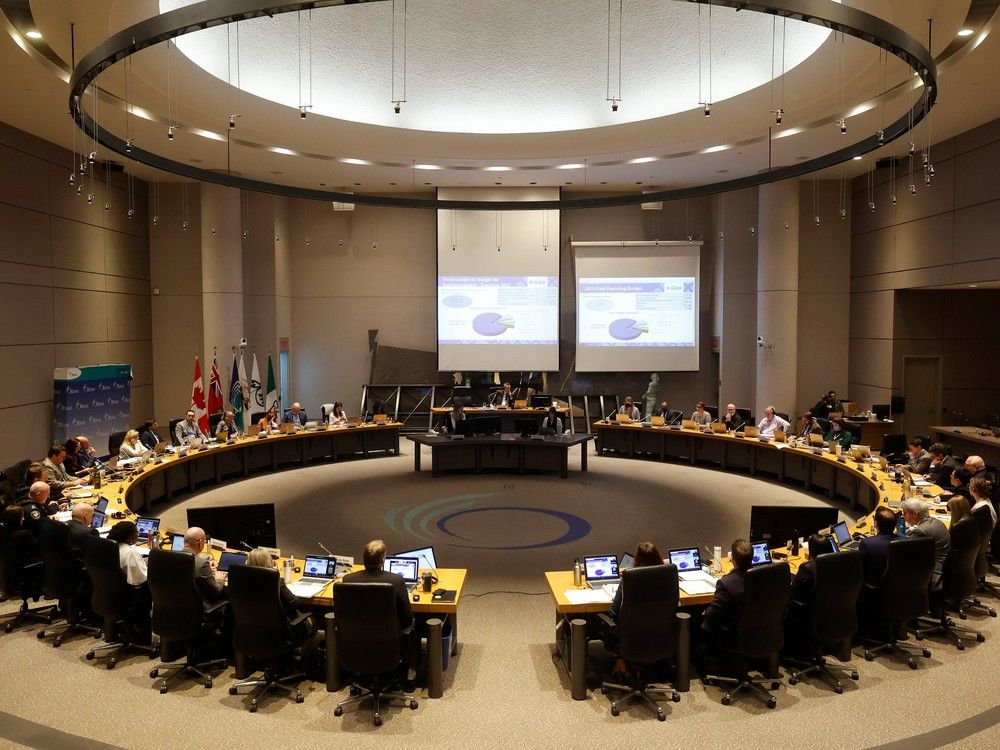 "The $4.5 billion 2023 draft budget tabled at council on Wednesday largely follows the priorities that Mark Sutcliffe identified during his successful campaign for mayor last fall, and as such shouldn't rattle too many cages that weren't already shaking."
Article content
The $4.5 billion 2023 draft budget tabled at council on Wednesday largely follows the priorities that Mark Sutcliffe identified during his successful campaign for mayor last fall, and as such shouldn't rattle too many cages that weren't already shaking.
Article content
A tax increase of between two and 2.5 per cent? Check (it's 2.5).
Article content
A transit fare freeze? Check.
More police officers and paramedics? Check (25 police and 14 paramedics).
Savings and efficiencies identified? Check, although with an asterisk.
Money for programs for the most vulnerable? Check
Infrastructure investments for roads, sidewalks and cycling? Check, check and check, and, in fact, a bit more than Sutcliffe initially promised.
It is, in the mayor's words, a "tight" budget, and one that could face some serious challenges if expected funding from the province and feds doesn't materialize. It's also not the final budget — that comes on March 1, after consultations between the public and their counsellors — and so some pieces will undoubtedly change here and there. But don't expect any wholesale changes, especially if, as Sutcliffe suggested, this year's budget process reflects a change from a fractious previous council that many voters said was a problem.
Article content
"My goal is to deliver a budget that achieves the commitments that I made during the election campaign," he said on Wednesday, "including both priority spending and a specific tax increase, commitments that were supported by a majority of Ottawa voters. But in keeping with my goal to bring change to city government, my goal is to pass this budget through collaboration and consensus."
There will be some jockeying, though, as councillors hope to have their concerns addressed. For example, when Capital ward Coun. Shawn Menard asked police chief Eric Stubbs if he'd support a portion of OPS's budget going instead to social services departments if police involvement in service calls surrounding mental health, drug addiction and homeless issues are diverted to those agencies, as many have proposed, Stubbs said he didn't.
Article content
"That is not something that I that I support outwardly," he said, "because I do see a demand and, as you mentioned, when you talk to our membership, they're over-tasked."
In other words, there's always a need for more police spending.
Among the welcome new funding announced Wednesday is $5 million to support the implementation of the city's climate change master plan, which hopes to mitigate and adapt to the effects of climate change over the next three decades. The city's Indigenous, gender, race, and equity strategic priorities will also get added funding, including $250,000 to implement its anti-racism strategy and $150,000 to establish relationship agreements supporting its Indigenous reconciliation policy.
Article content
Many voters will also be happy to see Sutcliffe's campaign promise to spend an additional $25 million annually on fixing roads, sidewalks and cycling infrastructure actually upped this year to $30 million.
Meanwhile, the line-by-line audit of spending that Sutcliffe promised hasn't yet happened — understandably given that he's only been in office for a couple of months — but the draft budget did identify nearly $54 million in savings, almost all of that — $47 million — from transit. Factors for that saving include spending adjustments for lower ridership — the budget assumes ridership will only increase from 65 per cent last year to 70 per cent — and the retirement of 117 inactive buses in OC Transpo's fleet.
There's still a month to go in the budget process, but Wednesday's draft budget is not a grand plan or an about-face in the direction the city is headed, and won't likely become one. It is a meat-and-potatoes spending plan that follows Sutcliffe's priorities of safety, reliability and affordability, and his promise to keep tax hikes low.
For more updates check below links and stay updated with News AKMI.
Education News || Politics News || Journal News || Daily Local News || Lifetime Fitness || Sports News || Automotive News

Source