Canada
'Good for democracy': Ottawa's most exciting mayoral contest in more than a decade approaches finish line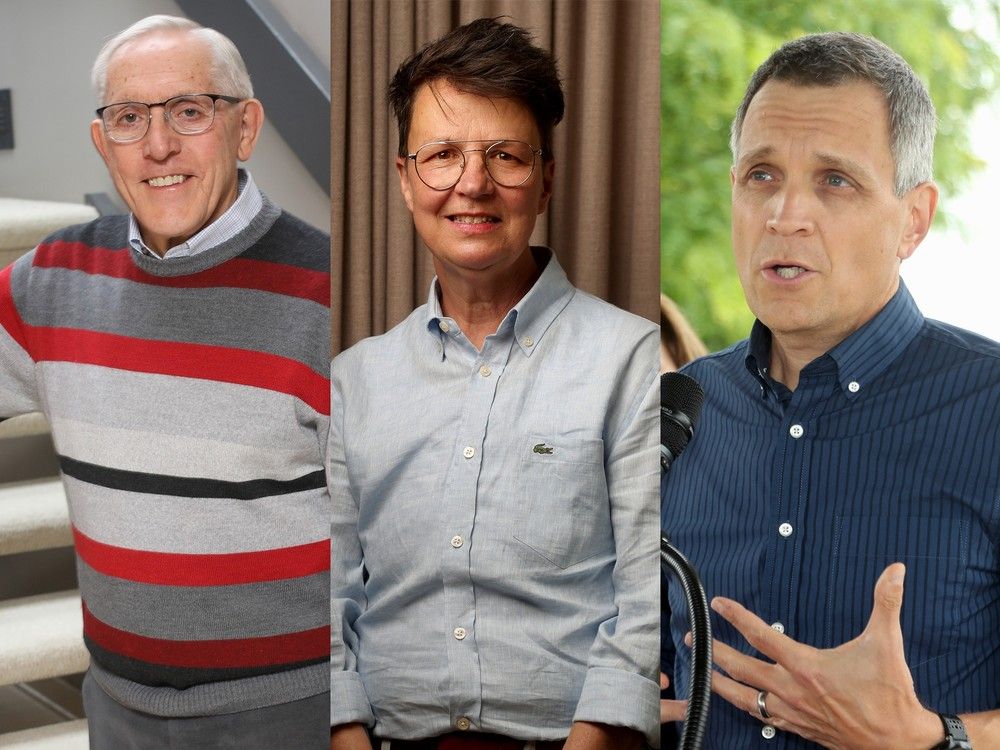 Article content
There can only be one mayor and Ottawa's choices have narrowed to two very clear alternatives in one of the most consequential municipal votes in recent history.
Article content
That's the message both Catherine McKenney and Mark Sutcliffe are taking to voters in the sprint to the finish of this mayoral race, electric with the kind of excitement and uncertainty the city's gone without since Jim Watson steamrolled into the mayor's office more than a decade ago.
Article content
Watson's retirement announcement last December that unofficially kicked off the battle to replace him, with former mayor Bob Chiarelli, longtime city councillor Diane Deans and McKenney all announcing their intention to pursue the top job that same day.
By the close of nominations in August, the dynamics of the mayoral race were firming up. Deans had changed her mind about running and Rideau-Vanier's Mathieu Fleury announced he wouldn't put his name forward, leaving McKenney the only sitting councillor and clear "progressive" choice in the race for mayor.
Article content
To McKenney's right –– but not too far –– was Chiarelli, with high-profile latecomer Sutcliffe finding a spot between them, bringing a background as a broadcaster and businessman well-known around town that could reduce any disadvantage of entering the race later than his competition. Polls published this month suggest Sutcliffe has climbed in support to a very close second behind McKenney, at one point achieving a statistical tie, with a significant percentage of voters still undecided.
Eleven others round out the roster of mayoral candidates but none has been able to secure more than a few percentage points of support in public polls, with the exception of Param Singh. In a Mainstreet poll released Friday, 10 per cent said they were leaning towards a vote for Singh, a 20-year veteran of the Ottawa Police Service, while Chiarelli slipped to fourth place with four per cent.
Article content
Chiarelli was certainly a known quantity as former mayor, regional chair and local MPP, but it wasn't clear how credible a mayoral option he'd seem to voters. After a lower-profile and less polished campaign — albeit one that offered up some ideas that have provoked debate — the question no longer seems to be whether Chiarelli has a shot at winning but how his presence in the race will affect the two leaders. 
For Sutcliffe, in particular, the more fiscally conservative Chiarelli has presented a spoiler threat that could siphon off valuable votes from centrist and right-leaning voters and whose campaign has exposed landing places for the argument that Sutcliffe represents a continuation of the city hall status quo.
Article content
This past week, for instance, Chiarelli teamed up with McKenney to challenge Sutcliffe on his unwillingness to oppose hiring a new police chief before the new council is in place ⁠— a process one of Sutcliffe's honourary campaign co-chairs was overseeing as chair of the Police Services Board.
If Friday's Mainstreet poll does reflect how people end up marking their ballots, Singh could also be a sleeper factor that influences the mayoral outcome on election night.
As the time left to persuade voters ticks away, Sutcliffe has been able to lean on the longest list of support from established and well-networked politicians, including many current and former federal Liberals and Conservatives. McKenney has also scooped up some big-name endorsements –– Deans, ex-Liberal MP Catherine McKenna, and former Bank of Canada governor Mark Carney, among them –– that have added more centrist backing to their support from those in the NDP establishment.
Article content
While the Sutcliffe camp has lobbed criticism in McKenney's direction since the mayoral contest really started rolling in late August, it's only been in the last two weeks that McKenney's strategy has shifted from little comment about Sutcliffe, unless asked, to full-throated warnings about what he would do to the city as mayor.
And that's service cuts, McKenney reiterated in a Wednesday interview — a now-favourite line of attack, with Sutcliffe responding with a commitment that he will not cut any services or programs and McKenney insisting that he'll have to, to stick to the financial plan with tax increases in the two-per-cent range that he's laid out.
"My plan is bold, it's ambitious and it is affordable and it will change this city," said McKenney, of their message to voters.
Article content
"We'll invest in climate action, we'll invest in transit, we'll invest in our services, like recreation, like … libraries, the things that make life easier and more affordable for people."
Sutcliffe, meanwhile, has been characterizing McKenney's plans as downtown-focused and out-of-touch with the current desires and concerns of most Ottawans. McKenney has fired back against that by referencing their own time living in and working for the suburbs as a staffer at city hall, and highlighting platform promises they say will benefit all of Ottawa's residents, including borrowing $250 million to fast-track the construction of the city's cycling network. It's a promise Sutcliffe regularly targets as misguided.
Article content
"I think my plan reflects the priorities of the people of Ottawa right now. And … that's to build our economy, to respect taxpayers' money, to respect all forms of transportation in the city and respect all parts of the city," Sutcliffe said Thursday.
"I've been spending a lot of time in the rural and suburban parts of Ottawa and not just downtown Ottawa … I think it is a question of priorities and a question of respecting all residents of Ottawa."
Those residents have certainly been given plenty of material to chew over in deciding how they want to mark their mayoral ballots. Sutcliffe and McKenney each rolled out platform pledges by theme over a period of weeks and both published financial plans, costing out their promises and property tax commitments.
Article content
They've gone head-to-head in debates including a handful packed into the campaign's final days and haven't pulled punches in the public eye, while back-and-forth sniping between supporters of their respective campaigns played out on social media.
But Sutcliffe said that hasn't damaged his relationship with McKenney, with whom he describing having a mutual respect.
"We get along really well," he said Thursday. "I think Catherine would say they same, I hope (they would) … But we're competing for the same job. And we have different ideas about the path forward from here. And that's what elections are all about.
"I think it's actually great that we've given the voters a very clear choice."
McKenney had a similar take, describing the energy and engagement they've seen as "good for democracy."
Article content
"It gives voters something to think about, something to look at …. it's turned out to be a very clear choice, you know, between two campaigns. And I think that's good. I think that that is what this city has needed for quite some time."
Looking for more information to help you make your choices on election day?
This article is available for free — outside of our paywall — because we believe this is a matter of crucial public interest. If you'd like to support us as we continue to provide journalism that matters for all Ottawans, please subscribe: https://ottawacitizen.com/subscribe/
For more updates check below links and stay updated with News AKMI.
Education News || Politics News || Journal News || Daily Local News || Lifetime Fitness || Sports News || Automotive News

Source