Canada
New book reveals macabre story of First World War soldiers' body parts collected for museum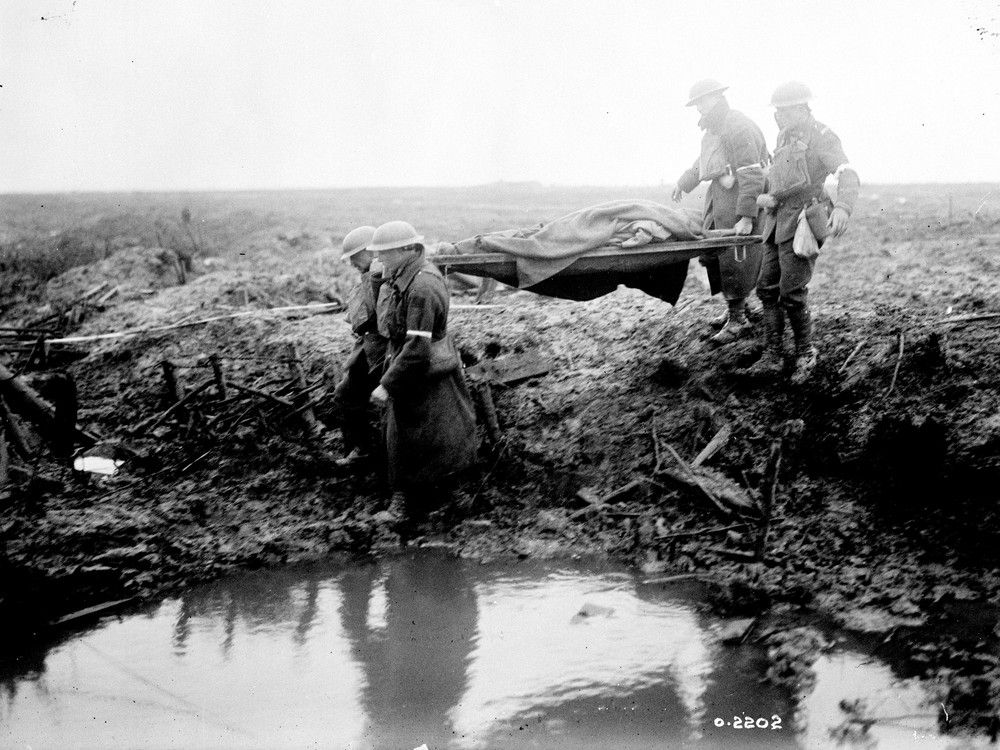 "This time I was reading every single page because I couldn't quite believe what I was reading: that Canadian doctors were part of this British, Imperial program to harvest the body parts of slain soldiers."
Article content
When Canada's Unknown Soldier was repatriated from France in 1995, it took years of planning and negotiations before the body of the anonymous First World War soldier was brought to Ottawa, where he lay in state on Parliament Hill for three days before being entombed at the National War Memorial.
Article content
That modern-day reverence makes all the more shocking the finds of Ottawa historian Tim Cook, whose new book tells how Canadian First World War doctors snatched brains and bones and other body parts from the dead and shipped them back to Canada, intending them for public display as museum pieces.
Article content
The book, Lifesavers and Body Snatchers: Medical care and the struggle for survival in the Great War, is Cook's 14th book about this country's wars.
Cook has spent 25 years digging through Canada's military archives. Even so, he found the story of body part harvesting "a shocking revelation."
"It's a story I've been researching for over a decade," said Cook, chief historian and director of research at the Canadian War Museum. "I'd seen glimpses of it in letters and the official records and even a few published histories of the war. And I'd been looking in the National Archives for years and years for these files and couldn't find them."
Article content
When he did find the evidence in mislabelled or poorly labelled files among the hundreds of thousands of First World War documents in the archives, he was astounded.
"Sometimes when you're in the archives you're just taking notes or taking pictures with your phone. This time I was reading every single page because I couldn't quite believe what I was reading: that Canadian doctors were part of this British, imperial program to harvest the body parts of slain soldiers. Canadian brains, bones, lungs and everything else."
The justification for the program, done without consent or informing families, was to educate doctors about the nature of wounds encountered on the horrific new battlefields, where soldiers were torn apart by shrapnel and shell splinters, mowed down by machine guns and blistered and asphyxiated by poison gas. While the educational aspect was understandable, it's harder to comprehend the next part, where the specimens were shipped to McGill University, destined for display in a planned, but never built, museum.
Article content
"I struggled with it," Cook said. "It's clearly part of a learning process and they learned from what they saw. That's the first part of the book: the Life Savers. But the second part is the Body Snatchers, and there's a contradiction there that I had a difficult time squaring in my own mind, trying to understand why the doctors would do this: save lives, but also snatch body parts."
Cook said the original fervour for the program among doctors, senior military commanders and politicians suddenly ended in 1922, four years after the war ended.
"In 1922, it's almost like there was a sea change," he said. "It's like they suddenly realized that this didn't align with how Canadians were thinking about the dead. There were thousands of memorials being built in every city, town and village. You can almost see in the records where they realize they have something that they shouldn't have."
Article content
The nearly 800 body parts were preserved and catalogued, but never put on display. They were eventually moved to Camp Borden in Ontario, where they were stored until the 1950s, when they were disposed of. Cook couldn't find out why or how.
"There is no record. I called everyone under the sun. But, quite clearly, they were destroyed unceremoniously."
Cook knows the ghoulish practice will garner attention, but it shouldn't detract from the extraordinary medical care during "the war to end all wars."
The First World War saw the development of pioneering medical techniques such as X-ray machines, blood transfusions, battlefield surgeries and even facial reconstruction for ghastly damage inflicted by bullets and shells.
Article content
"If you were able to make it to a doctor, nine out of 10 wounded soldiers survived," he said. "That's incredibly high. But, as we know, tens of thousands of Canadian soldiers died in no-man's land. They were either blown apart or slowly bled out, or they died as they were being carried back through the mud of Passchendaele to finally reach a doctor. That was the great challenge: the movement of the wounded."
Some 60,000 Canadians died in the First World War, a third of whom have no known graves.
Cook began writing the book at the beginning of the COVID-19 pandemic and was surprised by the modern parallels with the more than a century-old war. Canada, for example, made vaccinations mandatory for its First World War soldiers to protect them from killers like smallpox and typhus. As a result, Canadian troops suffered far fewer losses to disease than did the British, who did not make vaccinations mandatory.
Article content
In the final year of the war, the world was gripped by another great pandemic — the Spanish flu — which killed 55,000 Canadians.
One heartbreaking chapter talks about "shell shock" and the crippling effect of battle on soldiers' minds.
"Shell shock is something that, before the war, very few doctors would have seen anything like it. It was bewildering, to the doctors and to the high command," Cook said.
"The treatments ranged from Freudian, like talking to soldiers and giving them warm baths, to the horrific, like electric shock therapy and belittlement. One way to think about that is to think of the war as a giant cauldron where doctors were trying out various techniques, some of them successful and saved lives, and others that didn't."
The irony of the advances in medical care during a war was not lost on the doctors who served, nor the soldiers who fought. Cook quotes one medical officer lamenting the pressure he felt to patch up soldiers and send them back into combat, being called upon "in the name of King and country" to "convince a sick man that he is not sick."
Meanwhile, Sgt. Frederick Bagnall of P.E.I. noted wryly: "We are maintained by science to be killed by shells."
For more updates check below links and stay updated with News AKMI.
Education News || Politics News || Journal News || Daily Local News || Lifetime Fitness || Sports News || Automotive News

Source