Canada
Norwegian kayaker paddling through Ottawa on trip along waterways of eastern North America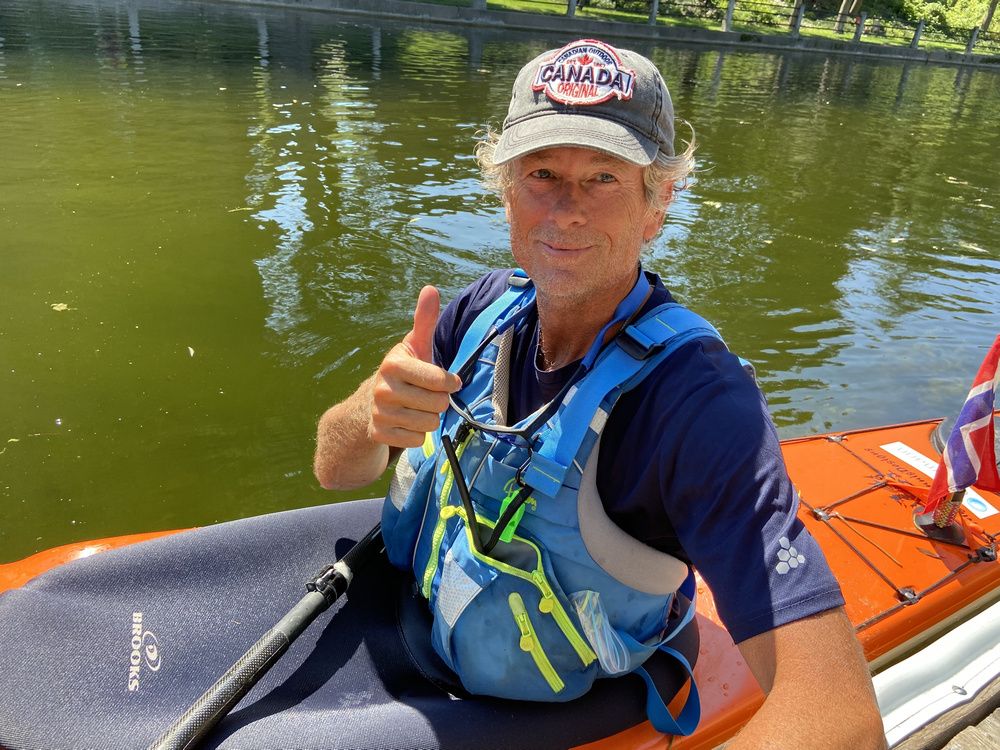 "In life, you have windows of opportunity and if you want to do something, you've got to do it. You can't wait. Don't put things off"
Article content
The first time Mark Ervin decided to go for a long paddle, he went from his home in Oslo, Norway, to Athens, Greece — a 6,000-kilometre journey through the rivers and canals of Europe.
Article content
For his latest trip, Ervin decided to go bigger.
Article content
On Wednesday, he paddled through Ottawa on the Rideau Canal, marking day 61 of a year-long, 10,500-kilometre "Greater Loop" journey around eastern North America.
Ervin, aged 64 and "kick-starting his retirement" from a career in public relations in the shipping industry, left Halifax on June 2. He's paddling the St. Lawrence and Ottawa rivers, bound for the Great Lakes, Chicago, and down the Tennessee River to Mobile, Alabama, before kayaking the Atlantic Coast back to Halifax.
Following his Athens journey, during which he spent 70 minutes in 6 C water after capsizing off the coast of Sweden and nearly died, "I swore I'd never paddle again," Ervin said in an interview near the much more sedate environment of Patterson Creek, just off the Rideau Canal.
Article content
"Then I got really bored at work and I heard about this guy doing this (North American) route. He didn't finish it and the more I thought about it, the more I wanted to do it. It's not on my bucket list. It's just something I wanted to do.
"In life, you have windows of opportunity and if you want to do something, you've got to do it. You can't wait. Don't put things off."
Ervin was born in Atikokan, a couple of hours away from Thunder Bay, Ont., and originally trained to be a priest. But after five years, he found he "hit a wall" and moved to Los Angeles. There, he studied communications and met his future wife, a Norwegian. They moved to Oslo in 1986 and married the next year.
Article content
The couple had three children and were married 25 years before she died of a brain tumour.
Ervin began kayaking a dozen years ago, first as a way to spend time with his son, and now as a solo paddler. Eventually, he became obsessed with long journeys and "slow travel."
"A lot of times in life all we see is asphalt and short distances," he said. "We don't see long horizons. I just really wanted to experience nature and experience Canada and I decided to do it this way."
Along the way, he's encountered tides, currents and storms. Crossing Baie Verte on Nova Scotia's north shore, he was caught in winds and three-metre waves that battered his 18-foot, NDK-brand sea kayak.
"I felt like a rubber duck in a washing machine. It took an hour and a half to get to shore," he said. "And then I cried. That was way beyond what I wanted. I told my children I'd be safe."
Article content
Ervin said outside Montreal, he saw a woman's body being washed against the shore by the waves. He called 911 and waited for police.
"I could see she was wearing deck shoes and I thought it was probably an accident," he said. "But when I went by I could see it was no accident. She was bound in chains. The chains went from her hands down to her ankles…
"That was disturbing. I'm not used to death."
But the overwhelming experience of the trip has been about connecting with people, Ervin said. Though he's self-sufficient with a tent and camping gear (and drone and laptop computer) tucked in his kayak, he's slept in people's homes, aboard boats and in a garage with a marijuana grow-op.
"When I started, I told myself that if people want to help me, I'll say 'yes.' A lot of the time we don't want to say yes to people. But for me, life is about people. We need connections with people."
Article content
Ervin is lean and bronzed by winds and the sun. He paddles for five days in a row and then takes one rest day. He averages 40 kilometres per day, sometimes more. He did 60 kilometres on Tuesday before camping on Upper Duck Island on the Ottawa River.
Though the fundraising aspect of his journey is low-key, Ervin is working with a Norwegian TV charity campaign to raise money for Doctors Without Borders and a charity called Captains Without Borders, which trains underprivileged women and girls for a maritime career.
"Life for me is about two things," he said. "The first thing is faith: What do you believe in? What is your value system?"
Faith as in religion?
"No, faith as in just faith. Some people believe in God. I always ask people, 'What's your "Why?" What is your purpose?' And that to me is faith. When they discover what they want to do, who they are," he said.
"And the other thing is to create good memories. When my wife died, I just said, 'I want to be the best dad I can be and I want good memories.'
"My kids are now 22, 30 and 33, but I'm still creating good memories."
For more updates check below links and stay updated with News AKMI.
Education News || Politics News || Journal News || Daily Local News || Lifetime Fitness || Sports News || Automotive News

Source