Canada
People's commission report on 2022 convoy protest describes 'human rights' failure by officials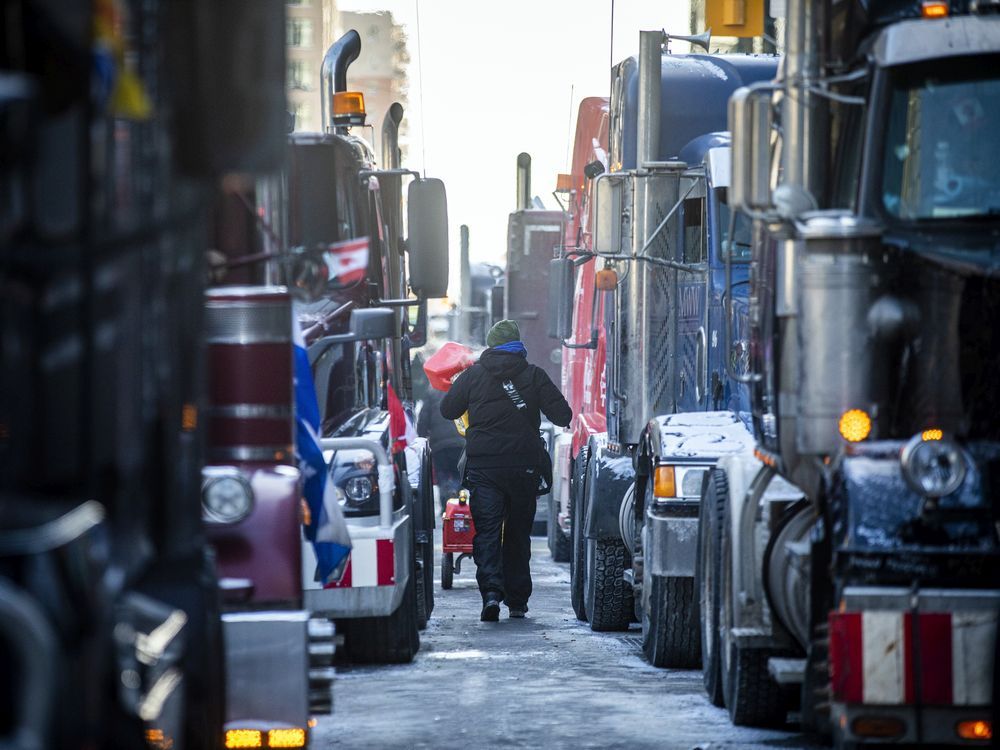 The report to be released Monday is the first of two from the commission, with another providing more analysis and recommendations to be made public at the end of March
Article content
Facing an occupation of their neighbourhoods in January and February 2022, the people of downtown Ottawa were abandoned by police and all three levels of government, an abdication of responsibility that was nothing less than a human rights failure.
Article content
That assessment is at the heart of a report to be released Monday by the Ottawa People's Commission on the Convoy Occupation (OPC), which, over the course of 14 hearings and eight community meetings last fall, as well as online and mailed submissions, heard from more than 200 people about how last year's weeks-long convoy occupation impacted their lives. Two of those hearings were devoted to supporters of the convoy.
Article content
The commission, operating as a program of the Centretown Community Health Centre, was itself neutral on the convoy, and its mandate did not include debate about vaccine or mask mandates, public health protocols or the invocation by the federal government of the Emergencies Act.
Monday's report is the first of two releases from the commission with a second report providing more analysis and making recommendations to avoid or minimize harmful impacts in future expected to be made public at the end of March.
Article content
In noting the importance of the right to peaceful protest, commissioners Leilani Farha, Monia Mazigh, Alex Neve and Debbie Owusu-Akyeeah underlined the "wholesale failure" and "colossal abdication" of municipal, provincial and federal governments to respond to the convoy in a way that recognized the human rights of those living and working in downtown communities.
"It is starkly evident that none of those governments have developed an overarching human rights framework to guide decisions about programs and services for residents of downtown Ottawa, nor do they conduct a regular assessment to identify and understand the human rights needs of the diverse communities who call central Ottawa home."
Absent that framework, the report continues, it's not surprising that, when faced with a crisis such as the convoy occupation, "human rights considerations did not figure prominently, if at all, in the response from governments or police."
Article content
The report refutes oft-made claims by convoy participants and others that it was a peaceful event, with testimony making clear that, for residents, it was neither peaceful nor even a legitimately disruptive demonstration.
"People," it notes, "felt occupied in that their communities were taken over by force and without their agreement, both physically by way of blocking streets with large trucks and other vehicles, and by accosting people for wearing masks, as well as psychologically through such methods as blaring horns and displaying symbols and messages of hate, racism and discrimination."
The report also takes a swipe at convoy organizers' claims that there was diversity among participants and supporters, suggesting that, while "true to a limited extent, it is clear that the overwhelming majority of people involved in the protests were white males."
Article content
The bulk of the 43-page document, titled "What we heard," summarizes the testimony of experiences that residents, business owners, workers, convoy participants and others shared with the commission.
The summary is broken into five parts that ultimately constitute the report's main findings: that it was an occupation as opposed to a conventional protest; that it was violent; that people were abandoned; that, absent help from officials, the community mobilized to help those in need; and that the convoy also had supporters who, after two years of feeling ostracized because of their opposition to certain public health protocols, welcomed the convoy's arrival and message.
Each section, meanwhile, includes numerous statements from people who testified, either in person, online or by written submissions, with sentiments varying from: "It was a horrific experience. I have completely lost faith with our elected and paid officials to keep me safe," to "The 'Freedom Convoy' was the proudest I have ever been to be Canadian. Peaceful people coming together, supporting each other, to speak against a government that has done such wrong and criminal acts against its people."
For more updates check below links and stay updated with News AKMI.
Education News || Politics News || Journal News || Daily Local News || Lifetime Fitness || Sports News || Automotive News

Source