Canada
'The mayor is loosing his mind' — Trove of WhatsApp messages reveal city's LRT angst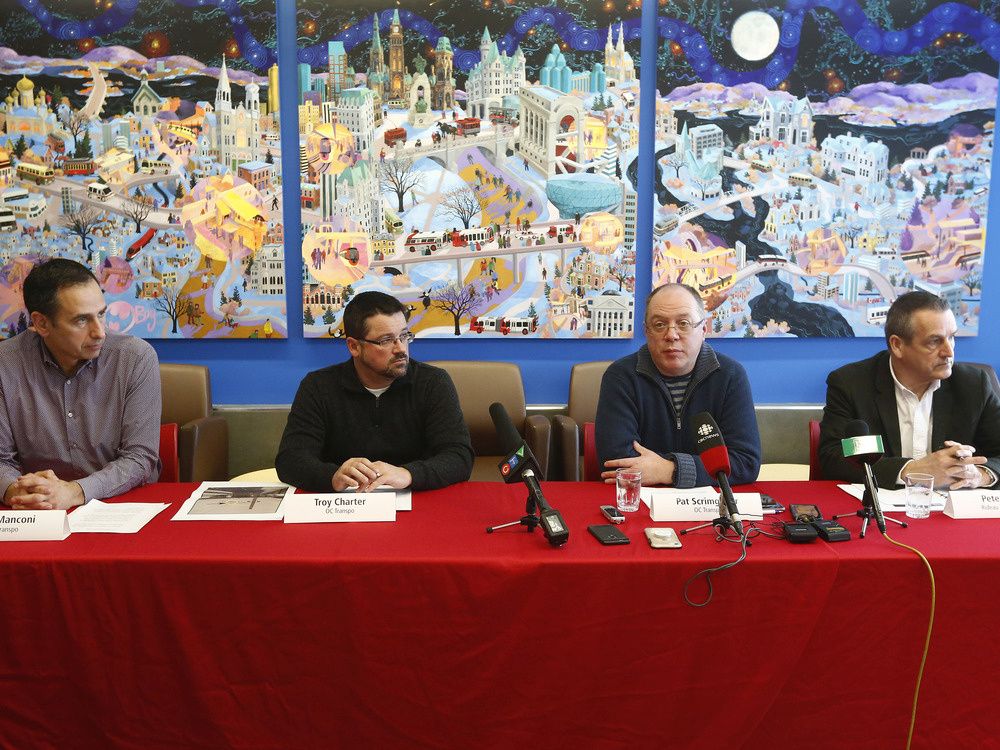 "Our reputation is in tatters…. I'm not concerned about costs at this point"
Article content
A furious mayor who was "loosing (sic) his mind" over LRT problems, flattened train wheels, frozen track switches, meddlesome councillors, an axe-wielding vandal and a spilled box of blueberries: These are just some of the headaches that bedevilled the first year of service for Ottawa's troubled Confederation Line.
Article content
The behind the scene warts of LRT operations were revealed Tuesday in a trove of WhatsApp messages entered as evidence by the Ottawa Light Rail Transit Commission.
Thousands of messages on more than 600 pages of documents included conversations between key players like Mayor Jim Watson, city manager Steve Kanellakos, former transit general manager John Manconi, transit directors Pat Scrimgeour and Troy Charter, transit committee chair Allan Hubley and others. They covered the period from testing and launch in the summer of 2019 to winter operations in December 2020.
In one exchange on Nov. 1, 2019, not yet two months into full operation, a frustrated Watson demanded the parallel bus service resume to take strain off the struggling LRT.
Article content
"We need parallel service brought back," Watson messaged. "On Monday. How do we make this happen? Our reputation is in tatters. Please tell me how we bring it back. I'm not concerned about costs at this point. I need reasons how we bring it back as opposed to why we can't."
In addition to detailed questions about service times and train availability, Watson also messaged about his own experiences on the train.
"Train 1110 has wrong message. We are heading west and it says destination Blair," the mayor messaged on Nov. 4.
At one point, Manconi pleaded for some relief:
"Mr. Mayor, I beg you, please, I am getting so many messages from you on multiple channels and your staff," Manconi messaged on Oct. 28. "I will answer everyone of them. The service is running well … All being actioned. We are drowning in message overload."
Article content
In February, when trains were sidelined by flattened wheels, Manconi messaged Scrimgeour to say the mayor was "loosing his mind."
"Pat help me out. Mayor is upset. Put out the following tweet immediately. Full service has been running all day. One stoppage of one train as a customer pulled the emergency alarm. Service kept running. No delays."
Later that day Manconi messaged Charter: "… Mayor is loosing his mind. Troy, what's going on?"
"Mayor quote 'I don't want us to eat it.' Pat, put out a message," Manconi wrote.
On Jan. 19, 2020, a furious Manconi complained about frozen track switches that delayed trains during a winter storm and urged staff to hold "Peter" to account, presumably Rideau Transit Group CEO Peter Lauch.
Article content
"I am hammering Peter right now," Manconi messaged Charter.
"Troy, don't let him win the 'I am sorry' BS game. They should have listened to us — flood the line with staff. They didn't and now we are being destroyed in the media and social media. Don't cut him any breaks. He's telling me he's keeping you informed. I told him I don't care — they need to execute," Manconi messaged.
"I can tell you from personal experience I would much rather talk to 'after-the-fact' auditors and bean counters about overtime expenditures than to elected officials and the media about failure to deliver reliable service during storms. If Peter had any pride or sense of professional responsibility, he would resign now."
In one text, Manconi described how a vandal with an axe broke into Tunney's Pasture Station, smashing a fare kiosk and doing other damage. The man was arrested by Ottawa police. In a lesser problem, Hubley noted someone spilled blueberries on the long escalator at Rideau Station. "Going to be messy!" he messaged.
Article content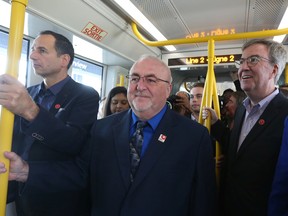 Citizen Transit Commissioner Sarah Wright-Gilbert also drew the ire of senior managers and Watson when she appeared on a CFRA call-in show.
"Why isn't someone pulling that public commissioner off the air," Manconi messaged the group on Oct. 26, 2019. "She is live on CFRA. A call-in asking people to complain about OC Transpo? She is destroying us with misinformation. Destroying the brand and accusing of us of distorting facts. Also talking about congestion. How is this appropriate or fair?"
"Are he and you and Allan and clerk should meet with her when Allan is back and say if attacks don't stop she will be removed," Watson replied.
"I too am furious with her. Best advice. Turn off the radio and shut out her nonsense."
Article content
In one exchange on New Year's Eve 2019, Tom Prendergast, a consultant with STV, laid into train maker Alstom.
"I have NEVER seen a vehicle series experience so many different failure modes of different systems, assemblies and components going through new fleet launch as these Alstom vehicles are. Unfriggin believable to say the least and something that is giving Alstom a 'black eye' on. Although going back in memory we have had power problems come and go with no clear understanding of cause so it has been a 'cat and mouse' game…"
Periodically during the pages and pages of messages released, Manconi sought to deliver encouragement to his team.
"Folks — transformative change is hard," he messaged on New Year's Day 2020. "What we are doing in Ottawa has never been done before and we loose (sic) track of that. Be proud and strong and keep pushing we will get through this. None of this is easy and nobody other than us will know how great we did on so many many fronts. Be proud! Hold your head up high and thank you for all everyone of you have done."
For more updates check below links and stay updated with News AKMI.
Education News || Politics News || Journal News || Daily Local News || Lifetime Fitness || Sports News || Automotive News

Source