Canada
Theatre Review: Combined companies pull off marathon six-hour production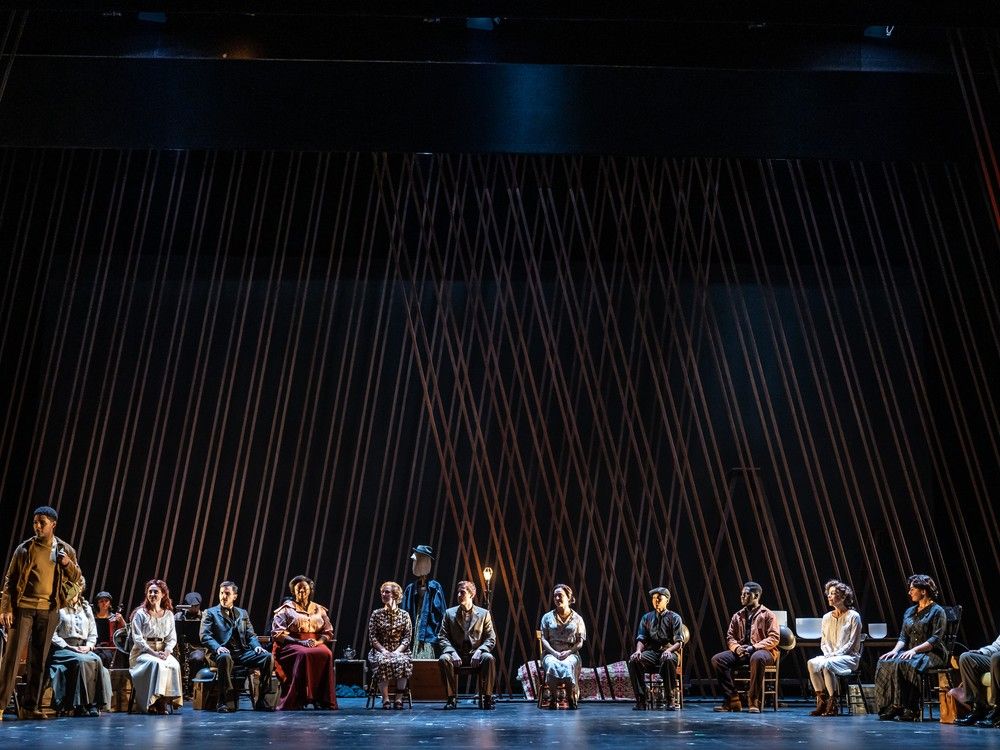 Reviews and recommendations are unbiased and products are independently selected. Postmedia may earn an affiliate commission from purchases made through links on this page.
Article content
Theatre review
Fall On Your Knees
Article content
Based on the novel by Anne-Marie MacDonald, with a script by Hannah Moscovitch and directed by Alisa Palmer
A National Arts Centre, Vita Brevis Arts, Canadian Stage, Neptune Theatre, Grand Theatre Production
The marathon play based on Anne-Marie MacDonald's acclaimed 1996 novel, Fall On Your Knees, concluded its run in Ottawa on the weekend, leaving theatre-goers impressed with its scope and execution but also unsettled by the depiction of abuse and the toxicity of festering family secrets.
With a six-hour run time delivered over two nights and a production team that involves no fewer than five Canadian theatre companies, it's believed to be one of the most ambitious pieces of theatre ever tackled in this country, and you have to hand it to director Alisa Palmer and playwright Hannah Moscovitch for their dedication in bringing the novel's 500-plus pages to the stage without taking shortcuts or pulling punches.
Article content
Part 1 of this epic tale, titled Family Tree, sets out to introduce the main characters of the Cape Breton family by letting us know off the top who's dead and who's not. We meet the family patriarch, James Piper (played by Jim Campbell), as a teenage piano tuner called to the home of a strict Lebanese-Canadian family to service their upright piano, attracting the eye of their spirited 12-year-old daughter, Materia (Cara Rebecca).
Although Materia's hand in marriage is promised to a much older family friend back in Lebanon, she develops a crush on James. Naturally, one thing leads to another and Materia becomes pregnant, a disgraceful situation that prompts her family to disown her – after arranging for a home to be built for the young couple a few miles up the coast.
Article content
When their beautiful red-haired daughter, Kathleen (Samantha Hill), is born, young Materia isn't ready for motherhood and doesn't even like the baby, to James' frustration. He dotes on Kathleen, and when he discovers her pitch-perfect singing voice, makes it his mission to ensure she has the training to be a world-class opera singer.
Two more babies – twin girls Mercedes (Jenny L. Wright) and Frances (Deborah Hay) – soon come along, and Materia, by now slightly more mature, is able to love them, despite her jealousy of Kathleen and growing hatred of her husband. When war is declared, James enlists and, to Materia's consternation, he is not killed in action; instead, he comes back in a state of shell shock, with an unnatural attraction to Kathleen that compels him to send her away. Off she goes to New York City for vocal training.
Article content
What happened in the Big Apple, and why James brings Kathleen back, pregnant with twins, is the fuel that feeds Part 2 of the play, titled The Diary. While Part 1 was presented in two acts (the first one being two hours long), Part 2 is delivered in a more digestible format of three one-hour acts.
I'll admit it was a challenge to sit through the first two-hour act in Part 1 as James becomes increasingly abusive and develops a taste for alcohol. However, I found myself looking forward to Part 2; what keeps it engaging throughout is the execution, especially the music and acting.
Under the guidance of music supervisor Sean Mayes, the musical backdrop is created by a small combo of players performing live, shifting effortlessly from the Celtic-influenced tunes of Cape Breton to the jazz and big-band stylings of the Harlem club scene. The piano is an anchor on stage, too, as nearly all the actors have talent on the ivories and their characters often turn to music instead of words. Also effective is the use of Tibetan-style singing bowls, played live, to create tones that signal a change of scene or represent a doorbell, for example.
Article content
The level of acting skill and stamina displayed by the cast is truly remarkable. Instead of casting children, the same actors play their characters from infancy through childhood, and beyond. Several play multiple roles, too, notably Diane Flacks as a nun, a Jewish neighbour and the New York mother of Kathleen's lover, and Antoine Yared, who nails his performance as Materia's uncompromising father in Part 1 and equally uncompromising voice teacher in Part 2.
But the highlight of the show is the exceptional work of Deborah Hay, who plays Frances, the "crazy" twin. She evolves from tongue-tied little girl to a devil-may-care exhibitionist with a raunchy (and hilarious) song-and-dance routine, which kicks off Part 2. Another standout is Janelle Cooper, who plays Cape Breton neighbour Adelaide Taylor and Harlem jazz singer Sweet Jessie Hogan, commanding the spotlight every time.
Article content
In Part 2, which is based on Kathleen's diary of her time in New York, her surviving daughter, the sweet and innocent Lily (Eva Foote) embarks on a quest to find her father. Frances' disturbing memories of the night Kathleen died also begin to come into focus, and most of the missing pieces start to fall into place, with some deeply unsettling revelations.
If you haven't read the book, there are shocking scenes of violence and abuse that I won't spoil here, but be warned they are conveyed realistically. Still, it's a well-executed story of sisterly love triumphing over evil, whether it takes the shape of toxic masculinity, the patriarchal oppression of women or racial inequality.
After showings in Halifax, Toronto and Ottawa, the world-premiere tour of Fall On Your Knees moves to London, Ont., home of the Grand Theatre company, this week for its final hurrah.
For more updates check below links and stay updated with News AKMI.
Education News || Politics News || Journal News || Daily Local News || Lifetime Fitness || Sports News || Automotive News

Source