Canada
Today's letters: Further thoughts on the first post-COVID Canada Day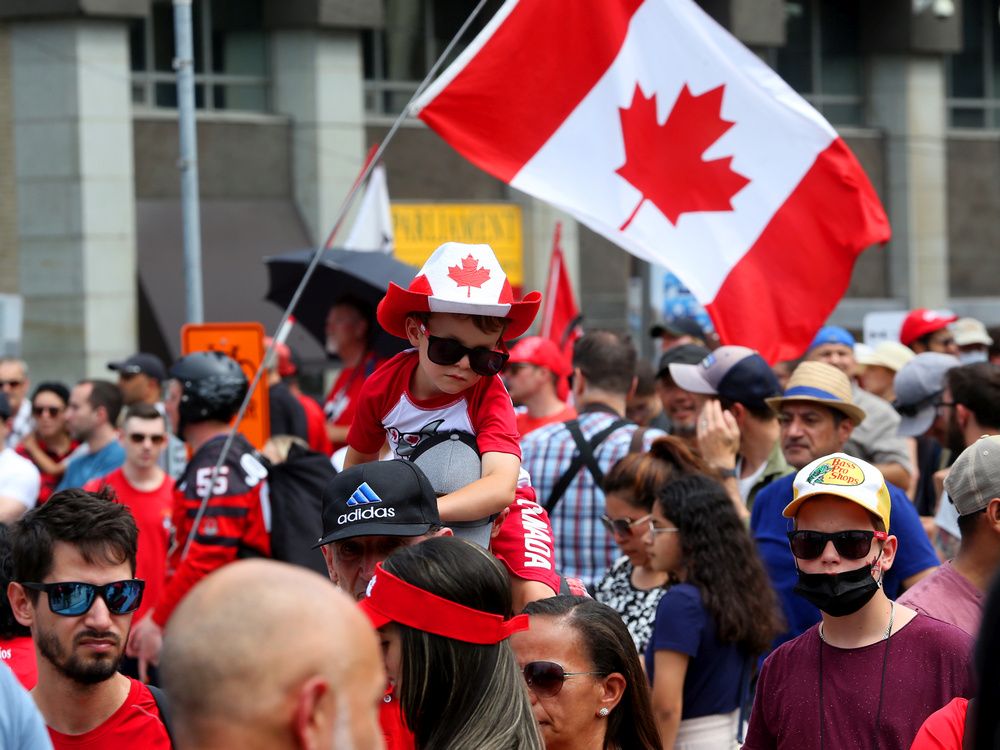 Article content
Thanks to guardians of Canada Day
Article content
Canada Day was possible for visitors and residents of Ottawa this year thanks to the indefatigable work and dedication of our police force and other public servants. We know that, once again, you have had to be away from family and friends and give up your own Canada Day celebrations to allow us to have ours.
Thank you and your families for your dedication and sacrifices for the good of the general public. All Canadians should be as committed to putting the welfare of others before theirs, as you do every day and on very special days.
SuzAnne Doré, Ottawa
Bravo to these graduates
Re: The 'convoy' all Ottawans should support, July 2.
What a profound, beautiful article by Becky Rynor, expressing sentiments that most of us share but couldn't articulate. Amidst all the chaos and bitterness and useless protests that thousands blindly follow, there is a beautiful world out there of young, motivated and grateful people venturing out to educate themselves to make a difference to their families and the entire world.
Article content
Today, let's cheer them, support them and pray for them so that their enthusiasm, dedication and zest for a successful and better life is supported by all of us, especially the government, lest they lose hope and face disappointments.
Congratulations to all graduates of 2022.
Nona Nalley, Orléans
Great article about great grads
A high-five to Becky Rynor for her heartfelt and upbeat suggestion that we congratulate, encourage and be aware of our new "convoy": the 2022 high school graduates They will bring much to Canada.
Sadly, some of those who protest do only that — always pointing out the negatives, with no positive or realistic solutions offered.
I'm cheering for these high school grads.
Arlene MacDonald, Ottawa
Article content
Why give protesters so much space?
The Ottawa Citizen's coverage of Canada Day events in Ottawa was irresponsible. It was a Canada Day with the first official in-person celebrations across the city since the start of COVID, yet the largest photo on your front page is one of the protest? Desperately searching for balanced reporting.
May Gabbour, Ottawa
Why didn't Citizen celebrate with us?
On Canada Day, there wasn't a better feeling than arriving home from a friend's backyard after a round of afternoon golf to the tasty aroma of neighbouring barbecues, Canadian flags waving proudly on front lawns to honour this beautiful and free country, and then, as the sun set, the endless sights and sounds of fireworks. The day was perfect, the people were celebrating and the mood was vibrant.
Article content
Why then, did the Ottawa Citizen choose to have us readers wake up to a photo of a small minority of people who just doesn't get it? Why didn't the Ottawa Citizen celebrate with us?
Jeff St. Amour, Orléans
Aberdeen Pavilion in disrepair again
Re: Saving Aberdeen: How Lansdowne's jewel was rescued from the wrecking ball, July 1.
Andrew Duffy's glowing article praising the efforts of Mayor Jim Watson and former councillor Peter Hume to save the Aberdeen Pavilion was very informative but failed to mention that the city of Ottawa has allowed the pavilion to fall into a state of disrepair once again.
The pavilion requires at least $6 million in renovations because no substantive maintenance has been done for 30 years. Does the city not have a budget to maintain valuable assets?
Ken Harten, Ottawa
For more updates check below links and stay updated with News AKMI.
Education News || Politics News || Journal News || Daily Local News || Lifetime Fitness || Sports News || Automotive News

Source